VERDICT
Samsung's 360-degree camera gets a handy redesign as well as some crucial feature upgrades
AFTER A DECENT first stab at 360-degree video with last year's Gear 360, Samsung is back with this complete remake. The new Gear 360 employs a pair of back-to- back 8.4-megapixel f/2.2 fisheye cameras to create 360-degree photos and video, and if you want to dip your feet into creating VR content for the first time, its quality, ease of use and portability means it's the 360-degree camera to get right now.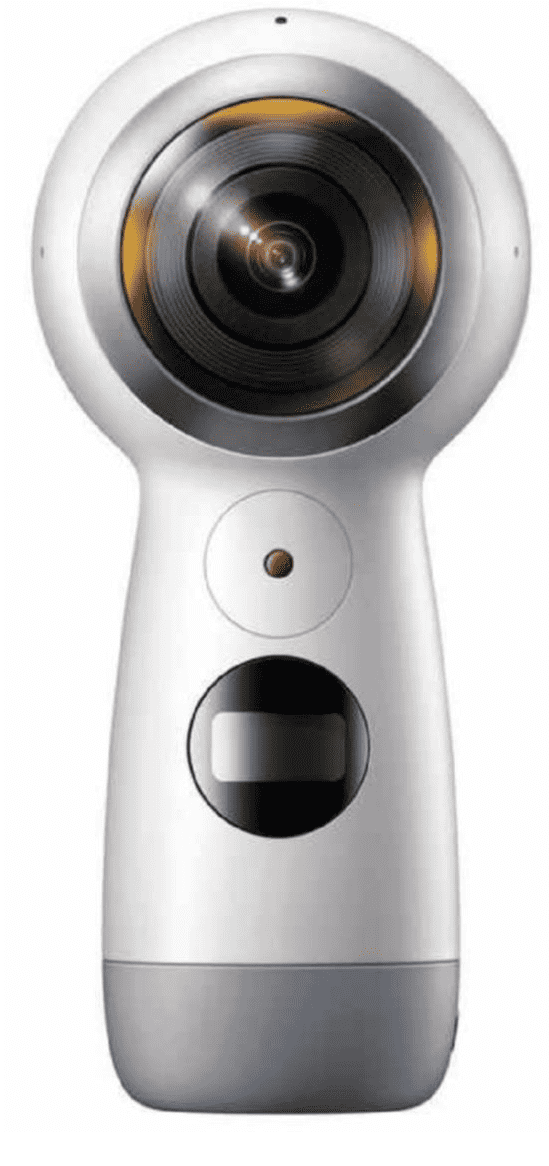 A big part of the reason for that is, quite simply, the price. Whereas the previous model launched, this 2017 version is dramatically cheaper. Not only is that a big saving on Samsung's own hardware, but it makes the Gear 360 a tempting mainstream alternative to more ruggedised action cams such as the Nikon KeyMission 360, although the Gear 360 is at least dust- and splash- proof to the IP53 standard.
LOOK NO LEGS
Aside from the price, the most obvious change to the Gear 360 in 2017 is its substantial facelift, with the old chunky golf ball and tripod setup replaced by a far simpler, all-in-one shape. The 'ball' on the top is considerably smaller, while the handle, which makes it perfect for one-handed 360-degree live streaming, is connected to it to form a seamless, ergonomic grip.
This radical redesign makes way more sense than its predecessor. While last year's design was hardly atrocious, it was a little too bulky to carry around and fit in your pocket. This new and improved moulded grip is much more appealing, fitting snugly in your palm with the big, round record button sitting naturally under your thumb.
7Review earns Amazon affiliate commissions from qualifying purchases. You can support the site directly via Paypal donations ☕. Thank you!
However, there's a worrying flaw with this impressive new design: it doesn't stand up particularly well on its own.
The slim handle, which acts as a base when set down, is so small (and the camera so top-heavy) that the slightest breeze sends it toppling.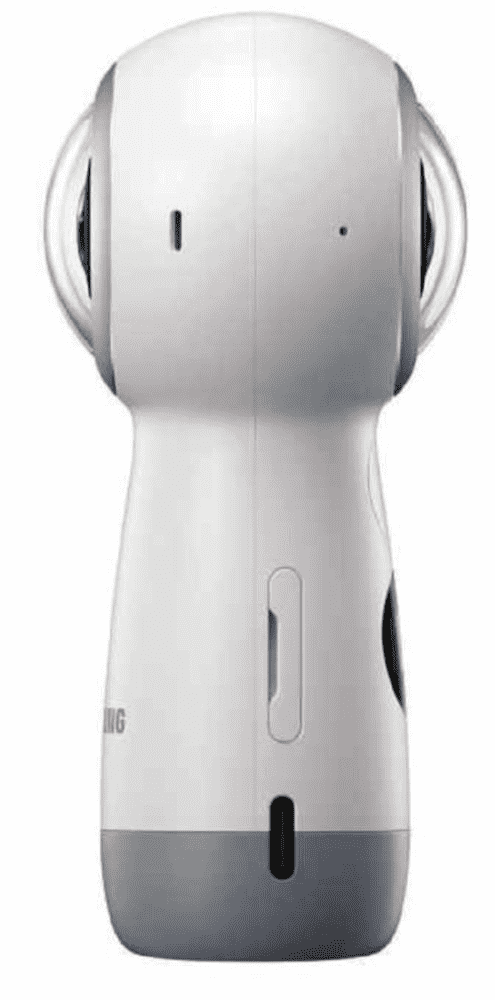 Samsung partly rectifies this by including a rubber ring in the box, which fits around the base for added stability and attaches to the camera via a lanyard. It's not very elegant, though, and feels very much like an afterthought; if you're thinking of buying a Gear 360, it will also be worth investing in a compact tripod for your static shots.
Another significant development is compatibility with a wider range of phones. Last year's Gear 360 worked only with a meagre selection of Samsung's own, high-end Galaxy handsets, but this time, the mid-range A5 and A7 are added to the list alongside every flagship from the S6 up – as well as iPhones running iOS 10 or later. It's not universal compatibility, but it's a big improvement.
Other than that, similarities between this year's Gear 360 and its predecessor can still be spotted. There's still microSD storage – found under a flap on the handle – and a tiny monochrome display telling you which mode you've selected, as well as the battery status. There's no removable battery, though.
SEEN IT ALL
The Gear 360 uses its two 8.4-megapixel sensors to record 4K 360-degree video at a resolution of 4,096×2,048, a slight bump over the preceding model's 3,840×1,920 at 30fps, while single-sensor recordings max out at a resolution of 1,920×1,080 at 60fps. You can also take 15-megapixel 360 stills.
As before, footage can be viewed live via Bluetooth on any of the supported devices, or recorded manually from the camera itself directly to any UHS-1 speed rated microSD card. All settings can be cycled through without the need for a handset, but to get the best experience, and to help frame your shots, the
Gear 360 is best used in tandem with Samsung's mobile app.
Captured footage is pixel perfect when viewed on a smartphone screen, and although softer edges and ill-defined details can be spotted when viewed on a larger display, quality is impressive nonetheless. The f/2.2 cameras don't fare too well in darker conditions, though, with noisy footage and stills, and clear evidence of compression artefacts.
Audio quality such as speech and background noise, meanwhile, is clear even on the windiest of days, so long as you have the wind noise reduction feature enabled.
As for battery life, we took the Gear 360 out for an evening of filming, taking full advantage of the shooting modes on offer, and found the 1,350mAh battery had dropped to 28% upon our return. It's thus perfectly suited to lengthy VR filming sessions. Expect 130 minutes of footage at 2,560×1,280 at 30fps, but if you want to record for longer, you can attach a USB battery pack or power the camera from the mains while recording.
WELL ROUNDED
The new Gear 360 remake heralds some welcome changes. It's far more portable, it's compatible with more phones, and it adds 360-degree live video for impromptu streaming. The move to a non-removable battery is disappointing, but Samsung is going in the right direction with the Gear 360 and it rightly earns the title of best VR camera on the market.
What really swings it is the price. The Gear 360 undercuts all the noteworthy competition save for the LG 360 Cam, which doesn't come close to Samsung's device in terms of features or battery life.
Nathan Spendelow
SPECIFICATIONS
SENSOR RESOLUTION Dual8.4megapixels • SENSORSIZE Not disclosed • VIEWFINDER None • LCD SCREEN 0.5in 72×32 PMOLED • OPTICAL ZOOM (35mm-EQUIVALENT FOCAL LENGTHS) None • 35mm-EQUIVALENT APERTURE Not disclosed • WEIGHT 130g • DIMENSIONS 100x46x45mm • WARRANTY One year RTB
Samsung Gear 360 (2017 Edition) Real 360° 4K VR Camera (US Version with Warranty)
out of stock
as of September 18, 2023 11:02 am
Features
Tell the whole story with the 360° camera that captures every angle in 4K brilliance and share instantly
Capture life as it happens in stunning 4K video and 15MP photos thanks to dual 180° lenses
Gear 360 is easy to hold and take with you, and has an IP53 water-resistant rating*
Preview and edit your videos with an easy-to-use app, or share them straight to social** or Samsung VR with your Galaxy S8 or S8+ ***
Upload your photos or videos to Samsung VR to experience your moments in virtual reality