4/5
VERDICT
It's beautifully made, with great image quality and incredible face recognition, but the Cam IQ is very expensive
ADVANCES IN CLOUD processing, faster broadband speeds and better mobile processors should mean that smart security cameras are capable of much more than just online remote control and saving footage to the cloud. Nest seems to think so, too, as its Nest Cam IQ is one of the smartest cameras around, using a4K sensor at its heart.
From the outside, the Cam IQ looks similar to the Nest Cam Outdoor. Its conical body, covered in high-quality plastic, looks just as good inside the home as it does outside. Indoor use has slightly different requirements to external use, so the Outdoor Cam's magnetic mount has been replaced with a fixed stand. It's a smart design, giving you 180° of swivel and 160° of tilt. Even pointing straight down, the Nest Cam IQ feels extremely stable, and we never worried that it might wobble or fall over. Impressively, the stand has no thumbscrews to lock it into place, so making on-the-fly adjustments is just a matter of grabbing the camera body and pushing it where you want it to go.
VIVE LA RESOLUTION
As with previous Nest cameras, the Nest Cam IQ is controlled through the smartphone app (available on Android and iOS). Hooking the camera up to a wireless network is easy; the Cam IQ supports 802.11ac wireless networks (previous models were 2.4GHz 802.11n only). This potentially makes a big difference, giving the camera a lot more bandwidth to play with.
That's not the only internal change. There's now a4K sensor, upgraded from the Full HD models on previous cameras. Although the Nest Cam IQ only records footage at 1080p, having the high-resolution sensor has several benefits. First, downscaling 4K footage to 1080p produces better-quality video than using a Full HD sensor. Second, Nest shoots in HDR, so there's more detail in the picture.
7Review earns Amazon affiliate commissions from qualifying purchases. You can support the site directly via Paypal donations ☕. Thank you!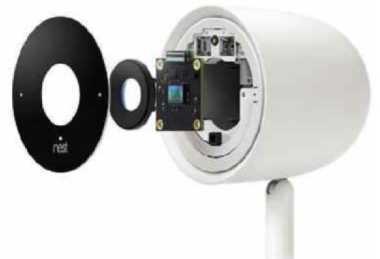 – The conical body is covered in high-quality plastic
Certainly, looking at the test footage, the Cam IQ shot the best-looking footage we've seen. Sharper and more detailed than any other camera, it's exceptional quality.
At night, the camera turns on its 940nm IR LEDs. The benefit of these is that the light is more even, and less visible to the human eye, so there's no red glow from the camera.
Having a 4K sensor lets Nest do some rather clever things. For starters, as Ultra HD is four times the resolution of Full HD, you effectively have a 4x zoom built in. Combined with the digital zoom, that gives the Nest Cam IQ a total of 12x zoom. Zooming into faces, we found that we could easily pick out details; you'd have to have a Full HD camera with a physical zoom lens to get close to the same quality.
Nest also uses the 4K resolution for its Supersight technology.
This automatically zooms in on an intruder and follows them around the room. In effect, you get a 1080p window panning around.
The result is that you get clearer footage of anyone captured.
Importantly, the wide-angle view from the 130° camera lens is still captured so that you can switch between close-up and the full view easily. To do this, the Nest Cam IQ has to transmit two Full HD streams: that 802.11ac network definitely comes in handy here.
SPOT THE DIFFERENCE
Nest has fitted a six-core processor into the camera, which means that it can now automatically detect the difference between movement and a person in-camera.
Previous Nest cameras have required a Nest Aware subscription to do this.
You'll still most likely want a Nest Aware subscription, as otherwise the camera can't record any footage. It's not cheap, costing per month for 10-day video storage, although a yearly subscription gets you 12 months for the price of 10. The 30-day storage option costs a whopping a month. Each additional camera also costs a month for 10-day history and a month for 30-day history, with the same yearly discounts available.
That said, Nest Aware is rather good.
Using the app, it's easy and quick to scroll back through your entire footage, with every second of video saved to the cloud. Smartly, the timeline shows you thumbnails for when motion was detected in any of the set Activity Zones. Nest automatically draws a zone around doors it detects, but you can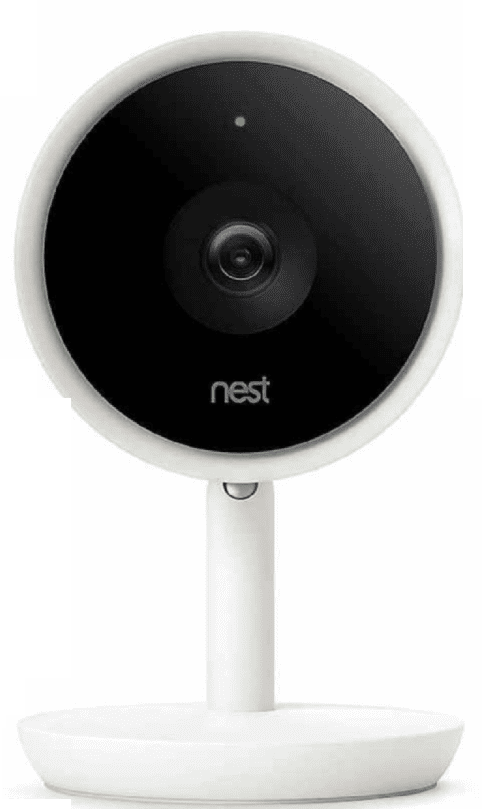 use the web interface (rather than the app) to add your own zones to monitor, too.
FACE FRONT
Unique to the Nest Cam IQ with a Nest Aware subscription is face detection, letting you train it to spot people you know. It uses the same face-detection algorithm as Google Photos, and we found it to be incredibly powerful.
It recognised us from practically any angle, with and without glasses on.
You get different alerts when the camera spots someone it recognises or a stranger. Unfortunately, there's no way to tell the camera to only notify you about strangers; something the rival Netatmo Welcome does. Nor can you do clever things via the IFTTT channel, such as changing which lights are turned on automatically when the camera recognises different people.
The biggest drawback for most people will be the price. This is the most expensive security camera we've reviewed. If you want the best when it comes to image quality, it's the model to buy. However, we'd like to see more customisation around face detection, and less reliance on Nest Aware. Those that want to save a bit of money should look at the Full HD Nest Cam Indoor.
David Ludlow
SPECIFICATIONS
VIDEO RESOLUTION 4K sensor (1080p recording) • CLOUD STORAGE Yes (subscription required) • NETWORKING 802.11ac • WARRANTY One year RTB • PART CODE Nest Cam lQ