Scripto is like a miniature laptop that offers a distraction free way to type on the go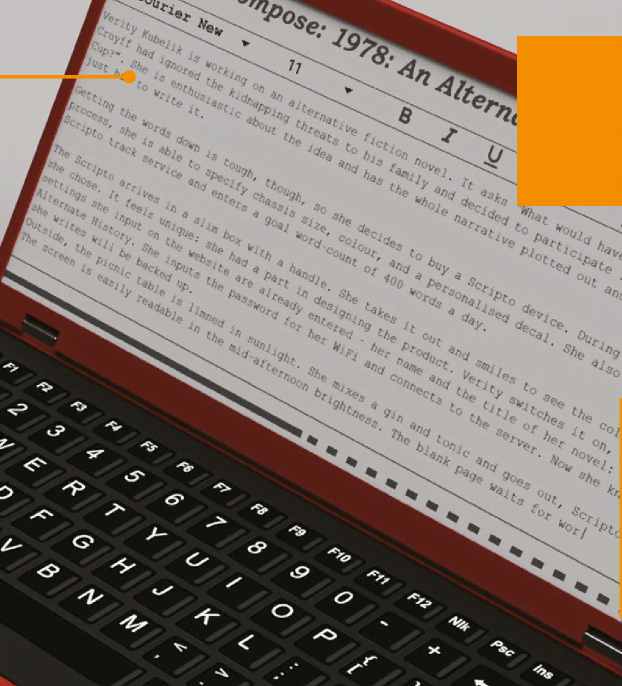 recipe
Raspberry Pi Zero (with enclosure)
Biodegradable Arboblend chassis
LCD touchscreen
Sunpartner transparent solar panel
Swappable side panels
Wi-Fi antenna
4 x AA batteries
SD card reader
USB power input
Where did the original idea for Scripto stem from?
The Scripto started as a final project as part of my Computing and Design degree at the Open University. The concept of a distraction-free device for writers is not new, but it is currently under-served in the market. The Raspberry Pi was also inspirational in providing an accessible computing unit for makers who aren't necessarily hardware experts.
Talk us through the design and build phase of Scripto, did you encounter any major issues?
The Scripto was designed with three major goals in mind: it should be distraction-free, it should be convenient versus other solutions, and it should be cheap. Balancing the other factors with cost was a continual challenge. As the device is currently designed, I think the price would be too high and a major goal for the next few months is to redefine the budget to cut features that are nice-to-have but not strictly necessary, such as solar charging. For myself, using sustainable and innovative materials in the chassis was an important aspect of the design, but actual users may not care that their device is green. Another challenging aspect of the design is that the targeted demographic of 'writers' is extremely broad in terms of needs and disciplines. Script writers for theatre and film have different needs to poets and journalists.
At a basic level, they all write words and should be able to replicate their chosen formats manually, however, making things convenient and seamless was a design goal, so
CREATOR craig lam
7Review earns Amazon affiliate commissions from qualifying purchases. You can support the site directly via Paypal donations ☕. Thank you!
Craig has a first class honours degree in Computing and IT and eight years of experience in CAD.
Tailored display: Thanks to a transparent photovoltaic layer on Scripto, the display on the device is both readable in low light and in direct sunlight. The screen adapts to the light it absorbs, helping keep the pressure off your eyes
Customisable word processor: Scripto uses a heavily customised word processor at its core, which can be further tailored by users to match their needs. Perhaps one of its best aspects are its range of pre-made templates, which can be used to change up how users create their pagesoverly complicated
Biodegradable chassis:
Although many aspects of Scripto can be personalised to suit the user's needs, the casing is of particular interest. The casing used here is completely biodegradable, with instructions included on how to safely dispose of the product when it's no longer needed
Pi possibilities: The benefits of using the Pi Zero within Scripto were numerous. Primarily, its small size meant it could be intertwined with the other tech used within. For Craig in particular, it proved to be a massive help with its compatibility with numerous drivers and existing software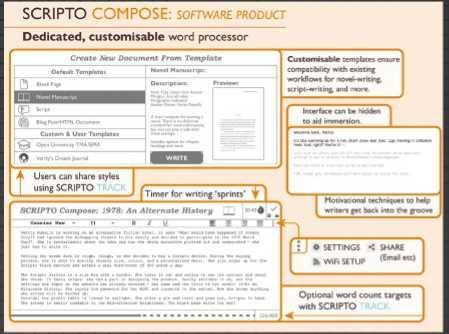 – While many core word processing features are present, the customised software used here is great for prolonging your focus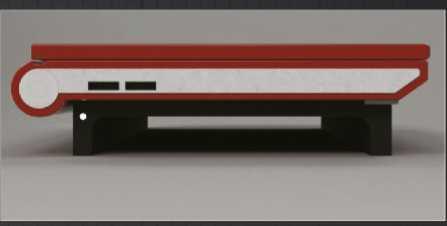 Each panel of Scripto can be customised. Different colours and materials are available to make it your own
the inclusion of templates and formatting requires an assessment of many competing formats. Every author seems to have a different workflow. It may be that the Scripto reverts to a pure text generation device, leaving it up to the writer to copy the basic text into their chosen format. Support for Markdown will be included at the least, however. A major challenge was deciding on the keyboard. Writers usually have preferences about their keyboard. Some prefer mechanical switches, others like the short-travel switches on modern Thinkpads and Macbooks. One thing is for sure: the keyboard must be no smaller than that found on 12″ laptops. Writing is a physical act and getting the feel of the device correct will probably require many iterations. A challenge will be to find the resources and partners to help develop affordable prototypes.
For our readers who may not be familiar with Scripto, what are its key features?
The Scripto supports word processing with optional cloud backups. In essence: an old-school word processor like in the 80s and 90s, but with the convenience of automatic backups and progress tracking. It's a small, light device made of sustainable plastics using low powered hardware.
A long-term goal would have it integrate with an app and a secure cloud storage service to track and backup users' words.
How does the Scripto help you deal with distractions?
The Scripto doesn't have any distractions: it should be a one purpose device. Beyond selecting which project you are writing in, the barriers between you and typing your thoughts should be minimal. Laptops, desktops, and smartphones are all capable of word processing, and they're also capable of running distraction- free environments – one could customise a basic Linux distro to boot into a word processor, for instance, but I think there is a benefit to having a very portable and dedicated device.
Fostering a positive physio-psychological association with the act of writing is important, and specific hardware is a good way to achieve the mindset that "I'm sitting down with my Scripto to write, and nothing else".
Can Scripto be personalised in any way?
The intent is to make the Scripto a highly personal device. I go into tea shops and cafes and see rows of silver Macbooks – I have nothing against that, personally, but I think we're about to enter an age of mass customisation, and this should extend to our gadgets. Writing is individual and personal, so the tools we use should be as well. If the chassis can be 3D printed as intended, the long term goal is to offer diverse colour options and decals. However, this becomes a challenge of pricing. Early versions may only come in one style and colour.
What sort of role does the Raspberry Pi play here? What were the benefits of using it in this project?
The Pi brings numerous benefits: primarily that it is a whole system on a single board and that it is compatible with existing drivers, software and accessories. The amount of documentation available is second-to-none. There may be more appropriate solutions – an Android based device may be better in terms of power management, but that requires research. At present, the project will use a Pi Zero. The Pi being UK-manufactured fits with the ethical and ecological aims of the project too.
Do you think you'll look to utilise Ras Pi in future projects?
I am always on the lookout for new technologies, but at the moment I could see myself using the Pi again. The Zero has an inspiring form factor – it could fit into all sorts of small interactive products; it's just finding time to explore!
What's next for you? Any other big projects on the horizon?
I recently graduated and I'm looking for work. The Scripto is an ongoing project, however, and I intend to have working prototypes available this year – my wife keeps nagging me! Crowdfunding may be an option if I wanted to scale up, but I'd prefer to have proof-of-concept before embarking on that journey. I also expect to be focusing on smaller projects, one of them being an online interactive guide to tea. I have a preoccupation with cats and so I'm investigating ways to make 'smart' cat toys.