4/5
• From www.johnlewis.com
VERDICT
A subtle update, but the Nikon D5600 is a strong all-rounder at a reasonable price
THE D5600 IS Nikon's latest consumer- oriented SLR, designed for people who are serious about photography but who aren't necessarily aspiring professionals. Features such as a 39-point autofocus system, articulated touchscreen, built-in Wi-Fi and a microphone socket differentiate it from the entry-level Nikon D3400. You don't get the Nikon D7500's larger viewfinder, 51-point autofocus and 8fps burst shooting.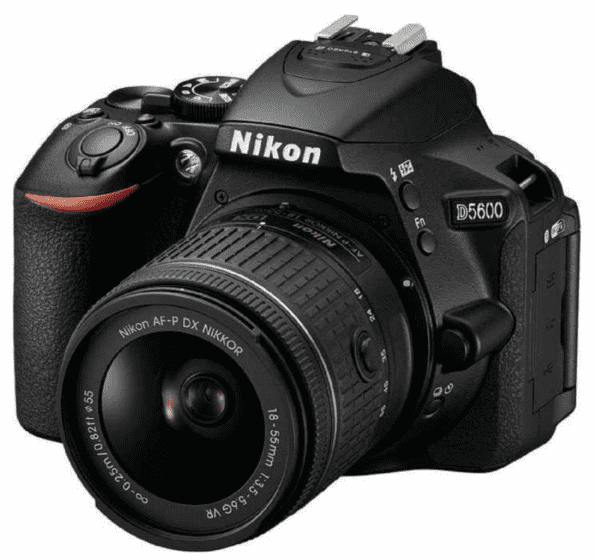 This is one of the smallest SLRs on the market, but there's a substantial handgrip to ensure a secure fit in the hand. The 3.2in LCD touchscreen is bigger than the usual 3in screens, although this is more likely to be appreciated while reviewing shots rather than capturing them, since most people will default to using the viewfinder during shooting. The 820-shot battery life is way ahead of rivals at this price.
7Review earns Amazon affiliate commissions from qualifying purchases. You can support the site directly via Paypal donations ☕. Thank you!
BUTTONED UP
There are lots of buttons dotted around the camera, though this is far from the best control scheme we've used. The four-way pad is permanently assigned to autofocus point selection, but it's quicker to adjust this by swiping the screen while composing shots with the viewfinder – a handy feature you need to manually enable in the menu, as it's not switched on by default. There are labelled buttons for zooming into and deleting photos, but they're redundant during normal shooting and can't be reassigned. The zoom out button doubles as a Help function, giving handy context-sensitive tips.
There are no dedicated buttons for white balance, JPEG/Raw quality, focus mode or metering mode. These are available via the 'i' button, which reveals a quick-access menu of 14 functions on the touchscreen. The physical Fn button is assigned to ISO speed by default – a sensible choice – but it's not possible to toggle Auto ISO on and off here. This requires a trip to an obscure submenu.
With Auto ISO enabled, the LCD screen shows the current ISO speed but, annoyingly, this information doesn't appear in the viewfinder. There's no option to show exposure information when reviewing shots, either. As a result, it's hard to keep an eye on the ISO speed when shooting using Auto ISO and the viewfinder.
Drive mode has its own button but it took us a while to find it, tucked away around the front of the camera. This includes a self-timer option, but choosing between a 10-second self-timer (for group self-portraits) and a two-second timer (for avoiding shake on tripod-mounted shots) requires another trip to the main menu. The self-timer resets after each use, too, which is a nuisance for repeated tripod shots such as macro or studio photography. Admittedly, the camera's Exposure Delay Mode function serves the same purpose and can be selected in the Shooting, Display submenu, but that means the two-second delay function seems largely redundant in its current form.
MISSED CONNECTIONS
Ultimately, these issues with the controls are niggles rather than major inconveniences, and routine operation is generally comfortable and straightforward. There's room for improvement, though.
SnapBridge support is the main – almost only – new feature in the D5600 compared to the D5500 that it replaces. This uses a combination of Bluetooth and Wi-Fi to communicate with a smartphone or tablet. Bluetooth maintains a constant connection, handling JPEG transfers, and Wi-Fi is only invoked when remote operation is required.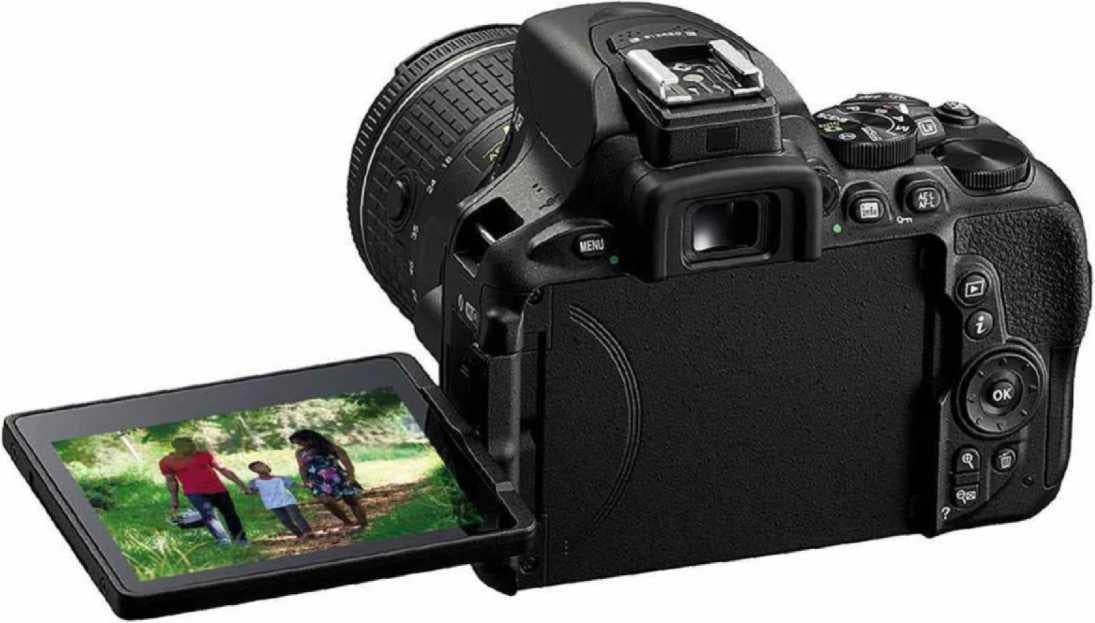 NFC is included, too, to speed up the initial setup. This worked flawlessly with an Android phone in our tests, even down to syncing the time from phone to camera. From then on, 2-megapixel copies of photos were transferred within seconds of being captured, without needing to select it actively on either device even after the camera was switched off.
This will have an effect on battery life but it's great to be able to review shots on a bigger tablet screen, perhaps on your journey home. Depending on your device's cloud sync settings, photos should also then appear in your online photo album automatically, too.
However, we did experience problems with this. After a couple of days, the automatic link was lost, and it proved extremely tricky to re-establish it. The camera repeatedly told us
NFC worked flawlessly with an Android phone in our tests, even down to syncing the time from phone to camera
it had successfully paired but the app reported that it had failed. We also had difficulties connecting to an iPad, which lacks NFC so requires manual Bluetooth pairing before it can proceed. User reviews of the apps suggest that this kind of experience isn't uncommon.
HOLDING STEADY
Elsewhere, general performance is in line with the Nikon D5500. The D5600 will capture a shot every 0.4 seconds in normal use, and this slows to 2.9 seconds when composing shots using the LCD screen. It's a common issue for SLRs, though the Canon EOS 750D is much faster. Continuous shooting was at 4.8 shots for 17 JPEGs or eight Raw frames before slowing to the speed of the card.
The 39-point autofocus sensor and Nikon's 3D Tracking feature means the camera can track moving subjects around the frame with a reasonable degree of reliability. This camera doesn't have the sustained performance required for serious action photography, but it's still handy for shooting moving subjects such as children. The generous number of autofocus points also means you can focus on the subject's eyes without having to focus, recompose the scene and then shoot.
DO IT YOURSELF
Videos are recorded at 1080p resolution at frame rates up to 60fps. There's a choice of automatic or manual exposure, but not shutter- or aperture-priority. However, the maximum recording time has increased from 10 to 20 minutes for 50fps and 60fps clips. Picture quality is respectable, with flattering colours and low noise, but details aren't quite as crisp as from the best 1080p SLRs and, inevitably, it's far behind 4K cameras' output.
There's no continuous autofocus for video, either. Updating the focus requires either a half-press of the shutter button or a tap on the touchscreen. This works pretty well, avoiding unnecessary focus hunting when your subject is relatively static, and the kit lens is responsive yet quiet.
Still image quality is the Nikon D5600's strongest asset. Its 24-megapixel sensor captures masses of detail and dynamic range, with remarkably low noise at fast ISO speeds. The kit lens pulls its weight, delivering sharp focus in the majority of our test shots. Focus improves with the lens stopped down to around f/8 but that's typical for a kit lens. Otherwise, autofocus is reliable and the metering system takes tricky lighting conditions in its stride.
In our review of the Nikon D5500, we found the kit lens was the weak point in the image-quality chain, with a softness towards the edges of frames at narrow apertures and throughout the frame with the aperture wide open. The D5600 uses the same kit lens, but we're happy to report that this particular sample performed much better. Pricier lenses will inevitably deliver sharper results but, on this evidence, you won't necessarily need to replace it straight away.
FAMILIAR FORTUNES
Elsewhere, the Nikon D5600 isn't much different to the D5500 it replaces, and compared with its main rival, the Canon EOS 750D, there's also little difference. The Nikon holds the edge for image quality with slightly less noise at fast ISO speeds, whereas the EOS 750D has more elegant controls and faster live view performance.
The D5600's 39-point autofocus sensor beats the 750D's 19-point sensor, although the recently announced EOS 800D ups this to 45 points. Ultimately there's no clear victor so if you're already a Nikon user, or tempted to become one, there's nothing to hold you back.
Ben Pitt
Specifications
SENSOR RESOLUTION 24 megapixels • SENSOR SIZE 23.5×15.6mm (APS-C) • FOCAL LENGTH MULTIPLIER 1.5x • VIEWFINDER Optical TTL • LCD SCREEN 3.2in (1,036,800 dots) • OPTICAL ZOOM (35mm-EQUIVALENT FOCAL LENGTHS) 3x (27-82.5mm) • 35mm-EQUIVALENT APERTURE f/5.2-8.4 • LENS MOUNT Nikon F • WEIGHT 675g • DIMENSIONS 99x126x137mm • WARRANTY One year RTB
GODOX V860II-N TTL Flash 1/8000s High-Speed Sync GN60 Camera Flash Speedlight with Rechargeble Battery 1.5S Recycle Time 650 Full Power Flashes for Nikon D3400 D3200 D5300 D5600 D7500 D750
as of December 8, 2023 10:28 pm
Features
V860IIN has built-in Godox X system, stable signal, GN60 high derivative, 20-200 zoom flash coverage, to ensure a better light shooting experience
Built-in Godox X system. Light transmission, uniform illumination and stable output. Complete functions, the transmission distance is further 100 meters
Fully support TTL functions, support for TTL auto flash, manual flash, 1/8000 high-speed sync, flash exposure compensation, flash exposure lock, second curtain sync, modeling flash, etc
Max. 1.5s recycle time & 650 full power pops, 2000mAh rechargeble batteries ensure better shooting performance
As master flash to trigger Nikon speedlites and as slave flash to receive signals of Nikon speedlights
Godox V860III-N Flash for Nikon Camera Flash Speedlite Speedlight 7.2V/2600mAh, 2.4G Wireless HSS 1/8000 1.5s Recycle Time 10 Levels LED Modeling Light for Nikon D5600 D7500 D850 D750 D7100 D3400, etc
out of stock
as of December 8, 2023 10:28 pm
Features
[Better Battery Performance] Upgraded a new battery with higher capacity(7.2V/2600mAh) offering 1.5s recycle time and 480 full power flashes. The battery is also interchangeable with V1, making your potential pack lighter.
[Modeling Light] Added a modeling light at the front to aid pre-visualization, and blend with ambient light, with brightness dimmable in 10 levels.
[Build-in Godox 2.4G Wireless X System] Build-in 2.4G wireless transmission offers all-in-one functions and 100 meters further transmission distance. Optical transmission with even illumination and stable output.
[Fully Support TTL Functions] Godox V860III-N is compatible with Nikon DSLR cameras and I-TTL II autoflash. Supporting for TTL auto flash, manual flash, 1/8000 high-speed sync, flash exposure compensation, flash exposure lock, second curtain sync, modeling flash, etc.
[Quick Button and Release Lock] Godox V860III has a quick button on the side, able to quickly switch from the manual mode to TTL mode. Updated a quick release lock to a quick lever to lock the Speedlight into place on your camera's hotshoe.