With a range of dedicated phono stage designs for every budget, Rega has traditionally held off from all-in-one vinyl solutions, but that all changed with the introduction of the Planar 1 Plus. As the name suggests, at its core this is a Planar 1 turntable and a belt-driven unsuspended design with the belt acting on a sub platter rather than directly against the phenolic resin platter.
See also: TOP 15 Turntables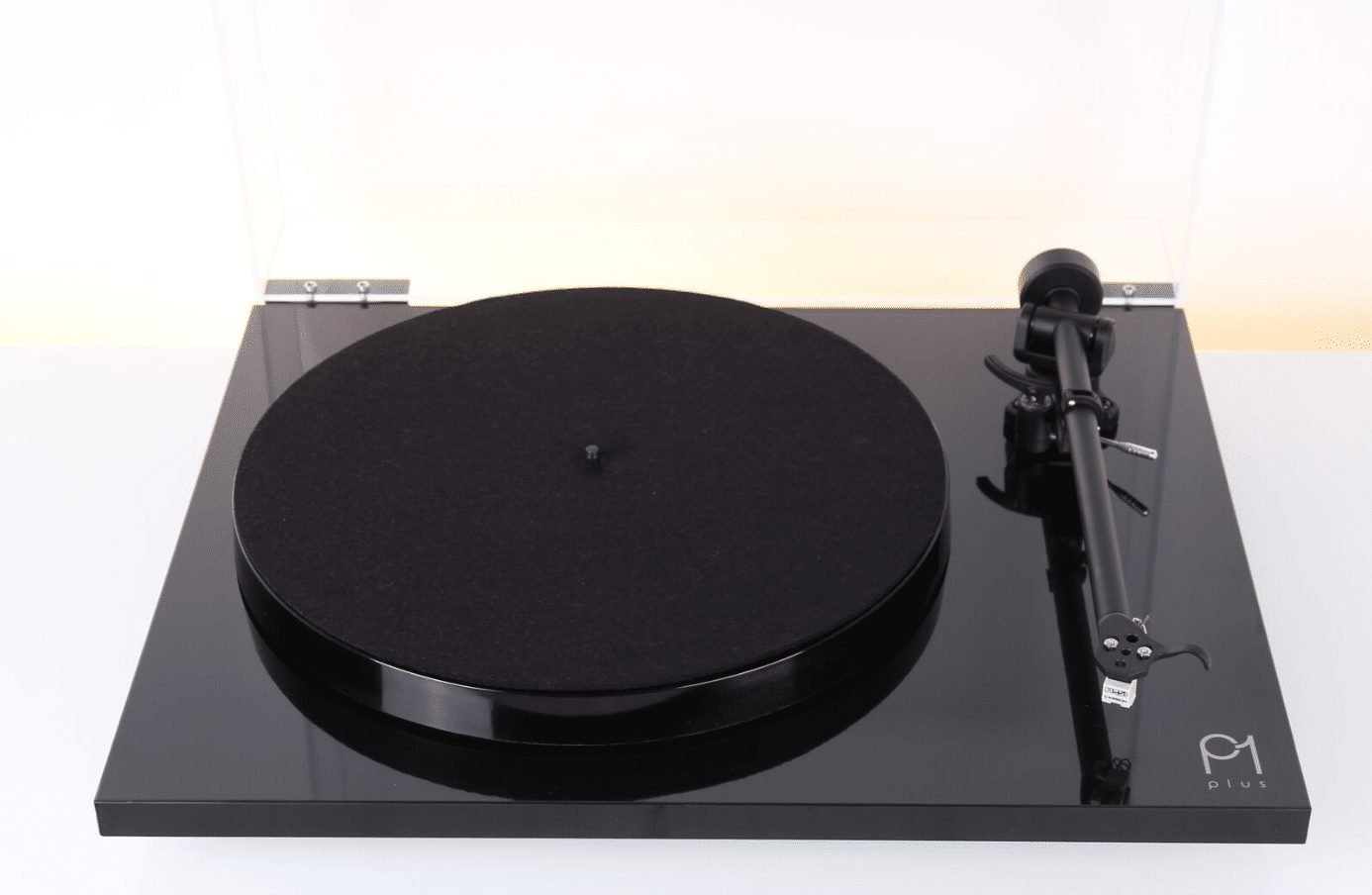 The matching tonearm is the RB1 10, which has been tweaked to include automatic bias adjustment. Rega says this makes installation easier than on any previous iteration. The slight counter to this is that the value the bias operates to is fixed and so may not suit all cartridges. It is, of course, an ideal match for the Carbon that comes supplied and if you roll the counterweight at the back of the tonearm to the raised rubber line, you'll have set the correct tracking weight too. What could be simpler?
The phono stage that has been incorporated into the Planar 1 Plus is derived from the standalone Fono Mini A2D moving-magnet option (HFC 360) that is still very much part of the range. Rega has removed the analogue-to-digital section along with the USB port, but beefed up the performance of the moving- magnet circuit, which outputs to a pair of RCA connections.
When it comes to setting up, the Plus is about as straightforward as it gets. Remove the cardboard liner under the sub platter, slide the counterweight on, connect power and signal cables and pop the Perspex lid on. Even a novice should be up and running in less than five minutes.
7Review earns Amazon affiliate commissions from qualifying purchases. You can support the site directly via Paypal donations ☕. Thank you!
See also TOP 15 turntables
Sound quality
From the off, Amadou and Mariam's fabulously involving Mokou Mokou has a real sense of the intimacy of the studio it was recorded in, while Mariam's vocal turn is recreated with a meaningful amount of weight and texture to it. Some of the effortless three dimensionality that more expensive members of the Rega range can demonstrate is present here and helps to immerse you in the music. There is a sense when the track gets more congested that the Carbon cartridge can struggle to make sense of all of the information and it hardens up a little at high levels, but never to the point where things become unlistenable.
Goldfrapp's faster and more potent Rocket allows the Planar 1 Plus to show off its impressive rhythmic assurance. It does a brilliant job of engaging at an emotional level and pulling the listener into the music. This has always been a Rega strong point, but it is still noteworthy just how entertaining it is here. More than almost any other turntable I've tried at this price point, it compels me to keep trying new music and it does a superb job of taking me beyond the equipment I'm listening to. This is not solely the preserve of more ballistic pieces either. Even with the positively stately Black Pudding by Mark Lanegan
DETAILS
PRODUCT Rega Planar 1 Plus
ORIGIN UK
TYPE Belt-drive turntable
WEIGHT 4.35kg
DIMENSIONS (WxHxD) 447 x117 x360mm
FEATURES
33 & 45rpm
Built-in MM phono stage
RB110 tonearm with automatic bias adjustment
Rega Carbon moving-magnet cartridge
DISTRIBUTOR Rega Research Ltd.
TELEPHONE 01702333071
WEBSITE  rega.co.uk
and Duke Garwood, there is a cohesiveness that can be found lacking on some more expensive rivals.
Rega seems to have set the Planar 1 Plus to be inherently forgiving, no matter the condition of vinyl it spins. In terms of the equipment it is likely to be used with, this makes sense and it does a better job than most of keeping the poorly pressed Meds by Placebo listenable, and it is able to handle well-worn records pretty well too. The counter to this is that given a genuinely superb pressing – like Toward The Within by Dead Can Dance – it isn't always able to do it full justice and show off just how good it should sound.
Conclusion
With the Planar 1 Plus, Rega has managed to create a turntable that is utterly untaxing to set up and use, that still delivers the qualities that we have come to expect from the company. If you're looking for an entry-level turntable to be the first step to greater things with a clear upgrade route, the relatively fixed specification might not appeal, but as a beautifully realised one-stop shop for high-quality analogue playback, it certainly takes some beating. ES
OUR VERDICT
Recommended
Rega Planar 1 Plus Review
A well thought out starter that balances convenience with performance
PROS
Engaging presentation
Easy to install
Build quality
CONS
Sounds fractionally congested with busy recordings
Lacks upgrade potential
Add your review
Best Rega Planar 1 Plus prices in the US ?

$

725.00
5 new from $725.00
in stock


$

725.00
2 new from $725.00
in stock

Best Rega Planar 1 Plus prices in the UK ?

£

385.00
7 new from £385.00
in stock


£

399.00
5 new from £399.00
in stock

MORE DEALS

See also TOP 15 turntables