Just add speakers and Pro-Ject's innovative Juke Box E is transformed into a full music system. David Price takes it for a spin
Though it will undoubtedly have well-healed analogue addicts cracking a derisory smile, Pro-Ject's new Juke Box E is not aimed at them. Rather, this combined belt-drive turntable fitted with cartridge, phono stage, Bluetooth-equipped preamp and 50W stereo power amp is designed for people who want an integrated vinyl playing system for not much money. So when you've added a pair of small speakers you're talking about a one-stop vinyl spinning solution. Its an attractive option, neatly sandwiched into one box – or plinth to be precise – and it costs a lot less than all these components bought separately, so it's easy to understand the appeal.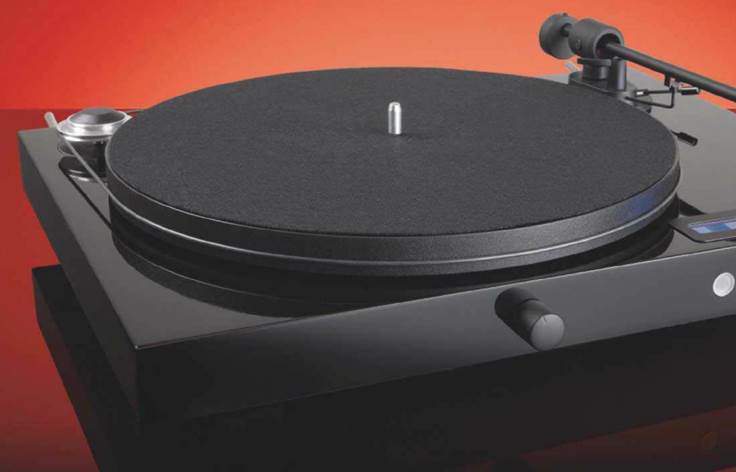 The problem is that the Juke Box's market is in 'no man's land', sitting between the pricier Musical Fidelity Merlin 1 system – reviewed HFC 396 – and the Crosley Cruisers of this world that cost a fifth of its price. In the hi-fi world, it rubs up against Rega's Planar 2 which is of course 'just' a turntable, but a high performance one at the price. It's an interesting concept alright, but might take time to find its natural audience. Of course, potential buyers will expect it to be easy to set up, and here they won't be disappointed. It comes well prepared – just remove it from the box, hook up the belt, plug in the power supply, remove the stylus guard and you're off; the tracking force and cartridge alignment is set for you in the factory. Pairing with a Bluetooth device proves a breeze too. Plug in a pair of speakers via the rear-mounted banana sockets (you can opt for Henley Audio's packaged Speaker Box 5 Bundle that takes the total system), and you're away.
DETAILS – Pro-Ject Juke Box E Review
PRODUCT: Pro-Ject Juke Box E
ORIGIN: EU
TYPE: Belt-drive turntable all-in-one system
7Review earns Amazon affiliate commissions from qualifying purchases. You can support the site directly via Paypal donations ☕. Thank you!
See also TOP 15 turntables
WEIGHT 5kg
DIMENSIONS (WxHxD) 415 x 118 x 334mm
FEATURES
• 33 & 45rpm
• Built-in MM phono stage
• Ortofon OM 5E cartridge
• Inputs: aptX Bluetooth; 1x RCA
• Power output: 2 x 50W (4 ohm)
DISTRIBUTOR Henley Audio
TELEPHONE 01235 511166
WEBSITE henleyaudio.co.uk
The basics of the Juke Box are sound; the plinth is gloss-painted MDF, the motor is decently low noise, the black painted 8.6in straight aluminium tonearm is better than you might expect at the price – although no Rega RB220, it must be said. There's a small two-line alphanumeric LCD display on the top front of the plinth; it looks a bit crude but does the job, showing volume setting and source selected (phono, line input and Bluetooth), and there's a rather plasticky volume knob protruding from the front of the plinth – which comes in a choice of gloss white, gloss black or gloss red. Thanks to the decent motor and 300mm felt mat-topped plywood platter, the deck is relatively quiet and smooth in operation, and the supplied Ortofon OM 5E MM cartridge tracks well. A decent quality acrylic lid is supplied, together with a basic but effective remote control.
Sound quality
Like every non-suspended subchassis turntable, the Juke Box E needs careful placement. It has energy absorbing feet, but for best results you still need to put it on a wall shelf or decent equipment rack and make sure it's completely level. Then, if you're really being picky, remove the dustcover; these invariably degrade the sound of turntables because they're microphonic and mounted directly to the plinth. This done, I choose to partner it with a pair of Q Acoustics 2020i standmount loudspeakers (HFC 360).
The Juke Box E is a tonally warm performer, thanks in some part to the smooth, soft-sounding Ortofon OM 5E cartridge, and has a gentle, easy nature that's surprisingly engaging to listen to. It tracks reasonably well, and has satisfactory speed stability – but to give you an idea of what it's up against, a comparably priced Rega Planar 2 turntable is noticeably superior in this respect. The Project instead turns in an 'old-school' vinyl sound where its sonics could perhaps be described as warm, woolly and a little bit vague.
Don't get me wrong, that's no bad thing. People used to the sound of cheap CD players, streamers and/or computers to play music will be quite surprised at just how pleasing the Juke Box sounds playing records.
The soundstage is decently large, and it does that great vinyl thing of having a strong central image for vocalists – Kate Bush on Wow, for example, sounds big and fulsome. There is slight pitch instability audible, but it manifests itself as a kind of 'cotton wool' that it wraps the
It needs pairing with decently efficient speakers that don't ask too much of it
sound up in, rather than being obviously jarring. The bass sounds quite light yet warm, while treble is smooth and sweet, if rather unextended. The result is a sound that is very listenable; you can cue up "a vinyl" (as hipsters may say) and sit back in a rather luxuriant way, basking in the smug satisfaction of being the first in your university dorm corridor to get into the groove!
Cue up some sterner stuff, however – like the complex, busy prog of Steve Hackett's Ace Of Wands – and you're more easily able to see that the Project isn't strictly a 'hi-fi' deck. It makes a pleasing sound, but there's a good deal of compression to the music's dynamics and also a slightly muddled, opaque midband. You can't hear through into the recording particularly well. The leading edges on steel string guitars are obviously softened, for example, and tambourines seem a little smeared. I also detect a slight impurity to the lead synthesiser, which lacks its usual rich harmonics. All the same, you can't help but come back to the point that it's still fun to listen to, and far more palatable than cheap digital audio – which seems cold and charmless by comparison.
The Bluetooth input isn't great – the turntable sounds way better – but is easy to use. It syncs with a suitably equipped smartphone or tablet very quickly and delivers a clean if rather vague sound that's fine for background listening. The line input shows the built-in amplifier to be surprisingly good; it can make a nice noise from an external CD player, for instance, with a fair deal of space and scale. Ultimately, however, the Juke Box E is limited by its power output; it needs pairing with decently efficient speakers that don't ask too much of it. This done, you can't fault the sound at the price, which is surely precisely what Project intended.
Conclusion
It's hi-fi Jim, but not as we know it!
Yet this doesn't mean the Juke Box E isn't a good product for the money. It is – let's say – of humble origins, but still doesn't fail to be an enjoyable vinyl spinning companion with a handy Bluetooth input thrown in for good measure. There's enough power for the situations it's likely to find itself in, and the build quality is better than any generic 'audio' product you can buy at a discount electrical retailer. All of which means this interesting little hybrid gets a thumbs up, and makes a great entry-level product for those seeking the convenience of an all-in-one solution from a switched on hi-fi brand
INSIGHT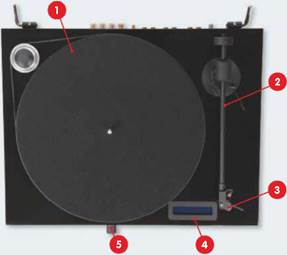 1 Felt mat-topped plywood platter
2 8.6in aluminium tonearm
3 Ortofon OM 5E MM cartridge
4 Alphanumeric LCD display
5 Volume dial
Pro-Ject Juke Box E Review: OUR VERDICT
Pro-Ject Juke Box E Review
Great value turntable package with a twist
PROS
Warm, accessible sound; decent cartridge; Bluetooth support
CONS
Speed instability; lacks a USB output
Add your review
Best Pro-Ject Juke Box E prices in the US ?
Best Pro-Ject Juke Box E prices in the UK ?
MORE DEALS

See also TOP 15 turntables