This premium OLED TV has an integrated Atmos sound system. Steve May is all ears. Read our PANASONIC TX-55GZ2000 Review.
There's no shortage of fancy flagship 4K screens if your pockets are deep enough. But many claim rarefied air through cosmetic finesse and fanciful design. Panasonic isn't interested in such jolly superficiality. Its GZ2000 is that rare beast – an OLED TV designed from the ground up to satisfy the particular needs of you, dear HCC reader. It takes a hardcore home cinema approach to sound and vision.
av info
PRODUCT: 55in 4K OLED TV with upfiring Dolby Atmos speakers
POSITION: Panasonic's flagship 'Professional Edition' OLED model
PEERS: Sony KD-55AG9; Philips 65OLED+984
1. No secondary touch remote this year, but the supplied zapper is backlit and easy to use
2. The GZ2000 uses a custom 'Professional Edition' OLED panel
7Review earns Amazon affiliate commissions from qualifying purchases. You can support the site directly via Paypal donations ☕. Thank you!
See also TOP Televisions
and The best OLED TV deals 2022: get an awesome OLED at the lowest price
It does this by not only embracing both key dynamic metadata standards, but employing a bespoke OLED panel, exclusively customised by Panasonic engineers, that it says is able to run brighter than rivals for more effective Dolby Vision and HDR10+. And the treats don't stop there. This is also the world's first Dolby Atmos- enabled screen with built-in upfiring speakers.
Available in 55in and 65in screen sizes, is it really the ultimate home theatre TV?
Kerb appeal
Design is classy and understated. The GZ2000 looks as svelte as its competitors, at least when viewed from the front. The bezel is appealingly thin, and the glass frontage and central pedestal stand augmented only by a subtle forward-facing speaker bar.
Look from the side though and you'll immediately spot the upfiring Atmos module, which incorporates two skyward-looking drivers that complement the front array.
Connections are four HDMI inputs, with HDCP 2.2 and Auto Low Latency Mode game support; three USBs (one of which is designated for hard drive recording); component and stereo phono inputs, an optical digital audio output; Ethernet to support onboard Wi-Fi; Bluetooth; and a 3.5mm mini-jack that doubles as either wired headphone or subwoofer output.
Tuner inputs provide access to Freeview Play and HD satellite – note that Panasonic no longer integrates Freesat, and its natty EPG.
As expected, the TV's smart connectivity revolves around Panasonic's My Home Screen 4.0.

This latest iteration offers powerful customisation and improved content navigation – the familiar 'button'-based home screen can be expanded with shortcuts to favourite apps and TV stations. In addition to a full suite of catch-up TV services, there are key streaming apps like Netflix, YouTube and Amazon Prime Video, but not Apple TV.
That integrated Dolby Atmos sound system brings something new to set up: a Space Tuning routine. This room optimiser takes into account the distance of the set from your room's walls and ceiling, as well as your relative viewing/listening position. It doesn't calibrate, though – it's merely a preset, so if you don't like it you can switch it off – and does not work with any connected subwoofer.
Premium TV, premium pictures
If Panasonic's goal is to deliver the most cinematic images in the land, then the TX-55GZ2000 is an unqualified success.
The more I watched this Professional Edition panel, the more slack-jawed I became.
Toiling away behind the scenes is the brand's new HCX Pro Intelligent processor. Deemed the most powerful yet made by Panasonic, it marks a shift from RGB to HSV (Hue Saturation Value) image processing. So what does that mean?
By separating hue and saturation (colour) from value (luminance), Panasonic says the panel is able to better display colour and contrast in brighter scenes. This may well be true. The forest sequence in Bong Joon Ho's fantasy Okja (Netflix, Dolby Vision) seems to exhibit more nuances in its foliage than I've noticed before.
OLED always delivers splendid inky blacks, but as we've learned can struggle to manage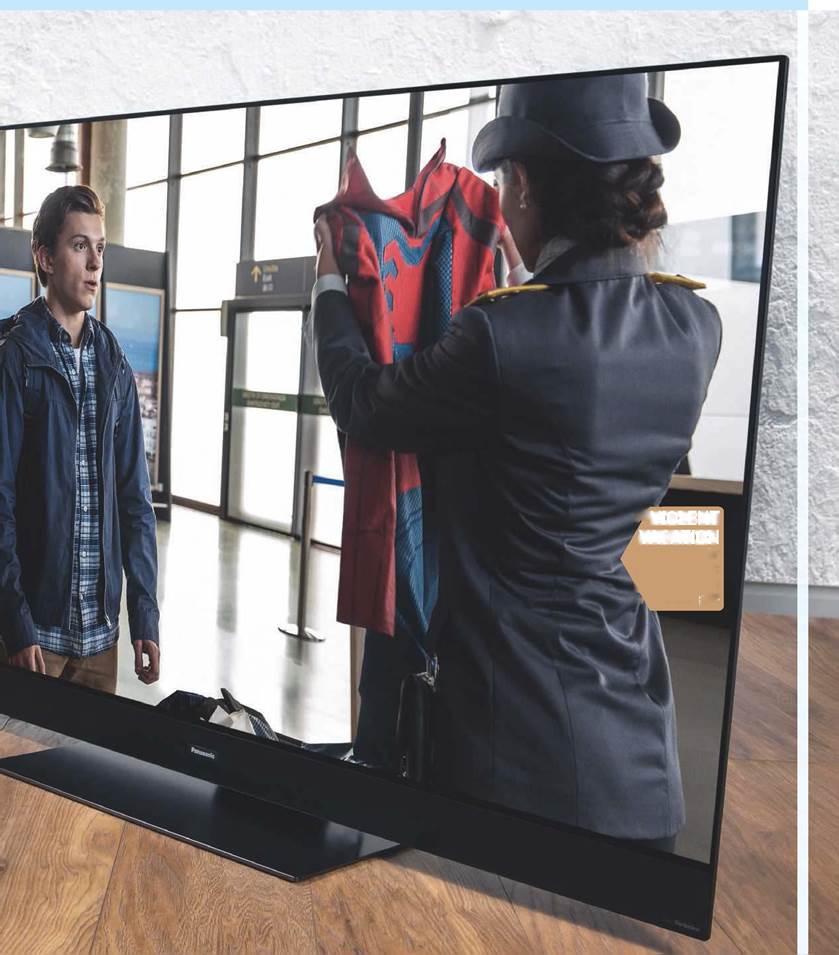 the transition from black to just above pure black and up, as more luminance is added to the picture. Achieving a smooth gradation is far from easy.
So Panasonic has had its thinking cap on. This Pro Edition panel incorporates custom hardware improvements, utilising heat management techniques first developed for plasma displays. By taking more heat from the panel, it's created more headroom for brightness. Panasonic says this equates to an average picture level (APL) improvement of around 30 per cent.
The upshot is better colour accuracy and brighter images. Long story short: the set manages peak HDR and overall picture brightness more skilfully than any domestic screen I've auditioned.
'This is a beautiful screen for everyday viewing – usefully bright, without sacrificing contrast or depth'
Wield the silver-finished, well laid-out remote and you can call up the TV's numerous presets, and their HDR- specific variants. Panasonic's Normal mode presents the highest luminance level, and is often the most consistently rewarding. Cinema is the brightest of the various cinema defaults, while Dynamic exaggerates high-frequency detail and over-saturates primary colours.
There's also the Netflix Calibrated Mode, which is ostensibly an endorsed Cinema preset to use when boxset binging.
This isn't a screen, for the most part, that needs to be massaged, but it's worth noting its HDR/brightness adjustments; I auditioned the TX-55GZ2000 with Dynamic HDR Effect on, HDR Auto Brightness on, and Panasonic's Brightness Enhancer set at 7.
Hitting HDR highs
The set doesn't just handle Dolby Vision and HDR10+, it's also compatible with HLG Photo, a raw still image format supported by some Panasonic digital cameras, as well as regular HDR10 and broadcast HLG.
Which begs the question: just how much HDR punch does the GZ2000 have over its stablemates? Well, as it happens, a considerable amount. In fact, the GZ2000 is arguably the best-performing OLED screen available when it comes to average brightness levels and peak output. Measured with a 5 per cent HDR brightness window, on the Normal viewing preset, the screen nudges past 950 nits, and it doesn't fumble the HDR ball when it comes to its True Cinema setting either. Opt for the Dynamic mode and you can wring out even more.
With real-world HDR, the set should have no problem edging beyond 1,000 nits, which puts it in a league of its own when it comes to the OLED elite, and makes watching 4K BDs a mesmeric experience.
The aerial view of the New York skyline in the opening of John Wick 3 (4K Blu-ray) is a feast of pin-prick HDR highlights. The outstanding clarity of the GZ2000's panel invites you to peer straight down to street level – cars are individually delineated, pedestrians clearly depicted going about their business, lit by brilliant neon signs. Yet buildings held in shadow exhibit texture, revealing individual apartments and architectural features.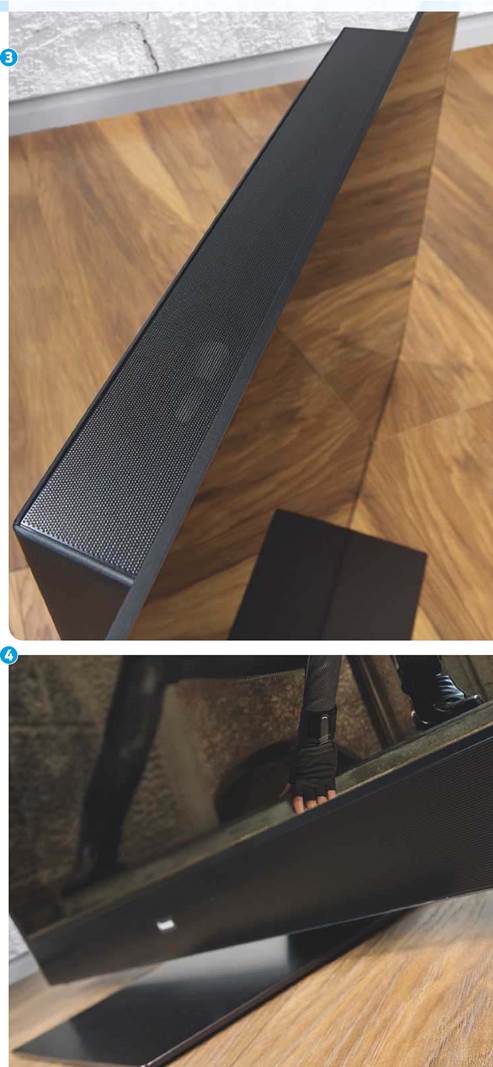 The headlights of Ian McShane's black ride dazzle as he pulls up at The Continental, yet the rain-sodden streets are still rich in dark detail. When Keanu is warned 'no time to dilly dally, Mr Wick', the NYC backdrop is a stunning blend of wide colour, deep contrast and sparkling highlights.
It's a 4K presentation that rewards those prepared to pull their favourite viewing chair close.
The HCX Pro processor is a dab hand at upscaling 1080p material. Shortly after Hugh Jackman heaves the flagpole, following the overture song in Les Miserables (Blu-ray), there's a wonderful close-up. His dirty, beaten visage is ripe with detail, shorn head a tapestry of stubble and scar. There's no sense that the image is being edge enhanced; it's naturalistically pixel dense and sharp.
Image interpolation is effective without introducing too many punishing artefacts. With IFC (Intelligent Frame Creation) engaged (begin your experiments on its Low setting), the abduction chase sequence in Okja, in which a truck makes off with the titular super-pig and young Mija gives chase, retains immense detail held in the street scenes, despite the fast-moving action.
The GZ2000 equips itself well when it comes to console gaming. I measured an image lag of just 21.5ms in Game mode, an excellent result for an OLED panel.
Delivering Dolby
The set's audio system, which has been tuned by engineers from sister brand Technics, is similarly remarkable for an integrated sound system. The presentation is disproportionately huge.
The front soundstage is wide and well defined, while those upfirers add height and involvement. A Dolby Atmos football mix (Sky Sports) has stadium ambience thrown high, creating the illusion that you're surrounded by crowds, yet the commentary and on-pitch action is locked to the screen itself. Actually, my doubts that the Atmos implementation might disappoint were quickly dispelled. The introduction of those additional top- mounted drivers adds a sense of scale unmatched by any other integrated TV sound system around. The tried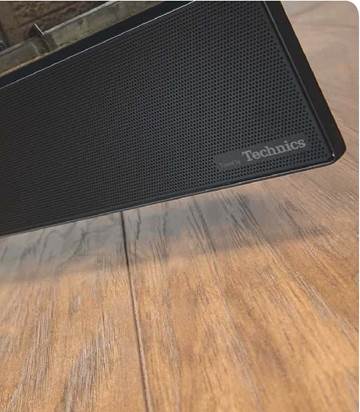 and much-trusted Dolby Atmos opening sequence to Mad Max: Fury Road provides confirmation that the height channel is working exactly as you would hope.
You can almost smell the exhaust fumes as vehicles fly into view, and integration between the front-facing speaker bar and the canopy of overhead sound is good. The effectiveness is position dependent though, the Atmos effect largely dictated by your seating position and the reflectivity of the ceiling.
Bass response is tangible between 100Hz and 200Hz. You won't hanker for a subwoofer. What you don't get are any rear-placed audio cues, but then you shouldn't really expect it from this particular speaker configuration.
Of course, what we need now is another screen with this same Professional Edition OLED panel, but without this level of speaker innovation, for those that already have a home cinema audio setup. Let's put that one on our 2020 wishlist, shall we?
Beautiful screen
Panasonic's TX-55GZ2000 is a monumental TV achievement. It takes the characteristic benefits of OLED 4K HDR, and magnifies them. The set's near-black and shadow work is top-notch, while colour vibrancy and nuance is best-in-breed. And it's not just cine-centric. This is a beautiful screen for everyday viewing – usefully bright, without sacrificing contrast or depth. The level of definition in its image is sensational, and the execution of Dolby Atmos is to be applauded.
The caveat is that the GZ2000 comes with a price tag that makes many competitor OLEDs look impressively affordable, and that it may even be over-specified for many home cinema users. But there's no doubt that it offers a stupendous viewing experience
HCC VERDICT Review
Highly Recommended
PANASONIC TX-55GZ2000 Review
Panasonic takes OLED image clarity to another level with its first Professional Edition screen, while its convincing Dolby Atmos playback is the icing on the cake.
Add your review
Best PANASONIC TX-55GZ2000 prices ?
MORE DEALS

See also TOP Televisions
and The best OLED TV deals 2022: get an awesome OLED at the lowest price
SPECIFICATIONS
3D: No 4K: Yes. 3,840 x 2,160 HDR: Yes. HDR10; HDR10+; Dolby Vision; HLG;
HDR Photo TUNER: Yes. Freeview Play; satellite HD CONNECTIONS: 4 x HDMI inputs; 3 x USB; optical digital audio output; component/composite video input SOUND (CLAIMED): 140W (2 x 40W, plus 3 x 20W) BRIGHTNESS (CLAIMED): N/A CONTRAST (CLAIMED): Ultimate Contrast' DIMENSIONS (OFF STAND): 1,225(w) x 761(h) x 78(d)mm WEIGHT (OFF STAND): 26.5kg
FEATURES: HCX Pro processor; 'Professional Edition' OLED panel; built-in Wi-Fi; Bluetooth; My Home Screen v4.0 smart platform; Auto Low Latency Mode; USB and network media playback; Dolby Atmos with upfiring speakers; Tuned by Technics; Netflix Calibrated mode
PARTNER WITH
PANASONIC DP-UB9000:
The brand's top-spec disc-spinner is au fait with Dolby Vision and HDR10+, built to last and performs well as a music source – a balanced stereo XLR output is provided for compatible hardware.
3. Two upfiring Dolby Atmos-enabled speakers reside in the TV's top…
4. …while the front-facing speaker bar flaunts a Technics logo