Naim Audio really does have all the hi-fi bases covered. In its earliest days as an amplifier-centric UK hi-fi company it grew a deeply-entrenched base of fans who were true believers in its views on amplifica­tion (then considered 'out there', now accepted as common wisdom). And the company evolved, taking its core base of hi-fi amplification to new levels (witness the Statement pre-power amplifier), while investing well ahead of the pack in streaming audio trends. It had already been making its own loudspeakers, but its 2011 merger with French speaker company Focal brought new abilities and facilities in terms of drivers and design, and a few years later came its standalone wireless speaker, the Mu-so. Somehow this one-box speaker retained Naim's emphasis on audio excellence while shifting into this potentially populace­pleasing product area. Critics loved it (it won a
A bulging box of abilities, Naim's Mu-so Qb is the smaller brother of the larger Mu-so, offering both inputs and streaming, with sound that depends on its positioning.
Sound+Image award), and it proved highly successful with consumers. A smaller, roughly cubic, Mu-so 'Qb' then followed.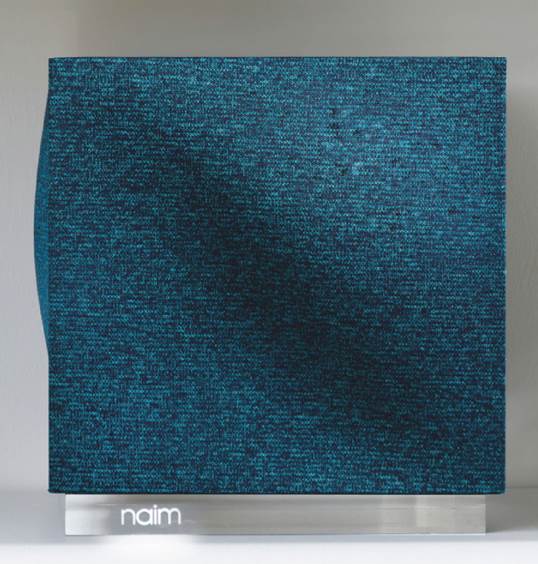 Five years on from the original Mu-so came Mu-so Generation 2, in first the full size, and now this smaller Qb Gen 2. What's changed?
Equipment
Much has changed, claims Naim, stating that the new Qb has been re-engineered from the ground up. But it doesn't look much different at all. The Gen 2 of the larger full-size Mu-so has a new cabinet which is only slightly smaller on the outside but significantly so on the inside. In contrast the new Qb is millimetre-identical to the previous edition (it's roughly a 21cm cube).
The weight is unchanged at 5.8kg, and the power use and specs remain the same.
7Review earns Amazon affiliate commissions from qualifying purchases. You can support the site directly via Paypal donations ☕. Thank you!
The drivers also appear the same, still situated in the craziest bit of contoured baffle (see overleaf) that has the
SUMMARY
Naim Mu-so Qb Gen 2 wireless speaker
PROS:
Neat, small footprint
Great app & operation
Plenty of paths to music
Good sound in corner position
CONS:
Sounded weedy in free space
Box-bound sound compared with B&W Wedge
tweeters in the middle, angled outward quite widely, the midrange drivers in the top corners slightly less angled, and a single racetrack-shaped woofer delivering the lower frequencies in mono. The side faces also do their bit for the frequency response by housing passive bass radiators of the same shape and dimensions as the frontal woofer.
All these drivers are hidden behind the bulging fabric grille which wraps around the front three sides. There are new colours for the optional grilles you can order should black not be to your liking: Olive, Terracotta and Peacock (featured in the lead image on the previous page) are this gen's colours, where Gen 1 offered Deep Blue, Vibrant Red and Burnt Orange. Those colours survive in Naim's app, which can be colour-styled to your preference (there are new textured options there too!).
The original Qb had no physical remote provided, though one was available as an extra. Now you get one included, which we reckon to be a major benefit. Even though most households have too many remotes already, and even though you may be using a smart device for control when streaming music, it is nearly always easier to tap the remote on the table to change volume or pause than to open the app to make adjustments.
The other physical control point is Naim's now famous knob, upgraded to offer 15 different touch zones, though these are offered contextually depending on what's happening,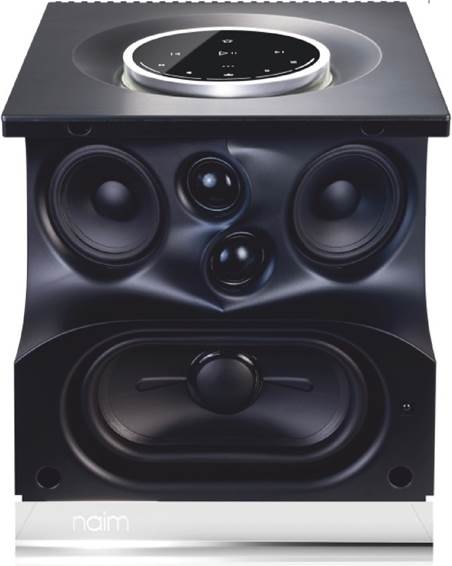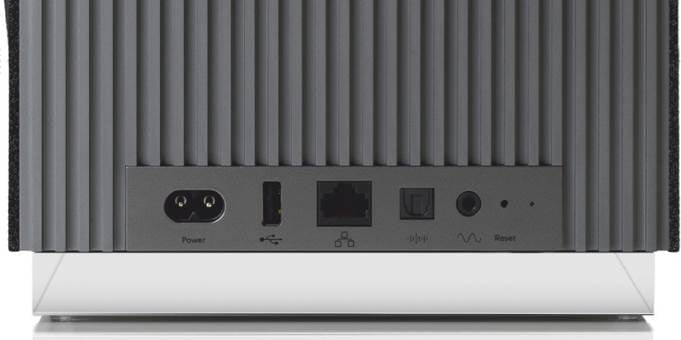 ▲ Round the back are the Naim Mu-so Qb's physical inputs — one USB slot for files on a stick or drive, the Ethernet networking option, an optical digital audio input, and a minijack analogue socket. Plus that important status light!
so things are rather more intuitive than they may otherwise sound. The large knob also has a proximity sensor so it illuminates as your hand approaches; very cool.
Paths to playback
The combo of physical inputs and streaming options is powerful. Apple's AirPlay 2, Google's Chromecast and Bluetooth are all included, while Naim's app provides direct access to Spotify, Tidal and internet radio.
Naim's app can offer UPnP browsing and playback of music stored locally on computer or NAS drive; the Qb can play high-res audio files up to 24-bit/384kHz and DSD128, though for the higher of such formats, you'd be wise to give it a wired Ethernet network connection rather than Wi-Fi (even though the Ethernet is 10/100Mbps, not gigabit-capable). Roon users will also find the Qb to be Roon ready three ways, in fact, given AirPlay and Chromecast each also provide Roon a separate end-point.
The one omission is the lack of a higher Bluetooth codec than AAC; Android users would default to the basic SBC codec, so other options offered by Naim's app (for Android users, notably Chromecast) would yield better-quality streams. Unlike B&W's Wedge, the Qb also allows you to plug in additional sources as well — there is one minijack analogue input, one optical input and a USB slot for sticks and drives (formatted as NTFS, HFS or FAT32). But the Qb Gen 2 doesn't gain the HDMI socket which has been added to the full-size second-gen Mu-so.
Multiroom
There are at least three ways the Qb can operate within a multiroom context. Naim's own app can combine it with other networked Naim products, including other Mu-sos, the company's full-size hi-fi separates or any of the all-in-one Uniti series. Apple AirPlay 2 can also address multiple AirPlay 2 speakers from any brand (even AirPlay 1 could do this from iTunes on a Mac computer), and the third option is Chromecast, grouping with other Chromecast devices using the Google Home app: once grouped, they appear combined as a new option to select within Cast-enabled apps like Spotify.
So many ways to play! But does the Qb remain easy to use, and how does it sound?
Performance
All hail the flawless set-up of the Naim Mu-so Qb in cohoots with the Naim app. The trick here is to have the Qb facing backwards when you're setting it up, because the status light is at the back, and we bet most new users are confused when the app says it should light up in orange or purple, because the most obvious light is the bright white circle around that magnificent top knob — and that's clearly always white. A diagram in the app would be a wise addition here.
Once you have that handy information, it's a breeze. Tell the app what colour the indicator is, and the app tells you what to do. We had a software update running within minutes, though things got a little confused once that started, since the app doesn't know what's going on and loses connection, though if you tell it that the light has gone blue then it explains what's going on.
We love the Naim app; it's clear and robust to use. And that little physical remote control is a huge bonus so you don't have to fumble phone-wards every time you want to tweak the level, as you do with the B&W Wedge. The Naim app, which was already on our iPad Pro from the main Mu-so's visit some months ago, knew our Tidal log-in and was ready to push out a Masters collection of classics as soon as the update was done. (Indeed we loved that the Naim app defaulted to showing our Tidal favourites, not a load of rising stuff we've never heard of, as does the Tidal app itself.)
We made the mistake of beginning our listening with the Qb out on a good solid speaker stand in free space a few metres away. It sounded a little light, on some material even edgy in the mids — Hey Jude, for example, had no real bass support; indeed nothing much did. And yet when we checked its settings, the loudness control was on (by default, it seems) and the first of the Room Compensation settings was engaged, which is for positioning some distance from the wall. There are no tone controls as such, so no way to further compensate using EQ.
We turned up the volume, and soon realised that the Qb best showed its strengths above casual listening levels. The bass lifted to higher prominence, the balance settled, and music became far more enjoyable. We could turn it up significantly indeed, because the Qb is capable of doing so without audible distortion antagonising the ears.
Getting off the classics and into more modern bass-strong recordings also gave the Qb more to work with. Church from Coldplay's 'Everyday Life' opened with a nice thumpy kick drum and the Qb rolled out every note of its bass evenly and cleanly, while Chris Martin's vocals were well-toned and Norah Shaqur soared above it all with her Arabic vocal line. The actualite sounds embedded in the following track Trouble in Town was also impressively spaciously projected.
Going hip-hop, the appropriately-named Boomin by Big Flock didn't have its sub-bass fully presented, though the Qb tracked the beats tightly and crisply. We gave it the test of Tyler The Creator's EARFQUAKE, and the big three bass notes of the verses were delivered OK, not as dominant as they should be, and just starting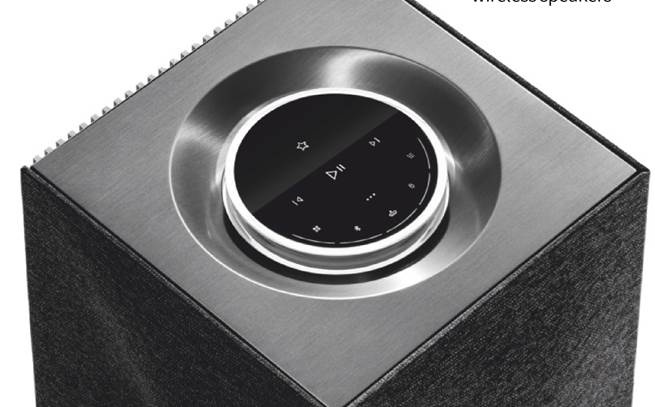 "Find the right home for the Naim Qb, and you won't be disappointed in its sound, while the app, remote and useful inputs all score further points…"
to fade on the lowest F#. Tidal then led us to 'Earquake', an album of the "loudest classical music of all time" by (mainly) the Helsinki Philharmonic, and this again left us wanting more support down low, here even at volume. We moved the Qb to a corner and tried again. Here it sounded more generally balanced, and impressively unmuddied by its surroundings, the opposite result to that of the B&W Wedge, which in direct comparison has masses more bass in free space but got quite muddy in the same corner position.
The impact of the timpanis and cymbals slamming through Prokofiev's Scythian Suite were quite something through the Qb at volume. We returned to Hey Jude and the bass was now so strong that we had to carry the Naim back to its free-space position while playing the song, to check we hadn't accidentally changed some tone setting. Nope — it was still weedy in free space, huge in the corner, where those side passive radiators can excite some standing air.
Throughout the two weeks we had the Qb running, we never once used its magnificent top knob — such is the way of life spent streaming from the sofa. But it's there to impress your mates by illuminating as you wave your hand over it to give its crenellated radius a spin. We were greatly enjoying the Naim's sound, but we were also able to switch our streams quickly from the Qb over to the B&W Wedge. The Wedge aced this comparison easily — a sound far larger more extensive and open, less box-bound, more hi-fi. That makes a difficult choice: the Naim is far more versatile and easier to use, but the Wedge sounds better.
Conclusion
With the full-size Mu-so now so pricey, the Naim Mu-so Qb is a great alternative for smaller rooms, also powerful enough to excite larger ones. If you listen to a lot of oldies, the Qb simply must sit in a corner, because bass-light material is poorly delivered in free space, particularly at lower levels, and there are limited EQ fixes. Recordings from the 21st century, on the other hand, offer the Qb more in the way of bass at source, and especially when you turn things up, it comes alive, and sounds great. Find the right home for the Naim Qb, and you won't be disappointed in its sound, while the app, the remote and its useful inputs all score further points.
SPECS
Naim Mu-so Qb Gen II
Inputs: optical digital, minijack analogue, USB-A, Chromecast, AirPlay 2, DLNA, Bluetooth
Drivers: 2 x tweeter, 2 x midrange, 1 x woofer, 2 x passive radiator
Amplifier power rating: 4 x 50W, 1 x 100W, no specs
Dimensions: 210 x 218 x 212mm
Weight: 5.6kg
Contact: BusiSoft AV
Web: www.busisoft.com.au
Best Naim Mu-so Qb 2 prices ?
MORE DEALS

See also: Naim mu-so qb 2nd generation vs Bowers & wilkins zeppelin vs Sonos five