Toshiba's affordable Dolby Vision HDR bigscreen appeals to Steve May's wallet. Read our TOSHIBA 58U2963DB Review.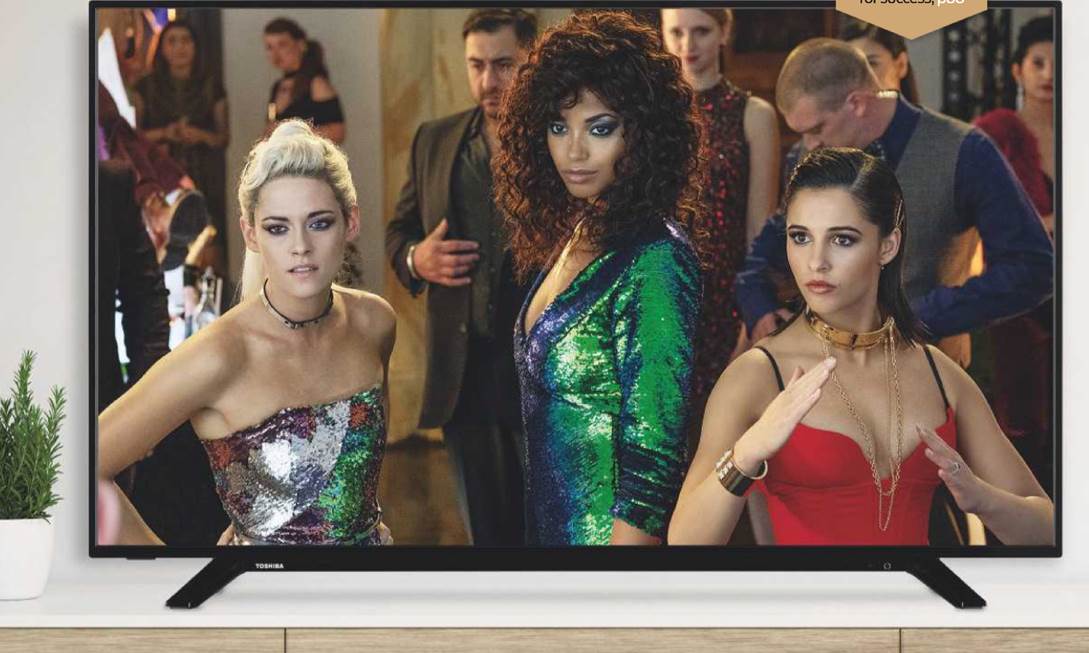 AV INFO
Budget 4K LED LCD TV with Dolby Vision
POSITION: One of Toshiba's many mid-range models, below the 'XUHD' lineup
Philips 50PUS6814; Hisense 55B7500
Toshiba has taken the budget end of the 4K TV market by the scruff of the neck and given it a good shake. Offering three inches more than the regulation 55in competition, at a price that will have even seasoned bargain hunters doing a double-take, this well-specified cheapie (added temptations include Dolby Vision and Freeview Play) wants to woo those looking for the biggest possible picture for their cash. Which, let's face it, is most of us.
The brand may be out of the premium screen running, but clearly it sees bargain bins as a happy stomping ground. So if you're after mega value is this model an irresistible buy?
7Review earns Amazon affiliate commissions from qualifying purchases. You can support the site directly via Paypal donations ☕. Thank you!
See also TOP Televisions
and The best OLED TV deals 2022: get an awesome OLED at the lowest price
Most obviously, the U29 isn't going to win any beauty parades. At 74mm thick, the 58in model reviewed here (aka 58U2963DB) has more girth than Thor on furlough. The bezel is a little larger than we might hope too, while plastic boots balance the panel left and right. You'll need expansive AV furniture to accompany it.
Build quality can safely be described as average. I also took an immediate dislike to a bright green LED which glares at you while the set is on. But (and it's a big but), given the price ticket I'm prepared to cut it some style slack.
The screen offers three HDMI inputs plus analogue video and stereo audio phonos, a PC input and digital audio optical output. HDMI 2 supports ARC for soundbar use, while component sources can be input via VGA (something of a rarity these days), using an adaptor. Two USB 2.0 ports, Ethernet, and Wi-Fi and Bluetooth connections, complete the lineup.
Tuner choice covers Freeview Play, with the familiar rollback programme guide, and generic satellite. Screen mirroring via Miracast is also available if you fancy it.
While the TV recognised my NAS and Twonky Media server, file playback success was limited, with most file types refusing to play (despite claims of widespread support). If you want to play content from network storage, I really wouldn't recommend this model. Most users will have moved on to streaming, though, so this may not be the issue it once was.
Satisfactory smarts
The set uses the Toshiba Smart Portal, seemingly developed by manufacturer Vestel. Somewhat stripped down (like Philips' Saphi system), it's functional rather than flashy, with a single launch bar that scrolls and offers contextual menus.
App choice covers all the key streaming services, plus mainstream catch-up TV players. Included are Netflix, Amazon Prime Video, BritBox, YouTube, Rakuten TV, Chili and Flix Premiere, amongst others. Browse around and you'll also find VOD movies and disparate curated content. None of this represents a heavy load, so the set's dual-core processor makes for reasonably sprightly navigation.
A big-buttoned remote control offers dedicated Prime Video, Netflix and Freeview Play hot keys. Netflix and YouTube are 4K-enabled for UHD streams, although bizarrely the set's Amazon app isn't.
This Toshiba is also Works with Alexa certified. If you have an Alexa device on your network, you'll be able to use basic voice commands to change channel or adjust volume.
Alexa won't be able to help you with the most pressing of tasks though, which is to immediately visit the Picture settings menu and switch off Energy Saving (unless, of course, you're happy to hobble picture quality from the outset). Beyond that, there's little manipulation to be done. Standard image adjustments available include contrast, brightness, sharpness and colour, plus a Dynamic Contrast tool that's for best on Medium. Picture presets are Natural, Cinema, Game, Sports and Dynamic, although you'll find precious little difference between them.
The U29's price tag may be low, but there's support for Dolby Vision, regular HDR10 and broadcast HLG standards. There's no provision for HDR10+, which puts the set at a slight disadvantage compared to (admittedly more expensive) entry-level 4K models from Philips and Panasonic.
It's best considered more HDR ready than HDR capable. I recorded peak brightness at 300 nits, with virtually no variance related to the size of the test window measured (be it 10 per cent or 5 per cent), or indeed the image preset chosen. The result is remarkably consistent.
The consequence of this is that the average picture level is rather uniform, with little in
1. Toshiba's budget bigscreen supports Dolby Vision playback
2. The cabinet depth provides ample space for downward­firing drivers
the way of razzle dazzle. The provision of a dynamic metadata system like Dolby Vision should theoretically be perfect for such a low-brightness HDR screen, proactively tone mapping for the best possible picture, but there's so little headroom here it really doesn't seem
'I had to pinch myself that I was getting all this spectacle from a 58in TV'
to make that much difference. Which is not to say there are zero dynamics to be had. Star Trek: Discovery (Netflix) looks stellar, combining fine HD detail with a pleasing HDR lift.
And given native 4K content, the set shows its potential, particularly when the subject matter is brightly lit. My go-to sun-dappled forest sequence from Okja (Netflix) is superbly defined. I had no problem isolating believable detail in the hide of the superpig, and when the giant porker runs riot in Seoul, I had to pinch myself that I was getting all this spectacle from a 58in TV.
Ultra HD Blu-rays can also look very good, at least in terms of sharpness. But every so often, reality bites. The 58U2963DB suffers from limited contrast, and a restrained black level. It looks its best with some ambient lighting in the room, as the image dilutes in a fully darkened theatre. Colours and contrast also fade when viewed off axis. Posterisation effects are quite common.
The set doesn't benefit from Toshiba's MEMC (Motion Estimation/Motion Compensation) engine either, which limits perceived motion resolution. The result is somewhat blurry pans – sports fans take note – but the fact there is no fast frame-rate processing does at least mean that films retain their cinematic aesthetic, with no obvious 'soap opera' effect.
Making space for sound
Audio performance ranks above comparable budget panels, thanks to downfiring stereo speakers that are able to make their presence felt and sound well-balanced. The U29's sizeable cabinet is a blessing here, accommodating some larger than average drivers.
The sound system is supplied by Onkyo, and proffers a variety of audio modes (Music, Movie, Speech, Classic, Flat, User), which allows for some personal preference, but the TV is not Dolby Atmos enabled.
The U29 acquits itself well enough when it comes to console gaming, coming in just under my acceptable image lag threshold of 30ms. You'll obviously get lower latency figures on better- specified screens, ' but 30ms is a solid score for a non­specialist display.
What's odd is that there's no real measured benefit when selecting the dedicated Games mode. I noted image lag using the Natural picture setting at 26.4ms (1080p/60). Swapping to the dedicated Game mode, this improves to just 25.7ms. Hardly worth the effort of navigating the settings menu…
Functional friend
Clearly you're not going to be taking home a premium performer for the price the 58U2963DB sells for. But if you're after a second screen where functionality trumps performance, this model offers quite exceptional value for money, and plenty of picture. It's well worth shortlisting for second-room use, which is what a lot of folks have been looking for of late…
VERDICT
TOSHIBA 58U2963DB Review
An unfeasibly huge Dolby Vision 4K screen for the cash. Not a prime performer by any stretch, but a good budget buy for second room binge-watching.
Add your review
Best TOSHIBA 58U2963DB prices ?
MORE DEALS

See also TOP Televisions
and The best OLED TV deals 2022: get an awesome OLED at the lowest price
3. While HDR compatible, peak brightness measures around 300 nits
SPECIFICATIONS
4K: Yes. 3,840 x 2,160 HDR: Yes. Dolby Vision; HDR10; HLG TUNER: Yes. Freeview Play CONNECTIONS: 3 x HDMI inputs; 2 x USB; VGA; digital optical audio output; Ethernet; headphone output SOUND (CLAIMED): 2 x 10W BRIGHTNESS (CLAIMED): N/A CONTRAST RATIO (CLAIMED): N/A DIMENSIONS (OFF STAND): 1,462(w) x 843(h) x 74(d)mm WEIGHT (OFF STAND): 15.5kg
FEATURES: Built-in Wi-Fi; Miracast; Bluetooth; Works with Amazon Alexa; USB multimedia playback; Toshiba Smart Portal; dual-core processor; Netflix and YouTube 4K apps; HDMI ARC; Sound by Onkyo; Music, Movie, Speech, Classic, Flat and User sound presets; five-band equaliser
PARTNER WITH
BRITBOX: A recent arrival on the VOD scene, BritBox is a joint ITV/BBC venture that makes hours of familiar UK programming (and a few original series) available for a tempting £ per month. Toshiba integrates the app in its smart portal.