Redesigned with new drivers and new abilities, the second generation of Naim's Mu-so wireless multiroom speaker handles multiple streaming platforms to deliver many paths to your music. Read our NAIM AUDIO MU-SO Review.
Many hi-fi moons ago, Naim Audio was a dyed-in-the-wool amplifiercentric UK hi-fi company regarded as something of an industry rogue in terms of 'going its own way'. But it evolved, taking its core base of truly hi-fi amplification to new levels (witness the $ + Statement pre-power amplifier), while investing well ahead of the pack in streaming audio trends. Its 2011 merger with French speaker company Focal brought an injection of design flair and driver nous to Naim products, and a few years later came its first wireless standalone speaker, the Mu-so.

Somehow this managed to retain Naim's emphasis on audio excellence while shifting into this potentially populace-pleasing product area; reviewers loved it (it won a Sound+Image award), and it proved highly successful with consumers. A smaller, roughly cubic, Mu-so 'Qb' followed (see panel). And now,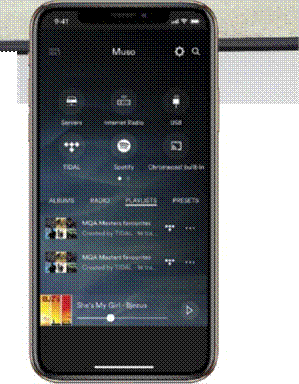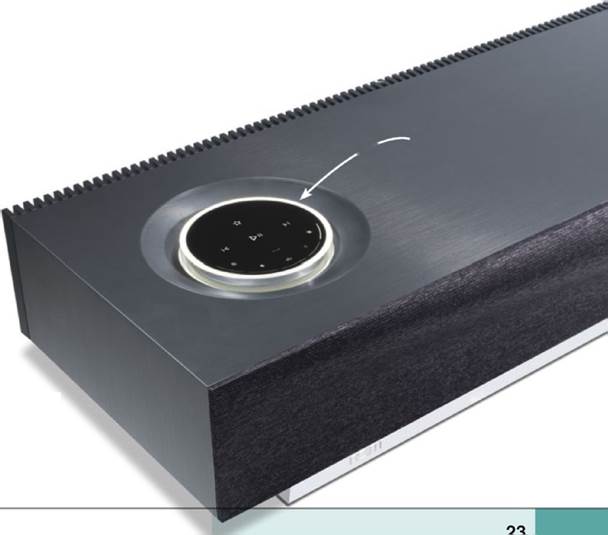 7Review earns Amazon affiliate commissions from qualifying purchases. You can support the site directly via Paypal donations ☕. Thank you!
five years on from the original Mu-so, comes the Mu-so Generation 2. So what's changed, what's the same?
EQUIPMENT
First, though, a quick summary of exactly what the Mu-so can do. It's a wireless speaker, with many ways to serve your preferred music to it — Naim's own app enables UPnP network streaming via Wi-Fi or Ethernet, also Apple's AirPlay 2, Google's Chromecast, Bluetooth: all these are included, along with access to all the main music services, including Spotify, Tidal and internet radio. Roon users will find it Roon-ready (three ways, in fact, given AirPlay and Chromecast also provide Roon access). It has decoding onboard to play high-res audio files up to 24-bit/384kHz and DSD128.
You can plug in additional sources as well — there is one minijack analogue input, one optical input and, new to the 2nd Generation, an HDMI socket which can receive sound from your TV via the Audio Return Channel if plugged into an ARC-equipped HDMI input of your TV. That gives the new Mu-so the potential to be used as a soundbar (though some previously used the optical input for this purpose anyway). It's too large to sit in front of most TVs, of course, but position it under a wall-mounted TV and you can have a very cool-looking music and TV sound system.
At first glance there's not too much aesthetically revised between the original and the new — why would you, given the praise heaped on the original, and its enormous top knob in particular.
So the aluminium casing has a refresh in burnished grey, though it still feels entirely industrial when you heft up its 11.2g. The standard grille with its weird bulge to the right remains black, but there are new replacement grille colour options of olive green, peacock blue, and a 'terracotta' kind of copper-orange.
There is a tiny size change externally — the length has been increased by 8mm, with height and depth unchanged. But the new cabinet is better braced, for improved rigidity, while the rear heatsink fins have been reduced in size. This has reduced the weight by nearly 2kg and has also somehow allowed Naim to add a claimed 13% in useful additional internal volume.
Inside, Naim claims that no fewer than 95% of the internal components are either entirely new for this launch or had already changed in production-run alterations since the original first-gen Mu-so.These include a much faster processor in charge of the signal processing, up 14-fold from a single-core 150 million instructions per second (MIPS) to a multi-core 2000 MIPS.
One function of this processing is a new software control of driver movement which is introduced only when the Mu-so is pumping hard towards its end stops; the new algorithm should limit distortion occurring at such extremes. The drivers themselves are also new, Naim working with its sister company Focal on the replacements; the specs sheets are a bit vague, but removing the grille reveals a stereo system with three drivers for each channel: a 20mm dome tweeter, a 50mm midrange, and a racetrackshaped 14 x 7cm woofer. The midrange drivers are at the outsides, the woofers central, all firing directly forwards Naim's app has evolved in the years since the original Mu-so launch, and is certainly the best way to browse your music collections and those available online, but you also get a small physical remote control, plus of course there's that giant knob on top, which Naim has also updated, now with 15 touch sensitive buttons, a proximity sensor that wakes the display as you approach, and lots of Naim's traditionally arcane symbols for you to puzzle over.
PERFORMANCE
It is quite the hefty object when you lift the Mu-so from its carton, and we thought for a moment Naim had replaced its glorious knob with a tacky plastic one, till we remembered they ship with an 'mu-so'-embossed cap over the top. Our review unit was so fresh off the boat that it had no Australian power lead provided, and knowing that Naim has a certain level of mythology around mains cables, we did not substitute one of our own, but rather used the UK-terminated Naim lead and plugged it into the wall using a sturdy adaptor. At the Mu-so end the connections tuck into quite a tight bay (especially for HDMI) under the right side.
We started with just that one mains plug connected, yet what a wealth of music the Gen 2 could provide, once we had followed the Naim app's instructions to get it on the network. Our iOS app used AirPlay set-up to do this, which we find to be delightfully reliable, and after restarting the app and logging on to Tidal we were playing Sound+Image's 'MQA Masters favourites' playlist within five minutes of attaching that power lead.
And the Mu-so's relaxed confidence was obvious from the first tunes. These files were arriving at 16-bit/44.1kHz FLACs, TIdal putting at our fingertips full CD-quality files of "all the music in the world", flowing through the wires of the world to our router, and from there wirelessly to the Naim Mu-so Gen 2. How realistic the glass smash in the intro of Blur's Parklife; how punchy its bass. How smooth Coltrane's My Favourite Things drifting by on a sunny afternoon. A slight edge and a thinness to Stevie Nicks on The Chain has us checking the audio settings, and we removed the default Loudness setting.
This smoothed and filled the edginess without much
The legendary knob  on top of the Mu-so 2 has a proximity sensor, so it knows when you're coming.
Mu-so Qb – spread the music
Naim also has the 'half-sized' Mu-so Qb (it's almost but not quite a cube) which, when we reviewed it, we thought pretty much unbeatable in sound terms for its size, competitive at the price with the best wireless speakers on the market. The Qb retains the wide abilities and multiroom of the larger Mu-so, while shrinking its form factor with remarkably little trade-off in reduced sophistication of sound. It's based on the original Mu-so, of course, so that we wouldn't be surprised to see a Qb Gen 2 in a year or two, with added Chromecast, Roonness and other developments taken from its Gen 2 big brother.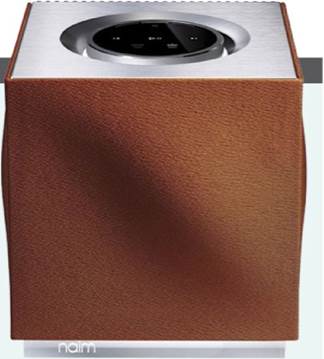 loss of depth, indeed the opening kick drums were now better shaped, so that you could hear the slack in the skin as well as the thump. There was still a massive rolling bass available to pump the room with energy on Beyonce's Daddy Lessons, yea, even unto the bottom F.
Additional settings offer adjustments for positioning near walls or in a corner, but were not required for our listening position in a medium-to-large room where we had it mounted dead centre below our television, because we also wished to try it as a soundbar, playing via ARC into its HDMI input. This didn't play ball with our TV, so we played from TV via the optical input, and this aside, it was a great success. Accurate musical sound translates perfectly well to delivering movies and TV (where often the reverse is not true: soundbars built for movies can be dreadful at music), and the Naim delivers brilliant speech, full-bodied and natural; we missed not a nuance of the talk-fest beginning Go T S08E05, yet when the dragons fly and the city falls, the action was supported by high-quality effects and of course surging music, the Naim's forte. This is delivered in simple stereo — no pseudo-surround, no Atmos, but we'd far sooner have high quality stereo than pseudo-surround. It passes the soundbar test with flying colours, a big-hearted performance.
Then back to music for the rest of our time with the Mu-so Gen 2. With the choice of app for browsing and a small physical remote for traditional volume control, we barely touched the magnificent top knob, except a couple of times to select input and to adjust volume in passing.
And so many ways to play. From Mac, and from Roon, via AirPlay 2, casting from apps and from Chrome browser windows to its Chromecast. Direct from Spotify, which the Naim made sound impressively hi-fi, but better still from a Tidal HIFI subscription. Streaming from a NAS drive via DLNA, where the Mu-so can play files up to 24-bit/384kHz and DSD to DSD128 (for which an Ethernet connection would be recommended).
With so many options we clean forgot to try Bluetooth, for which Apple devices owners are better served than Android (there's AAC available but no aptX), but we did use the Google Home app to bring its Chromecast under voice control. We renamed it 'Muso', and this turned out to be an easy word for Google to recognise even without making it the default speaker for playback — 'Hey Google, shuffle Philip Glass on the Mu-so', and out it would come. The Chromecast functionality will support either Spotify or Google play streaming in this way. The Philip Glass selection presaged what proved to be exceptionally enjoyable delivery of classical music from what is, after all, a single-point wireless speaker. Its delivery of stereo width is limited to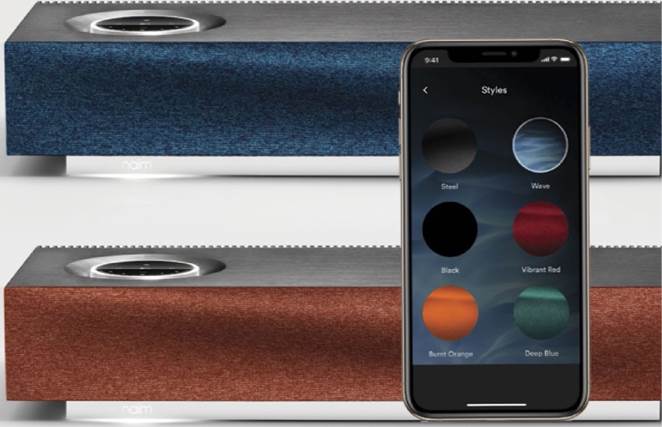 Olive, Peacock, Terracotta – the Mu-so 2nd Generation offers three optional grille colour options in addition to standard black. The Naim app even offers matching colour schemes.

fairly close quarters; across a room the soundstage is inevitably reduced, as for any single-box speaker, yet it is nevertheless a spacious sound, and a further merit with classical music is its ability to sound good at both low volumes and high, with proper differentiation between the two; this is not a speaker which plays well only at higher levels. While this trait assists all manner of material, and makes quieter listening a pleasure, it's a gift to the dynamics of classical music, where a piece like Brahms' Hungarian Dance no 5 (Wiener Phil, DG, 1982) is given full head to deliver its bursts of energy.
And finally you have three different ways to use it in a multiroom context — AirPlay 2, Chromecast, or Naim's own app with other networked Naim gear.
CONCLUSION
One other thing that's changed is the price — the original Mu-so arrived in 2015 at $, a big jump. But then it does provide a complete and versatile listening system, being perhaps the world's best and most desirable wireless speaker.
Naim Audio Mu-so Gen. 2 wireless speaker
•     Brilliant performance from a single box
•     Wildly versatile for streaming options
•     Great looks
•     Priced accordingly
•     Large footprint
Drivers: 2 x 20mm tweeters, 2 x 50mm midrange 2 x 14x7cm woofers Quoted power: 6 x 75W (no parameters) Inputs: HDMI+ARC, minijack analogue, USB, optical digital, Ethernet, Wi-Fi, Chromecast, Bluetooth (SBC, AAC), AirPlay 2, Spotify Connect, Tidal, internet radio, Roon ready Dimensions (whd): 628 x 122 x 264mm Weight: 11.2kg
Contact: BusiSoft AV Telephone: 03 9810 2900 Web: www.busisoft.com.au
Naim Audio MU-SO Home Audio System
as of December 7, 2023 8:59 pm
Features
Six special speaker drivers and six amplifiers with a total of 450 watts of power.
Wirelessly stream high-resolution audio content with AirPlay and UPnP
Refined bass reflex system for room-filling sound
Connection options: Bluetooth (aptX), USB, analog (3.5 mm) and optical digital connection
Access millions of songs via built-in streaming services and Internet radio stations
Naim Audio remote control for Mu-so Qb
as of December 7, 2023 8:59 pm
Features
| | |
| --- | --- |
| Part Number | localization_B01M6ZNT95 |
| Model | localization_B01M6ZNT95 |