Ultimate earbuds
Master & Dynamic MW08 vs B&O Beoplay EQ vs Bower & Wilkins P17
03 Feb 2022 – Words: Matt Bolton, Yasmine Cross Iand, Photography: Neil Godwin
You don't want the sound of the crowd, you want the sound of your tunes, so let us compare the highest quality lug-fillers you can buy.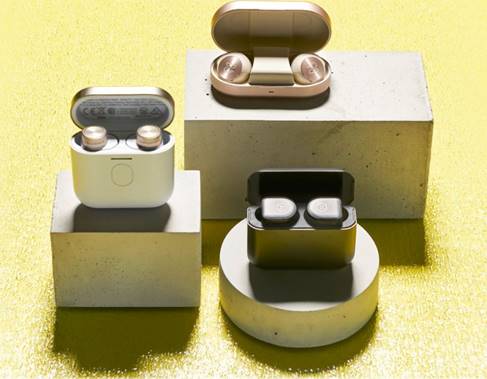 The time to invest in your ears has well and truly arrived. There was always a case for it, but now it's more imperative than ever. We've landed at a perfect convergence of form and function. Form because true wireless tech has evolved into a truly respectable, powerful force of audio nature. Function because our situations now basically demand a way to efficiently block out the world, and true wireless ear buds are exactly that.
If you're a home worker now thrust back into the office, if you're a student forced onto the bus, if you're just really used to the quiet comfort of home listening and would prefer other sounds simply weren't there at all, a set of high-end buds makes all the difference.
Stepping up the price ladder does not only mean earning a little label cred. Bigger, better drivers offer extra detail to sound. Connectivity gets easier and more consistent, while whatever fidelity loss you might expect becomes all-but imperceptible. More advanced ANC, with more mics backing it up, works harder to oust outside sound and makes transparency modes clearer and less robotic. You'll get better battery life, sharper design, extra durability, the full works.
High end buds give you a world of your own, filled with the sound you love in perfect clarity, or even filled with blissful nothing if that's what you'd prefer. If anything, they're an investment in yourself.
7Review earns Amazon affiliate commissions from qualifying purchases. You can support the site directly via Paypal donations ☕. Thank you!
WHAT'S ON TEST…
Bottom Line
specs
Website
Master & Dynamic MW08
Check Prices
Bottom Line
Master & Dynamic's follow­up to its MW07 adds some smart engineering tweaks, both to the buds and the case. With bigger 11mm beryllium drivers, better connectivity and more versatile ANC, the MW08 promise powerful sound and some serious style.
specs
Drivers
11mm beryllium
Connectivity
USB-C, Bluetooth 5.2 with aptX
Microphones
3 per bud
Weatherproofing I
PX5
Battery life
Up to 12 hours buds; up to 42 hours total
Dimensions
21.2×20.2×25.1mm per bud; 64×47.1x25mm case
Weight
9g per bud; 81g case
Website
masterdynamicco.uk
B&O Beoplay EQ
Check Prices
Bottom Line
Made of spacecraft-grade aluminium, packing electro­dynamic drivers and offering the kind of audio customisation you'd expect from a product with 'EQ' in its name, the Beoplay EQ promise a perfect fit and a superior sound befitting B&O's stellar reputation.
specs
Drivers
6.8mm electro­dynamic
Connectivity
USB-C, Bluetooth 5.2 with aptX Adaptive
Microphones
3 per bud
Weatherproofing I
P54
Battery life
7.5 hours buds; 20 hours total
Dimensions
24x22x27mm (case)
Weight
8g per bud; 50g case
Bowers & Wilkins PI7
Check Prices
Bottom Line
With the handsome PI7 Bowers & Wilkins doesn't skimp on the specs, mixing dual individually amplified hybrid drivers with 24-bit wireless connectivity, next­gen six-mic ANC and even a smart retransmitting case able to effectively extend their range.
specs
Drivers
9.2mm driver, high-frequency 'balanced armature' driver
Connectivity
Bluetooth 5.0 with aptX Adaptive
Microphones
3 per bud
Weatherproofing I
P54
Battery life
4 hours buds; 20 hours total
Dimensions
60x28x57mm (case)
Weight
7g per bud; 61g case
Website
bowerswilkins.com
MASTER & DYNAMIC MW08
Delivering superb sound and tons of features, these are terrific buds
Let's cut to the chase – the Master & Dynamic MW08 are some of the best true wireless earbuds you can buy right now. They combine style with great sound and. active noise cancelling. You couldn't ask for much more, and their price is a definite reflection of that.
The earbuds are a sleek shape, square on one end and rounded on the other. A ceramic finish makes them lightweight and scratch resistant. While the semi-square design looks smart, it can be confusing; it took us a few uses to remember that the straight edge goes at the front
Each earbud will last 12 hours of music playback and the case gives you an additional three charges, holding 42 hours all-in-all. That's more than enough; a single charge will last you the full day. With the extra charges, you won't need to remember to plug it in very often at all.
Using custom 11mm beryllium drivers, the Master & Dynamic MW08 are very clearly focused on delivering high-end audio performance. And that is exactly what they do. You can hear every note with outstanding clarity and detail. Definitely more focused on the low-end, they
They have the class and style to make the likes of Apple shake in their boots
sounded powerful with a wide soundstage. Whether you're listening to ballads, rock or bass-heavy tunes, they cope incredibly well, delivering songs as they were meant to be heard. If s a shame you can't adjust the equaliser settings from the app, but considering how on point they sounded, we wouldn't say it actually matters.
For a pair of in-ear headphones, they have some of the best ANC you can get. Granted, the Max ANC doesn't block out all noise like the best pairs of over-ears do; we could still hear loud keyboard taps, the road or aeroplane noise. But having said that, it definitely drowns it out enough.
Calls are really the main area the MW08 earbuds fall down in. Despite being clear, the microphones made us sound quiet and muffled to the person on the other end. It wasn't so bad that you couldn't hear; however it'd have been nice for it to feel more effortless.
All in all though, this is a pair of ultra-clear true wireless earbuds with the class and style to make the likes of Apple shake in their boots. We're not saying they are completely faultless, but they're close to it
With powerful audio and a wide soundstage, the MW08 allow you tn hear every note with outstanding clarity and detail
B&O BEOPLAY EQ
A few issues here and there, but there's no arguing with the sound quality
The first noise-cancelling true wireless earbuds from Danish audio favourites Bang & Olufsen, the EQ are high-priced and high-quality, just as you'd expect from a brand almost as famous for premium design as decades of audio quality.
The fit is perfectly solid with both the silicone eartips and the Comply eartips. But although the B&O EQ never became very loose, they also didn't feel very secure while using them. They're weighty and they stick out quite a way, which makes them feel like they're always in danger of falling out of our ears. They're definitely not but the end result is we kept having to check and fiddle with them.
On the outside of the earbuds are touch controls. You can switch between noise cancellation modes by tapping on the left earbud, though the noises that indicate which one you're in seem indecipherable. They're too short and not indicative enough and there's no way to see which mode you're in using B&O's app. You can also adjust volume by tapping and holding – left for down, right for up. We have mixed feelings about this: on the one hand it's an option wireless earbuds don't tend to offer, on the other, it feels a bit imprecise and clumsy to use.
When it comes to sound things are overwhelmingly positive – as you'd expect from B&O. The real advantage
It does a lot of complex things effortlessly, like a string quartet you get for your money compared to the likes of Sony's high-end buds or AirPods Pro is a more open and expansive sound, bringing a lot more clarity and definition to the mid-range in particular. They're a really easy listen, too – to get all that detail, B&O hasn't made the sound overly sharp or filled it with a sense of attack. It does a lot of complex things effortlessly, like a string quartet.
The active noise cancellation is pretty good in most cases – this is one area where it beats the competition at the same price. For suppressing chat in the office, or cutting out droning sounds, it's better than the average noise-cancelling earbud, though not as strong as Apple, Sony or Bose efforts. Its major flaw is wind noise, though it's certainly not alone in that
If you want a pair of elite earbuds with sound that suits classic hi-fi fans, but doesn't miss out on mod-cons like active noise cancellation, then the B&O EQ are a great option. They have some foibles in their fit and controls, but nothing that's a deal-breaker, and the audio quality is like a lovely velvet blanket to wrap yourself up in.
At a high price, some of the competition offer a little more In terms of features – it's just about whether the EQ'S balance suits you more
BOWERS & WILKINS PI7
Simply next-level sound quality, coupled with truly ingenious features
You know when you bite into a perfect steak, or a delectable desert, and you just feel this instant sense of relaxation and comfort ? That's what these headphones do to you the second you fire up your first song.
The PI7 don't just sound good; they sound phenomenal. There are no compromises here. Bass is big and gripping, but never overwhelming and always precisely controlled, like Lewis Hamilton weaving a lorry through a chicane. Mids have energy and warmth that makes them just an immense amount of fun far pop, but also contain all the detail you need for haunting voices to include every croak. And the high-end manages to stand out clear from everything else, while also not feeling detached, and never comes across as artificial or hard.
The noise cancellation is good, too, though doesn't excel in the way the sound does. The PI7 is good at reducing consistent droning noises to almost nothing. Turning the ANC on and off on a busy road didn't make that much of a difference, but these are definitely good for hearing music that sounds full despite any outside noise.
The single biggest (potential) issue is size; their body extends backwards more than most headphones and they literally did not fit in the ear of one of our test subjects.
There's no question in our mind that they earn their price tag solidly B&W has included an excellent feature that means high-quality audio is more accessible than ever if you're using the PI7. You can plug the PI7's case into a computer or analogue audio source, effectively as a wireless adapter. The case will then send sound to the headphones over aptX LL (so: CD-quality audio). This is a great feature not just for convenience (use them with your Nintendo Switch!), but also for improving the quality of wireless audio from something like a MacBook Air.
B&W rates the battery life for around four hours in the earbuds per charge, with another 16 hours from the case. Newer models tend to get more than this, but it's probably long enough for most people listening in daily life.
The Bowers & Wilkins PI7 needed to be exceptional in a worldof excellent headphones that are half the price, and they are. They've ruined other true wireless headphones for us. There's no question in our mind that they earn their £349/$399 price tag solidly and we love getting this kind of audio quality in something so versatile – all the convenience, none of the compromise.
The earbuds themselves are rather large, and stick out quite a way from your ears. But this is very common among sound-focused true wireless earbuds
VERDICT – THE OVERALL WINNER IS…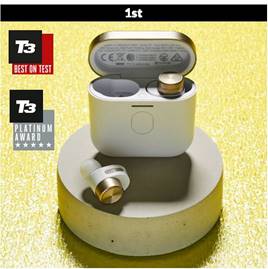 WE'RE IMPRESSED The best-sounding wireless earbuds yet; solid noise cancellation; bass is deep and resonant and knows its place; really dever extra features that add convenience; comfortable fit and weight..
WE'D IMPROVE …but size is literally too big for some; no quick ANC/Transparency switch; average battery life.
THE LAST WORD Bowers & Wilkins PI7 are a true wireless masterpiece, with some fantastic extra features. Every element feels like it's been allowed to be the most important element all at once, and it works. But the design of the earbud may be an issue for smaller ears.
5/5
WE'RE IMPRESSED Impressive sound; effective ANC and ambient modes; long battery life.
WE'D IMPROVE No EQ settings in app; case prone to scratches; microphones a bit quiet on calls.
THE LAST WORD The MW08 will put a spring in your step. They don't just deliver on sound, style or battery life, they have it all… and then some.
5/5
WE'RE IMPRESSED Expressive, detailed sound; premium build; good noise cancellation overall.
WE'D IMPROVE Slightly odd fit; touch controls are iffy; ANC doesn't handle wind well.
THE LAST WORD Delivers detailed and expressive audio to rival the most premium wireless earbuds. Some issues with the controls and fit, but they're minor.
4/5
FIVE WAYS TO GET THE BEST FROM TRUE WIRELESS BUDS
POSITION THE SENDER
Your body, being mostly water, does a great job of absorbing Bluetooth signals, and is the prime cause of signal dropouts. Always place your phone or Bluetooth device in a position which gives It as dear a line of sight as possible between it and the ear buds – and If they use a master bud, favour that particular ear.
PICKA BETTER SOURCE
With older buds this may not have mattered, but modem true wireless devices can handle higher bandwidth audio streams: pick a hi-res file, Tidal masters, or the highest bitrate you can on a service like Spotify, and you'll be able to hear the difference compared to lesser formats.
LOOK FOR CODEC COMPATIBILITY
Bluetooth may be getting better with every passing year, but its bandwidth is still somewhat limited. Every device will support the SBC codec, but more advanced compression methods like aptX HD, AAC and LDAC tend to do lossy audio conversion far more effectively – as long as you have a phone that supports them.
USE THE RIGHT EAR TIPS
Fit those buds properly In your ear and you'll get far greater passive isolation; Comply tips, made of sound-isolating foam, can be a solid upgrade. What's more, true wireless ANC (which, on the high end, takes advantage of in-ear mics to better cancel unwanted sound) will function more effectively, and your buds will be less likely to pop out
CHANGE YOUR PHONE
Different handsets offer true wireless buds (and indeed all Bluetooth sources) different levels of performance, not only surrounding the codecs they support but In terms of latency. A phone which works with aptX Low Latency is a good choice if you want to keep things in sync