Marantz's latest all-in-one blends modern features with more traditional functionality. Ed Selley puts it through its paces. Read our Marantz Melody X review.
In recent years, the choice of wireless streaming speakers, powered cabinets and other separates-style equipment has expanded enormously. All of which makes it so surprising that the humble CD micro system has proved so curiously durable – given that most Japanese house brands retain at least one in their inventory. Despite not yet having made the move into wireless speakers or soundbars, Marantz has been a very active participant in the category for some years now and the Melody X is not only its latest offering, but also the flagship of the current lineup.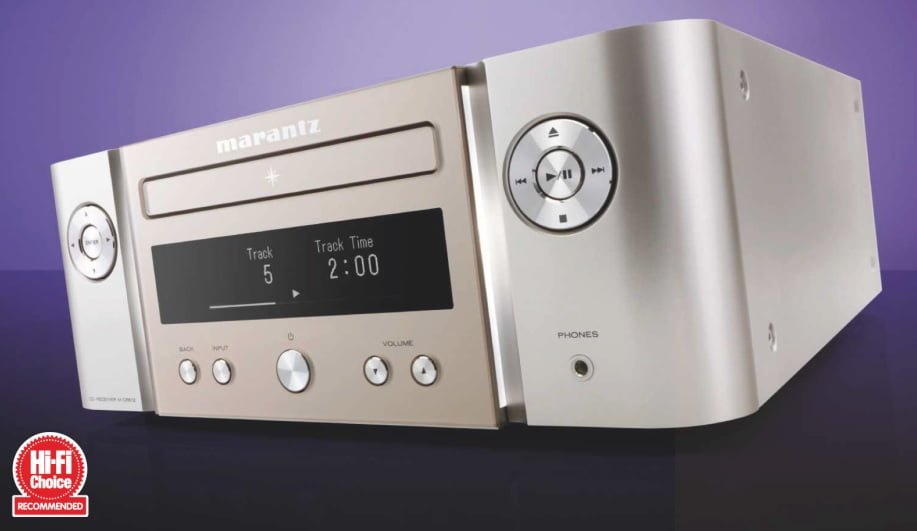 The X (also known by its more traditional but less catchy product monicker of M-CR612) replaces the M-CR511. Superficially similar to its predecessor, it offers an extensive selection of inputs and functionality. Some of this is entirely traditional. There is a CD mechanism capable of playback of both standard and MP3
DETAILS
PRODUCT Marantz Melody X
ORIGIN UK/China
TYPE All-in-one system
7Review earns Amazon affiliate commissions from qualifying purchases. You can support the site directly via Paypal donations ☕. Thank you!
WEIGHT 3.4kg
DIMENSIONS (WxHxD) 280 x 111 x 303mm
FEATURES
• Quoted power output: 2x 60W (6ohm)
• HEOS UPnP streaming and multi-room capability
• Digital inputs: 2x optical
• Analogue inputs: 1x RCA
• Outputs: 1x subwoofer preout; two sets of speaker terminals; 6.35mm headphone socket
DISTRIBUTOR Sound United
TELEPHONE 0208 1034770
WEBSITE marantz.com
and WMA-encoded discs. This is partnered by an internal tuner that features FM, DAB and DAB+ bands and a single RCA line input. Together, these functions have formed the basis of this product category from its outset and if you still want to use the Marantz in the same manner, you can.
This being 2020, however, there are some other options too. The aforementioned RCA is joined by a pair of optical inputs that support sample rates up to 24-bit/96kHz. One of these is helpfully labelled 'TV' and Marantz makes great play of the Melody X being a viable alternative to a soundbar. There is additionally, AirPlay 2 and Bluetooth, the latter being a slightly restricted SBC-only option so iOS users are rather better catered for than Android ones.
The most significant set of features comes in the form of a HEOS module. This software is employed across Denon and Marantz product lines and combines UPnP streaming from a NAS or USB drive attached directly with integral support for Amazon Music, Deezer, Napster, Spotify, Soundcloud and Tidal, with TuneIn providing internet radio connectivity. The platform can handle PCM up to 24-bit/192kHz and DSD128, decoded via its AKM AK4458 internal DAC. Potentially more useful is that the Melody X will join a network of other HEOS-enabled products (Marantz and Denon components can be mixed) to form a multi-room system.
CONNECTIONS
If the idea of multiple network audio products is not something that you feel ready for, the Melody X retains a more traditional multi-room option. The internal amplifier is quoted at 60W into a 6ohm load. It can also deliver four channels of 30W apiece so that you can connect another pair of speakers in another room. For those that have no interest in such fripperies, Marantz offers the Melody (M-CR412), which eschews the network know-how.
This combination of traditional and modern works to the Melody X's advantage in other areas too. It retains a full set of front-panel controls, a remote control that, while
The Melody X does a supreme job of conveying the space a recording is made in
a bit of a button fest, is comprehensive in operation. It is perfectly possible to select the bulk of the functionality without having to wake up a phone or tablet. This is then partnered with the HEOS control app that is a decent example of the breed. I don't like that it is based around a queue functionality, which simply adds an unnecessary extra step to playing music and means that the Melody X will periodically return to playing a track that you had long forgotten about. I do, however, like the way app control extends to the CD, tuner and selecting the digital inputs, which usefully ties the functionality together.
The Melody X looks almost identical to the preceding M-CR511 although the peculiar two-tone finish of the older model has been dropped in favour of more conventional black and silver options. The styling takes some of the visual cues of the current Marantz range and manages to make it into something that looks handsome in a conventional sort of way. The inclusion of a large and easy-to-read display is a definite advantage and while it doesn't look or feel as special as some similarly priced rivals (see How it compares) the Marantz is likely to sit in most domestic spaces without causing offense.
Sound quality
The good news is that the performance of the Melody X will go a long way to winning people over. Connected to Spendor's A1 standmount – possibly a more expensive choice than many people would select for a device like this, but one that is very revealing of the traits of what it is partnered with – it impresses from the off. Kicking off with the CD mechanism – which earns some immediate brownie points thanks to being fast to load and completely silent mechanically – the Marantz does a fine job with Amadou and Mariam's La Confusion. The opening Bofou Safou is delivered in a punchy and engaging way that majors on emotional engagement.
Dig a little deeper into the mix and the news continues to be largely good. There is a very slight perception of upper midrange lift that steers away from absolute neutrality, but means that voices in particular are given a really engaging tangibility that emphasises the tonal quality and richness that this lovely recording has in abundance. There is also a commendable sense of space. The pared-back Mokou Mokou successfully
Insights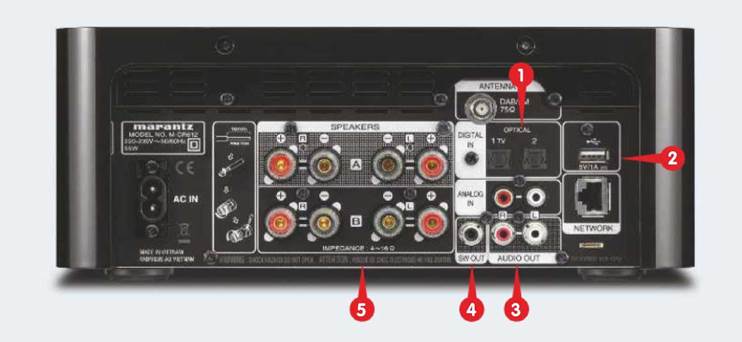 1 2x optical digital inputs
2 USB-A port
3 RCA stereo in and outputs
4 Subwoofer output
5 Binding posts for two sets of speakers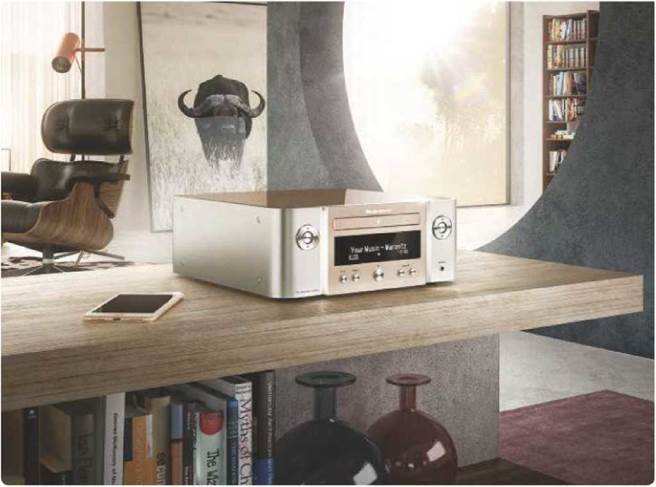 reveals that Mariam is considerably offset to the left-hand side of the soundstage and the Melody X does a fine job of conveying the space the recording was made in.
Moving to the HEOS streaming platform doesn't significantly alter these positive notes; small wonder
Vocals are highly engaging and emphasise tonal quality and richness
given that the decoding and output stage is identical in both cases. The 24/96 download of Peter Gabriel's 3 (Melt) has that same slight but pleasing emphasis to vocals that helps Lead A Normal Life sound as magnificently unsettling as ever. If you listen to the hi-res version in comparison with the standard 16/44.1 version available on Tidal the differences are not
particularly pronounced – less than is the case with more expensive equipment to hand.
This is not great news for fans of hi-res on a budget, but every cloud has a silver lining. The Marantz performs admirably with compressed music services and you have to work quite hard to provoke it into sounding thin or harsh. I suspect the balance of material the average Melody X is going to be asked to play is going to lean more heavily towards compressed and lossless than a diet of very high-quality recordings and this balance seems particularly well thought out.
The other slight limitation is that the Marantz does its best work from the midrange upwards. The Spendor A1 is not an especially seismic loudspeaker, but it can reveal details about how an amplifier delivers bass. The Melody X dishes up the lower electronic notes of Wild Beasts' Eat Your Heart Out Adonis in a manner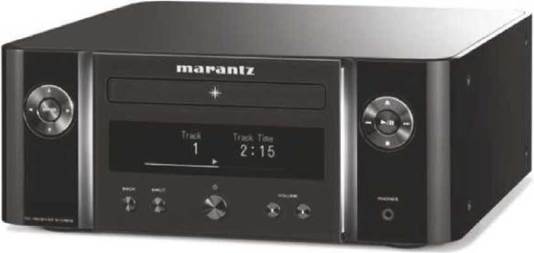 Available in black or silver, the Melody X boasts a simple, minimalist design
that is clear and detailed, although it doesn't really have the heft that is available elsewhere. This doesn't stop it from sounding consistently entertaining, however. There is an ebb and flow to the presentation that engages at an emotional level and it comfortably handles a wide selection of time signatures with the same commendable sense of energy.
It is also fairly easy to improve the low-end extension. Connecting a BK Electronics P12-300SB subwoofer (HFC 405) to its dedicated output is simple and setting a 60Hz crossover on the sub itself and keeping it on axis with the Spendor standmount offers a seamless and rather punchier presentation. The Melody X lacks any form of bass management itself, but provided that the subwoofer has some controls, the performance in a 2.1 configuration is genuinely impressive.
Should you decide to switch to listening via headphones, the performance is largely in keeping with the main outputs and employing Audio Technica's ATH-MSR7b (HFC 451) – which has a fairly hefty low end in its own right – there is rather more bass extension available, although the same fundamentally engaging tonal balance.
Conclusion
What makes the Melody X quite so amenable is that accessing this functionality is sufficiently straightforward that you're more inclined to make use of it all. Some of these design decisions only start to make sense when you spend a little time actually living with the unit. It might sound pointless to have controls for the CD section of the app for example, but as part of a multi­room system it really helps. Marantz has taken the venerable CD receiver concept and without changing any of the basics, has managed to turn it into a thoroughly 21st-century device that should win it plenty of fans
OUR VERDICT
Recommended
Marantz Melody X review
A very competitive product that offers excellent sound quality across a wide selection of features go
PROS
Refined but involving sound
spec
competitive price
CONS
Slight lack of bass heft
clunky app
Add your review
Best Marantz Melody X prices in the UK ?

£

459.00

£499.00
2 new from £459.00
in stock

MORE DEALS

The Marantz is cheaper than the phenomenal Quad Vena II Play (HFC 457) and the spec for CD users at least is rather more appealing. It also has AirPlay 2 and the HEOS app is marginally better than the DTS PlayFi platform used by the Quad. The Vena II Play has a phono stage for turntable use, more digital and analogue connections and better Bluetooth. The Melody X gets impressively close to the performance of the Quad, but the Vena II Play still retains a slight performance edge.