Joining Lindemann's compact series, the Bridge is a network player with some useful extra capabilities, says Ed Selley. Read our Limetree Bridge Review.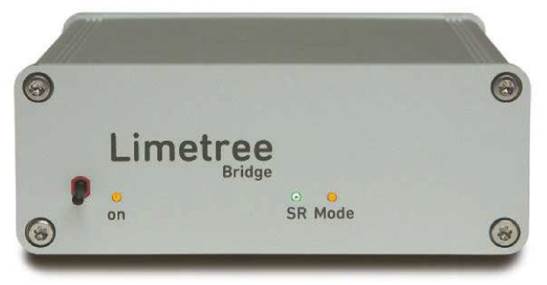 DETAILS
PRODUCT Lindemann Limetree Bridge
ORIGIN Germany
TYPE Network audio player
WEIGHT 300g
DIMENSIONS (WxHxD) 107x 40 x 107mm
7Review earns Amazon affiliate commissions from qualifying purchases. You can support the site directly via Paypal donations ☕. Thank you!
FEATURES
• Supports up to 24-bit/384kHz PCM and DSD256
• Digital outputs: 1x coaxial; 1x optical
• USB-A port; Ethernet; wi-fi
• Roon ready
DISTRIBUTOR Elite Audio Ltd.
TELEPHONE 01334 570666
WEBSITE eliteaudiouk.com
Continuing with its 25th anniversary series of more affordable components, Lindemann's Limetree Bridge is a little more unusual than the similarly sized Phono and Headphone models we saw back in HFC 441 and 444 respectively. This is a network audio player, but it's been designed to offer specific functionality that is different to almost anything else we've seen before.
Strictly speaking, the Bridge is a streaming transport with no decoding built in. It connects via the digital optical or coaxial output at the rear to an outboard DAC or amplifier of your choosing that's equipped with a compatible digital input. There is a USB-A port also, but this is solely for connecting external storage drives. Lindemann says that the Bridge is intended to give older DACs – the sort that only have optical and coaxial connections – the ability to work with a modern streamer.
To help with this, the Bridge does two interesting things. It can support DSD material and performs a conversion to PCM internally, which outputs the material in a manner that most outboard DACs will understand. The second is that if you input a 44.1kHz signal, it upsamples the output by four times to 176.4kHz – this upsampling can be reduced to two times should there be any compatibility issues.
There's a dedicated control app available for either iOS or Android.
As well as rendering local libraries it offers streaming service support for Tidal, Qobuz, Highresaudio, Deezer and Spotify Connect, and is also fully Roon compatible. An antenna is supplied for wi-fi hookup and it supports Bluetooth v4.2, making it more flexible than the similar SOtM SMS-200 Neo network audio player (HFC 449), which is wired only.
It extracts a little more fine detail and three dimensionality from 16/44.1 material
Like a great many streaming components we've seen recently, there are no front panel controls beyond a power switch and a pair of LEDs to denote incoming sample rate and upsampling mode. The iOS app is pleasant enough to use on my iPad and the unit is completely stable throughout testing, supporting gapless playback while the search functionality is pretty good, too.
The Bridge is housed in the same casework as other Limetree anniversary series components we've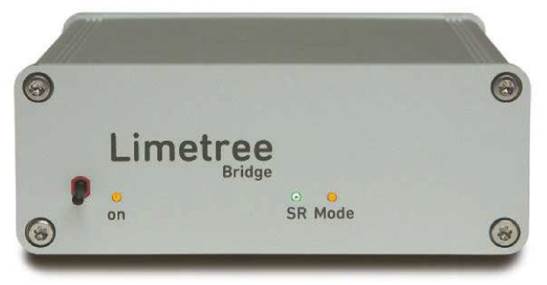 seen and looks neat and is extremely well assembled. Only the supplied wall-wart power supply with its rather short lead counts against it.
Sound quality
As with any streaming transport, the performance of the Limetree Bridge is largely defined by the components it is connected to, but there are some discernible effects from the upsampling that Lindemann has implemented. Connected to a Chord Electronics Hugo 2 DAC (HFC 428) via a coaxial cable, the gentle piano intro from The National's Fake Empires is tonally believable with a well-judged presence and scale and as the track slowly grows, the general sense of proportion and three dimensionality becomes increasingly clear.
Switching to Roon and connecting the SOtM SMS-200 in parallel to the USB input of the Chord Hugo 2, the Limetree Bridge is able to extract a little more fine detail and three dimensionality from 16/44.1 material, even with Roon's own upsampling used to mimic the Limetree's. With material that is natively hi-res the margin is smaller, but a 24/88.2 download of Toward The Within by Dead Can Dance still manages to sound fractionally better via the Limetree Bridge. The counter to this is that while the Bridge will happily convert DSD material to PCM, it does sound slightly better via the SOtM enabling the Chord DAC to handle it natively.
Conclusion
The Limetree Bridge is a specialist device with some clear benefits. It offers a solid user interface and Roon integration, while the upsampling is worthwhile if the attached DAC can handle the higher sampling frequency. The price is a bit high, but if you're in the market for it what the Bridge manages to achieve will bring a worthwhile upgrade to many setups •
OUR VERDICT
Limetree Bridge Review
A bolt-on streaming transport with impressive build and functionality
PROS
Transparent sound
interface
build
CONS
Some limitations with DSD
price is a little high
Add your review
Best Limetree Bridge prices ?
MORE DEALS