THE LG G6 is the flagship smartphone that got everyone talking at the recent MWC show. Besides ditching the G5's modular design, its 18:9 aspect ratio and almost bezel-free design adds even more screen space to a handset that keeps the familiar dimensions of a conventional 16:9 device.
LG's initial promise of a "very competitive" price hasn't quite come to pass, as its RRP isn't vastly cheaper than the  Samsung Galaxy S8, while both the iPhone 7 and Google Pixel cost even less. Still, there's no arguing that it oozes premium quality, with its stylish frame and Gorilla Glass 5 back panel. It's tough as well, holding the IP68 rating, meaning you can submerge it in water at a depth of 1.5m for 30 minutes.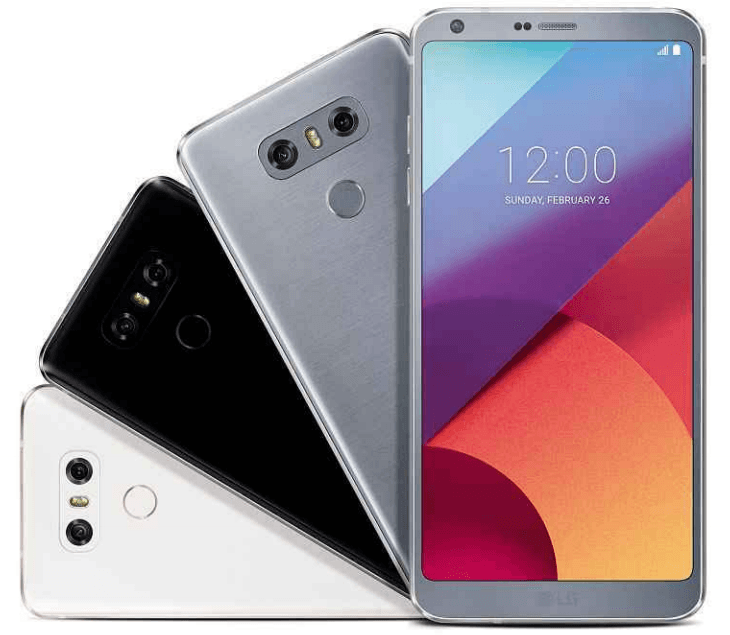 The 5.7in front display is protected by Corning's Gorilla Glass 3 and, due to its 18:9 aspect ratio, the LG G6 screen-to-body ratio is an impressive 78.6%. The phone isn't too heavy, at 163g, and despite the size of the screen, it's still usable one-handed.
TERA OF THE DEEP
The volume rocker sits on the left side, with a dual-SIM and microSD card tray on the right.
The G6 comes with 32GB of onboard storage so the latter is particularly welcome, and it impressively supports cards up to 2TB in size – such huge cards aren't even on sale yet. To charge and transfer files, you have a USB Type-C port on the bottom edge, and to listen to music, a 3.5mm headphone jack at the top.
7Review earns Amazon affiliate commissions from qualifying purchases. You can support the site directly via Paypal donations ☕. Thank you!
Of course, the main attraction is the display. Its 18:9 aspect ratio is a refreshing step forward for smartphones; it's hard to appreciate just by looking at product shots, but the extra bit of screen genuinely makes reading the news, watching films, taking pictures, multitasking and gaming more enjoyable and practical than before.
There's also Dolby Vision and HDR 10 support. Previously only available on high-end TVs, HDR widens the colour range, producing blinding whites and seriously deep blacks.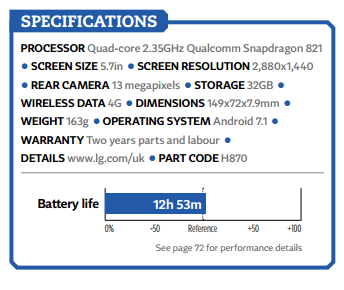 Obviously, your content will have to be HDR as well, but you should be able to watch both Netflix and Amazon HDR content as soon as the mobile apps have been enabled for the technology.
However, there is some day-to-day benefit, too: to meet these standards, LG has clearly worked on the screen's contrast and brightness. We measured the screen's contrast at a frankly astonishing 1,678:1 and 2,112:1 depending on screen content, which is the best we've seen on a smartphone, ever.
BLACK AND WHITE SITUATION
With a maximum 492cd/m2 brightness, the IPS screen is readable in all but the very brightest of conditions – we had no problem viewing the phone outside – and it also delivers stunning black level response. Surprisingly, our black measurement test result of 0.23cd/m2 is a very slight downgrade on the LG G5's, but it's still up there with the very best IPS phone screens.
Our only disappointment was that it covered 93.2% of the sRGB color gamut.
We measured the screen's contrast at a frankly astonishing 1,678:1 and 2,112:1 depending on screen content, which is the best we've seen on a smartphone, ever
This is still a high figure, but many other smartphones – especially those with AMOLED displays – can do better.
The G6 comes with Android 7.1 Nougat, along with LG's latest UX 6 overlay. This software – particularly its take on splitscreen multitasking – is a pleasure to use, and doesn't seem to hog too much of the G6's 4GB of RAM.
That's just as well, because LG has decided to go with the Snapdragon 821 CPU rather than the newer flagship-standard Snapdragon 835. As such, its Geekbench single-core score of 1,777 and multicore score of 4,137 fall behind those of betterspecced rivals such as the Samsung Galaxy S7 and Huawei P10. The Exynos 8895-powered Galaxy S8 comprehensively beats it as well.
GAMING THE SYSTEM
Generally, the G6 does feel slower during strenuous multitasking than its octa-core contemporaries. Even the fingerprint sensor feels relatively sluggish to respond, and it doesn't cope well with moisture, either – a tiny bit of sweat will force a PIN input instead.
It is, at least, much more competitive in gaming. In the GFXBench Manhattan offscreen test, the LG G6 averaged a high 49fps, which actually beats the Galaxy S7 by 11fps, the P10 by 2fps and the Google Pixel XL by 1fps. You'll have no issue with demanding 3D games here.
We weren't too thrilled by the battery life, however. Lasting 12h 53m in our video playback benchmark, the LG G6 will get you through a day of moderate use, but is still rather short-lasting by flagship standards.
Next to the Google Pixel's 16h 23m or the Galaxy S7's 17h 48m, it definitely loses out.
That said, one advantage of the Snapdragon 821 is its support for Qualcomm's Quick Charge 3, which together with the included fast charger and USB Type-C cable will net you about 50% charge in 30 minutes.
BETTER THAN ONE
The dual-lens camera on the old G5 was great, but the G6 has changed things a little: the resolution has fallen from 16 to 13 megapixels.
It still works in the same way, though, with one 125º wide-angle lens and the other with a bog-standard, 71º field of view. As was the case with the LG G5, the main camera has a bright f/1.8 aperture, while its wide-angle counterpart is a smidge dimmer at f/2.4.
The 18:9 FullVision display is a great companion for camera enthusiasts. You can separate the display into two squares and preview the previous shot while snapping the next one immediately above. It's strangely satisfying, and means the whole process of capturing, previewing and taking the next shot is much quicker than normal.
We were also very impressed by the LG G6's camera app, which provides a host of different options and modes.
When you open the app, you'll notice two icons with trees in them at the top. This allows you to cycle between the wide 125º and the normal 71º lenses. The transition between the lenses is seamless, allowing you to quickly capture two different perspectives at the touch of a button.
Within the camera app's settings, you can choose between several different photographic modes: panorama, 360 panorama, food, popout, snap, slow-mo and time-lapse. A tap of another menu button brings up different filters.
Then there are the manual photo and manual video modes. Manual photo mode gives you control over the white balance, focus (regular lens only), exposure compensation, ISO and shutter speed.
FILM STUDIES
The LG G6's manual video mode gives you even more control, including the ability to change the mic gain, audio crossover, add a wind noise filter, change the white balance, manual focus (regular lens only), exposure compensation, ISO sensitivity and shutter speed. You can also set the resolution, aspect ratio and frame rate for videos, and record in 4K 16:9 at 30fps, and in 1080p 16:9, 18:9 and 21:9 Cinema at 60fps. Recording at 720p grants you 120fps with a 16:9 aspect ratio, and 60fps at 18:9 or 21:9 Cinema.
It's even possible to lock the exposure (AE-L) in this pro video mode, which is fantastic if you want to whack the LG G6 on a tripod and record professional-looking footage. Better still, there's focus peaking under the manual focus option. This fringes objects in focus in green pixels, just as with a professional video camera. Unfortunately, focus peaking disappears when you hit record, which means it's not all that useful.
When it comes to quality, the LG G6's dual 13-megapixel lenses are up there with the very best. It's not the outright best camera on a smartphone – that accolade belongs to the Google Pixel and Google Pixel XL's shared snapper design, closely followed by the Samsung Galaxy S7 and S8 – but it's fantastic nonetheless.
Images are clear and packed with detail through both lenses. The difference between the two is most apparent indoors; low-light performance is a lot better on the f/1.8 lens because it lets in more light, so if you're snapping photos indoors, avoid the wide-angle lens.
HDR adds a considerable amount of detail to photographs, with images appearing more natural. Naturally, you'll get more objects in your image with the wider lens, but there is a compromise on quality, with the f/2.4 lens able to capture less light. It's a trade-off, but given you have the option to cycle between the two modes, there's not much to complain about. We particularly appreciated the LG G6's dual-LED flash, which doesn't wash the scene in blue or pink as some phones' flashes are liable to do, and it manages to maintain good color accuracy while eliminating distracting shadows.
GALAXY FARING
The LG G6 is a decent flagship smartphone with a great screen, an impressive camera and a great design. We love the tall, narrow shape – it provides a slice of extra screen real estate without making the phone awkward to use one-handed – and the thin borders at the top and bottom of the phone keep its height to a minimum as well.
However, the LG G6 isn't that much cheaper than the Samsung Galaxy S8, and we think that the extra is worth paying for a beautifully designed smartphone with a more colorful AMOLED screen, a faster processor, more onboard storage and useful extras such as iris- and facial recognition unlocking.
Christopher Minasians
Verdict
The LG G6's sprawling display makes it a pleasure to use, but the Galaxy S8 is even more impressive