REGARDLESS OF WHETHER Honor appreciates being pigeonholed as a budget smartphone brand, its latest device – the Honor 6X – may be its finest work yet.
It squeezes a 5.5in, Full HD screen into an all-metal body with 32GB of integrated storage and 4GB of RAM. The rear is curved, so it sits nicely in your hand, and the glass on the front also tapers slightly at the edges for a slicker look.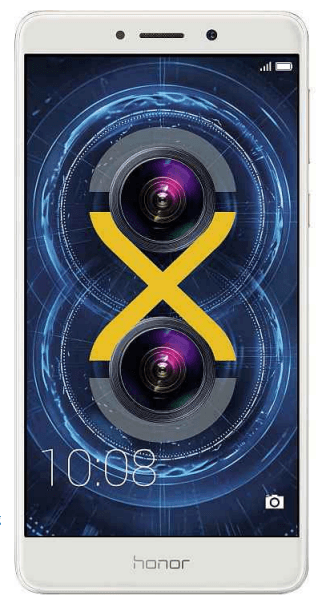 As for connectivity, the 6X has a dual SIM slot, perfect for travelling abroad or using it as a dual work/leisure device.
There's no USB Type-C connector for fast charging, with Honor opting for an older Micro USB port instead, but you do get an extremely fast-acting fingerprint sensor on the back, nestled below the twin-lens camera.
The Honor 6X's screen itself isn't an AMOLED model, but instead a good-quality LCD unit. It measures pretty well, with a contrast ratio of 1,694:1 helping it produce wonderfully impactful images. Its peak brightness of 502cd/m2 also means you'll only have problems reading it in the very brightest of conditions.
SHOO BLUE
Its color reproduction isn't quite so good, unfortunately. The screen covers only 89% of the sRGB color gamut, which is far from brilliant. However, thanks to Honor's new 'eye comfort mode', which filters out blue light in the evenings, and automatically adjusts brightness and color temperature according to ambient light, it is easy on your eyes.
The Honor 6X is the only phone we've seen in this price range to include a twin-lens camera, in this case a 12-megapixel unit with a 2-megapixel secondary sensor. This allows it to take wide-aperture shots similar to the iPhone 7 Plus's bokeh mode, blurring everything beyond the point of focus. The effect quality isn't quite on a par with Apple's phablet (as you'd expect, considering the 6X is a fraction of the price), but it's still good enough to give your shots a handy facelift.
There's also the usual suite of shooting modes, with the rear camera producing some decent shots packed with detail. Outdoors, the rear camera produces good-looking shots, capturing details such as the brickwork on buildings particularly well.
Indoor image quality isn't so good, with photos losing vibrancy and gaining graininess, but generally the 6X still manages balanced, well-judged exposures in low light, and has a single LED flash to help cut through the darkness when conditions get really tricky. It's certainly got a better rear camera than that of the similarly priced Huawei P9
Lite, as well as the cheaper P8 Lite, which we cover later in this group test.
If you do feel the need to tweak your images, you do get both Pro still and video modes for fine-grained control over every aspect of your images, allowing you to tinker with ISO and exposure values to your heart's content.
KIRIN IN THE NAME
The Honor 6X is no slouch in everyday use, either. There's a 2.1GHz Kirin 655 octa-core processor inside, joining forces with 4GB of RAM. With a Geekbench single-core score of 784 and 3,319 for multicore, the 6X gets close to the Moto Z Play in terms of smoothness and responsiveness.
Multitasking also feels surprisingly stable – Honor claims that its smart file system reduces file fragmentation for faster response times, and it certainly feels that way – though notably, it still loses out to the ageing Google Nexus 5X in the Geekbench multicore test.
Nonetheless, the 6X is a great performer once you crack open some Android games.
The Honor 6X is the only phone we've seen in this price range to include a twin-lens camera
The Honor 6X scored an average frame rate of 8.4fps in the GFXBench Manhattan 3 test, which is perfectly respectable for a phone at this price, and both Threes! and Angry Birds 2 ran without a hitch.
A comparatively large 3,340mAh battery is fitted, and the phone didn't do too badly in our test, lasting 11h 18m while playing back video continuously in flight mode. For context, that's roughly an hour longer than both its predecessor, 2016's Honor 5X, and the Nexus 5X. That said, it lags behind the Moto G4 by about two hours, and the Lenovo P2 remains untouchable at 28h 50m. It's rare to see a non-Google Android phone without a bit of overlay tinkering, and the Honor 6X is no exception.
Usually, this is the point at which we castigate Honor for insisting on preloading its own onerous launcher software, but Honor's EMUI is nowhere near as bad as it used to be.
While there's still quite a bit of superfluous pre-installed software – namely a handful of naff games and unnecessary apps – you can at least get rid of them. The downside is that the Honor 6X doesn't ship with Android 7.0, but Honor is promising an over-the-air update in the coming months.
THE JOY OF 6X
This price bracket is chock full of high-quality budget smartphones, but the Honor 6X stands above most of them. Its design, outdoor camera quality and performance are great for the money, and battery life isn't bad either.
The Moto G4 delivers more bang for your buck, having both better battery life and a more-pleasant-to-use camera, all while costing less. The Nexus 5X has also price-dropped into the Honor 6X's territory, and offers superior processing power. That said, when it comes to physical design, we do prefer the 6X's bodywork – and getting a dual-lens camera on to a cheap handset is no small feat.
Still, much like the Moto G4, what's really impressive about the Honor 6X is that it holds its own against smartphones that cost two or three times as much as its asking price. In short, Honor has created a fantastically capable budget smartphone at a very tempting price, and it's impossible not to recommend it.
Verdict
With fantastic performance at a great price, Honor's 6X shouldn't be ignored
Rating 5/5