THE SAMSUNG GALAXY S8 is one of the most anticipated phones of all time. Not only is it the follow-up to one of 2016's best devices, the Galaxy S7, it also has the unenviable task of winning back anyone who got burned – figuratively or literally – by the ill-fated Note 7.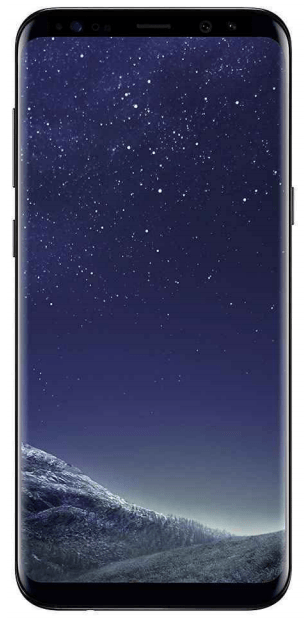 The standout feature is its screen. The bezels of the display have been almost entirely shorn off, leaving a screen that extends to almost every edge of the device, save for thin slivers of black glass at the top and bottom.
It thus fills virtually all of the S8's front panel, with just a few millimetres of bezel banding the top and bottom edge. Curved edges now come as standard, too; there's still a larger, pricier Galaxy S8+ model, but Samsung has dropped the flat-screened variant and the Edge moniker with it.
FULL SCREEN MODE
The device is immediately arresting and the Galaxy S8 looks unlike anything else on the market. It's essentially a flat slab of glass, but there's no way you'll mistake it for any other phone. It's an absolutely gorgeous device – instantly striking and breathtakingly beautiful.
It is, without a doubt, the best example of smartphone design produced to date.
7Review earns Amazon affiliate commissions from qualifying purchases. You can support the site directly via Paypal donations ☕. Thank you!
As part of the great bezelpocalypse, the home button and navigation buttons below the screen have been replaced, leaving a software-based navigation bar. However, Samsung has also included an 'embedded' home button, which emulates the feel of a physical button using technology that feels similar to Apple's Force Touch. It's very polished, to the extent that we almost prefer this style of button to Samsung's previous approach.
As you'd expect from a Samsung phone, the display is pretty much flawless. sRGB color gamut coverage hits 99.9% and contrast is, unsurprisingly for a Super AMOLED panel, perfect.
The QHD+ resolution is pin-sharp and the brightness, which we measured peaking at 569cd/m2, is absolutely blazing – the maximum setting actually carries a health warning. This is also the only smartphone screen to be certified by the UHD Alliance to the Mobile HDR Premium standard.
The use of an unusual 18.5:9 aspect ratio means the Galaxy S8 is taller and thinner than you'd expect, which makes it much more comfortable to hold and use one-handed. It also feels a lot smaller than it actually is, in a good way. It may be a 5.8in phablet, but it actually feels more like a 5in device, easily fitting into your pocket. It also feels a lot slimmer than you'd expect, given it's 8mm thick, thanks largely to its tapered edges.
One slight issue is that because the vast majority of video content is formatted to fit the more common 16:9 aspect ratio, you'll often end up with black bars surrounding whatever you're watching, which somewhat defeats the purpose of an edge-to-edge display.
There are several viewing options, such as cropping the content to fit your screen, but you'll likely lose the edges of the picture in the process.
THE POWER OF EIGHT
Performance is spectacular. Samsung has been all but topping the charts for speed for recent generations of its smartphone range, so it's no shock to find it's still doing the same here with the S8. Packing Samsung's 10nm Exynos 8895 CPU and 4GB of RAM, the Galaxy S8 scored 1,994 in Geekbench's single-core test and 6,629 in the multicore test. The latter is the highest score we've seen on any smartphone, and the single-core result is also the highest on Android; only the iPhone 7 scored higher, with 3,489.
It's just as powerful in games, achieving a spectacular 64fps average in the GFXBench Manhattan offscreen test. By pipping the iPhone 7's 63fps, that's another new record for the books.
Networking is similarly speedy, with Gigabit Wi-Fi and LTE support out of the box.
While Gigabit routers and mobile networks are still far from widespread, they're definitely on the rise, so it's nice to know that the S8 is in a position to take advantage of all these emerging technologies.
BURNING SENSATION
Battery life is the only mild disappointment.
The Galaxy S8 looks unlike anything else on the market. It is, without a doubt, the best example of smartphone design to date
The S8 clocked up a score of 16h 45m in our benchmark tests, and while that's still an incredibly high score, it's about an hour less than the S7 and about two hours less than the S7 Edge. On the other hand, this still places the Galaxy S8 very high up in our ranking tables, and it's more than enough to carry you through a full day.
The Galaxy S8's camera is excellent. It effectively uses the same lens as the S7 (which was already fantastic), but with a host of software-based enhancements such as multi-frame image processing to give it an extra edge. The most impressive of these is the selective focus feature, which allows you to flick between different depth-of-field settings on the fly.
Watching this in action is amazing: each image takes a couple of seconds to capture, but once it does, you can switch the focus between the foreground and background at will, resulting in supremely impressive photos with virtually no effort or skill required.
The 'smart' auto focus is also superb, capturing crystal-clear shots with lightning speed. The camera initialises almost instantly, and focuses on your subject just as fast, with facial-recognition technology to ensure you're capturing the right parts of your subject.
It has the usual suite of professional modes as well, offering fine-grained control over settings such as ISO, white balance, shutter speed and more. There's a nifty manual focus mode, too, which uses green highlights to visualise exactly what will be in focus in the final shot.
Photos taken with the S8 almost invariably come out looking slick and attractive, even in the hands of a rank amateur. Samsung claims that its latest flagship can serve as a backup device for photographers that use a DSLR camera, and based on the strength of our experiences, we'd say that's not far wrong.
ARTIFICIAL FLAVORING
One of the Galaxy S8's unique features is Bixby, Samsung's AI assistant.
Similar to Alexa and the Google Assistant, Bixby will answer questions, help plan your day and interact with your device. Bixby is tied into every element of the S8, and Samsung has even included a dedicated button on the side of the device to launch it.
In addition to the usual suite of calendar planning, app-launching and phone-searching functions, Bixby also includes image-searching capabilities; take a picture of something, and Bixby can identify what it is and suggest appropriate actions. If it's a landmark, for example, it may offer more information via an internet search. For products, it will suggest online shopping pages. There's even a mode for identifying types of wine based on the label.
Bixby's voice-command functionality isn't available at launch, but Bixby Vision and the Bixby app are. The Bixby app is reasonably helpful – much like Google Now, it collects useful information such as calendar entries, reminders, health data and news headlines on to one screen for easy access.
Outside of this, however, we can't see Bixby being all that useful. Voice assistants as a whole haven't really taken off in any major sense, so it's hard to see this as a particularly vital feature either way.
Interestingly, the S8 also includes the Google Assistant – a surprising inclusion.
We would have expected Samsung to shy away from including support for what is effectively a competing service, so it's nice to see that user choice is more of a priority here.
After learning its lessons with previous generations, Samsung has not skimped on fan-favourite Android features. IP68 water and dust-proofing is in attendance, as is expandable storage up to a limit of 256GB.
Fast-charging and wireless charging are both present and correct as well, with the flagship range finally making the jump to USB Type-C.
EYE EYE
As with its last few devices, Samsung has packed the S8 with biometric authentication technology. Alongside the fingerprint scanner (now mounted on the rear of the phone), the S8 includes the same iris-scanning technology as the Note 7 and brand-new facial recognition tech, letting you unlock your phone just by looking at it.
We couldn't get the iris scanner to work with our peepers, but similarly bespectacled colleagues had no trouble using it, so it may just have been our eyes that were the problem. Regardless, however, the combination of all three technologies means that unlocking your phone should be fast and easy every time.
The Samsung Galaxy S8 is the best smartphone in the world, pure and simple.
It's one of the fastest devices we've ever tested, the camera is incredible and it has the sleekest, snazziest design around by a country mile. By virtually every metric you'd care to name, the Galaxy S8 is the best phone on the market.
You're paying for all that quality, though.
However, the Galaxy S8 justifies its price by being one of the most impressive smartphones ever built. It's the perfect confluence of smooth elegance and raw power, and there's no other device that comes close to matching it for capability or attractiveness.
Adam Shepherd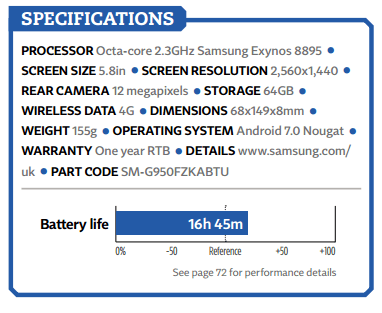 VERDICT
Pairing speed and power with a sophisticated and attractive design, the Galaxy S8 runs rings around the competition
Rating 5/5