Krix's modular front array brings the concepts used in real cinemas home, to go behind or below a home cinema screen. The results are formidable with movies, and surprisingly musical. Read our MODULAR SPEAKER SYSTEM – KRIX MX-5 Review.
Krix is well-known to Australian music lovers for the many fine loudspeakers for the home it has produced over its 45 years. And many would know that only a few years after opening, Krix started making loudspeakers for cinemas. It still does both. Clearly the Krix MX-5 modular speaker system is aimed at the home — 'For small to mid-size rooms' says Krix — but in many ways it is a merging of those two lines of speakers into something quite special.
How to approach this unusual system? First, let's take a bird's eye view.
The MX-5 isn't a full surround system. It's the front half. It consists of a left front speaker, a centre front speaker, a right front speaker and two subwoofers. Krix, of course, has many other excellent speakers to install in your ceiling and mount behind you and to the sides for surround sound. But the aim of the MX-5 is to handle the front of the room for a home theatre installation with a projection screen.
The projection screen can be one of those acoustically 'transparent' ones or not. If the former, the speakers can be installed behind it. If not, then they can be immediately below it.
Many characteristics of this system fly in the face of how home theatre is conventionally done in 2019. First, the shape. Most speakers these days are deeper than they are wide. The general idea is to reduce diffraction effects from a large baffle. Not here: all five units, including the subwoofers, are only 190mm deep. All are 700mm tall. The front, centre and left speakers are each 315mm wide, while the subwoofers are each 540mm wide.
And speaking of a large baffle, the five units are intended to line up, with a sub between left and centre and another sub between centre and right. It is a literal wall of sound.
7Review earns Amazon affiliate commissions from qualifying purchases. You can support the site directly via Paypal donations ☕. Thank you!
See also TOP 10 Subwoofers
Since narrow baffles on most speakers limit the sizes of drivers, cone area for woofers is increased in modern speaker design by using multiple smaller drivers. Not here. The main speakers of this system have just one woofer, a good old- fashioned 8-inch (203mm) one. Well, a good old- fashioned 8-inch driver with a large 38mm voice coil on an aluminium former, a ventilated magnet assembly and a copper shorting ring. (That last arrests over-excursion relatively gently.)
And then there is the tweeter. The 26mm doped-fabric dome unit is ferro-fluid cooled and mounted in the middle of a moderately deep (about 70mm) horn, which is called a 'Krix designed 90°x 40° short-throw waveguide'. The problem with the word 'waveguide' is that it is often refers to fin arrangements over the front of a tweeter. The problem with the word 'horn' is that it has a bad reputation, primarily from crappy PA horns. A well-designed horn/ waveguide controls directivity in sound and increases sensitivity. There's a tremendous mismatch between the acoustic impedance of air and drivers.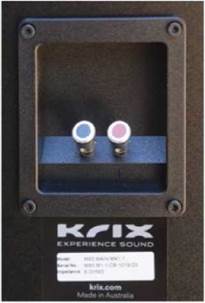 'Compression drivers' — which are horn-loaded — reduce that mismatch, increasing the power transfer efficiency. These speakers are rated at 92dB sensitivity (2.83V/1m), which doubles the effective power of connected amplifiers compared to the more common 89dB sensitivity.
The cabinets are bass-reflex loaded with a forwards-firing port. The speakers stand on rubber feet that hold them 40mm above the floor.
All the speakers, including the subs, use gold-plated spring-loaded terminals (see image). But these are good ones; the holes are large — banana plugs go right into the holes. You can use very thick cables indeed should you wish.
Um, speaker terminals on the subs? Yes, in another divergence from the norm, the two subwoofers are passive. You will need to supply two additional channels of amplification. Neither do they have any kind of low-pass filter beyond that inherent in the drivers.
Each is fitted with a 275mm forwards-facing driver. These have 50mm voice coils on Kapton formers and vented magnet assemblies. No horns here, but still a rated sensitivity of 90dB for these four-ohm units. Krix recommends amplifiers rated from 200-400W, so budget for those two additional amplifier channels. These also are bass reflex loaded, but the ports fire downwards into the space provided by the legs.
All the cabinets are finished in a lightly stippled black vinyl finish, except for the front panel, as each unit is covered with a centimetre-thick of acoustically absorbent material, with cut-outs for the drivers and, in the case of the subwoofer, the word Krix.
It was almost as though Krix had snuck into our listening room and measured up — the speakers were the perfect height for the projection screen, and only a few centimetres wider than it.
To power them we used a Marantz SR6014 AV receiver for the front LCR speakers, and a couple of Marantz monoblock amps for the subs. The receiver is rated at 110W per channel into eight ohms. The monoblocks are rated at 400W into the four ohms of the subs. There was no shortage of power.
The Audyssey MultEQ XT32 calibration system in the receiver time aligns the two subs, and sets their levels, separately. Then it EQs the pair of them as one. We had the system set up as 5.2.4, with our own surround and ceiling speakers engaged.
We did all listening with the calibration in operation. It would be silly not to take advantage of it and Krix would have designed this system in anticipation of that mode of operation.
This system is designed for home theatre but, hey, why not try some music? Starting firmly in the 21st century, a current favourite is Kanye West's 2010 album 'My Beautiful Dark Twisted Fantasy'. With the system set to 'Stereo' (not 'Direct', because we wanted the subwoofers in play), the music played from left and right plus the two subs.
The speakers simply loped along comfortably as we advanced the volume to a barely tolerable high level. We later measured the output and found that it was peaking up around 105 decibels, and averaging not much below 100dB. Yet the speakers were entirely comfortable with the level. One of the lesser-known advantages of higher acoustic efficiency is that cone excursion is reduced. Distortion tends to be a function of cone excursion, so distortion is lower.
A couple of tracks on this album play around heavily with phasing effects. So even though we were listening in stereo, at times elements of the music were plastered up on the ceiling, or above and behind my head.
Moving to the relentlessly acoustic 'Once I Was an Eagle' by Laura Marling, there was an unusual 'live' feel to the sound, as though she was standing there with her mixing panel plugged into the system driving the Krix MX-5 system, rather than the sound coming through various digital incarnations. This, we suspect, was the result of a complete lack of dynamic compression.
Before going to movies — what the Krix MX-5 system is really designed for — we have to report a physical assault. It was the subwoofers. We played the Overture of 'Dagger Society' Suite from the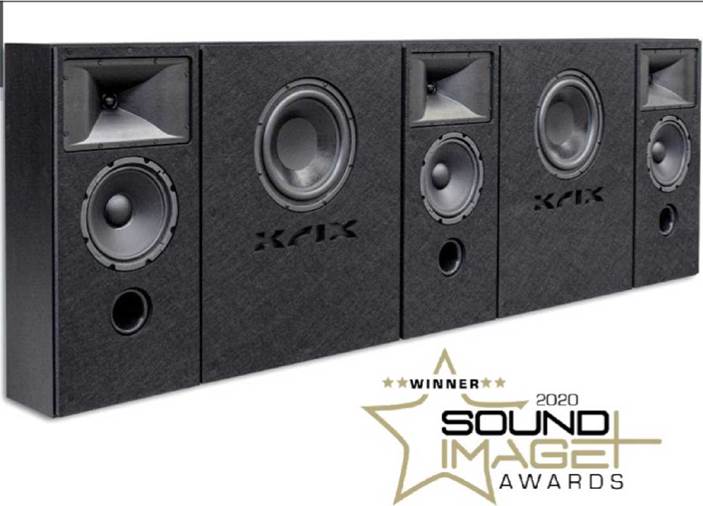 AWARD-WINNING PERFORMANCE: The MX-5's trouser-flapping movies and sensitive music won it Speaker Installation Product of the Year 2020.
'Hugo' Audiophile CD, a disc picked up maybe 20 years ago. The music is not to my taste, but this track employs a massive bass drum that is recorded without limits. It was the seemingly uncompressed power of this that assaulted me. Cleanly. Powerfully. We were watching the subwoofer cones carefully, and while there was movement, it was modest. They push a lot of air for low excursion.
Okay, enough of that. How about movies. Well, the obvious thing to play is a DTS CD from Telarc. The 5.1 DTS Surround Sampler includes an Apollo 13 mission. The real thing.
And Telarc really didn't mind including a bunch of infrasonic content on its discs. Playing this track at -7dB on the Marantz, which is way louder than we normally have it for watching movies, the cones of the subwoofers flung themselves to and fro with wild abandon. It was something to behold, and something to worry about a little. The intense power of the bass was pummelling. It felt that the drivers were nearing the limits of their excursion.
A later track on the same disc is called Jurassic Lunch, and it involves approaching dinosaur footsteps, delivered first in the infrasonic frequencies only, as befits a distant thing. Again, the cones vibrated visibly and furiously. And there was a distinct sound of the cone stops being reached, whereupon they instantly stopped moving entirely. For a few seconds. And then they resumed. It seems that there is some over-excursion protection.
That's one thing with passive subwoofers. Active ones typically include various measures to tailor the signal. A passive subwoofer can't. All it can do is switch itself off if things get too rough.
Now, let's be clear. That was an utter torture test. In several high-octane action movies, most with plenty of bass, there was no sense of limitation, even when we played the opening six minutes of 'Titan A.E' at the same ridiculously high level, which contains chunks of bass down to 13Hz. The subwoofer drivers were clearly well-exercised, but nothing approaching their limits. Note, this was after the Telarc torture. The speakers and subs were none the worse for wear.
This movie is a surround sound treat. And that bass recurs, albeit at lower intensity, throughout the movie. At a cinema-like level, playback on this on other movies was flawless. Powerful and thrilling.
The Krix MX-5 modular speaker system is for those serious about home theatre installation. The only puzzling thing is that Krix considers this system to be best 'for small to mid-size rooms', specifying rooms of 15m2 to 25m2 with a minimum screen of 92-inch 16:9 ratio or 90-inch 21:9. Of course, it has the MX-10, MX-20 and MX-30 systems for larger rooms. And besides, perhaps when you're used to fitting out actual commercial cinemas, a good-sized home theatre room seems small.
Krix MX-5
• Extremely high levels available
• Low distortion performance
•Suited to dedicated home theatre rooms
LCR SPECIFICATIONS (three in package)
Drivers: 1 x 26mm dome tweeter, 1 x 205mm woofer
Frequency range: 40-20,000Hz (in-room)
Nominal impedance: 8 ohms
Sensitivity: 92dB (2.83V/1m)
Cabinet: Bass reflex (front port)
Dimensions (hwd): 700 x 315 x 190mm
SUBWOOFER SPECIFICATIONS (two)
Drivers: 1 x 275mm woofer
Frequency range: 30-200Hz (in-room)
Nominal impedance: 4 ohms
Sensitivity: 90dB (2.83V/1m)
Cabinet: Bass reflex (downwards firing port)
Dimensions (hwd): 700 x 540 x 190mm
Distributor: Krix
Telephone: 08 8384 3433
Web: www.krix.com.au