Richard Stevenson samples Klipsch's horn tweeter soundbar system, and adds wireless rears for extra immersion. Read our KLIPSCH BAR 48 Review.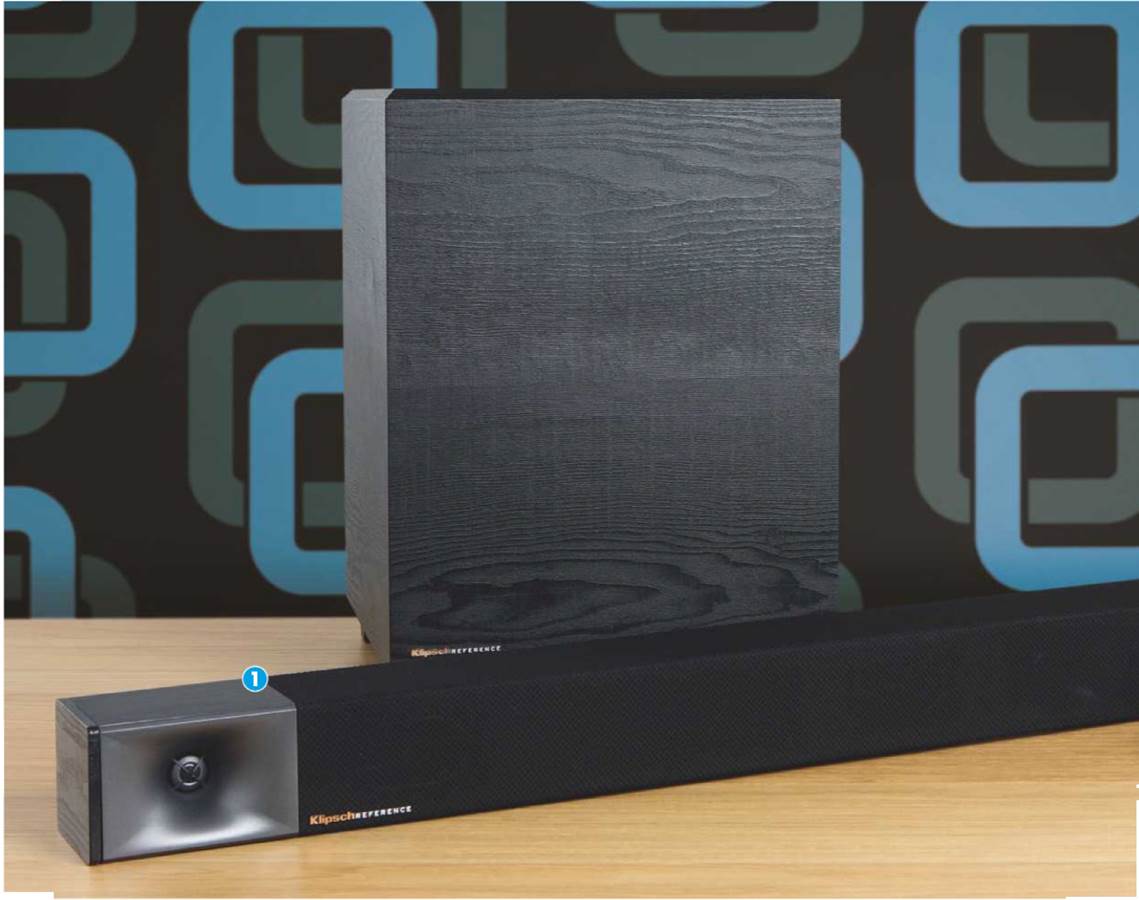 Tractrix fantastix?
London revellers and those of a 'leather on willow' persuasion may know Bar 48 as a restaurant not far from the Oval cricket ground. Klipsch's savoury delight of the same name brings us a uniquely spicy soundbar design, subwoofer and pair of optional active wireless rears. Just add a glass of Rioja and a good movie.
Off the bat, the BAR 48 is a little different. Its compact dimensions in height and depth make it neatly discreet on the wall or sat on your TV stand. A big TV stand mind you, as it is over 1.2m long – ideal for your 55-inchers and upwards. Not so subtle is the open tweeters at either end, sat in tractrix profile horns. A tractrix is a complex mathematical shape that is ideal for propagating sound waves into the room and has been used in loudspeaker designs from Klipsch for decades. Here, the horns face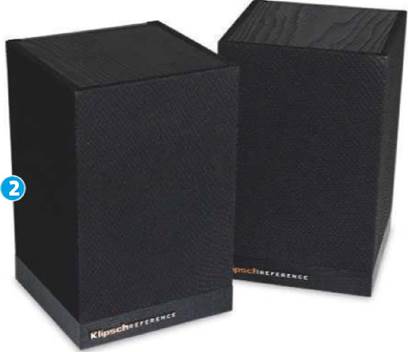 'The Klipsch system's balanced demeanour and detailed presentation lets film soundmixes envelope you'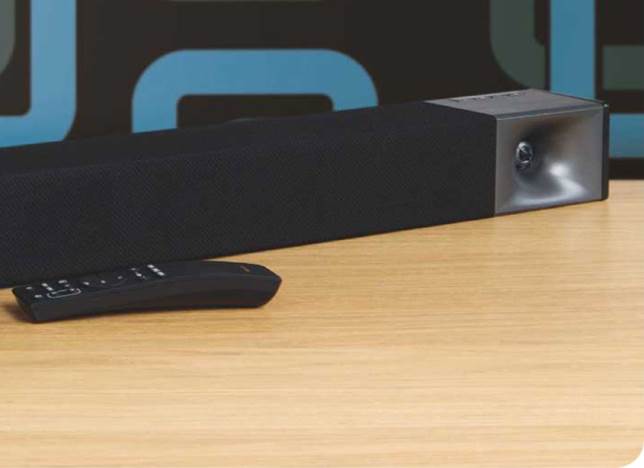 7Review earns Amazon affiliate commissions from qualifying purchases. You can support the site directly via Paypal donations ☕. Thank you!
See also TOP 10 Soundbars & Soundbases
PRODUCT: LCR soundbar/sub with optional wireless rears
POSITION: Above the smaller BAR 40 in Klipsch's new soundbar line
PEERS: LG SL8YG; Sony HT-ZF9
forward, creating something of a unique look and two areas that just shout out to toddlers to insert a pencil, toy or doughnut.
A third, hidden horn-loaded tweeter sits in the centre of the 'bar for dialogue, which rather beggars the question of why the end HF units were not installed beneath the wrap-around cloth grille too. The tweeters are joined by four 3in fibre-composite cone drivers for the midrange, all positioned in the wood/fibreboard (rather than the more usual plastic) cabinet.
The BAR 48's connection suite is equally compact with a single HDMI ARC port, digital optical audio input and 3.5mm aux analogue, plus Bluetooth. The physical connections and the figure-8 power input are set in a very small recessed box area on the rear of the 'bar, making connecting everything up a bit of a challenge for those with clumsy fingers. It also put some tension bends on stiffer cables and my swanky (10mm diameter) optical cable popped out every time I moved the soundbar. Thinner cables are better here.
The matching subwoofer is part of the package and connects wirelessly to the 'bar. It's a decent-sized but
1. Klipsch keeps its L/R tweeters on show
2. The Surround 3 rears are an optional add-on
fairly rudimentary box with an 8in down-firing driver (next to a down-facing port) and the sort of cosmetics that suggest it's best concealed somewhere out of sight. Four fixed legs raise it up, but made it difficult to find a solid footing on a slightly uneven floor.
It connected seamlessly to the soundbar, indicated by a rear-facing blue LED with laser-level brightness.
I administered the usual fix here, namely a piece of insulation tape over the LED.
As an optional extra, you can add a pair of wireless rears, turning the Klipsch package into a 5.1 surround sound system. The 'bar itself will decode up to Dolby Digital Plus and DTS-HD, and DTS Virtual:X is a USB- based firmware update away. Those requiring true object-based audio enjoyment will need to look elsewhere.
The diminutive surround speakers are solidly made (and a bit basic-looking) and connected to the soundbar with no issue. Each has its own 60W amplifier powering a 3in full-range driver and, like most wireless rears, comes supplied with a figure-8 mains cable that is woefully too short to get them into a decent position. Budget for a couple of long mains cables and these rears give superb flexibility.
The BAR 48 comes supplied with an ergonomic and (handily) backlit remote control, HDMI cable, and two simple wall brackets. You also get a pair of alternative end-caps in a dark wood finish should you so desire a change from the dark grey. There is no networking here (not even the now almost ubiquitous Google Chromecast), so If you want to stream music, you'll need to you use your smart device and Bluetooth connection.
Simple setup
Having been through a few soundbars that require space shuttle-sized instruction manuals for setup, the BAR 48 is blissfully simple. The key remote control buttons are replicated on the top-right of the 'bar and there are illuminated indicators for ARC, Dolby, Virtual Surround and the two special modes: Dialogue Enhance and Night. There are different pairing buttons for the subwoofer (in the connection panel) and the rears (behind the right-end cap with USB transmitter), so there's no need to run around the room doing a Usain Bolt impression, trying to press all at the same time. On-bar volume indication is a vertical column of LEDs, but all of the soundbar's lights and indicators can be dimmed or turned off from the remote.
Rich and genuine
Simple, sleek and supremely natural-sounding is the one-stop summary for Klipsch's neat package. Fed an ARC backhaul from my TV, the Klipsch showcases a wonderful general balance. There is none of the cuppy- sounding midrange that can accompany low internal volume soundbars, and the MDF cabinet does wonders for keeping the sound rich and genuine.
In deeper dramas like Peaky Blinders (BBC HD), the BAR 48 brings out the dialogue and atmospheric effects without trying to dominate the mix. Thomas Shelby's voice drives Cillian Murphy's prodigious acting talent and the Klipsch package adds depth and (much needed) intelligibility to the thickly accented speech.
Pushed into high action, the BAR 48 hangs together well and there's no denying those tractrix horns excel at projecting high-frequency details into the room. The soundbar creates a spacious soundstage, and there's plenty of body in the midrange too.
At sensible levels, the subwoofer adds decent LF reinforcement, but starts showing its budget underpinnings, with a rather one-note thump, if you get enthusiastic with the volume. That said, at well under £600 for the accomplished 'bar and sub, it's difficult to be too harsh.
Adding Klipsch's Surround 3 pair brings 5.1 surround to the game, subtly adding a 360-degree feel yet maintaining the rich balance thanks to their wood cabinets. Star Trek Discovery's Dolby Digital mix (via Netflix) is a festival of smooth effects that build on the scene ambience, rather than trying to put half the action behind your listening position. This plays to the Klipsch's strengths in crafting a natural and realistic soundfield.
With busier mixes the balance around the room remains fluid and natural, perhaps even a little too subtle for those of a more gung-ho home cinema persuasion. You can add a few dB to the rear channel levels by holding down the Surround button and using the volume keys independently.
I found that a little nudge upwards brought the rear level up enough to counter the sound dampening effect of a sofa and soft furnishings, and the fact the speakers themselves ended up a fair way from the listening position due to the short mains cables.
A night in with Avengers: Infinity War (Blu-ray) and I was revelling in the cornucopia of surround information throughout the film's battle sequences. The film's mix is far from subtle, but the Klipsch system's balanced demeanour and detailed presentation lets the action envelope you rather than drown in it.
Neat and discreet
As a soundbar package for everyday use, the Klipsch BAR 48 is marvellously transparent and easy to use. Long after critical testing had been completed, I had the system setup and switched on as a default for family TV viewing.
It's not got the feature flexibility, designer looks or mindless grunt of some systems at this price, but for a neat, discreet package that does the job in the most natural way, the Klipsch BAR 48 works well. Unless, of course, someone sticks a doughnut in your open tweeters
Verdict
KLIPSCH BAR 48 Review
The smooth and detailed sound, unobtrusive design and 5.1 upgrade path impress, but some might want a little more slam and attack for the biggest movies.
Add your review
Best KLIPSCH BAR 48 prices in the US ?

$

395.00
1 new from $395.00
in stock


$

529.99

$599.99
1 used from $529.99
in stock

Best KLIPSCH BAR 48 prices ?
MORE DEALS

See also TOP 10 Soundbars & Soundbases
SPECIFICATIONS
DRIVE UNITS: 3 x 1in soft dome tweeters with Tractrix horns; 4 x 3in fibre composite cone woofers ONBOARD POWER (CLAIMED): 440W total CONNECTIONS: 1 x HDMI ARC; optical digital audio input; 3.5mm analogue input; subwoofer pre-out DOLBY ATMOS/DTS:X: No/No SEPARATE SUBWOOFER: Yes. 8in driver, ported REMOTE CONTROL: Yes DIMENSIONS (SOUNDBAR): 73(h) x 1,211(w) x 86(d)mm WEIGHT (SOUNDBAR): N/A
FEATURES: L/C/R driver configuration; Bluetooth; Dialogue Enhance and Night modes; Dolby Digital, Dolby Digital Plus, DTS and DTS-HD decoding; keyhole hooks for wall-mounting; compatible with Klipsch Surround 3 wireless rears
PARTNER WITH
KLIPSCH R-100SW:
The BAR 48's subwoofer pre-out allows for another bass-maker to join the system. Keep it in house with Klipsch's R-100SW, a 10in/150W design featuring a spun copper IMG woofer.
3. Klipsch's wireless subwoofer uses a down-firing 8in driver