Nick Tate starts to feel his age as he takes the sleek new KT-200 turntable from young pup Kestrel Audio for a spin. Read our Kestrel Audio KT-200 Review.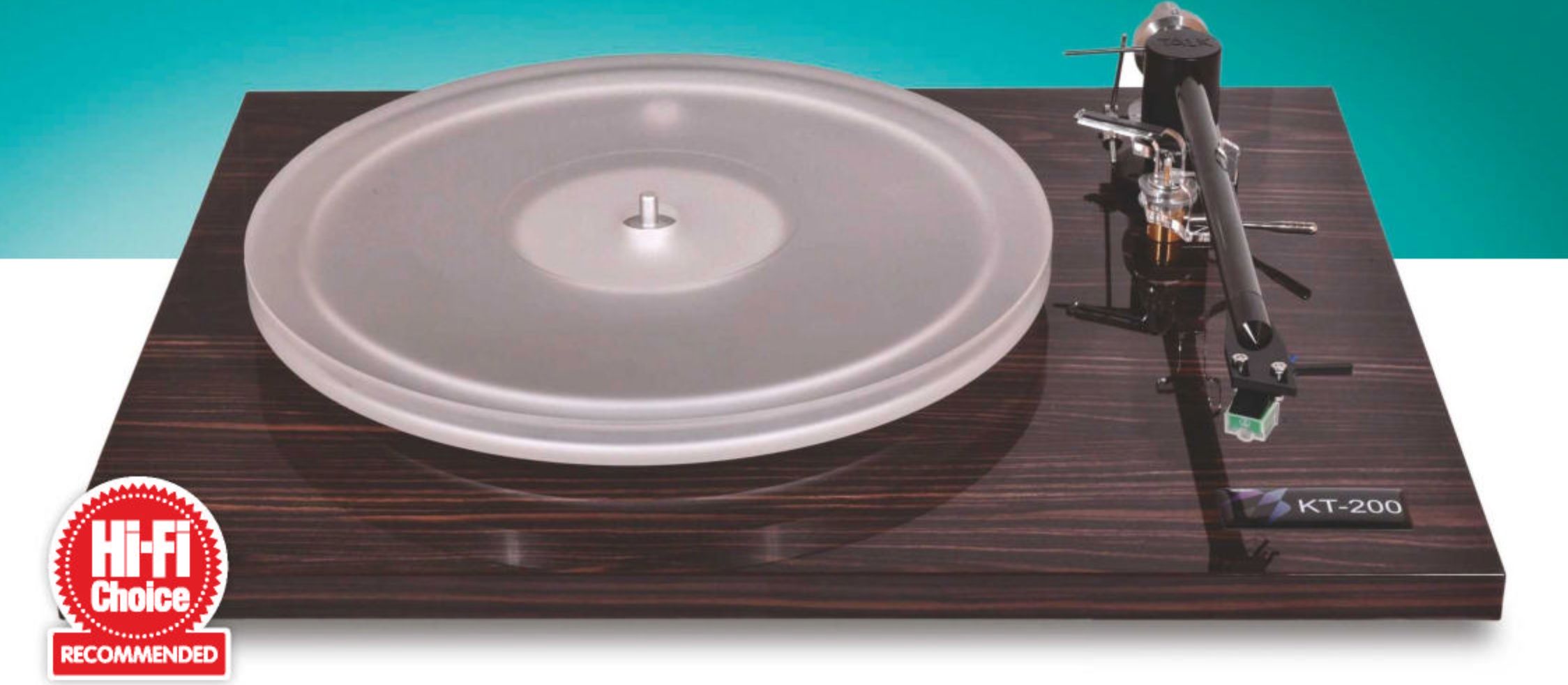 DETAILS
| | |
| --- | --- |
| PRODUCT | Kestrel Audio KT-200 |
| ORIGIN | UK |
| TYPE | Belt-drive turntable |
| WEIGHT | 6.9kg |
| DIMENSIONS (WxHxD) | 465 x125 x 365mm |
| FEATURES | 33 and 45rpm, Talk A5 Carbon unipivottonearm |
| DISTRIBUTOR | Kestrel Audio |
| WEBSITE | kestrelaudio.com |
If you'd told me when I bought my first ever LP -ABBA's Arrival back in 1976 – that nearly 50 years later I would still be playing records on newly released turntables, I'd have laughed at you. Yet here we are, with a new vinyl spinner from a new British company.
Extra sobering for some of us more senior audiophiles, is the fact that the brand is the brainchild of Will Turrell – who is, to put it politely, young enough to view ABBA in the same way that I regard George Gershwin, namely ancient history. A keen percussionist from an early age,  he gave up a budding career as a musician to work in engineering. Then, to cut a long story short, he partnered up with Kevin Edwards of Talk Electronics, and launched Kestrel Audio in 2022.
The KT-200 shows good speed stability and the tonearm tracks very well
The KT-200 is top dog in Kestrel's turntable range and is at least as well made and finished as an equivalently priced Rega. Indeed, as we'll see later, it's arguably more technologically interesting. It's a manual belt drive, with the platter made out of 18mm machined acrylic. The plinth is finished in a choice of high gloss Makassar or walnut, the former having a close resemblance to Zebrawood.
The Talk A5 Carbon tonearm has an elegantly designed bias adjuster, and the tracking force is set by moving one of the two supplied counterweights, then securing it with an Allen key grub screw. With its carbon fibre armtube and Perspex sub-assembly forming the armrest, it's a nice-looking design that appears more expensive than a Rega equivalent. Being a unipivot, it's a bit fiddly to fit a cartridge to, and the ultra-thin cartridge wires don't help. But I manage to fit, align and balance an Audio-Technica ATVM95E (HFC 444) in around 15 minutes. Round the back, there are two rear-pointing RCA phono sockets and an earth terminal.

Connectivity includes a pair of RCA outs and an earthing post
The 24v motor is basically a tweaked Pro-Ject design with improved bushes and uses the same external AC adaptor, which plugs into the rear of the turnable, with an on/off switch beside the power socket. A useful tell-tale when examining affordable turntables is if the sub-platter is plastic or metal. Happily, the KT-200 has the latter; this is a custom anodised aluminium hub around which the rubber belt runs. The higher precision of this type of sub-platter should make for better speed stability, and is less resonant than cheaper plastic; the drive pulley is aluminium too. The main bearing housing uses a white ceramic ball bearing. A clear acrylic folded Z-Type dustcover is provided.
7Review earns Amazon affiliate commissions from qualifying purchases. You can support the site directly via Paypal donations ☕. Thank you!
See also TOP 15 turntables
Overall, the general impression is one of a turntable that uses a lot of classy-looking and feeling-original bespoke parts that are mostly made in the UK. The Talk tonearm is a very nice surprise, as so many turntable makers fit Rega derivatives. There's nothing wrong with this, as RB-series arms are excellent, but this feels more special and its unipivot design gives it a distinctively different sound.
Sound quality
For the past 25 years or so, budget turntable buyers have had a choice of two types of sound quality: Rega or Pro-Ject. The former is crisp, clean and detailed, the latter a little looser, softer and more fluid. To this, we can now add the Kestrel sound, which sits somewhere in the middle. It's actually a very good place to be and not far from more expensive entry-level Michell decks in its character. Smooth, even, tonally quite neutral, engagingly musical and fairly spacious. Not bad for under a grand.
Like the Rega Planar 3 (HFC 411), the KT-200 is one of those 'affordable' turntables that's just good enough for the listener to not have to make excuses to themself. Thoughts like: "if only it had more detail" or: "not bad for the price" don't spring to mind because the overall ability of the deck is sufficiently good for you to not have to worry. It shows good speed stability – although we're not talking Technics direct-drive levels here -and the tonearm tracks very well, although it's no SME Series V This means that you can put on any record, play it and enjoy it, without being distracted.
It's an extremely well-made and finished deck with no obvious vices
Take the pounding and chaotic prog rock of Roundabout by Yes, for starters. It gives a convincing rendition of the opening section, with strong dynamics and a lovely tone to the guitars and then jumps into the main section. It showcases the song's distinctive bass very well, giving a fast, funky and flowing sound down below. Vocals are accurately carried, sounding a little anaemic just as they should. The keyboard work pushes out hard far left and right, showing off the deck's very capable soundstaging. This track's numerous time signature changes and different sections can be a nightmare for budget decks, many of which lose the plot. But the KT-200 is able to hang on tight and make great sense of this song. Likewise, it's never sibilant on dynamic peaks, showing confidence that's unexpected at this price. On this track, some budget vinyl spinners make the kind of noise that – if heard in a neighbour's garden – would have you phoning the council. Yet the Kestrel shows grace under pressure, even in the song's madcap end section.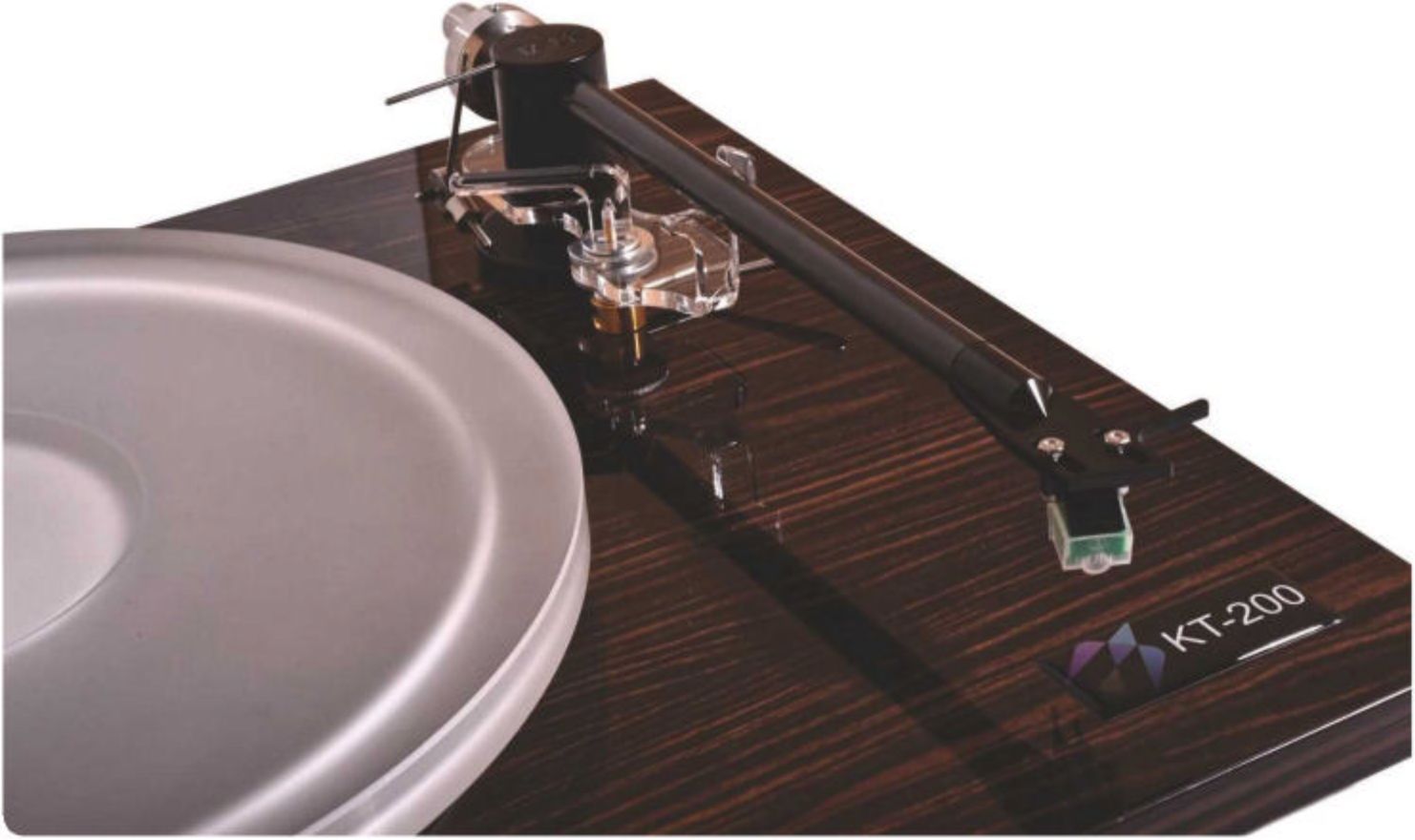 The plinth is finished in high gloss Makassar or walnut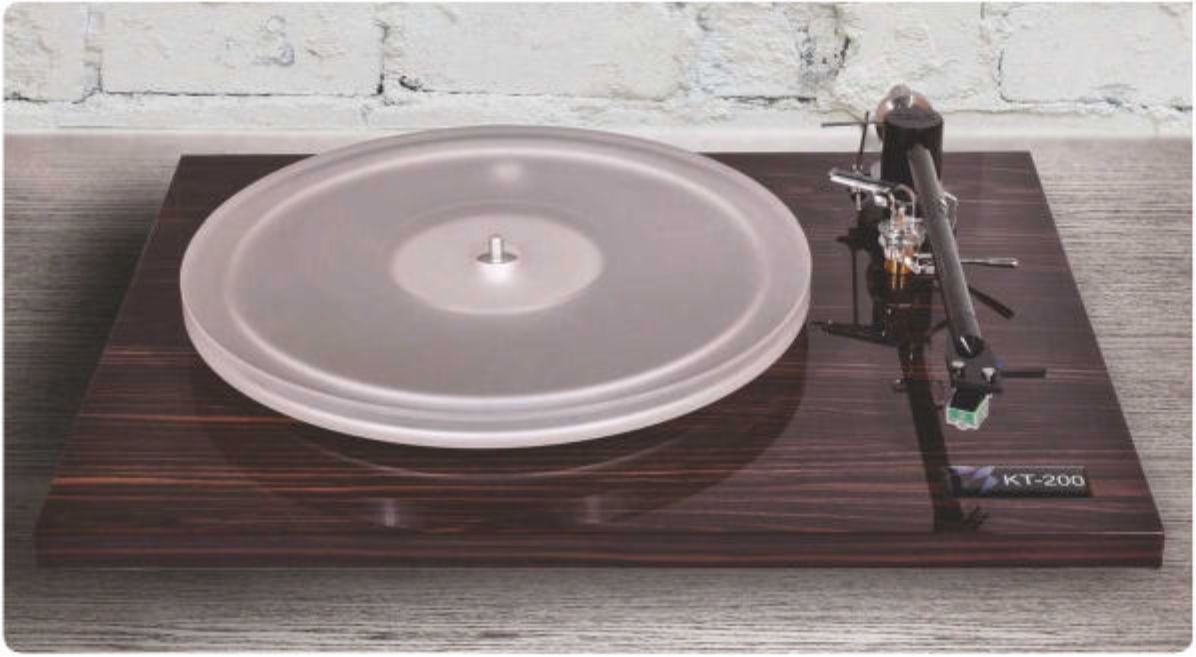 For this reason, it also proves good fun with modern, rhythm-based electronic music, such as Tom & Jerry's I Surrender. Good control of the bass sets up a firm foundation for this thumping breakbeat number, letting that fine tonearm dig into the midband and reproduce all those pitch-shifted samples with great clarity. Likewise, with the vintage electronica of Giorgio Moroder's Chase, it delivers a chunky groove that's lots of fun to listen to. Again, there's a real sense that the deck is having fun – instead of falling over itself to reproduce every minute detail, it prefers to really get into the general swing of things.
This makes the KT-200 a very enjoyable turnable to listen to, whatever type of music you play. It's able to give a stable platform to great female vocal-based tracks, like Randy Crawford's You Might Need Somebody and Rose Royce's Wishing On A Star. Both of these classic soul/disco hybrids are all-analogue recordings; with such a delicious, tactile and velvety sound like this you wonder why they bothered to invent digital audio! It comes over in such a natural and organic way that listening to streamed versions even on the best hi-res equipment just can't compare.
Conclusion
Overall, this is an impressive debut deck from Kestrel Audio. Underwritten by quality components from Talk Electronics, Will Turrell has produced an extremely well-made and finished deck with no obvious vices – one that looks great and sounds as good as can be expected at this price. It's going to be interesting to watch this brand develop and if the KT-200 is anything to go by, I suspect every deck in his three-strong range will give its rivals something to think about
OUR VERDICT
Recommended
Kestrel Audio KT-200 Review
A great budget vinyl spinner
PROS
Smooth, musical sound
build quality
Add your review
Best Kestrel Audio KT-200 prices ?
MORE DEALS

See also TOP 15 turntables
HOW IT COMPARES
Coming in at £ Rega's legendary Planar 3 (£), with external TT PSU (£) is a formidable rival, being the deck to beat below Rega's own Planar 6 (£). Thanks to the Kestrel's excellent unipivot arm, it has a slightly more fluid and musical sound, but with marginally softer bass and less precise treble. The Rega has fractionally better speed stability too, whereas the Kestrel seems to image just a smidge better. Performance is very close and largely down to personal preference as to which is better.