The rugged design might not be for everyone, but this tough speaker has a surprisingly delicate touch. Read our JBL Xtreme 2 Review.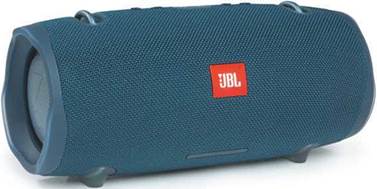 DETAILS
PRODUCT JBL Xtreme 2
ORIGIN USA/China
TYPE Portable Bluetooth speaker
WEIGHT 2.4kg
DIMENSIONS (WxHxD) 288 x136 x132mm
7Review earns Amazon affiliate commissions from qualifying purchases. You can support the site directly via Paypal donations ☕. Thank you!
See also TOP 10 Subwoofers
FEATURES
• Quoted battery life: 15 hours
• 2x 20mm tweeters
• 2x 70mm mid/bass drivers
• 2x passive bass radiators
• Bluetooth wireless v4.2
WEBSITE uk.jbl.com
As the name suggests, the Xtreme 2 is designed for outdoor use – something that's further underlined by its shoulder strap and the fact it can be completely immersed in water.
The driver complement is more conventional. Two 20mm tweeters are partnered with a pair of 70mm mid/bass drivers that form the ends of the cylindrical body of the speaker and are supported by a pair of bass radiators. These are powered by two 20W amplifiers, while battery life is quoted up to 15 hours. Bluetooth connectivity uses v4.2, but there is no aptX support. It does have some interesting additional functionality for multiple speaker use (see boxout) and is fitted with a USB output for charging a device and a 3.5mm input.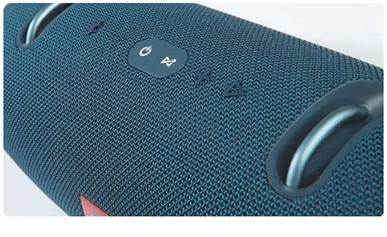 The Xtreme 2 is a rather different proposition aesthetically to the other speakers in the group, but it is very likeable. The controls are logically laid out and responsive and pairing is simple enough with audio prompts to tell you what the speaker's status is.
Sound quality
Given its all-action aesthetic, the performance of the Xtreme 2 comes as a surprise. The way it goes about reproducing Hilary Hahn's violin is the best in the test. It finds a richness and warmth in her work that appears to elude some of the other designs here and the relatively small scale of the piece doesn't tax the stereo separation. Another highlight is the excellent bass extension, although this is something of a double-edged sword. The depth and impact is considerable, but it feels slightly behind the beat of the music and it robs it of some of its urgency in the process – particularly when the pace increases with The Raven.
It doesn't produce the most spacious rendition of San Jacinto, but the weight and warmth that it brings to music is used to good effect here. The electronic swell beneath Gabriel's vocals is reproduced extremely well so that they not only sound rich, but also benefit from the effortless low-end shove. Moving on to Chic's State Of Mine, that same reticence in timing makes itself felt. This is a piece of music that should deliver the snap and drive of superb musicians performing in their element and the Xtreme 2 just lacks the last ounce of rhythmic ability to replicate this.
Everything else is rather better, however. The interplay between the piano and guitar is delivered effectively and there is a pleasing amount of fine detail on offer in the mix as well. The JBL is also likely to deliver on its brief of being used outdoors too. There is plenty of volume left in reserve at the test level and it goes loud without any appreciable sense of strain
VERDICT
JBL Xtreme 2 Review
A smooth and engaging performer, but it needs a little more low-end agility.
PROS
Warm and weighty sound; robust build quality
Five different fabric colours are available
CONS
Sluggish bass; looks are an acquired taste
Add your review
Best JBL Xtreme 2 prices in the US ?

$

199.99
2 used from $249.77
5 new from $199.99
in stock


$

527.71

$679.90
1 new from $527.71
in stock


$

589.90

$679.90
1 new from $589.90
in stock

Best JBL Xtreme 2 prices in the UK ?

£

234.38
2 new from £234.38
in stock

MORE DEALS

See also TOP 10 Subwoofers
POWER IN NUMBERS
While the Bluetooth implementation of the Xtreme 2 lacks aptX, the speaker does offer some additional features that you won't find on the other models in the group. The fact that a second Xtreme 2 can be added to make a stereo pair isn't exactly unique here, however, if you install the JBL Connect app on your phone or tablet you can link up to 100 additional Connect-compatible devices (which is most of the speakers in JBL's comprehensive range, rather than simply more Xtreme 2s) to create a vast 'party mode' experience. Precisely how useful this feature will be in practice will very much depend on just how many JBL products you have in your home, but it's a clever demonstration of the extra functionality that Bluetooth is now able to offer.