Want a gutsy sound? listen to JBL's hdi-1600 loudspeakers says Noel Keywood. Read our JBL HDI-1600 Review.
With a reputation for big Rock loudspeakers USA style – those monsters you see at concerts and such like – expect JBL to come up with a sound that's got energy and life to it in their less ambitious domestic 'speakers. Look closely at those giant concert arrays and notice they project sound forwards through horns; look at their new stand-mount HDI-1600 I am reviewing here and see the similarity. Its front baffle is dominated by a treble horn. Good or just loud?
From my long experience of JBL loudspeakers I expect them to be more thunderous than subtle, but whilst UK loudspeaker designers rush as a herd to raise treble nowadays, in Germany and the USA – perhaps mindful of ever more sophisticated Far East markets – there's greater emphasis on accuracy. And that's what I bumped into here, albeit with JBL's own way of achieving it.
Dominating the front panel is the acoustic horn of the treble unit, that they say uses "patented High-Definition Imaging (HDI™) waveguide technology". Behind lies a 1-inch (25mm) compression driver, also patented. It has a "lightweight polymer diaphragm with improved high frequency extension due to reduced mass". A V-shaped geometry reduces breakup modes, time smear and distortion". Acoustically, such a horn couples the dome of the driver into a bigger air load, placing more stress on it. But it also does more work, here running down to 1.9kHz they say, and our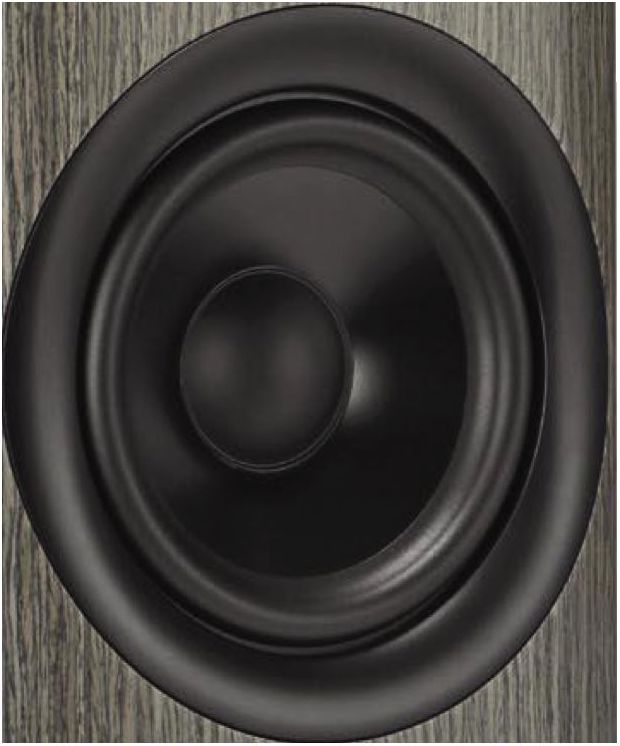 measurements confirmed this. The importance being this lower crossover frequency improves phase matching, making the two drive units sound better integrated.
Below the visually prominent horn lies a 6.5in (165mm) bass/midrange drive unit with "aluminium matrix cone" able to reach smoothly up to the 1.9kHz crossover frequency.The rigid diaphragm avoids breakup modes, providing "true pistonic motion", JBL tell us. It is acoustically loaded by a rear port to extend bass downwards.
The drivers and crossover sit in a sturdy braced cabinet weighing 10kgs – heavy for the size. Ours came with satin Grey Oak veneer that looked none too natural with its conflicting grain flows top-to-sides and bland patterning that appeared artificial.There is a darker Walnut – or Gloss Black that avoids grain matching issues.
7Review earns Amazon affiliate commissions from qualifying purchases. You can support the site directly via Paypal donations ☕. Thank you!
See also TOP 10 Subwoofers
RECOMMENDED VIDEOS FOR YOU...
The cabinets measure 370mm high, 230mm wide and 300mm deep overall.This includes the front grilles that use a light open-weave cloth over an open plastic frame that had no affect upon treble output at all, all the way up to 20kHz.The frames attach by magnets.
At rear is the port and a bi-wire connection panel with shorting links for mono-wiring.The terminals accept 4mm banana plugs, spade terminals or bare wires.
SOUND QUALITY
As always the JBLs were run in for 48 hours to ensure the materials and motors had some time to stabilise into normal running condition.They were driven by our Creek Voyage iA20 amplifier, via Chord Company Signature Reference screened cables. Sources were an Oppo UDP-205D universal player acting as a CD transport, digitally connected by QED Quartz glass optical cable to the Creek's internal AKM DAC. I also used Bluetooth fed by the Hi- Res section of an Onkyo HF Player app. on an iPhone I IX Pro that, measurement shows, gives 24bit resolution.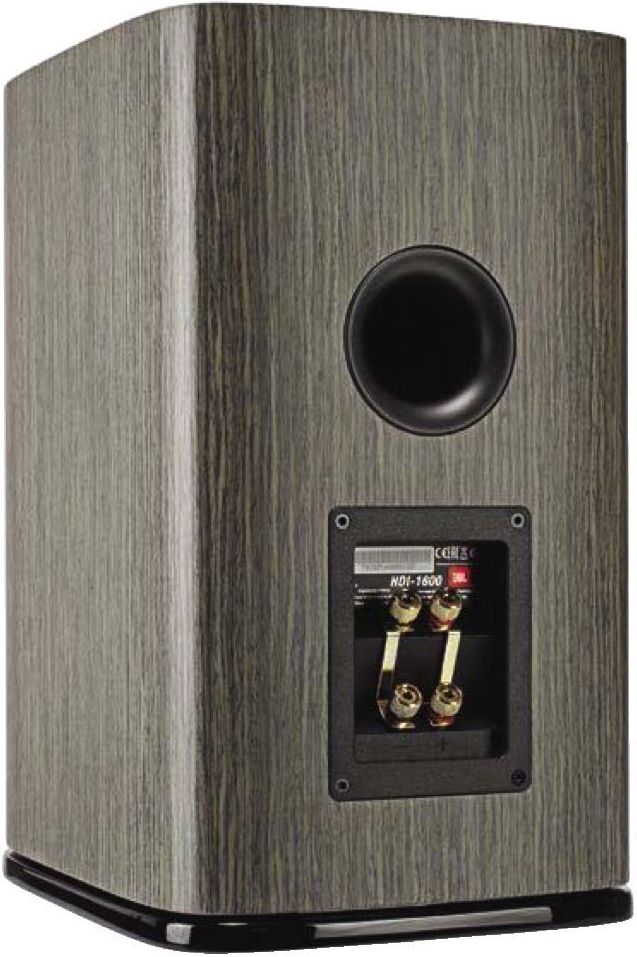 Spinning a wide variety of CDs with high dynamic range (uncompressed) showed the HDI- 1600s were – in essence – full bodied, rich and powerful. Let me start with what was thankfully missing – treble screech. At no time did the JBLs challenge my ears. I slightly suspected I'd hear the peak at 20kHz as a thin sonic needle on the rare occasion there's anything musical so high up, but no sign. Even with the challenging Keith Don't Go, where the cutting close-miked guitar strings of Nils Lofgren whistle out like bullets, the JBLs sounded relaxed and smooth. The fast action of fingers punishing strings was there, but in natural balance rather than artificially emphasised.
The JBLs threw it all at me but I didn't cringe – just as it should be.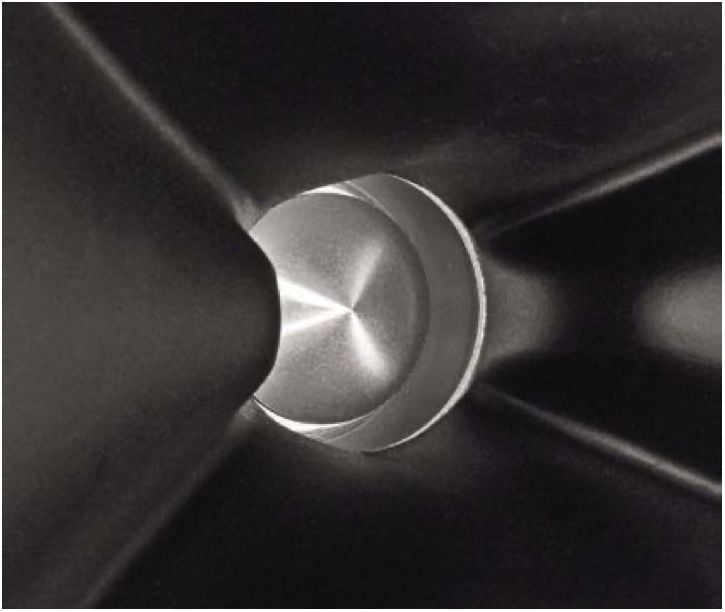 What you get here is not only smoothness and tonal accuracy, but rich sound. Josefine Cronholm's In Your Wild Garden had her voice large and well composed centre-stage, dense and full of detail. She was aligned back in the plane of the speakers, rather than being thrown out – in spite of the horns. And there was a reason.The HDI-l600s work hard for a living and come over as a bit tubby: a lot of bass is being generated by a small cabinet. Similarly, horns can have their own megaphonic shout. These effects together made music come from the 'speaker, rather than from a place outside of it.To some small extent this reminded me of Tannoys: except they conducted matters on a grander scale!
There's a historical link in there and I cannot help but wonder if someone at JBL has said "hey, let's go back to our roots" but do it better. All of which is to say the HDI-1600s are hard rocking power houses that can really pound it out, as I found out when running Daft Punk's synth driven Giorgio by Moroder that gave them and my listening room a low frequency workout. I didn't put ZZ Top on, but felt they would be a perfect fit.
Instead, I played the Eagles 'Somebody', a horribly compressed track that has around 3dB dynamic range; the JBLs seemingly stretched out dynamic scale by giving kick drum obvious weight to bring life to the low end. Further up the scale there was a slightly relentless harshness, but perhaps this was the 'speakers making obvious the limitations of the recording.They are a revealing 'speaker so you get warts'n'all with older material – and what went on in the past wasn't always lovely (cough!).
I could listen to and enjoy old faves, with the reservation that the info and detail being sent to me was less than honeyed. And with Gerry Rafferty's Moonlight and Gold I did start to hear thin sibilants from the words "watch" and "sometimes". But with their generous sense of power the HDI- 1600s still rocked along with vigour. This bode well for Safri Duo's Samb Adagio, the metronomic synth beat showing JBL have engineered a loudspeaker that holds pace cleanly whilst delivering solid lows, giving a meaty sound.
"Ruthlessly correct, it puts its feet down with perfect accuracy – but they're big feet! This is no shrinking violet"
Classical fared well too, the vivacious strings in Vivaldi's Concerto in D minor, Opus 4 No8 (DSD 64) coming over as natural in balance, smooth and easy. Absence of treble lift ensured strings did not rasp at me.With Handel's Love and Madness, Lascia Ch'io Pianga sung by Johannette Zomer put her vocals in a nice clear space, with no sign of blemish. It's a lovely piece I enjoyed greatly through these loudspeakers.
As a general observation, with classical I found the HDI-l600s correct rather than luscious; the horn has a hard driving quality that's not especially suited to the classical milieu. Given smooth DSD or a modern 24bit recording all was fine, but as I noted with old Rock recordings, blemishes were ruthlessly revealed rather than glossed over.
CONCLUSION
If you want a compact but powerful loudspeaker, with bass drive and grip that belies package size, JBL's HDI- 1600 is the one. With a technical performance almost ruthlessly correct it puts its feet down with perfect accuracy – but they're big feet! This is no shrinking violet but a big, bold rocker designed for excitement. More accurate than most around it, and with more sheer drive, it will appeal to all those who like Rock painted large.An impressive loudspeaker worth hearing.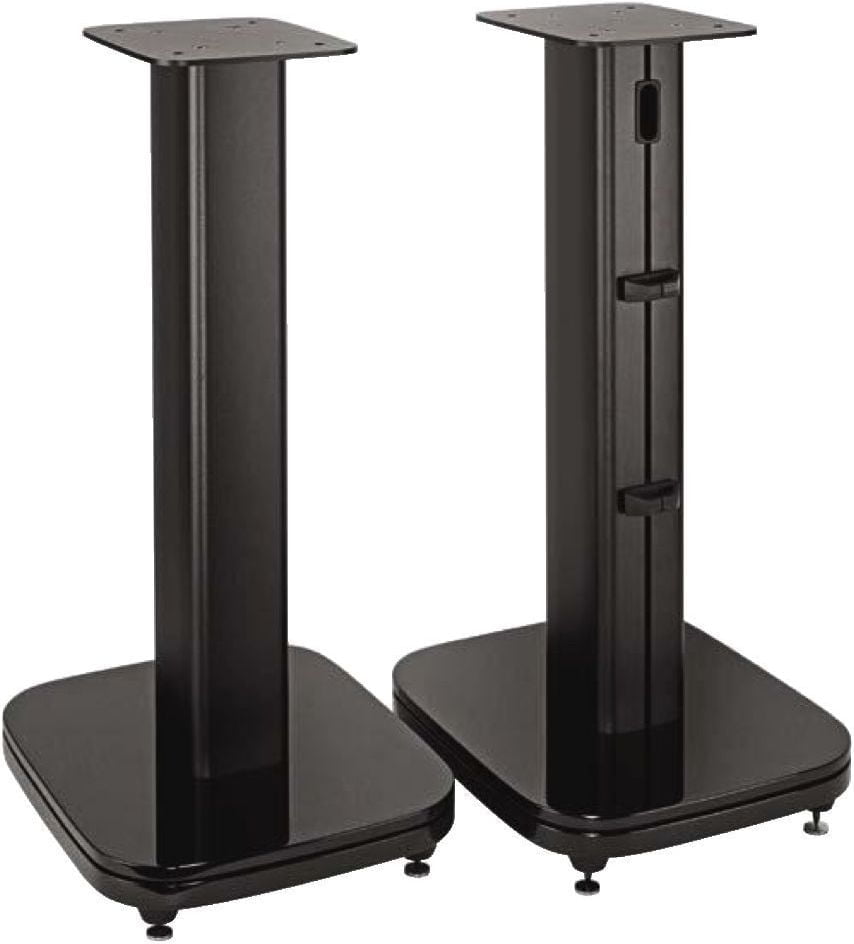 MEASURED PERFORMANCE
Our third-octave, pink-noise frequency response analysis (grille off), with microphone slightly off-axis shows a smooth and flat response down to 50Hz. Low frequency output lifts slightly below 400Hz to ensure the sound has some body and output rolls off smoothly to -6dB at 40Hz.
The port peaks at 50Hz our impedance analysis shows, to add to low frequency output, as shown by the red trace of port output in the response graph. The HDI-1600 runs strongly down to 30Hz and cuts off sharply below this frequency, matching the energy balance on most commercial CDs.
The steep peak at 20kHz is a peculiar effect rarely if ever seen and it was unaffected by the grille and also by positioning the microphone off axis. In practice the horn treble unit has wide, smooth dispersion, making listening position uncritical. A peak at such high frequency will rarely be sonically apparent. This driver covers a very wide frequency band, crossing over at 1,6kHz the impedance trace shows. Lack of resonances suggest clean upper midband and treble.
Overall impedance measured 6.5 Ohms with pink noise, the bass unit having 3.8 Ohms d.c.r. Sensitivity was good at 86dB from one nominal Watt (2.8V) of input, meaning a 60 Watt or so amplifier is needed to go very loud.
This is a very well engineered speaker designed to be smoothly accurate and, with well maintained output right up to 20kHz, a detailed sound.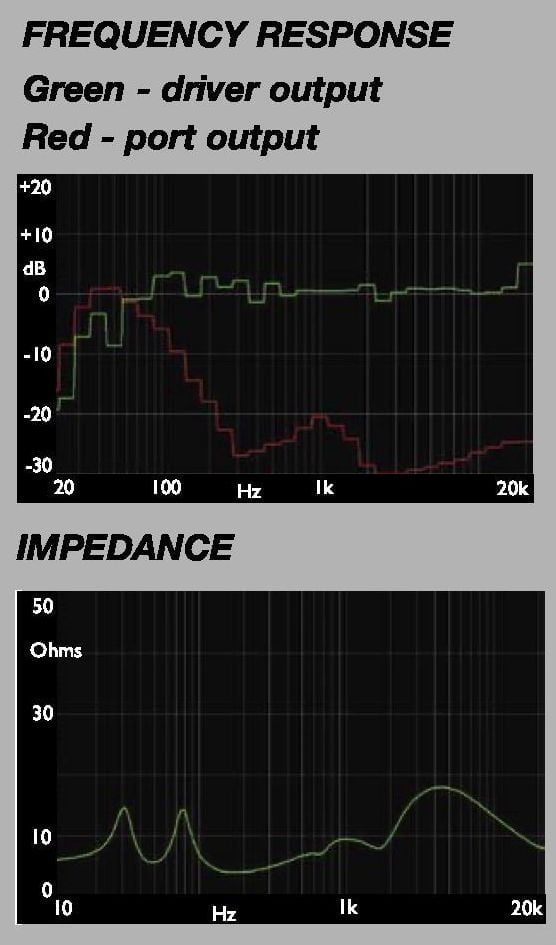 | | |
| --- | --- |
| EXCELLENT | extremely capable |
| VALUE | keenly priced |
| Brand | JBL |
| Phone | +44 (0)161 222 3325 |
| Website | https://uk.jbl.com/ |
VERDICT
JBL HDI-1600 Review
Muscular and exciting, if a little over-whelming at times.
PROS
muscular bass
accurate tonal balance
fast detailed treble
CONS
slightly hard tone
a tad tubby
veneering
Add your review
Best JBL HDI-1600 prices in the US ?

JBL HDI-FS floor stands for JBL HDI1600 bookshelf speakers, gloss black, pair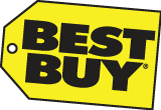 Designed and engineered in JBL's world-famous acoustic engineering facility in Northridge, California, the HDI-1600 delivers exceptional performance from a compact enclosure. This bookshelf loudspeaker features a 2-way design with patented High-Definition Imaging (HDI) waveguide technology, the...


Designed and engineered in JBL's world-famous acoustic engineering facility in Northridge, California, the HDI-1600 delivers exceptional performance from a compact enclosure. This bookshelf loudspeaker features a 2-way design with patented High-Definition Imaging (HDI) waveguide technology, the...

Best JBL HDI-1600 prices ?
MORE DEALS

See also TOP 10 Subwoofers
Specifications
| | |
| --- | --- |
| Product Name | JBL HDI-1600 Bookshelf Speaker - Satin Gray Oak |
| Model | Gray Oak |