Low price and high sound quality from Cambridge Audio's SX-60 get Noel Keywood's attention. Read our CAMBRIDGE AUDIO SX-60 Review.
How much? That's a price that would catch anyone's attention. Especially when compared to how they measure – superbly well. Only the finish of Cambridge Audio's small SX-60 entry level loudspeaker hints at its market position. It is not alone of course: looks like the SX-60 is aimed straight at Wharfedale's eternally popular Diamond loudspeakers, notably the Diamond 12.2. Good to have a choice at this level, even though these 'speakers are closely matched.
Weighing 5kgs apiece and measuring 340mm high, 200mm wide and 272mm deep this is a large bookshelf loudspeaker, or a small standmounter.With port placed on the front and a set of foam bungs supplied I suspect the designers had in mind use against a wall although little space is needed – I in or 2cm – behind a ported loudspeaker for it to work properly. No problem with a front port providing it doesn't colour the sound from box noise inside the cabinet – the reason they usually go on the rear. I'm told, however, that a loudspeaker is judged more complex with a "third" drive unit on the front, so appearance comes into this.With concealed fixings and smooth finish the SX-60 looks smart and interestingly, the tweeter has been positioned as close to the woofer as possible for best phase integration.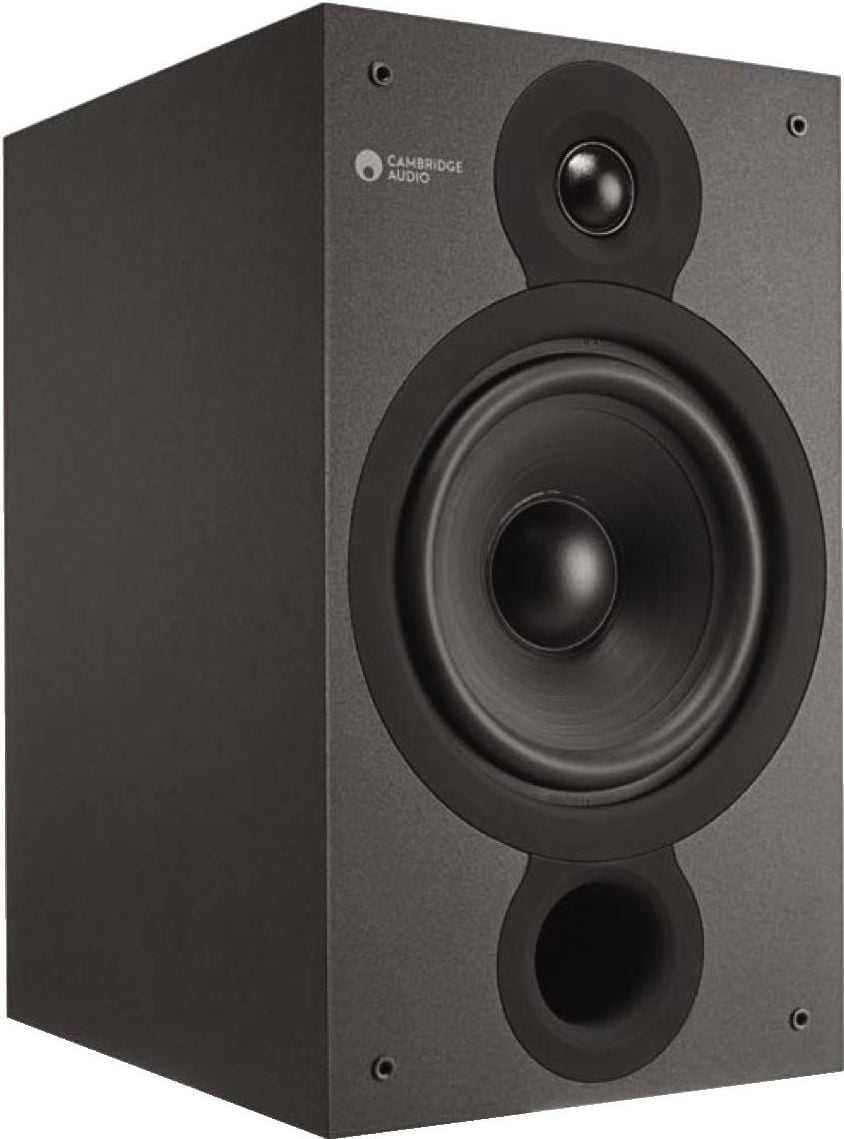 And the tweeter is a good one, surprisingly so considering price.The 25mm silk dome has a smooth, peak free output and Cambridge have kept it in check to provide an unusually accurate sound balance measurement showed. However, what you have to bear in mind here is it will have less immediate "sparkle" than a loudspeaker with emphasised treble; accurate loudspeakers by definition tend to be not very apparent.This is how it is meant to be but many people actually want to hear the loudspeaker, rather than not hear it – at least on short acquaintance. Over a long period though an accurate loudspeaker is an easier listen, especially with CDs that in themselves can sound edgy due to digital distortion. Modern CDs suffer this affliction less than older ones that pre-date the new millennium, when analogue-to-digital studio convertors were poor. What went onto CD in the past still lurks there today, as it does in any old digital recording and a loudspeaker that does not emphasise distortion harmonics is the best bet in the long term.
Below the tweeter lies a doped paper cone 165mm (6.5in) bass/midrange unit reflex loaded by the front port. The port damps it quite strongly measurement revealed so no sloppy bass here. The SX-60 has been designed for expected use against a wall though where it will effectively drive room modes to enhance low bass strength. In this situation it's best not overplay bass output, those foam bungs adding further damping in a room that booms, notably a square room. As a loudspeaker this size is likely to be used in a small-ish room this all makes sense, since small rooms boom more than large ones, so it's a bigger issue.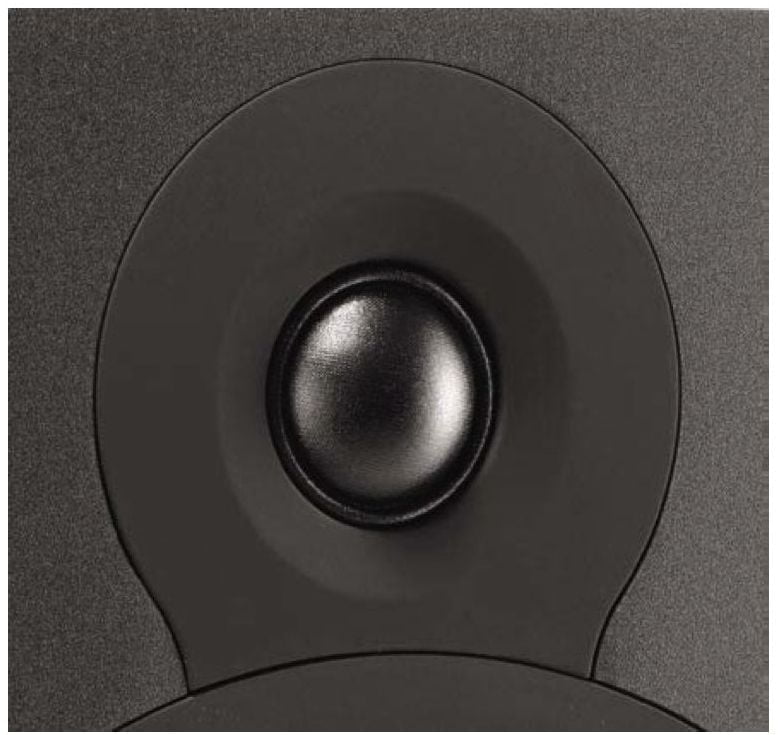 Cambridge Audio quote an efficiency of 89dB but that's a bit optimistic for any small loudspeaker, most of which come in around 86dB, meaning they go loud from one Watt of input, if not very loud. In practice we measured a reasonably high 86.6dB so it stacks up well against the opposition here. Amplifiers of around 40 Watts are needed for good volume, Cambridge Audio quoting 100 Watts as a maximum.The rear carries a single pair of terminals, able to accept 4mm banana plugs, spades or bare wire; bi-wiring is not possible.
Our review samples came in Black, which was more like matt anthracite, and there is a Walnut finish too. Cloth grilles carry four plastic pins that mate with small plastic sockets for easy attachment and removal.They are acoustically transparent, having no affect on the sound.
7Review earns Amazon affiliate commissions from qualifying purchases. You can support the site directly via Paypal donations ☕. Thank you!
See also TOP 10 Subwoofers
SOUND QUALITY
Attached to our Creek Voyage iA20 amplifier through Chord Company cables, the SX-60s were run in for 45 hours, then fed music from our Oppo BDP-205D CD player, as well as hi-res from a MacBook Pro running Audirvana+ software player connected via USB to the Oppo, to exploit the quality of its ESS ES9038 Pro DAC.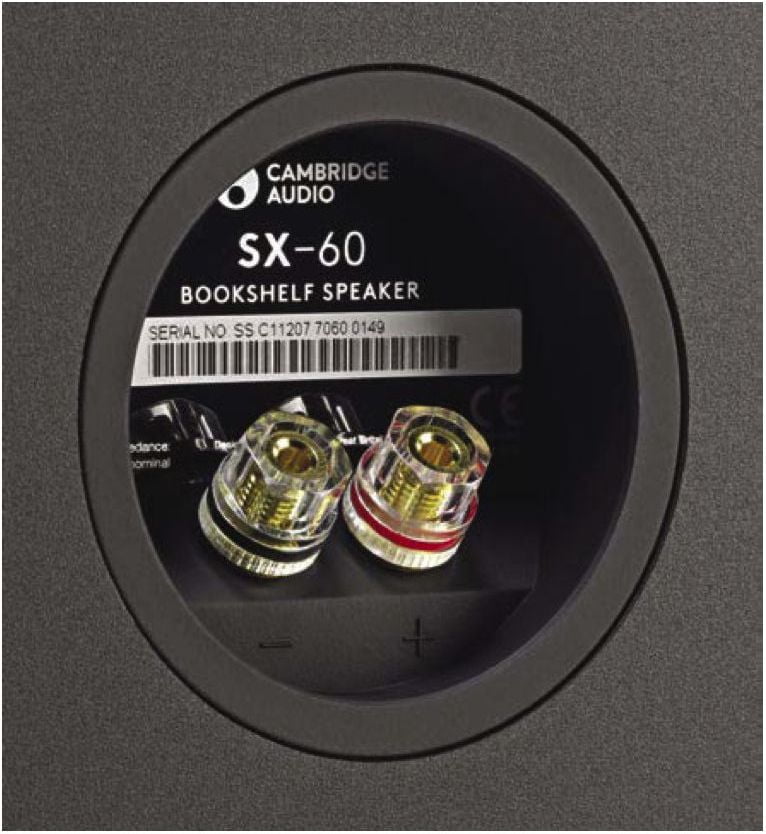 It was clear from the outset, when spinning our uncompressed review CDs, that the SX-60s were evenly balanced with no obvious stand-outs.Yet they are quite obvious in treble output, with no sign of warmth. One reason being the bass/midrange unit delivers upper midband output strongly, giving a forward sound with swathes of detail.With the Pink Panther theme cymbal taps rang out strongly, positioned solidly and concisely on the sound stage; imaging was excellent. You get to hear it all, but there is a remorseless quality rather than romantic warmth, or laconic ease. Curiously, the 'speakers were sort-of "too good": they threw so much out it was challenging at times.
With Diana Krall's Cry Me A River (24/96) all was sweet, this being a clean and easy going audiophile recording, but Johannette Zomer sounded hard of tone with Handel's Lascia chi'io Pianga, from Love and Madness (DSD64).
Running Fleetwood Mac's Silver Spring (24/96) the multitrack vocals of Stevie Nicks were sheeny. The SX-60 provides a vivid sound alright, plus impressive insight, but it isn't subtle.
As you might expect from a small, budget cabinet there was a small amount of "box boof" that hovered behind vocals, making for a little boxiness.
Even when pushed back against a wall bass output was restrained: these are not bass heavy loudspeakers, even with strong synth bass lines like that behind Giorgio by Moroder from Daft Punk (24/88.2).The bass is tuneful though, kept well under control. I suspect they'd suit rooms smaller than my 17ft long lounge, say 12ft long or so where bass would be strengthened at 47Hz.
CONCLUSION
Small and with a price tag so low it amounts to a few trips to the local supermarket, Cambridge Audio's SX-60 loudspeakers are remarkable in their own way.Accurate yet forthright, they throw it all at you. I would have liked a gentler, smoother and more amenable presentation for late night listening but that's personal taste. Great sound stage imaging made them dramatic but dry bass countered that by removing any feeling of weight.A small room would have added weight to bass I suspect.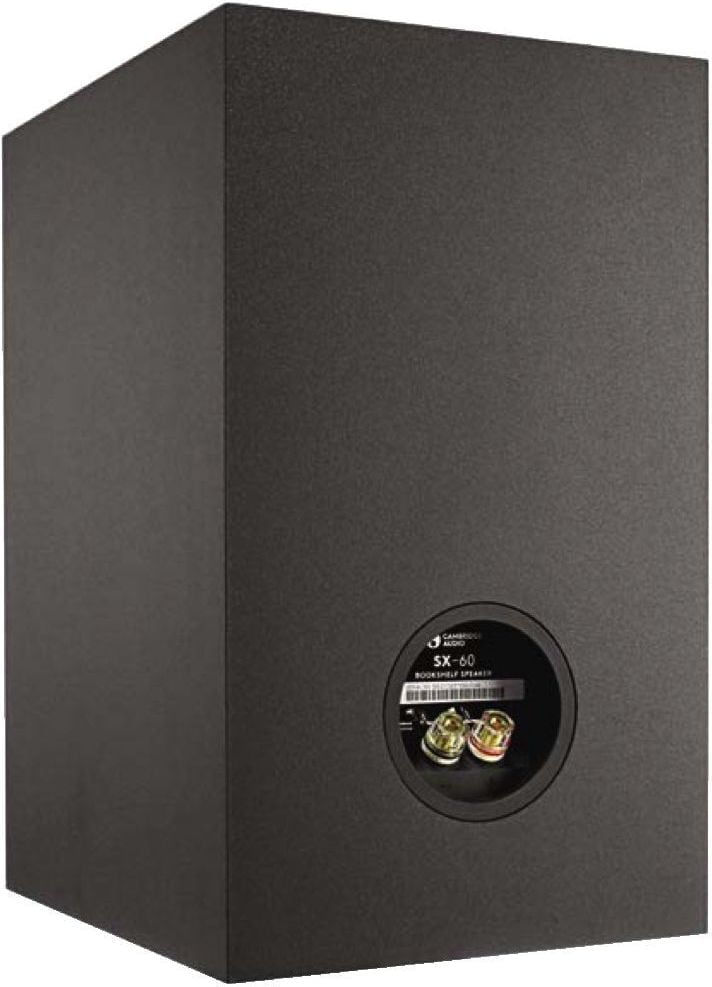 Although I was more impressed than entertained, at the end of the day they offer great sound at the price – full of high- end traits – and are well worth auditioning.
"the bass/midrange unit delivers upper midband output strongly, giving a forward sound with swathes of detail"
MEASURED PERFORMANCE
The frequency response of this loudspeaker shows it has been engineered to be tonally accurate. The 1 in (25mm) silk dome tweeter is especially smooth, suggesting treble free from spikiness or spit. Crossover occurs at 3kHz our impedance trace shows, Cambridge positioning the tweeter as close as possible to the woofer to minimise phase error between the two.
The bass/midrange unit peaks slightly at 100Hz and rolls down slowly to 60Hz, below which the port (red trace) adds in output down to a low 30Hz. This would suggest deep bass but small ports deliver limited bass power so this is an add-on as it were, as in any loudspeaker. The impedance curve shows bass is very well damped so they should sound well controlled at low frequencies. Unlikely to sound bass heavy though.
With an impedance of 6 Ohms, measured with pink noise, and a 4 Ohm d.c.r. bass unit, the SX-60 is a standard load any amplifier can cope with. Sensitivity measured 87dB – a good result. Amplifiers of 60 Watts or more will suit for high volume, and 40 Watts will suffice for good volume in a medium sized room.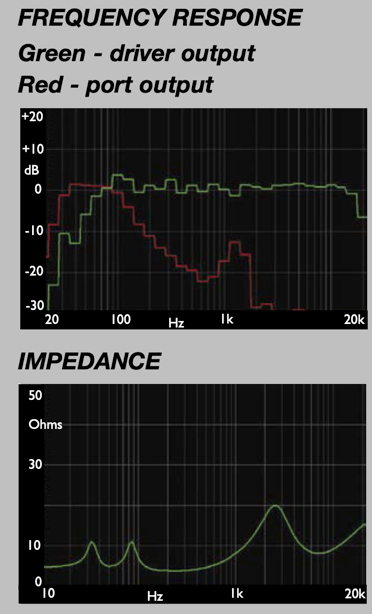 With the SX-60 Cambridge Audio have chosen to engineer an accurate loudspeaker, not one artificially enhanced by raised treble or bass. Smooth response suggests low colouration, although the forward firing port may add some. NK
| | |
| --- | --- |
| EXCELLENT | extremely capable |
| VALUE | keenly priced |
| Distributor | Cambridge Audio |
| Tel | +44 (0)207 551 5422 |
| Website | www.cambridgeaudio.com |
VERDICT
CAMBRIDGE AUDIO SX-60 Review
Forward and revealing, sometimes too much so. Very high quality though, especially at the price.
PROS
very revealing
accurate tonal balance
excellent imaging
CONS
reticent bass
slight boxiness
a bit edgy
Add your review
Best CAMBRIDGE AUDIO SX-60 prices in the US ?

$

369.00
3 new from $369.00
in stock

Best CAMBRIDGE AUDIO SX-60 prices in the UK ?

£

199.00
1 new from £199.00
in stock

MORE DEALS

See also TOP 10 Subwoofers