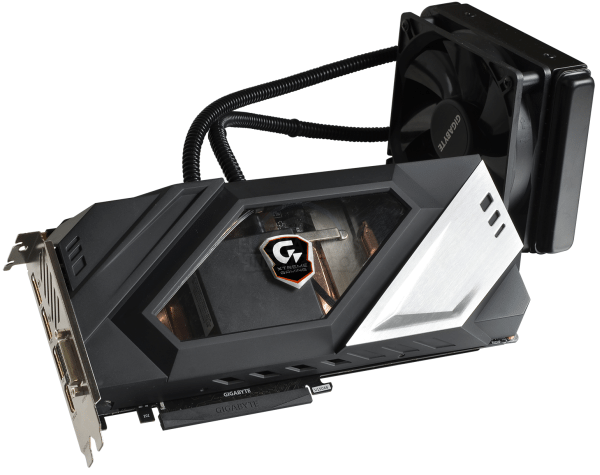 The best just got even better
Our current favourite high-end GPU is undoubtedly Nvidia's Geforce GTX 980 Ti. It's basically as powerful as a Titan-x GPU for cheaper, whips AMD's Fury x into a bleeding little pile of chunks, and does it all without sounding like there's a hairdressing salon in your PC. One of our favourite versions of the Gtx 980 Ti is Gigabyte's Windforce 3, but they've just released a new model that goes one better – the horribly named GV-N98TXTREME W-6GD. Let's see why this is quite possibly the sexiest graphics card for those with money to burn, yet a fetish for water.
Looking at the product picture reveals the obvious change from the Windforce. It's out with air-cooling, and in with an All-in-One water cooling solution. Gigabyte has aptly named this the Waterforce solution, and it covers the GPU, memory and even the power circuitry. This is hooked up to a 120mm fan, which Gigabyte claims is silent. Ditto with the water pump that is housed within the water block on the card, which Gigabyte also claims is a low-volume model. We'll let our sound-meter put that to the test.
Given the high price of this product, we wish Gigabyte had followed the example of Powercolor when it came to packaging. When you're spending $1200+ on a GPU, it's nice to feel like it's money well spent. The only extra found in the box is, wait for it, a Gigabyte-branded sweat band for your wrist. Oh well, perhaps they had to keep the fluff down to keep the cost reasonable.
Checking out the card itself, it's quickly apparent that Gigabyte has done a whole lot more to this than simply grab its air-cooled Gtx 980 Ti and slapped a water cooler on it. For starters, there's now a large heat-plate on the rear of the card, likely to help support the new cooler. The cooler itself is incredibly sexy, with a Perspex window showing the heat-pipes and water-block inside. The window is also ringed by an RGB light, which can be customised via the Gigabyte OC Guru software. It's just a shame that once the card is mounted in a PCIe slot, this window will be invisible.
Gigabyte claims that it has binned the GPUs to be used for this card; this is the process whereby a manufacturer sorts all of its chips based on their maximum possible overclock speed. They've also endowed this bad boy with Samsung memory, which is some of the best on the market, and helps to explain why the memory overclocks quite well.
Liquid Nitrogen lovers will appreciate the inclusion of a special LN2 BIOS. This is activated by depressing a button on one edge of the card; we'd be rather careful about accidentally hitting this if you're sticking with the stock water cooling. A 12+2 phase power system ensures rock solid power supply, and Gigabyte has used the same chokes and capacitors as those found on the Titan. There's even an extra 6-pin power plug along with the usual twin 8-pin plugs for those who want to go hard. A couple of tiny LED indicators sit next to the main 8-pin plugs, and will start flashing if the card detects any abnormal power issues. It's a neat touch, but once the card is in your case it's unlikely you'd ever notice them, so is targeted more at testbench tweakers. Gigabyte claims the PCB itself is coated in an aerospacegrade material, a claim we've seen from a few high-end GPUs of late.
All of these changes combine to deliver a card that is clocked much higher than a standard Gtx 980 Ti. The original default version from NVIDIA comes with a base speed of 1000MHz and a Boost of 1075MHz. In comparison, this water-cooled baby comes with a base speed of 1216MHz and a Boost of 1317MHz. Not too shabby, but it's worth pointing out that Gigabyte's original Windforce version, which is air cooled, has a boost speed of 1190MHz, which isn't far behind. The memory on this card has been given the tiniest nudge as well, increasing from the standard speed of 7GHz to 7.2GHz.
But where this card should shine is when it's pushed even further by overclockers, and that's exactly what we tested. Sadly though, once again we see Nvidia's restrictive voltage regulations in effect. It's only possible to increase the GPU voltage by a meagre 87mV, which is basically nothing. We cranked it straight to the max, and then set to work overclocking.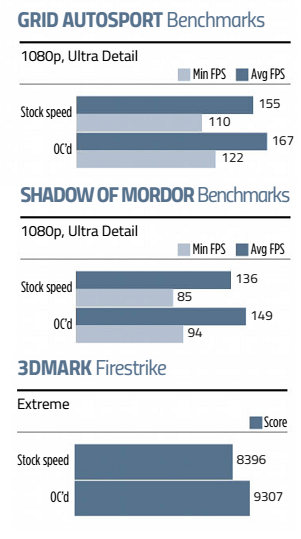 We managed to hit a maximum stable GPU speed of 1573MHz, a rather tasty increase of almost 20%. Unfortunately the memory didn't fare quite as well, topping out at 7.7GHz before benchmarks refused to run. As you can see from the benchmarks, this helped generate a noticeable boost in game performance.
While the overclock results alone are very impressive, what totally blew us away was the fan noise, or lack thereof. With the card at default speed, we measured a fan  noise of just 41dB, which is basically indistinguishable from the rest of the system noise. Yet when we overclocked the card, the fan noise didn't increase by a single decibel, staying locked at 41dB. This is simply unheard of, even in water cooling land.
Considering this product is so more expensive than stock standard GTX 980 Tis, we have to give it a roar of approval. With some of the best overclocking results we've seen, while remaining quieter than basically any card we've tested, this is the Gtx 980 Ti to buy.
•Excellent overclocking results
•Super quiet
•Reasonably priced
7Review earns Amazon affiliate commissions from qualifying purchases. You can support the site directly via Paypal donations ☕. Thank you!
•Fancy packaging would be appreciated at this price
Gigabyte has hosed away the competition with its water-cooled take on Nvidia's excellent Gtx 980 Ti.