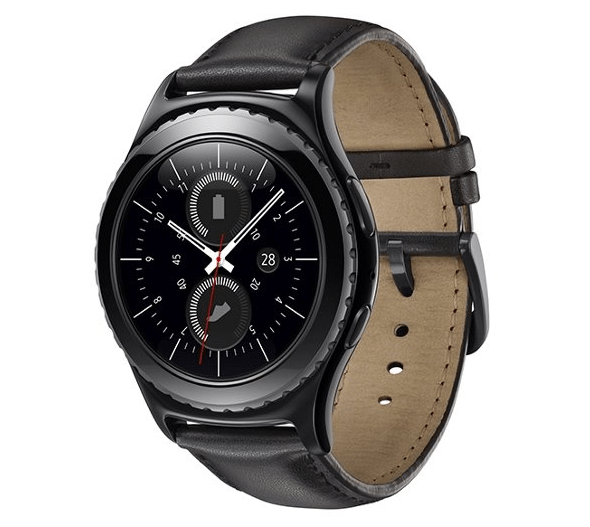 Wearables are the latest trend with many smartphone manufacturers. The Galaxy Gear S2 Classic is Samsung's fourth wearable, taking over from the Galaxy Gear S. But is it a big improvement?
What Samsung is going for here is to convince you that you don't need that classy Omega. I mean all it does is tell the time and has that tachometer you'll probably never use. Omega also does watches that work in space, yet again we ask, are you going to use that feature regularly? What Samsung has here is a watch that is much more practical, with a less jarring price. The wearables market is just coming to form, with the past couple of years being formation years. You know when a trend is serious when Apple decides to join in, having only released the Apple watch in April this year. Samsung has been in the wearables game longer, so will the Gear S2 Classic display its wisdom in the wearables game?
DESIGN
The Gear S2 Classic may not be made of the rarest minerals on Earth, but it does charm wandering eyes with sophistication. With the Gear S2 Classic we have a respectful homage to those classic timepieces that were mentioned earlier, with a silver metal body and leather strap. There is also the Gear S2, the sportier brother of the Gear S2 Classic. While the Classic is looking to camouflage with traditional time pieces, the Gear S2 aims to be more minimalistic with a silicone band (much more comfortable).
Not saying that the Classic is uncomfortable, far from it. Coming off wearing the gauntlet that was the Microsoft Band, the Gear S2 Classic was welcomed on our wrist as it feels just right. The dimensions of the watch are perfect, not too big, not too small, Goldilocks approves.
Samsung is trying to reinvent the wheel with the rotating ribbed bezel along the edges. It is extremely responsive and makes the new wearable very unique. It suits well with the Gear S2's circular design, you wouldn't think at first that the bezel would make a difference but after continuous use, you start to ponder how you'd go without it. Sticking with the edges there is a back and home button, accompanied by a mic to make use of S Voice for when you're on the move or in the middle of a run.
Straps are interchangeable with a spring mechanism as seen on traditional watches, making customisation something very open with the Classic – the Classic is compatible with any 20mm (Size L) strap. So to class it up you can get another leather strap or any third party one. The Gear S2 Classic only comes in black leather out of the box.
SCREEN
With the bezel and buttons what's the use for a touchscreen? Thankfully Samsung didn't think like that as the 1.2 inch screen has a seamless interface with a decent 303 pixelsper-inch. Samsung has incorporated a sAMOLED ('s' is for super) screen into the Gear S2, understandable as with an AMOLED screen it'll be using less power and spend more time on your wrist than the fancy wireless charging dock.
Speaking of power you do have the option of having the screen constantly on with the time displayed 24/7 like a real watch. But instead you can take advantage of a smart feature in the Gear S2, where you can wake the screen up by simply turning your wrist to look at it. A feature not only extremely cool, but damn useful.
The sAMOLED screen has vibrant colours as you'd expect from a Samsung AMOLED screen. Going with a sAMOLED screen is perfect for a wearable as it gives the Gear S2 excellent viewing angles. If it faltered there, it obviously would have been a death blow.
PERFORMANCE (BATTERY INCLUDED)
Powering the small nippy wearable is a Samsung Exynos 3250 with 512MB of RAM. You can immediately feel the power of the Gear S2 Classic as you flick through the Tizen UI without any stutter. Previous Samsung wearables have had noticeable stuttering but that has now been wiped out. Speed does not change going from using the bezel to the touchscreen, it all works in unison and both at the same speed of your touch.
Packed with the Gear S2 Classic is a homely looking magnetic wireless charger, which impresses as it displays a rather handsome watch on your desk and continue to do its job. As for the battery life itself, you can expect it to be on your wrist more so than lot of other wearables. With 250 mAh packed inside it compares to the Apple Watch. With the aforementioned screen wake up feature, you can expect the Gear S2 Classic to last you up to two days (depending on use).
SOFTWARE
Samsung is using its own internally developed OS, Tizen, which brings some very nice unique features that you'll definitely enjoy. You can reply to text messages with emojis, prepared messages and if you really need to go in detail there's a T9 keyboard available.