The smallest in this Finnsh company's 'The Ones' series, these highly accurate studio monitors use concentric drivers and built-in amplifiers to put you right in the producers' chair. Read our GENELEC 8331A Review.
Radically different. Those are the words which come to mind when I consider the Genelec 8331A active loudspeakers. In large part that's because these are not designed primarily for the home. They are studio monitor speakers. Genelec is a Finnish firm specialising in this market.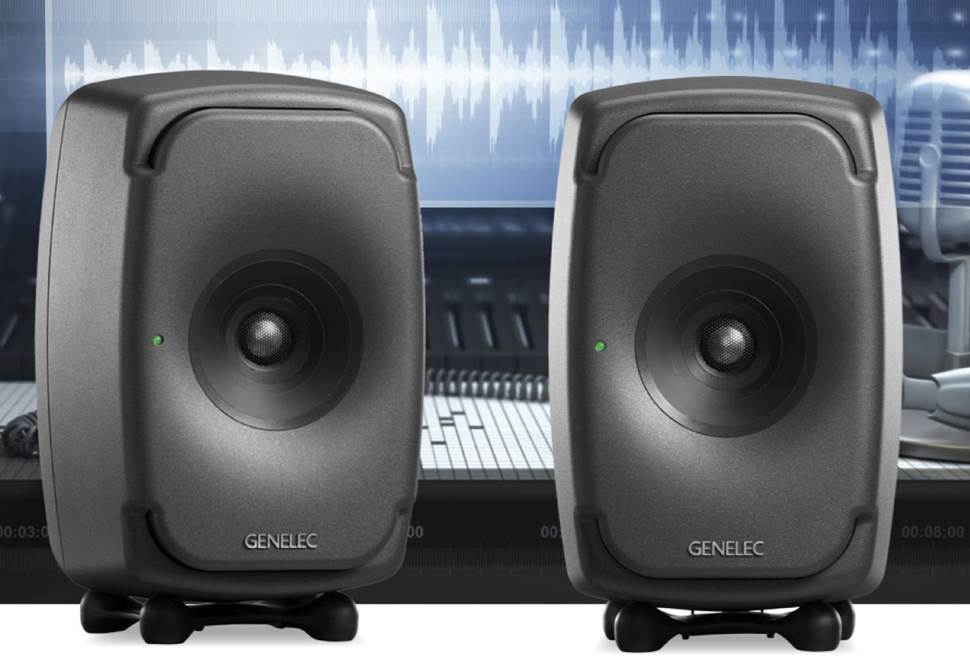 EQUIPMENT
Now studio monitors from a company prominent in the field, as Genelec is, have one major advantage over consumer high-fidelity speakers: they are designed to be accurate. Sure, so are many hi-fi speakers, but how do you know they haven't been 'voiced' by a designer with idiosyncratic tastes? Recording professionals know what they want, and won't pay money for something that sounds too far outside of the mainstream.
And let's face it, if you're listening using studio monitors, you're getting sound very close to that heard by the engineers when preparing the music.
That shows in the specifications here. Their rated frequency response is 58Hz-20kHz, ±1.5dB. The -6dB points are at 45Hz and 37kHz. THD is specified at less than 0.5% for frequencies above 100Hz, for 85dB output at 1 metre. "Maximum long-term RMS acoustic output at 1m is 99dBSPL. Short-term sine wave output at a metre is at least 104dBSPL. "Maximum peak acoustic output per pair… with music material'at a metre is 110dB.
Pretty impressive for rather compact speakers: 305mm tall, 189mm wide and 212mm deep. Compact, but remarkably heavy for their size at 6.7 kilograms. That would be at least in part due to the packing of three drivers into each enclosure, plus an individual amplifier for each, plus some pretty fancy DSP technology.
7Review earns Amazon affiliate commissions from qualifying purchases. You can support the site directly via Paypal donations ☕. Thank you!
See also TOP 10 Subwoofers
The drivers are concentric, with an oval woofer behind a panel with slots at top and bottom. Genelec calls this 'Acoustically Concealed Woofers Technology',and that's concealed rather than acoustically sealed, as the woofer is bass reflex loaded via a large port at the rear. In the centre of the panel in front of the woofer is a 90mm midrange with a 19mm tweeter mounted in its centre. Genelec calls this mounting arrangement 'Minimum Diffraction Coaxial Driver Technology'. It also uses a 'Directivity Control Waveguide.' I initially thought that's the protective grille over the metallic tweeter dome (I couldn't find any mention of what material is used). But the manual explains that it extends "over the whole front face of the enclosure. The midrange driver cone also forms a part of the directivity control waveguide for the tweeter. " The face of the speaker is certainly shaped, apparently with acoustic intent.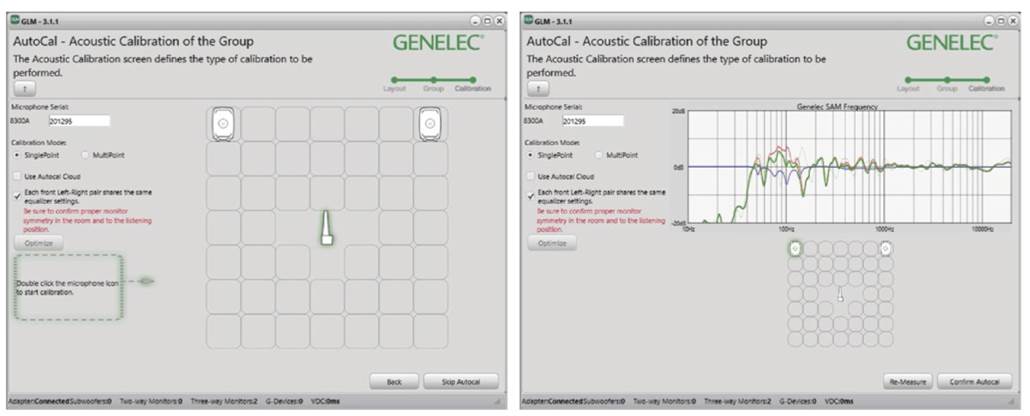 The software, once installed, was easy to use, identifying the Genelecs and after positioning (left screengrab) calibrating for the best response (right).
Genelec calls the 8331A a 'SAM' studio monitor. SAM stands for 'Smart Active Monitoring'. You can use the speakers in standalone mode, but you're not getting your money's worth since the speakers can be calibrated and EQ'd by using the Genelec Loudspeaker Manager and software (GLM). We'll get into that in a bit. Since these are active speakers, the drivers are powered and they employ active crossovers. Each woofer scores 72 watts, while each of the smaller drivers is pushed by 36 watts.
It's at this point that we come into a more difficult area for some home users: there are both analogue and digital audio inputs for signal input. But both conform to studio standards rather than the more common home ones, being a choice of analogue balanced XLR inputs, or digital AES/EBU balanced inputs.
In the home hi-fi world, analogue balanced XLR is moderately common at the high end. AES/EBU digital inputs? Not unknown, but rare. Yet that's a studio standard. It is not all that different to the S/PDIF formats used in the consumer world, and S/PDIF can be converted to AES/EBU with suitable equipment.
I'd say that most of our readers would use analogue XLR for connecting, since there are certainly plenty of hi-fi devices that can deliver this signal. We used both analogue and digital during this review.
SETTING UP
I shall assume that our readers would want to take full advantage of the capabilities of these loudspeakers, and that includes the DSP. But having said that, each speaker has a row of DIP switches which allow some frequency response tailoring, with bass and treble tilt and bass roll-off adjustments. But, note, while there is a kind of level trim control, there is effectively no volume control on the speakers.
If you're using them standalone, then you will need a source device that controls level.
But in the studio environment, they would normally be controlled by the Genelec Loud-speaker Manager hardware, which is in turn controlled by the GLM software on a computer (Windows and Mac both supported).
The GLM hardware/software system can be used once, its results loaded into the 8331A speakers, and thereafter used by default. In a studio environment, one might prefer to keep them connected, to manage the speakers on an ongoing basis. For that you will need a computer running, of course.
I used these speakers in both available ways, with digital input and analogue. How they will be wired differs according to which of those you choose. The same XLR input is used for both analogue and digital. Two of the DIP switches select this. These are marked Digital A and Digital B. If both are off, then the input of the speaker is analogue. If either A or B is chosen, the left or right channel is used from the digital input signal. Obviously you choose A for one speaker and B for the other.
If you're going analogue, you'll need two XLR to XLR cables for connecting between your preamplifier or other device to the two speakers. If you're going digital, you'll still need two XLR to XLR cables. One will go from your digital source to one of the speakers. The other will connect the XLR output of that speaker to the other speaker.
But remember, if you're going digital you'll need a device that outputs the AES/EBU format, not S/PDIF. Yes, they do exist. I used a fairly ancient (I bought it in 2001) M-Audio CO3 digital format converter to change the S/PDIF TOSLINK output from a Chromecast Audio into AES/EBU format. That all worked rather nicely.
For analogue, I used an RME Babyface Pro ADC/DAC decoding digital audio from my computer.
Again, you can go standalone, but I used the GLM hardware and software. The hardware consists of a small box which connects to the computer via USB. It has an input for the supplied calibration microphone and an RJ45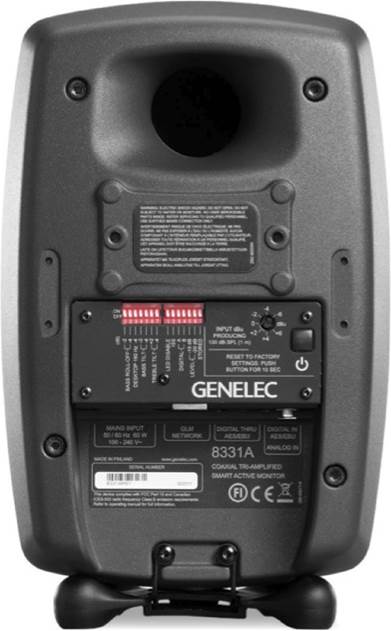 "with a couple of connection work-arounds, you can hear pretty much original studio sound with these speakers…"
socket for establishing the Genelec network. You use standard network cables to connect it to one of the speakers and another to daisy chain to the next speaker.
Then you download and install the GLM software on your computer. It seems that the Windows version doesn't have proper certifica­tion. I had to push through warnings: 'Window Defender SmartScreen prevented an unrecognised app from starting. Running this app might put your PC at risk.'
Apart from that, the software worked extremely well and very reliably. Once installed, it detected which speakers were connected. (Genelec has several models on offer, including subwoofers.) I dragged the speaker icons onto the appropriate positions on a room grid (see first screen grab, previous page), then ran the auto calibration. You have choice of single or multi-position mea­surements. I went single. This wasn't one of those interminable calibration systems experienced on some home theatre receivers. The system delivered a very fast sine-wave sweep through each speaker, then spent about a minute crunching numbers before announcing calibration was completed. It then went through to the control screen.
That screen has a big volume slider, a couple of mute switches and an EQ bypass button.
There's a fair bit more stuff for those that want to explore. But for the moment, I'll focus on practicality. I suspect that most users will be using the analogue input. And most won't want to be using a slider on a computer screen to control the volume. So that volume control should be set fairly high, and then level-controlled by your own pre-amplifier.
LISTENING
I did most of my listening with the Genelec speakers toed in to directly point towards the listening position, having calibrated them using the microphone included with the GLM system for EQing.
The first impression was: big speaker sound from very little speakers. The -6dB point doesn't quite encompass the entirely of a kick drum's fundamental, but just about every other bass element came through at, well, a perfect level.
I listened to a rather wide range of music with these speakers, from hip-hop through prog rock to baroque. General impressions: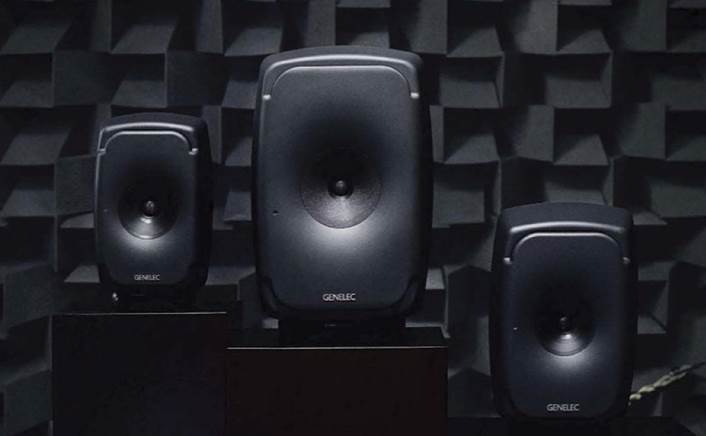 The range from which the Genelec 8331A comes is known as "The Ones" and includes three larger models, including the latest flagship 8361A, plus the W371A subwoofer.
exceptionally dynamic and beautifully balanced in tone throughout the lot. I'm guessing that in professional contexts, the Genelec 8331A speakers would be used as near-field monitors. I used them as stereo speakers around three metres distant from the listening position. The general dynamism of the sound brought to mind true quality loud-speakers from Dynaudio or VAF Research. On the Don Burrows Quintet Live recording from 1983, the drum kit is recorded far from up-front, yet every little strike came through without limitation or compression. The acoustic bass was beautifully full and coherent.
The cymbals were precisely located on the sound-stage, gloriously sharp and precise. In Cradle Song the chimes were superbly well defined, dancing in space across the sound-stage. James Morrison's trombone (yes, not trumpet) on Tin Pan was richly rendered. But I kept on coming back to the bass. The calibration doesn't really attempt to make the loudspeakers deliver bass deeper than that at which they are mechani­cally competent. But it does balance it down to that mid-40s.
It was a little weird. Instead of my judging the balance of this system by my ideals, I felt almost as though the Genelec 8331A speakers were re-establishing ideals for me. That said, another octave deeper into the bass is preferable. It would have been interesting to include one of Genelec's subwoofers in this review.
Sorry… I've become a little lost in entrancing music for a dozen minutes. Or, perhaps, lost in twelve minutes of the purity, accuracy, high fidelity of the music I'm listening to on the Genelec 8331A loudspeakers. I suppose I'd like to add that 20 to 40 hertz area, but I can't say
that I'm missing it. The subjective experience of a full bass tends to be almost completely satisfied by a balanced, full response down to around 50 hertz. These speakers deliver that. And so much more.
CONCLUSION
The Genelec 8331A loudspeakers deliver.
But what I'd really love to see are these speakers, almost the same in every way but with inputs conforming to conventions for home audio. Still, with a couple of connection workarounds, you can hear pretty much original studio sound with these speakers. SD
Genelec 8331A
•     Exceptional sound quality
•     Very compact
•     Obviate the need for amplifiers
•     Connections more suited to studio than the home
with free GLM included
Rated power (each): 1 x 72W, 2 x 36W
Drivers (each): 1 x 130mm by 65mm oval woofer, 1 x 89mm midrange,
1 x 19mm tweeter
Inputs: Analogue balanced XLR, Digital AES/ EBU balanced XLR
Outputs: AES/EBU balanced XLR (signal passthrough for other speakers)
Others: 2 x RJ45 for proprietary Genelec control network
Dimensions (whd): 189 x 305 x 212mm
Weight: 6.7kg
Contact: Studio Connections Australia
Telephone: 03 9416 8097
Web: www.studioconnections.com.au