FOCAL STELLIA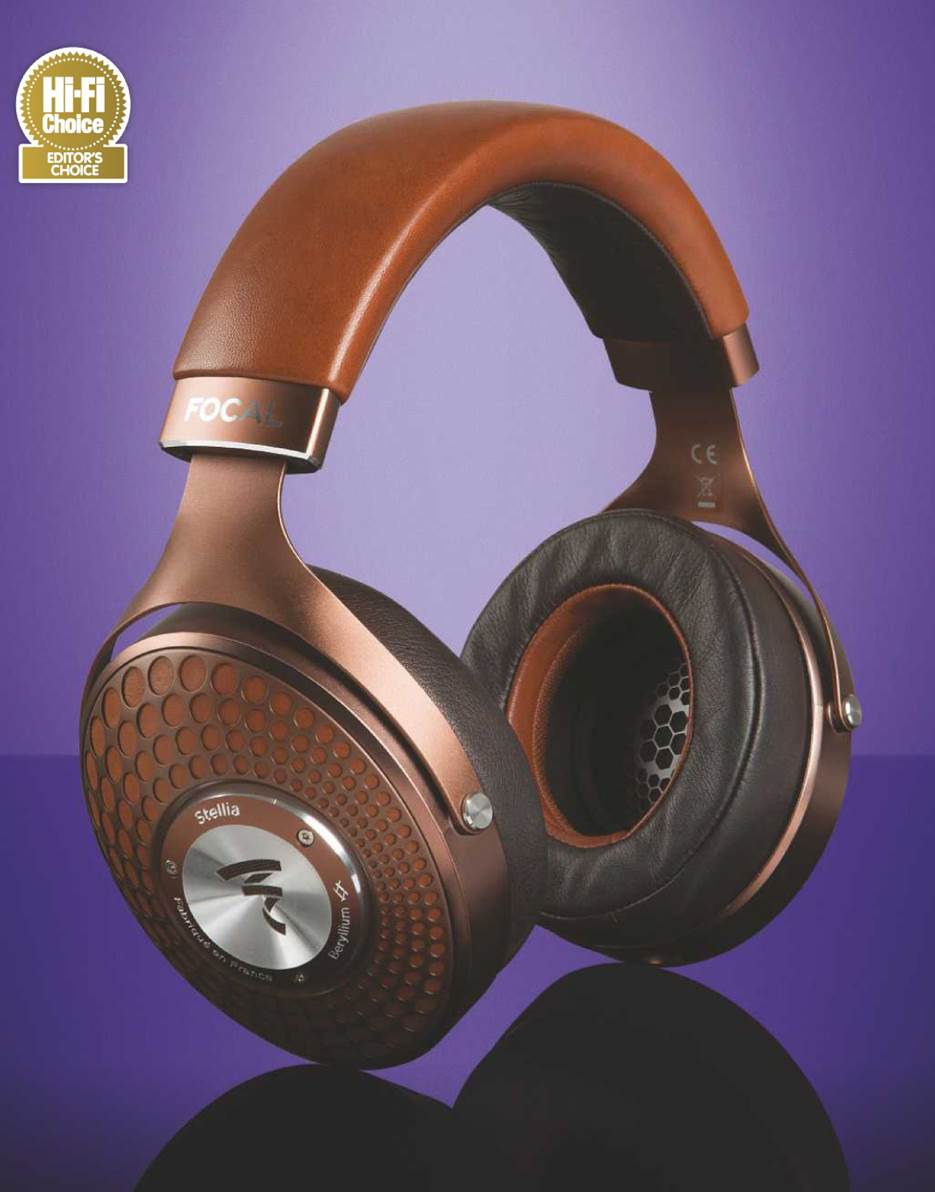 Star attraction
This chic closed-back headphone design takes personal listening to new heights. Ed Selley is beguiled by its charms
DETAILS
PRODUCT Focal Stellia
ORIGIN France
7Review earns Amazon affiliate commissions from qualifying purchases. You can support the site directly via Paypal donations ☕. Thank you!
TYPE Closed-back, over-ear headphone
WEIGHT 435g
FEATURES
• 40mm beryllium dynamic driver
• Quoted sensitivity: 106dB/mW
• Detachable cables: 1x 1.2m with 3.5mm jack; 1x 3m with XLR
DISTRIBUTOR SCV Distribution
TELEPHONE 03301222500
WEBSITE focal.com
Many speaker manufacturers have diversified into headphones in search of a wider audience, but few have enjoyed the level of success of French brand Focal. What began with conventional designs at affordable price points has morphed into a full range of models across a broad spectrum of prices. This is the latest and is placed firmly towards the top end of Focal's headphone family.
At first glance, the Stellia neatly bridges the gap between the (HFC 439) and the Utopia flagship design, but its relationship to the two models is not quite as straightforward as it first appears. Unlike the Clear and Utopia headphones, this is a closed-back
Stellia is without doubt the finest Focal headphone offering I've heard
design and so has more in common with the Elegia (HFC 447).
Until fairly recently, closed-back headphones were a relatively rare thing, due to their extra complexity. Instead of being able to radiate energy out to free space, it needs to be handled within the earpiece enclosures themselves.
The Stellia's drivers have the same 40mm 'M profile' as the ones in the Elegia, but instead of being made from aluminium and magnesium beryllium – known for its exceptional strength-to-lightness ratio – is used. Combined with the 'frameless' voice coil that also features in the Elegia, the driver is extremely light and sensitive. Focal says the claimed 35ohm impedance makes Stellia ideal for use with portable devices.
Despite the closed-back configuration, the driver enclosure isn't entirely sealed and has two small vents that perform different roles. The first is intended to control the relationship between the bass and midrange, while the second – located at the back – handles and dissipates the rear wave from the driver to improve linearity and low-end extension. Combined with memory foam earpieces, the Stellia is designed to achieve a perfect seal and radiates energy in the direction Focal wants. These vents do mean that it is not completely silent in use for those around you, although it's still a lot quieter than an open-back alternative.
The headband borrows its mechanical yoke from the flagship Utopia and uses a continuous curve intended to secure the placement of the enclosures on the head while offering high comfort levels. For home use a 3m cable with a four-pin XLR termination is bundled – ideal for use with the matching Arche headphone amplifier and DAC – as well as a 1.2m cable with 3.5mm jack.
Focal has a knack for designing some of the most comfortable headphones, but even judged against the high standards of the rest of the range, wearing the Stellia for extended periods is a joy thanks to the careful weight distribution and even exertion of force placed on either side of the head. It weighs almost half a kilo, but you barely notice it and there's no 'hot ear' feeling that some closed-back designs have a tendency to cause.
In a break from its other designs, the colour scheme is rather more vibrant. Focal describes it as cognac and mocha – it's not subtle, but it is certainly instantly recognisable. It's one of those finishes that works better in natural light and helps you feel you're getting your money's worth. The build is top-notch and the materials and attention to detail combine to produce a product that looks and feels very special and comes with some great bundled
The bundled carry box is a thing of beauty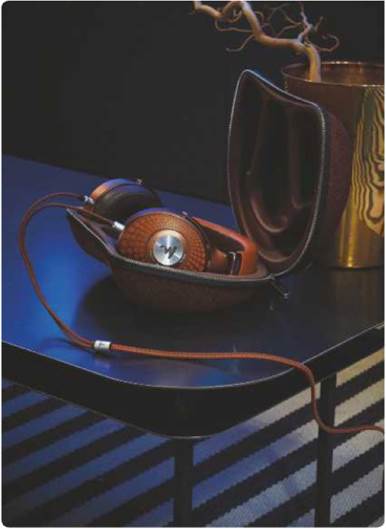 accessories including a spacious carry case and smart home storage box.
Sound quality
For listening, I assemble an Essential PH-1 Android phone connected by an OTG adapter to the USB input of a Chord Electronics Hugo 2 headphone amp/DAC (HFC 428) and the Stellia springs a few surprises from the outset. I've never felt that Focal models have struggled for detail, but this is a further step forward over previous designs. Listening to a 16/44.1 rip of The Cinematic Orchestra's Burn Out is an extraordinary experience.
The Stellia finds detail in the finger movement across the bass strings that I have never heard before. As reviewers we're probably guilty of over using the term "forensic", but here when it comes to detail retrieval this is the only fitting adjective to use, although not in a merciless way.
The top end is exceptionally well judged, giving great recordings the sparkle they deserve while avoiding coming across as aggressive or hard edged. I conduct a meandering listening test programme that takes in every musical style, and the Stellia delivers every time. It definitely imparts a character of its own, but it's one that I find to be wholly benign with everything I play.
The most significant achievement is that even when listening for the behavioural traits that could give the closed-back nature of the design ►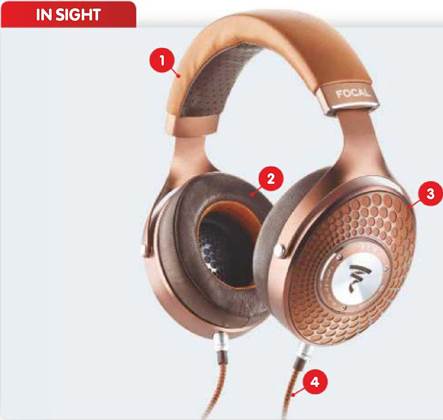 1 Full-grain leather headband
2 40mm beryllium dynamic driver
3 Detachable cable
4 Memory foam earpad
away, I genuinely struggle. I had previously considered the Elegia to be an almost vice-free design in this regard but the Stellia moves things on to another level entirely. Ben Howard's Everything is a small-scale recording, but the complete lack of constraint is still a revelatory experience. If you make use of the Chord's crossfeed function, it serves to push the presentation in front of you in a manner that rivals of any type will struggle with, highlighting that even without external trickery this is an outstandingly threedimensional performer.
Trying to find fault with the Stellia is not the work of a moment. Focal has managed to make a high-end headphone that can be driven from portable equipment, but there is so much more to partnering it than simply having sufficient power to hand. Using an Onkyo DP-X1 as a source doesn't leave the Focal short of headroom (although there is less available than with the Hugo 2), but it does cause the upper registers to harden up a little and some of the space around recordings can be lost. This is a remarkably even handed headphone, but it certainly delivers its best performance with equipment of commensurate quality.
Treat it with any degree of generosity and the Stellia rewards. Like the Elegia, it's a consistently fun piece of equipment to listen to. Some of this can be established objectively – the bass is impressively deep, but never at the expense of exceptional speed – but there is a degree of intangible joy too. Annie Lennox's stunning Little Bird is delivered with unquestionable technical
accomplishment, but more than this there is a rhythmic engagement and basic vitality to the presentation that hits places that aren't always reached. Needless to say, if you aren't already getting some peculiar looks while wearing a large pair of tan headphones out and about in public, nodding along to the beat while mouthing all the words to your favourite tracks will probably do the trick.
Conclusion
The Stellia is truly outstanding and a welcome addition to the high-end headphone ranks. It rivals the very best open-back competition in a domestic environment, proves to be exceptionally comfortable for long listening sessions and continues to delight when it's time to leave the house too. The price may seem aspirational for a headphone, but it is without doubt the finest Focal offering I've heard yet. If you're in the market for headphones and the price fits, the only question is whether you have the style to pull it off
OUR VERDICT
Highly Recommended
Focal Stellia Review
One of the best closed-back headphones we've ever heard
Add your review
Best Focal Stellia prices in the US ?

$

188.00
1 new from $188.00
in stock


$

298.00
1 new from $298.00
in stock

Best Focal Stellia prices in the UK ?

£

170.92
1 new from £170.92
in stock

MORE DEALS

LIKE: Exceptionally detailed, spacious and engaging; comfort
DISLIKE: Needs quality partnering equipment; looks may not appeal to all
WE SAY: One of the best closed-back headphones we've ever heard
Sennheiser's HD 820 closed-back offering (HFC 442) costs £ less and has a more conventional design. Performance-wise the Sennheiser shares the same unforced and open presentation that belies its closed-back design, but ultimately the Stellia has the advantage. The truly extraordinary detail retrieval and unbridled joy it brings to almost anything it plays means it's in a class of its own. Of course, whether this makes it worthy of the considerable extra cost when compared with the Sennheiser is a decision you'll need to make on your own.
Q&A
Megane Montabonel
Marketing manager, Focal

ES: Why introduce a high-end closed-back headphone?
MM: Having had great success with our three open-backed high-end models (Elear, Clear and Utopia), which require a relatively quiet listening environment in order to enjoy the full performance, we also wanted to offer a high-end headphone solution for people who listen to music in noisy environments such as on a train or plane, while not disturbing those around them.
The Stellia is supplied with a balanced connector for home use – does the design favour using this type of connection?
Stellia headphones have been designed both for home and mobile use. This is why we offer two cables: one 3m XLR option to offer the best experience at home – particularly when connected to a dedicated headphone amplifier – and a shorter 1.2m one with mini-jack connector to suit mobile use, although we also supply a 3.5mm-to-6.35mm stereo adapter if required.
What are the challenges with ensuring the Stellia can be driven by portable devices?
For a closed-back headphone to be suitable for portable use we had to make sure users didn't need to have a huge amplifier to drive it. To ensure customers can use Stellia with all kinds of portable playback devices the design needed to have a low impedance. A lot of work has gone into the development of the magnet and the voice coil of the drivers to reduce the impedance compared with our open-back headphones.
As a result, the impedance of Stellia is 35ohm.
The cognac and mocha finish is new to the Focal range, will we see a wider range of colour options in future models?
With Stellia we wanted to differentiate from our other headphones and make it stand out in terms of its high-end design and sound quality. For future models watch this space!