Mark Craven discovers if LG can conjure cinematic thrills with its flagship LCD TV. Read our LG 65SM9800PLA Review.
Such has been the success of LG's OLED TV lineup that it's easy to forget the brand also sells LED-lit LCD TVs. The 65SM9800PLA is a 65in 'Nano Cell' model positioned as a high-performance alternative to one of its pricier self-emissive siblings, offering many of the same feature tricks, but perhaps delivering brighter, more value-for-money visuals.
65ln 4K HDR Nano Cell LCD TV
Top of LG's LCD TV lineup – although the step-down SM90 series goes larger
PEERs: Samsung QE65Q80R; Sony KD-65XG9505
One thing it hasn't got is quite the same sense of style. The ultra-slim bezel (dubbed Nano Bezel, natch) with tiny chrome trim is sleek, but the TV sits on a crescent stand that doesn't quite seem best designed to take its weight or considerable size.
Nano Cell Is essentially LG's QLED rival, where nano particles are deployed to absorb extraneous light wavelengths and boost colour production. The technology Is here used In conjunction with an IPS panel (for a wide viewing angle) and direct LED backlighting. Step down LG's Nano Cell TV range to the mid-tier SM86 series and you'll find an edge LED engine being preferred.
7Review earns Amazon affiliate commissions from qualifying purchases. You can support the site directly via Paypal donations ☕. Thank you!
See also TOP Televisions
and The best OLED TV deals 2022: get an awesome OLED at the lowest price
The 65SM9800PLA joins LG's 2019 OLED TVs by offering HDMI 2.1 connectivity, including support for eARC and Instant Game Response (Variable Refresh Rate and Auto Low Latency Mode features). The set also supports Dolby Vision HDR playback (but not HDR10+) and Dolby Atmos. For processing, it packs LG's second-generation Alpha 7 Al processor, which shares similarities with the OLED-specific Alpha 9, including improvements to tone-mapping and an expanded colour LUT (Look Up Table).
The smart Interface Is provided by LG's WebOS 4.5 system. I still find WebOS a bit of a mixed bag. Visually, it's neat and tidy, and the customisable launcher bar and vldeo-on-demand app provision (Freeview Play handles UK catch-up) is excellent. However, operation can become a bit of a faff. LG's Magic Remote takes a while to get used to, and Instigating changes via the menus and sub-menus doesn't always feel intuitive – a fact made worse by the number of options available/unavailable depending on the source or mode selected.
Sound options are a good example of this. The TV sports a 2.2-channel speaker array rated at 40W, and from the basic side-bar menu you can choose from Standard, Cinema, Clear Voice, Sports, Music and Game presets.
However, enter the Sound option within the wider Settings arena and you can call upon Al Sound for 'virtual 5.1' surround, or introduce Dolby Atmos – do this and the Ultra Surround Mode changes to Dolby Surround for non-Atmos sources. On top of that, there's LG's One-Touch Sound Tuning mode, which alms to optimise the performance based on a short measurement of your room, with Bass Boost and Treble Boost tweaks available.
The upshot of all this Is that the TV seems unnecessarily complicated from an audio perspective – my preference was to always have Ultra Surround or Dolby Surround on, as It effectively opens up the soundstage and sounds agreeable. There's sufficient bass to the thwacks and gunfire during Fast & Furious 7 (UHD BD), although top-end details lack sparkle.
Tweaker's delight
When it comes to imagery, you get the usual plethora of presets (including ISF Bright/Dark, and a Technicolor Expert mode), plus a stripped-down offering when Dolby Vision content is input. Additionally, there's a full suite of image manipulation tools, ranging from noise reduction and frame Interpolation to gamma, colour management and white balance control. Tweakers/calibrators (the TV is Caiman-ready) will no doubt be happy.
For those looking for an easy preset choice, It's worth paying attention to what the modes introduce. The Vivid option is as in-yer-face as expected, but Standard also has a healthy dollop of sharpness applied and TruMotion frame interpolation set on by default. Even the Cinema mode has motion smoothing and noise reduction activated – the Technicolor expert option Is the purist's choice in this regard.
A virtue of Standard is its cooler colour temperature (around 10,000-11,000K, says LG) which some may find preferable to the stalwart D65 of the Cinema/ISF options.
1. There's also a 55ln SM9800 model
2. LG's Magic Remote offers a motlon- controlled cursor

Just to confuse, Dolby Vision has both Cinema and Cinema Home options, the latter mode with a slight decrease in colour temp and a luminance boost.
Out for Justice
Beginning with Justice League (Blu-ray), and the drizzling dark of the movie's opening sequence In Gotham, the TV paints a pleasing SDR image. Even without the benefit of an HDR grade, there's a strong, bright hit to street lights and the orange glow of the Parademon's torso (LG's HDR Effect mode is a fallback for those who have moved on from SDR; it's perhaps more subtle – but also less dramatic – than you might expect).
Left to handle the action without frame interpolation, sharpness or noise reduction boosts, it still presents a crisp, theatric and easy-to-watch image. Red and yellow neon glows have a strong vibrancy to them, as do the
The TV's HDR and wide colour handling is beguiling. Candles and shafts of light have a healthy intensity'
greens of Alfred's computer display. Cut to the scenes of city-folk mourning the death of Superman, and the image feels lifelike and well-balanced, and bright enough to impress in a well-lit room.
And that brightness is even more in evidence with HDR and wide colour material. The 2018 Robin Hood flick (Ultra HD Blu-ray, Dolby Vision) offers HDR highlights and colour impact that are beguiling. There are numerous scenes where natural light sources and rich hues are thrown together, such as the early montage showing Robin and Marian's blossoming romance. Candles and shafts of light have a healthy intensity. Chapter 8's night-time horseback ride presents bursts of searing orange flame and shiny gold coins clattering to the ground.
An issue, however, is the TV's LED backlight Implementation. As a direct-lit model, there's none of the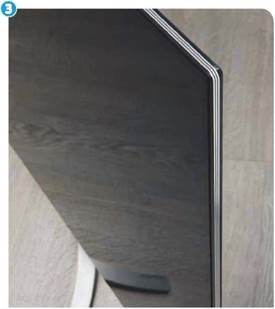 obvious vertical striping witnessed on edge LED sets, but a limited number of local dimming zones means the panel's illumination is still noticeable when viewed in low-light levels/darkness.
When Jason Statham lurks In the dark In the Interpol office in Fast & Furious 7, there's an obvious glow around his spotLighted facial features. It's diffuse, rather than blocky, but still apparent. Similarly, with Annihilation (4K Blu-ray), on the Area X' and The Shimmer' title screens the portentous text appears with a slight halo. Such moments are an irritating distraction, because elsewhere in the Alex Garland sci-fi the 65SM9800PLA's talents come to the fore, easily conveying the bright hues and otherworldly feel of its spooky location.
Backlight machinations are more visible when the TV Is viewed off-axis, although a strength of the IPS panel is that colour saturation remains strong even from fairly wide angles. It's still best viewed square-on, of course.
Fed some tortuous demo reel material, the TV's motion handling falters with diagonal pans, being prone to judder and tearing. Yet with regular film and TV content this is less of an Issue. LG's Clear setting Is the best option for improving motion detail, if you don't side with Tom Cruise in this regard…
Living room-friendly
Taken as a whole package, LG's 65SM9800PLA has considerable appeal. Dolby Vision and Dolby Atmos support, the 65in screen, smart skills and its colour and brightness punch make it a living room-friendly proposition. Those who seek a display for a dark environment, however, will probably prefer something with slicker backlight management. And when shopping at the TV's price point, LG's own OLED models (albeit at smaller screen sizes), will become tempting.
HCC VERDICT
LG 65SM9800PLA Review
This 65-incher has a forward-thinking spec, slick smarts and impacts with brightness and colour. Not the most cinematic of performers, however, with backlight niggles.
Add your review
Best LG 65SM9800PLA prices in the UK ?
MORE DEALS

See also TOP Televisions
and The best OLED TV deals 2022: get an awesome OLED at the lowest price
www.lg.com/uk
SPECIFICATIONS
3D: No Yes. 3,840 x 2,160 HDR: Yes. HDR10; HLG; Dolby Vision; Technicolor TUNER; Yes. Freevlew Play; satellite HD CONNECTIONS: 4 x HDMI; 3 x USB; optical digital audio output; headphone output; Ethernet SOUND (CLAIMED): 2.2-channel (40W) BRIGHTNESS (CLAIMED): N/A CONTRAST RATIO (CLAIMED): N/A DIMENSIONS (0FFSTAND): 1,452(w) x 833(h) x 62.5(d)mm WEIGHT (OFF STAND): 27kg
FEATURES: Full array local dimming LED TV; second-gen Alpha 7 processor; Nano Cell technology; TruMotion processing; colour management system; Wi-Fi; Bluetooth 5.0; Dolby Atmos audio; One-Touch Sound Tuning; HDMI 2.1 specification (Includes eARC, VRR, ALLM); Google Assistant built-in; Amazon Alexa
PARTNER WITH
ANNIHILATION: The sci-fi flick deemed 'too intellectual' for a cinema release (it was picked up by Netflix instead) is now available on 4K Blu-ray. Surreal visuals suit the HDR presentation, and the Atmos track ups the ambience. Be smart…
3. The TV Is slim at Its edges, but bulks out around the rear