In pursuit of perfect stereo imaging, this portable is split in two. But can it divide and conquer? Read our Cambridge Audio Yoyo M Review.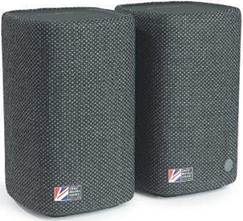 DETAILS
PRODUCT: Cambridge Audio Yoyo (M)
ORIGIN UK/China
TYPE Portable Bluetooth speakers
WEIGHT 1.5kg (each)
DIMENSIONS (WxHxD) 125 x 204 x 125mm
7Review earns Amazon affiliate commissions from qualifying purchases. You can support the site directly via Paypal donations ☕. Thank you!
See also TOP 10 Subwoofers
FEATURES
• Quoted battery life: 24 hours
• 2 x 30mm tweeters
• 2 x 75mm mid/bass drivers
• Bluetooth wireless v4.0
• Gesture controls
DISTRIBUTOR Cambridge Audio
WEBSITE https://www.cambridgeaudio.com/en
Unlike the two other models that make up Cambridge Audio's Yoyo range (the S and L) and the rest in the test, the Yoyo (M) comes as a pair. Each speaker is equipped with a 30mm high-frequency driver and 75mm mid/bass driver, while each driver has its own Class D amp.
Turn the speakers on, and they find each other to work as a pair and connect to a partnering control device. Designated as left and right models (the one with a grey circle on it is the right channel), the Bluetooth implementation is 4.0 but there is no aptX. There is a USB socket for charging your phone, while battery life is claimed to be 24 hours and a 3.5mm aux input is provided.
The top panel has a gesture control system built in (see box out) as well as some basic information showing speaker status. It all feels well assembled and solid, but as there's no
The cloth wrap is available in blue, light or dark grey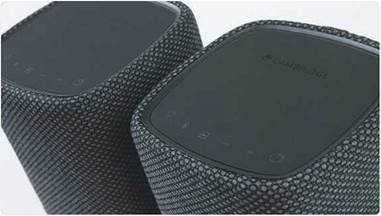 handle for carrying, the level of portability on offer is debatable.
Sound quality
With setup completed, the Yoyo (M) demonstrates its two key advantages – its proportionally large radiating area and ability to generate a stereo image. Due to its fairly small-scale nature, this is not that apparent with the Bach recording but the way it handles the violin is refined and tonally believable. The moment that the music increases in size with GoGo Penguin, however, the advantages are clear. There is far more sense of the musicians' relationship to one another and the music simply feels more immersive as a result. This is slightly hindered by a thickness to the lower midrange that leaves the plucked bass sounding a little indistinct, but it never sounds actively slow and the bass extension on offer is among the best in the group.
Moving to San Jacinto sees the Yoyo (M) on much happier ground. It delivers a performance that is open, airy and entirely in keeping with how it should sound as a stereo recording.
The vocals are rich and well worked into the mix, and as the track reaches its chorus crescendo there is no sense of congestion or hardening up. Even without the benefit of aptX, the result is one of the more 'hi-fi' showings in the test. With the Nile Rodgers piece, there's a decent sense of rhythmic engagement while the smooth and unflappable top end is perfectly maintained. Once again, that slightly thick presentation affects some of the detail in the midrange, but the decent and usefully propulsive bass extension keeps the music moving with a good level of drive and timing. Also potentially useful is that the Yoyo (M) has considerable volume in reserve running at the test level, which is handy in larger spaces
OUR VERDICT
Recommended
Cambridge Audio Yoyo M Review
A clever speaker system with decent performance, but needs some midrange refinement
PROS
Convincing stereo image; big sound; build and style
CONS
No aptX support; some midrange congestion
Add your review
Best Cambridge Audio Yoyo M prices ?
MORE DEALS

See also TOP 10 Subwoofers
MISPLACED GESTURE
The top panel of each Yoyo (M) includes a gesture-based control sensor. Cambridge Audio suggests that this is useful if you have the speaker in the kitchen or garden and want to make an adjustment without reaching for your phone or having to completely dry/wash your hands. In practise, the functionality isn't entirely convincing. The swipe-to- skip-tracks function jumps more than one track on occasions, which is far from ideal and never works on the first pass. Waving to stop is better, though, and is useful for those of us who can't always remember where we put our phone. Additionally, an internal microphone enables hands-free phone calls and works well enough to take an unexpected call without needing to disconnect the phone from the speaker first.