Just as Cambridge Audio appears to aim higher and higher with its dedicated two-channel electronics, it keeps one eye on the home cinema high street with a revamped iteration of its SX loudspeaker range. Affordable models with a neat finish and compact dimensions, these could find plenty of admirers.
How affordable? Just £ for a system comprising a pair of floorstanders, bookshelf surrounds, dedicated two-way centre enclosure and an active subwoofer. There aren't that many competitor packages coming in under a grand that offer so much cabinet, and it immediately gives it the status of an intriguing alternative to a sub/sat bundle.
Surprisingly for a brand that sells a wide range of stereo amplifiers, power amplifiers and streamers, the SX Series is Cambridge Audio's only conventional loudspeaker option (it also sells its Minx range of ultra-compact satellites, and a line of in-ceiling models).
Nor is it exactly new, as this range replaces an earlier now-discontinued SX Series. It's an aesthetic overhaul, too, flaunting a new finish and new logo, but no revisions to driver and cabinet construction.
The styling is certainly modern, and quite appealing in an unobtrusive sort of way. There aren't any slithers of chrome or angled edges here, just black PVC-wrapped MDF cabinets with sharp, clean lines. Previously, the SX models were offered in a dark walnut wood veneer, but the only option now is a matte black.
Source selection
The SX-80 floorstander is a two-way design, featuring identical 6.5in bass/mid drivers above and below its 1in silk dome tweeter in a D'Appolito array. Cambridge Audio doesn't go in to great detail about these drivers, beyond saying they are bespoke units 'sourced from trusted partners.' The tweeter gets a rear foam damper to limit reflections and improve dispersion; the treated paper cone bass/mid has a 'carefully optimised' magnet system.
7Review earns Amazon affiliate commissions from qualifying purchases. You can support the site directly via Paypal donations ☕. Thank you!
See also TOP 10 Subwoofers
RECOMMENDED VIDEOS FOR YOU...
Measuring a mere 98cm tall and weighing a moderate 16.9kg, this floorstander is relatively easy to install, and with the feet (which take supplied spikes if necessary) pre-connected, you can be ready to go in little time.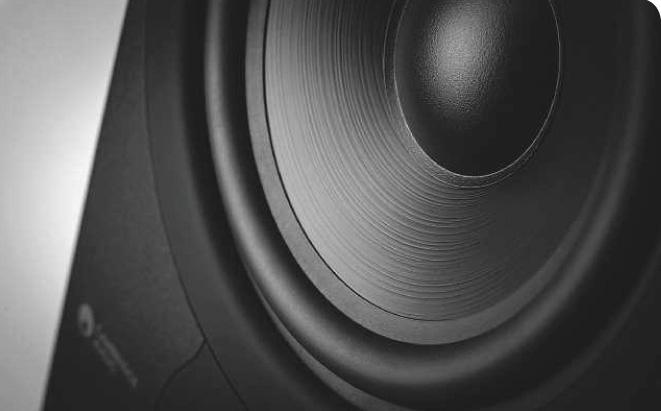 The SX-70 centre speaker also adopts a D'Appolito driver configuration, albeit with smaller 4in bass/mid units enabling a cabinet just 36cm wide. A third version of the bass/mid driver (5.25in) features on the SX-50 bookshelf model.
The SX Series also has a slightly beefier SX-60 bookshelf, which uses a 6.5in bass/mid – although seemingly just to keep system builders on their toes, that model is front-ported, whereas both the SX-80 and SX-50 are rear-ported. The centre enclosure is sealed.
Completing this 5.1 system is the rear-ported, front-firing SX-120 subwoofer. This is naturally more chunky, but still not particularly imposing at roughly 30cm in all directions. The specification here is arguably as basic as it gets, with an 8in woofer powered by a claimed 70W of amplification, and a rear panel offering only basic controls and connection. Still, it's not what you've got that's important, it's what you do with it.
All cabinets come with black cloth grilles that attach via push-in fixings, instead of a magnetic arrangement.
'Impressively musical and mature-sounding, with midrange and high-frequency detail coming to the fore'
Music maestros
Running off a commensurately priced Marantz NR1711 AV receiver, and beginning with just the SX-80 speakers in play, I found them to be impressively musical and mature-sounding, with mid-range and high-frequency detail always coming to the fore, and a tuneful approach to low frequencies without ever quite flapping my trouser (even once I'd moved them closer to my rear wall to give bass an acoustic leg up). Toe-in helped focus a stereo image that had great fun (or as much fun as is possible) with Norah Jones' warbly ballad Come Away With Me (Tidal Master).
Flipping to multichannel, the SX-80s remained the main attraction, but ably assisted by the centre and surrounds. The latter are obviously intended as stereo speakers in their own right, and they have mid-range heft and body to go with a revealing treble that matches that of the front pair. This means that surround effects are given more than just lip-service, ensuring this system doesn't sound too front-heavy. With the core 5.1 mix of the Dolby Atmos track of Roma (Blu-ray), I felt enveloped in Alfonso Cuaron's scattershot audio design. Cambridge Audio's dome tweeter isn't one to come across as too direct either, creating the sense of a sonic surround spread.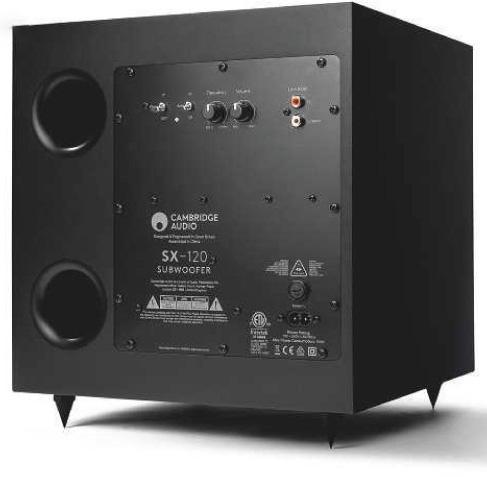 'The soundstaging is big, and when a film score really starts to sing these speakers sing along with it'
The centre speaker may be a mismatch in terms of driver size with the SX-80 tower, but the two are hardly distant cousins. The LCR stage sounded cohesive (and in my room expanded nicely beyond the L/R models) and dialogue had a believable tonality without over-emphasising male voices.
Sometimes with affordable speaker packages the subwoofer proves to be the star of the show, picking up the slack from diminutive cabinets. That's not the case here, as the SX-120's modest 8in driver/70W specification leaves it often overshadowed by the assured, tonally sweet SX-80s. There's low-frequency enjoyment to be had, of course, but it's short on genuine slam and spine-tingling depth.
During the bank vault robbery/chase sequence in Fast & Furious 5 (Blu-ray), the sounds of crashing cars and crumbling buildings aren't as visceral as you might hope. And at times its rumblings lack definition, making the various snarling engines in this scene sound somewhat homogenous. It fares better with the rat-a-tat gunshots that precede the escape through Rio de Janeiro, which are delivered with appreciable snap.
Skipping back to Chapter 1 to watch the whole movie one more time (I'm in training for Fast and Furious 9), I found myself becoming less concerned with this system's lack of LFE aggression and more enamoured of its other talents. Mids and highs have detail and nuance, the sound-staging is big and well integrated, and when a film score really starts to sing, these speakers sing along with it. There's a feeling of effortlessness about much of the presentation that makes it oh-so-easy to listen to.
Value added
A more potent, hard-hitting subwoofer wouldn't go amiss, but I'm loathe to complain too much considering the value of this setup and its strengths elsewhere. Grab a listen if you're in the market for an affordable full-size system
AV INFO
PRODUCT: Affordable floorstanding 5.1 system
POSITION: Currently Cambridge Audio's only full-size speaker range
PEERS: Fyne Audio F300; Monitor Audio Monitor 200
SPECIFICATIONS
SX-80
DRIVE UNITS: 2 x 6.5in treated paper cone bass/mid drivers; 1 x 1in silk dome tweeter ENCLOSURE: Rear-ported bass reflex FREQUENCY RESPONSE (CLAIMED): 40Hz-20kHz SENSITIVITY (CLAIMED): 87dB POWER HANDLING (CLAIMED): NA DIMENSIONS: 980(h) x 240(w) x 338(d)mm WEIGHT: 16.9kg
SX-50
DRIVE UNITS: 1 x 5.25in treated paper cone bass/mid driver; 1 x 1in silk dome tweeter ENCLOSURE: Rear-ported bass reflex FREQUENCY RESPONSE (CLAIMED): 50Hz-22kHz SENSITIVITY: 87dB POWER HANDLING (CLAIMED): 100W DIMENSIONS: 225(h) x 161(w) x 240(d)mm WEIGHT: 3kg
SX-70
DRIVE UNITS: 2 x 4in treated paper cone bass/mid drivers; 1 x 1in silk dome tweeter ENCLOSURE: Sealed FREQUENCY RESPONSE (CLAIMED): 65Hz-20kHz SENSITIVITY: 85dB POWER HANDLING (CLAIMED): 100W DIMENSIONS: 138(h) x 360(w) x 246(d) mm WEIGHT: 4kg
SX-120 (subwoofer)
DRIVE UNITS: 1 x 8in woofer ONBOARD POWER (CLAIMED): 70W FREQUENCY RESPONSE (CLAIMED): 34Hz-150Hz ENCLOSURE: Twin rear-ported DIMENSIONS: 300(h) x 300(w) x 310(d)mm WEIGHT: 7.7kg FEATURES: LFE input; stereo line-level input; crossover and gain control; 0/180-degree phase; auto standby
TESTED WITH
FAST & FURIOUS 5: Perhaps the best entry yet in the now 20-year-old F&F franchise, thanks to the addition to the cast of Agent Hobbs (The Rock) and some wonderfully well staged (and largely ludicrous) set-pieces. Still no standalone UK 4K BD release, though, so either grab it in boxset form (pictured) or pick up the US import.
VERDICT
Cambridge Audio SX 5.1 Review
This easy-to-accommodate 5.1 system isn't the last word where bass aggression is concerned, but overall it hits the right notes in both performance and price.
Add your review
Best Cambridge Audio SX 5.1 prices in the UK ?

£

199.00
1 new from £199.00
in stock


£

199.00

£279.00
1 new from £199.00
in stock

MORE DEALS

See also TOP 10 Subwoofers