Cambridge Audio's Alva Direct Drive turntable package is easy to use and has Bluetooth connection. Noel Keywood sees the sense. Read our CAMBRIDGE AUDIO ALVA Review.
A simple turntable that ticks all the boxes – that's Cambridge Audio's Alva turntable. I'm reviewing here. Direct Drive to the spinning platter, a quality Rega one-piece arm and a high output moving coil (MC) cartridge feeding a built-in phono stage – connect to any amplifier with no kerfuffle. High performance allied to simplicity, but at a price of £ – high in what is now a cut-throat market.
A seemingly small and unexpected twist is that the Alva has a Bluetooth radio link for short range transmission to any similarly equipped hi-fi. Curious to think about but a lot of sense. The Alva is very simple to install and operate – and with Bluetooth it can go anywhere, but of course the hi-fi must be able to receive Bluetooth and that still isn't so common outside Cambridge Audio products.
Alva is about as easy as it gets to unpack and set up. I get the feeling that Cambridge Audio understand that newcomers to vinyl, who want to spin the original source of great music, can feel challenged by the archaic technicalities and religion surrounding turntables. So in physical form Alva looks simple, the handbook tries hard to keep it that way – if with some vagueness on tracking force – and there is even a set-up video on Cambridge Audio's website.
Being Direct Drive the platter is placed over the motor spindle: there's no belt, nor any transit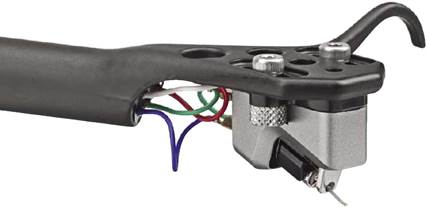 7Review earns Amazon affiliate commissions from qualifying purchases. You can support the site directly via Paypal donations ☕. Thank you!
See also TOP 15 turntables
The Rega headshell with Cambridge Audio's naked moving coil cartridge neatly attached.

The rear panel has a pair of analogue phono socket outputs for connection to the line inputs (Aux) of any amplifier. A Bluetooth pairing button and blue LED indicator sits to their right.
screws. Nor a platter mat or puck. Unfortunately, LPs can slip on a hard shiny surface like this one so a mat of some sort is needed, preferably with a puck. A light and thin felt or cork mat would do, held underneath by double-sided tape. The platter
material is POM moulding plastic that is quite dead sounding, as a platter needs to be, and it is heavy too, which makes for slow-ish start up of a few seconds, but by keeping motor torque down the infamous cogging of Direct Drives is eliminated – as our measurements confirmed.
Staying with the theme of elegant simplicity, there is no external power supply. Mains power plugs straight into the rear via the usual IEC three-pin connector, I00-240V at 6W, or 0.5W standby. Also missing is a Direct output bypassing the internal phono stage, seen in Pro-ject turntables for example. Balancing this is the fact that Cambridge Audio fit a very good internal phono stage of their own design and since Bluetooth digital is on-board there is an analogue- to-digital convertor (ADC) in there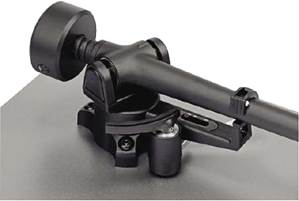 The arm has a small slider to set bias, a damped cue platform and secure arm clip that prevents accidental bounce- out.
somewhere – but no digital output. With Bluetooth the thinking is you don't need it I suppose.
Which brings me to the fact that being Direct Drive the motor is anchored in a heavy 11kg, nonresonant chassis that sits on rubber strips – there are no adjustable rubber feet. It measures 435mm wide, 368mm (I4in) deep and 139mm high (lid closed). Like all suspensionless turntables, Alva needs a flat and horizontal surface to sit on, one that is also reasonably rigid and vibration free, as well as not affected by floor bounce. A dedicated wall shelf is ideal, providing the wall is brick/breeze block, or perhaps a heavy floor table on a bit of floor that doesn't bounce, like between a chimney breast and side wall (yes, I suffer all this!). The plus point of a solid chassis is that it makes the turntable easy to use, since it holds steady when cueing the arm.
The arm is Rega's sturdy RB220, but a variant with adjustable bias.
The arm is a Rega RB220 variant with manual cueing platform and bias adjustment, plus a secure arm clip. This is a one-piece arm without removable headshell, to aid rigidity.
It's a wonderfully built yet elegantly simple one-piece arm of great rigidity, but cartridge fitment is difficult. So the Alva comes with cartridge fitted. There is no auto mechanism of any sort; the arm is operated manually.
However, it transports with counterweight removed, as is common to protect the arm bearings, so you still have to screw on Rega's counterweight and set both downforce and bias force.
And here things got interesting . The instructions and video depict an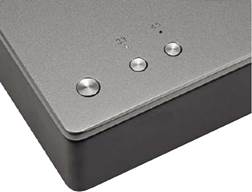 An on/off button at left with integral blue LED, plus 33/45rpm speed select buttons.
Ortofon uber-budget plastic gauge (Turntable World) but no such thing is supplied – nor is the cartridge made by Ortofon! So a downforce gauge is needed: ask the dealer, likely Richer Sounds, or go to eBay. Tracking force can be found in
"A sense of creamy silence that classical fans will appreciate was obvious"
the tech Spec: it is 2gms.
The cartridge is a skeleton moving coil (MC) where you get to see the fine wires entering the stylus assembly, with a micro-miniature coil at the end of the cantilever.
Wonderful to see – intriguing – and with the cachet of a top quality cartridge. But with MCs, if the stylus gets bent it must be sent back for repair or exchanged; unlike a simpler moving magnet (MM) type the stylus is not user-replacable. Since the cartridge costs around £ repair will not be cheap – not ideal for those new to vinyl.
Sumiko's Blue Point is the go-to for a budget OEM (outside equipment manufacturer) MC cartridge and this one looks like a Sumiko Blue Point high output design. They do the job, but are workmanlike. Cambridge Audio's version has an elliptical stylus and did not track well, because that is the flip side of the coin with high output moving coils; the extra coil turns needed add mass to the moving parts. A budget Audio Technica VM-95ML or SH with their advanced stylus shapes would better suit I feel; after a short while I changed to an Audio Technica VM740ML.
There are two speeds – 33 and 45rpm – and a hinged clear acrylic dust cover, but no stroboscope or cue light, like the Technics SL- I200GR. Instead you get conversion to digital through a 24bit ADC and transmission via Bluetooth (aptX, aptX HD, SBC). The latter paired with a Quad Vena II amplifier once I remembered to un-pair my iPhone!
SOUND QUALITY
I first connected the Alva to our
Creek Evolution 100A amplifier via Chord Company phono cables, later to Quad's Vena II via Bluetooth. Loudspeakers were our Martin Logan ESL-X hybrid electrostatics linked in with Chord Company Signature cables. An Isotek Evo3 Mosaic Genesis re-generated mains power supply was also used to ensure a clean mains feed.
Spinning In the Mood, from The Syd Lawrence Orchestra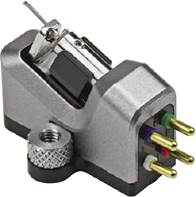 The light, plastic bodied, naked high-output moving coil cartridge that comes fitted.
– a wonderful modern audiophile recording on 30ips master tape transferred to I80gm vinyl from Chasing the Dragon – I was greeted by a surprisingly conservative sound: vague in the midband and soft up top – see Measured Performance. It was nice enough, vigorous in pacing and with a firm acoustic bass line, and perhaps what Cambridge Audio think is appropriate voicing to suit expectations of a warm sound by new users.
But it was not what this LP has in its grooves. I changed the cartridge to an Audio Technica VM740ML MM and suddenly daylight appeared. Now the orchestra, in its pulsive power and timbrally luscious glory jumped out, trombones and trumpets having a vivid presence on the sound stage in front of me.
The qualities of the rest of the turntable then became apparent – it has a confidently smooth rendition with easily assured pace: drums and acoustic bass had both a firm presence and temporal grip.
Hugh Masekela's Uptownship (180gm vinyl), another superb recording from Analogue Production, also cruised along with steady confidence, lacking the slightly vague or watery pitch of belt drives. Cymbals stood out with a ringing sonority that made me muse about how vinyl can sound so sweet up top when everything goes right, in this case the arm's rigid head platform providing a firm base for Audio Technica's VM740ML, letting its MicroLine stylus dig deep. Masekela's trumpet had well lit presence, fine percussion was teased out in rich detail and the bass line sounded firm.
Swopping out the Creek Evolution I00A amplifier for Quad's Vena II connected via Bluetooth, with the Alva far away and unconnected to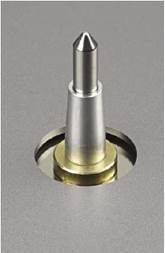 The tapered motor shaft on which the platter sits. No belt or speed change mechanism to worry about.
anything except the mains was eerie! How can this happen? Sound quality didn't degrade but it did change: there was fuller bass, but I suspect this was down to the Vena II amplifier, not the turntable's Bluetooth link. Playing with volume right up then lifting the arm showed there was no hiss, even with my ear against the XStat electrostatic panel – very impressive. Cambridge Audio have engineered this link very well.
Bluetooth sound quality was superb, although I noticed a peculiar lack of sharp ticks and pops, as if a noise-gate was in action (see Measured Performance). This gave a sense of creamy silence that classical fans will appreciate and was obvious with Marianne Thorsen playing Mozart Violin Concertos on 2L's 180gm LP that has a slightly bright balance. Played direct into the Creek by the VM740ML cartridge that is what I heard, but via Bluetooth there was a peculiar sense of warmth, yet no lack of treble.
Another eerie occurrence was latency: lift arm from record and music keeps playing! Not for long – I'd guess 0.5 seconds.
CONCLUSION
Cambridge Audio's Alva turntable is easy to set up and reasonably easy to use, providing you are able and willing to hand cue a pickup arm; quality automatics and semi-automatics are now re-appearing at lower cost.
As a package it is let down by the cartridge that undermines its potential; budget alternatives like Audio Technica's VM95ML manage better than the moving coil fitted. Factor in the presence of Technics glamorous SL-I200GR or forthcoming SL-I500C and Alva looks challenged. As a quality turntable with Bluetooth it is still very good; I enjoyed using it once the cartridge had been changed.
MEASURED PERFORMANCE
Speed accuracy was near perfect at +0.1% fast with wander around nominal also low at 0.1% – something Direct Drives are good at. All the same there was some rotational-rate (33rpm/0.55Hz) wow our analysis shows, if low at 0.1%. This analysis also shows absence of cogging, usually seen as a sharp peak at 6.6Hz (12 poles x 0.55Hz).
The arm was vibration free, measurement with a Bruel&Kjaer accelerometer showed.
The phono stage has a gain of x129 (x100 is common for MM) and flat frequency response, but with a steep warp filter at 20Hz. Input noise was very low at 0.1 muyV and overload high at 60mV in / 7.8V out.
The 24/48 Bluetooth stage has similar frequency response our analysis shows, except for a steep anti-alias filter at 18kHz, an internal Bluetooth limit to constrain data rate. The 0dB digital threshold has been set low to 16mV, causing the link to overload when playing the 90muy and 100muy tracks of Clearaudio's LPT 83063 tracking test disc with an Audio Technica VM740ML MM cartridge. However, the MC fitted mistracks above 60muy so it suits, but more capable alternatives do not.
The Bluetooth noise floor was – 95dB down below a 9mV input – very low suggesting 24bit resolution – and distortion also minimal at 0.04%.
Frequency response of the fitted Sumiko MC cartridge measured -3dB down at 10kHz – a significant drop and rare nowadays. It will give a warm sound. Under the same test conditions the Audio Technica VM740ML we fitted was flat to 10kHz and had some upper treble lift – a large difference.
The turntable, arm and phono stage measured very well but the fitted MC cartridge was poor by today's standards, in terms of frequency response and tracking ability.
CAMBRIDGE AUDIO ALVA Review
EXCELLENT - extremely capable. Good arm and turntable, but poor cartridge.
PROS
Bluetooth radio link
easy set up
easy to use
CONS
poor cartridge
manual operation only
expensive
Add your review
Best CAMBRIDGE AUDIO ALVA prices in the US ?

$

199.00

$229.00
6 new from $199.00
in stock


$

299.00

$349.00
5 new from $299.00
in stock


$

599.00
4 new from $599.00
in stock

Best CAMBRIDGE AUDIO ALVA prices in the UK ?

£

129.00

£199.00
1 new from £129.00
in stock


£

199.00

£299.00
1 new from £199.00
in stock

MORE DEALS

See also TOP 15 turntables
Speed error                            +0.1%
Wow                                         0.1%
Flutter                                    0.04%
Wow & Flutter (unwtd)           0.1%
Wow & Flutter (wtd)               0.07%
SPEED STABILITY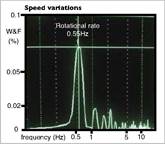 FREQUENCY RESPONSE BT
CAMBRIDGE AUDIO ALVA
CAMBRIDGE AUDIO ALVA Review
EXCELLENT - extremely capable. Good arm and turntable, but poor cartridge.
PROS
Bluetooth radio link
easy set up
easy to use
CONS
poor cartridge
manual operation only
expensive
Add your review
Best CAMBRIDGE AUDIO ALVA prices in the US ?

$

199.00

$229.00
6 new from $199.00
in stock


$

299.00

$349.00
5 new from $299.00
in stock


$

599.00
4 new from $599.00
in stock

Best CAMBRIDGE AUDIO ALVA prices in the UK ?

£

129.00

£199.00
1 new from £129.00
in stock


£

199.00

£299.00
1 new from £199.00
in stock

MORE DEALS

See also TOP 15 turntables
Cambridge Audio +44 (0)20 7940 2200 www.cambridgeaudio.com