The iconic Braun brand has been revived, courtesy of a top-of-the-line smart speaker. Martin Pipe has the LE01 at his beck and call. Read our BRAUN LE01 Review.
Between the 1950s and 1980s, the Frankfurt firm Braun – founded by mechanical engineer Max Braun in 1921 – made some pretty tasty audio equipment, in addition to dis­tinctive radios, clocks and photographic gear. One of the first such products to generate interest was the plexiglass-topped 'Phonosuper SK4' mono radiogram. Nicknamed 'Snow White's coffin', it was designed by Hans Gugelot and Dieter Rams in the mid-1950s.
Also worthy of note is the LEI which, in 1959, was claimed to be Germany's first electrostatic speaker for home audiophiles (it relied on technology licensed from Quad though). Then there's Braun's wall-mountable 'Wandanlage'system, circa 1965. Consisting of turntable, tuner-amp, reel-to-reel tape deck and two­way speakers, it still looks fantastic more than half a century on. Bang and Olufsen didn't have style­conscious 'eye-fi' sewn up in those days! The Atelier range of slimline stackable components, Braun's 1980s proposition, looks similar to some of the gear sold by fellow Germans T+A to this day.
By the 1990s, though, the hi-fi market had declined sufficiently for Braun to pull out of it altogether. By this time a subsidiary of Gillette, Braun instead focused on shavers, electric toothbrushes, kitchen appliances and the like.The firm is today part of the Procter and Gamble multinational, thanks to the latter's 2005 acquisition of Gillette.
But what's this? Some new Braun products – one with a model number (LE01) that's suspiciously-close to that of the aforementioned electrostatic design! Can an operation better known for'fast-moving consumer goods' like toothpaste, personal­grooming requisites and babycare be diversifying into hi-fi? Might the involvement of an enormous corporation be heralding a revival in hi-fi, as a mass-market interest? Possibly, but alas highly unlikely. P&G has merely licensed use of the 'Braun' brand, on its centenary, to the firm that makes Pure digital radios.That means being made in factories closer to Beijing than Berlin…while the design work was carried out in the UK.
It's not just the factory location that's changed – the aluminium-enclosed LE01 is a completely-different beast to the LEI, although it retains that classic Braun styling. It can, like the Wandanlage, be wall­mounted. However, it's supplied with chrome stands for tabletop use. Distinctly non-electrostatic within, it's a self-contained 'smart speaker' with Google Assistant built in. A total of five drive units – two custom-designed 5.25in
7Review earns Amazon affiliate commissions from qualifying purchases. You can support the site directly via Paypal donations ☕. Thank you!
See also TOP 10 Subwoofers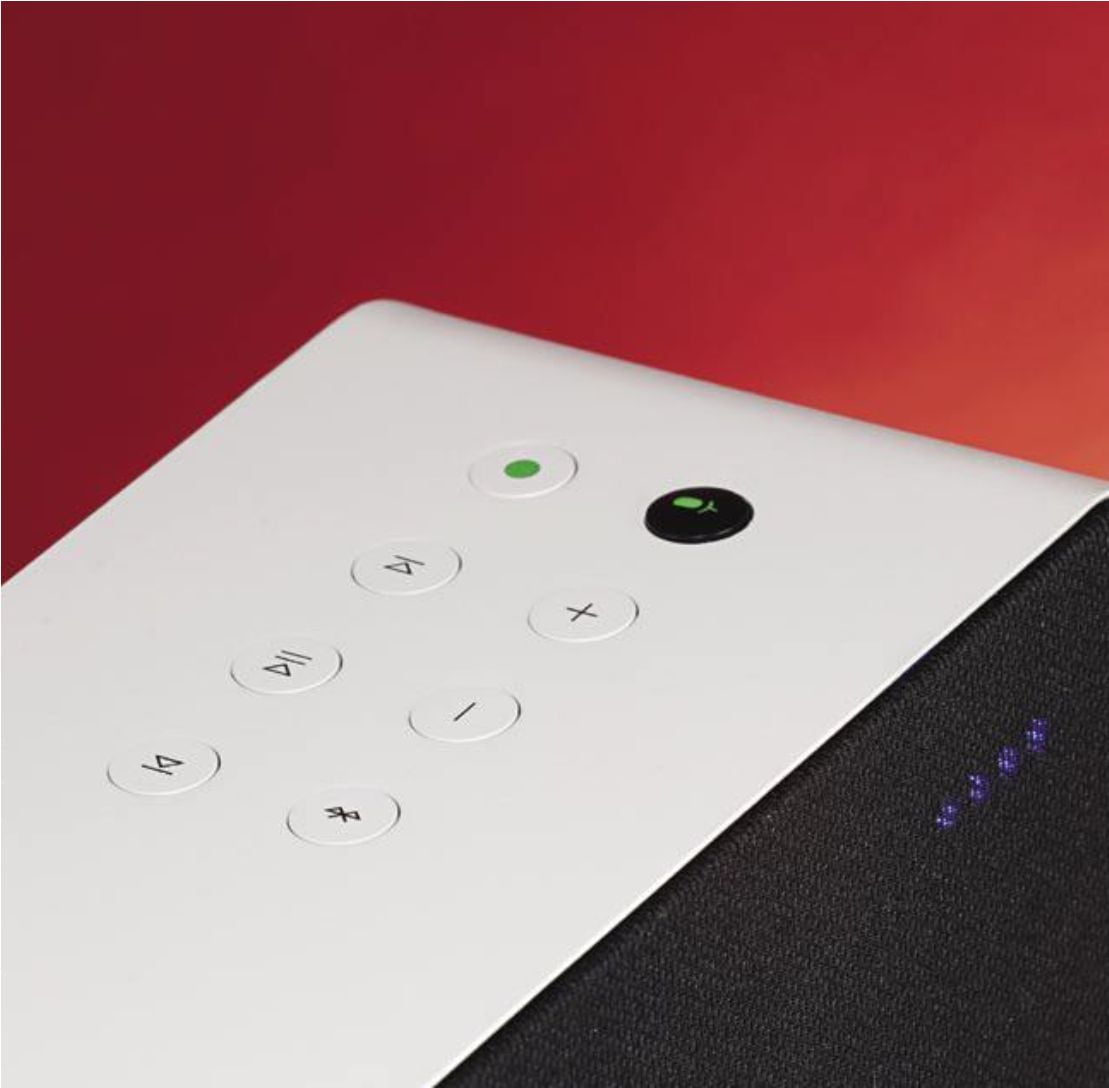 aluminium-coned woofers with neodymium-iron magnets, flanked by three full-range 2.5in.'balanced­mode radiator' drivers for mids and treble – are powered by three class-D power amplifiers and some sophisticated DSP running on a 32-bit ARM-based chip "for high accuracy and low noise". It's a pity that Braun didn't build in dedicated tweeters, but helping out at the opposite end of the audible spectrum are a pair of 8in. x 4.5in. passive radiators. In its defence, Braun explained that "the entire audio chain, from physical to software DSP design, is bespoke to maximise the audio performance". As the "ultrason­ically-welded" front-facing grille is fixed firmly in place, the drivers would not yield their secrets to us.
USAGE AND PERFORMANCE
Set into the top panel are basic operating controls – volume up/down, skip back/forward, play/pause and Bluetooth pairing. Further buttons invoke Google Assistant without having to begin your request with 'Hey, Google…' or disable the microphone (and therefore Assistant) on those occasions when privacy is paramount. Braun doesn't supply a remote, because it expects you to use Assistant – or its own free app (available for both Android and iOS). A series of indicators under the speaker grille blink away, a bit like a computer out of a 1950s sci-fi movie, whenever Android is processing your requests.
The app is rather basic.You cannot, for example, use it to find music on local servers and start it playing (as you can with, for example, Cambridge Audio's app). Asked about DLNA/UPnP support to play local computer files, a Braun engineer told us – rather contentiously – that "with the rise of streaming services, we see a significant drop in the ownership of private files….and consequently a diminishing demand for DLNA/ PnP".
The Braun app's main function is to set up your speaker, adjust bass/treble tone controls and discover how to connect sources -AirPlay 2 (for Apple junkies), Chromecast, Bluetooth or auxiliary input (a 3.5mm analogue jack on the rear panel, alongside Ethernet – an alternative to the onboard dual-band Wi-fi – and the mains feed). It's a pity that no ARC-compatible HDMI or optical input have been included for improving TV sound.The app doesn't however actually switch sources – Google Assistant, or the unit's own controls, are required here. Connect the LE01 – in my case, via Ethernet – and then install the Braun app on your device, and it's time to go! You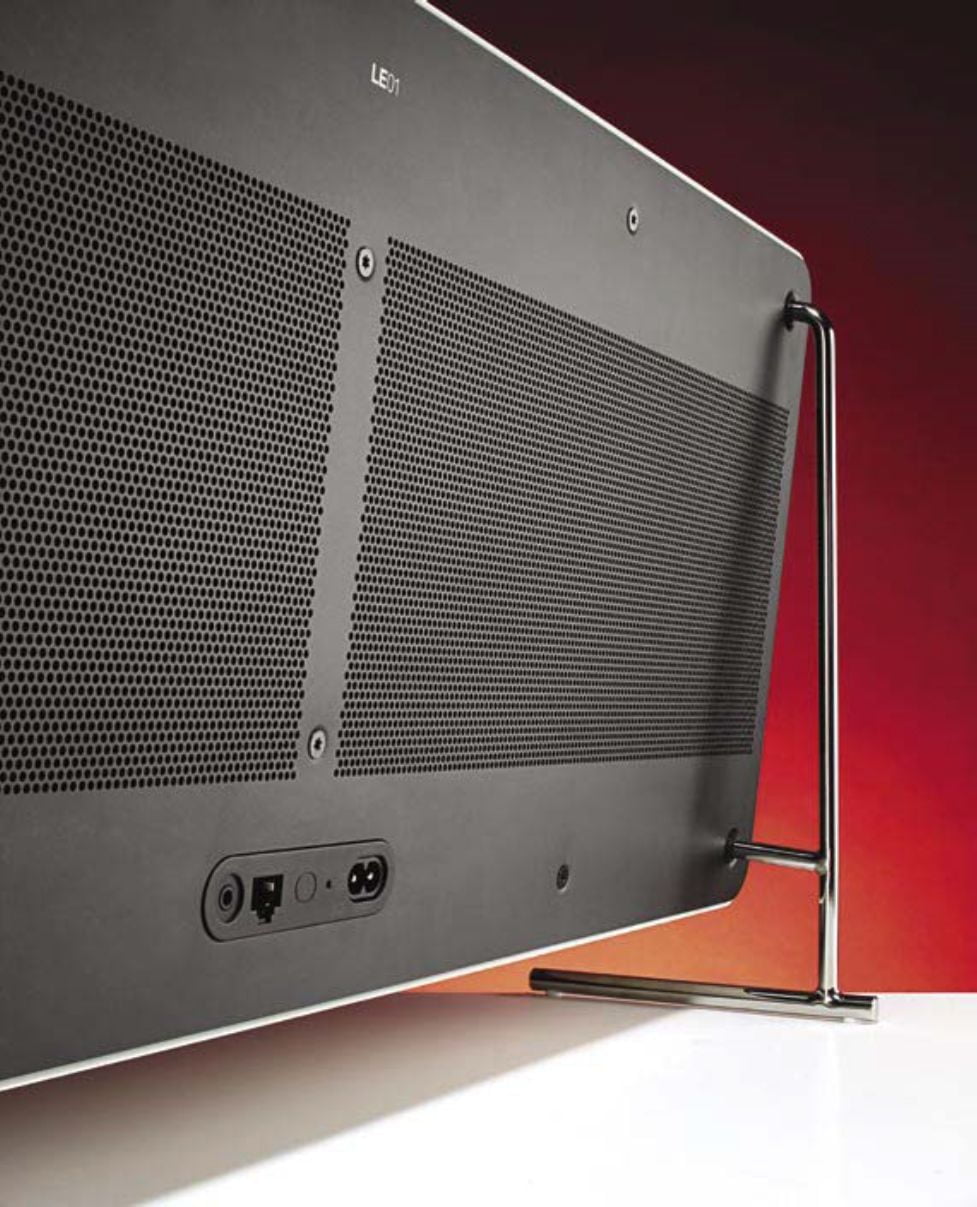 may however also need to install Google Home/Google Assistant, which controls and manages compatible home appliances (including this speaker, on account of its Chromecast compatibility).
To configure your LE01, you basically tell the app how it's installed in your room by selecting a 'placement profile' – and Braun's clever tech does the rest. These placement profiles, according to a Braun insider "adjust the DSP to allow for the physical effects of the environment…a good example is bass uplift".The LE01 is itself stereo, but it can be partnered with a second one (a total outlay of more than two grand!) to reproduce a wider soundstage and imaging than is possible from a single box. Arrange them vertically, so they look more like conventional speakers, and tell the app what you've done. Each LE01 then reproduces one of the two stereo channels. Annoyingly, no meaningful instructions are provided. There's a PDF 'user guide', but that's merely a list of infuriating links to web pages.
Bluetooth is easy enough to use, a wireless connection with AAC codec quickly being made to my Google Pixel 3a smartphone. Not having AirPlay, I stuck with the Google Assistant functionality – it's one or the other. Assistant can be used to change input ("Hey Google, connect Bluetooth") or indeed access some streaming services directly ("Hey Google, play Radio 3".The latter worked reliably, and was a lot of fun! According to Braun, 300 music-streaming services are supported, through one means or another. An alternative is to use a Chromecast-enabled app to stream music – I successfully used this with the VLC app on my phone, to play locally-stored files. Although the volume control of a Bluetooth device will change speaker volume, there's no such control on the Braun's app.
Under such circumstances, you must use Assistant for this purpose:"Hey Google,Volume 5" proved to be a comfortable listening level in a 10' x 12' room. Volume 0 mutes the LE01, and it would appear that 10 is the loudest setting.You can't turn off the thing altogether, though, because Assistant is awaiting verbal input.The best you can do is shout "Hey Google, off!". Doing so stops whatever is currently streaming, and cuts off the sound. However, Braun's engineers have built in various technologies to keep power-consumption low, such as a "variable power supply that scales its delivery according to determined load" and the "processor core's ability to reduce the operating clock…(thereby) maximising power saving whilst maintaining network and audio reliability".
In performance terms, the LE01 does a creditable job with a sound quality that's best described as 'pleasurable' rather than standing up closely to critical listening. Sometimes, you get a sense of the individual instru­mental strands that join forces to create a piece of music, but more often than not they merge together. It doesn't help that the stereo image is compressed by the speakers being so close together – the LE01 is, after all, only 700mm wide. A slight hollow colouration is evident at times, while there's a lack of output at the frequency extremes – the deep bass of an acid house track and the high-frequency harmonics of a struck triangle suffer as a result.Those simple tone controls can only do so much! In between those spectral extremes, though, the LE01 does a fair job.
CONCLUSION
The LE01 looks fantastic, especially on its metal tabletop stands, and in this regard it's a definite nod to Braun's proud past. If my experience is anything to go by, the LE01 is certainly one of the better-sounding Google Assistant-ready devices I've heard. But then again, until enterprising manufacturers bring us devices like impeccably-engineered Assistant-controlled automatic turntables ("Hey Google, play Side 2 Track I"), it will serve a mass market rather than a specialist audiophile one. In terms of music reproduction, you could do better with £ to spend on 'real' hi-fi equipment. But I guess that style, which the LE01 has in spades, is probably more important to the prospective buyer than musical enjoyment in its purest (but maybe less convenient) form.
EXCELLENT – extremely capable
VERDICT
BRAUN LE01 Review
One of the better smart speakers out there, but it can't compete with 'real' hi-fi.
PROS
Google Assistant is a lot of fun!
fast and responsive
very attractive design
CONS
limited app
lack of connectivity
£ will buy some 'real' hi-fi
Add your review
Best BRAUN LE01 prices ?
MORE DEALS

See also TOP 10 Subwoofers
Braun www.braun-audio.com