Looking to add some serious network audio smarts to your AV system? Bluesound's Node 2i streamer has what you need, reckons Ed Selley. Read our BLUESOUND NODE 2i Review.
THE FIRST GENERATION of Bluesound audio components won many friends when it launched in 2014, thanks to excellent performance, smart design and the brilliance of the BluOS smartphone/tablet control app. The basic product range remains the same five years on, only we're now into a third generation – albeit one with the same physical design as its predecessor, hence the addition of an 'i' to model names/numbers rather than a '3'.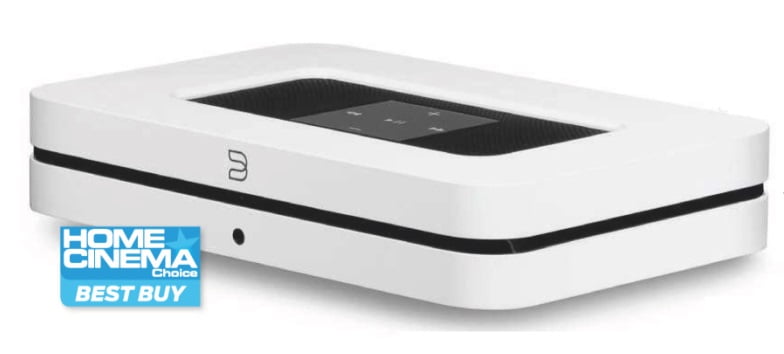 INFO
H
i-res-capable wireless music streamer
J
unior sibling of Bluesound's Powernode 2i
Sonos Connect
; Yamaha WX-AD10
| | |
| --- | --- |
| CONNECTIONS | 3.5mm input; stereo phono analogue output; coaxial audio output; optical audio input/output; USB; 3.5mm headphone jack; subwoofer output; 12V trigger; Ethernet |
| SUPPORTED AUDIO FORMATS | FLAC, MQA, WAV and AIFF (hi-res); MP3, AAC, WMA, OGG, OPUS and ALAC |
| SUPPORTED SERVICES | Spotify, Amazon Music, TIDAL, Deezer, Qobuz, JUKE, Napster, Tuneln and more DIMENSIONS: 22 |
| DIMENSIONS | 220(w) x 46(h) x 146(d)mm |
| WEIGHT | 1.12kg |
| Website | bluesound.com |
The Node 2i tested here is a line-level and preamp device that can output to a stereo amplifier, AV receiver or powered speaker set. An onboard headphone amp caters to personal audio junkies; a version with a 2 x 60W amplifier (the Powernode 2i) is also available, in addition to the 2TB HDD-toting Vault 2i, and the Pulse family of soundbar, subwoofer and standalone speakers.
The Node 2i features a Burr Brown DAC that allows it to decode material up to 24-bit/192kHz, either fed in via digital connection or wirelessly. Supported formats cover everything you are likely to encounter (FLAC, ALAC, MQA, WAV, AIFF, MP3…) – with the possible exception of DSD.
Joining this DAC is support for a wide selection of streaming services, including the usual suspects of Tidal (including Tidal Masters), Qobuz (including Sublime+) Spotify and Deezer, plus 'net radio. Only Apple Music remains an obvious hold out.
The Node 2i then supports aptX HD Bluetooth streaming and AirPlay 2 for even more flexibility. You can also control multiple Bluesound devices in a multiroom setup (streaming from the Node 2i to Pulse speakers for instance) from the same app – and this includes BluOS-compatible devices from sister brand NAD, such as the M17 V2 processor [see HCC #293].
BluOS has evolved into a very lovely piece of software indeed. It's available for Android and iOS devices and offers a logical, fast and well-engineered user experience that is equally happy controlling one device or several. One of the reasons it can do this is that the Node 2i is not a true UPnP product.
Bitdefender | Awards Campaign LP | .com
With coupon code: 7RW20, Audio Affair will give you £20 off all orders over £250. Sales items and some brands including Audio Pro, Pro-Ject, Kanto Audio and Audioengine are excluded from the discount code .
7Review earns Amazon affiliate commissions from qualifying purchases. You can support the site directly via Paypal donations ☕. Thank you!
It can use a standard NAS drive as a library, but it compiles its own database and can't be controlled by any form of third-party app.
The Node 2i itself is a compact and reasonably well-finished box that is available in either black or white. The build quality is good and the decision to fit a small selection of hard controls on the top panel is an underrated bonus, as it means you can silence it there as a means of last resort when your smartphone has gone walkies. There are some more ornate streamers available around this price but the Node 2i isn't something you'd be embarrassed to have on display.
Having completed the painless setup procedure and let the Node 2i complete a scan of my digital music library, I kicked off listening with a 24-bit/44.1kHz download of My Baby's Mounaki. The Bluesound responded well to this innately groovy piece of music. There is a decent bass extension combined with a feeling of get-up-and-go that leaves you involved in the music rather than just listening to it. A very likeable trait of the Node 2i is that it never comes across as hard or overtly 'digital' in its presentation either. Vocals, in particular, sound rich, weighty and possessed of believable scale and nuance.
And the joy of a 'net-connected streamer is that you don't need to own the music you are listening to either. Anxious to see why Twitter had suddenly exploded, I selected the new Weezer covers album, available as a Tidal Master. Whether the world is ready for this American rock band to cover girl group anthem No Scrubs (and it probably isn't), it is hard to argue with the quality of the performance from the Node 2i – it also proved been entirely stable used via Wi-Fi.
The presence of AirPlay 2 and a digital optical audio input also means this preamp can do a fine job hijacking other physical systems (taking a feed from a TV, perhaps), or using an Apple iPhone or iPad as a source. AirPlay 2 in particular is impressive, as it allows you to form an ad hoc multiroom network with any other compatible gizmo, and introduces Siri voice control talents in addition to Amazon Alexa.
This level of functionality, the excellent BluOS interface and the Bluesound's superb sound quality all add up to make the Node 2i a bit of a bargain. If your AV system doesn't have network audio capabilities (or the ones it does have aren't very advanced), this is a one-stop shop to bring it up to speed. And then you can start thinking of adding Pulse speakers for hi-res multiroom adventures…
BLUESOUND NODE 2i Review
This hi-res streamer looks unremarkable but offers a superb sonic performance, ease of use and plenty of flexibility.
Add your review
Best BLUESOUND NODE 2i prices in the US ?

The preDAC is a simple, yet flexible, device that integrates a wide range of audio input sources including: a personal computer, an Apple iOS device, a Bluesound NODE 2i streamer, a turntable along with other analog and digital audio devices.


Easily connect the NODE 2i wireless music streamer to any existing stereo system to unlock and discover a universe of audio streaming. With more than enough analog and digital input/output options to please the most dedicated audiophile, the NODE 2i connects your gear to all the music ever...
$

449.00

$549.00
out of stock

Best BLUESOUND NODE 2i prices in the UK ?

Bluesound Node 2i Streamer is the latest version of the award-winning Node 2 and simply connects to your existing Hi-Fi or home theatre system and brings you a world of music streaming services and Internet radio. Plus, equipped with analogue and digital ports, the Node 2i provides an infinite...

×
*£20 off all orders over £250*. *Sales items and some brands including Audio Pro, Pro-Ject, Kanto Audio and Audioengine are excluded from the discount code.

This special starter package we've put together contains the Bluesound Node 2 (2021 edition) hi-fi streamer and Bluesound Pulse 2i multi room speaker. Bluesound's Node 2 (2021 edition) is an excellent hi-fi steamer, giving you access to a variety of streaming services for your main hi-fi system,...
£

1,128.00

£1,148.00
in stock

×
*£20 off all orders over £250*. *Sales items and some brands including Audio Pro, Pro-Ject, Kanto Audio and Audioengine are excluded from the discount code.
MORE DEALS

Specifications
| | |
| --- | --- |
| Product Name | Bluesound Node 2i Wireless Music Streamer (White) |
| Type de Produit | Serveur de musique ru00e9seau |
| Couleur du bou00eetier | Blanc |
| Chau00eenes audio | Stu00e9reo |
| Fonction | Lecteur numu00e9rique, lecteur audio ru00e9seau, diffusion multimu00e9dia en continu, ru00e9cepteur audio Bluetooth |
| Source | Ru00e9seau, Bluetooth |
| Formats audio | WAV, WMA, AAC, AIFF, MP3, FLAC, OGG, ALAC, OPUS, MQA |
| Formats photo | JPEG |
| Convertisseur N/A audio | 32bit / 192kHz |
| Son haute ru00e9solution | Oui |
| Spu00e9cifications audio | Lecteur audio ru00e9seau rapport signal u00e0 bruit - 110 dB - DHT - 0.005% |
| Fonctions | Commande u00e0 distance depuis un smartphone |
| Interfaces | Ethernet, Gigabit Ethernet, Fast Ethernet, Wi-Fi |
| Services de diffusion en continu | Slacker Personal Radio, Deezer, Napster, Spotify, TuneIn, iHeartRadio, JUKE, Murfie, TIDAL, Qobuz, HighResAudio, Calm Radio, SOUNDMACHINE, Radio Paradise, KKBox, Amazon Music, Bugs, Taihe Music ZONE |
| Connecteurs | Sortie de ligne audio (phono RCA x 2) - arriu00e8re Sortie caisson de basses (RCA) - arriu00e8re Sortie SPDIF (RCA) - arriu00e8re Sortie SPDIF (TOSLINK) - arriu00e8re Entru00e9e audio/entru00e9e SPDIF (fiche mini-phone Stu00e9ru00e9o 3,5 mm / optique) - arriu00e8re Du00e9clenchement - arriu00e8re Entru00e9e infrarouge - arriu00e8re USB (USB u00e0 4 broches, type A) - arriu00e8re Ru00e9seau (RJ-45) - arriu00e8re |
| Type | Cortex-A9 |
| Fru00e9quence d'horloge | 1 GHz |
| Compatible avec l'Internet des objets (IdO) | Oui |
| Plateforme | Control4, Crestron, Lutron, Remote Technologies Incorporated (RTI), URC, ELAN, roon |
| Type de communication | Produit u00e0 produit |
| Accessoires inclus | Cu00e2ble ru00e9seau, 2 cu00e2bles d'alimentation, cu00e2ble RCA, TOSLINK vers mini adaptateur de 3,5 mm |
| Tension requise | CA 120/230 V (50/60 Hz) |
| Consommation d'alimentation de veille | 6 Watt |
| Largeur | 22 cm |
| Profondeur | 14.6 cm |
| Hauteur | 4.6 cm |
| Poids | 2.45 kg |
As well as a headphone jack, the Node 2i streams to Bluetooth cans
FEATURES: AirPlay 2, aptX HD Bluetooth (two-way); dual-band Wi-Fi; BluOS app