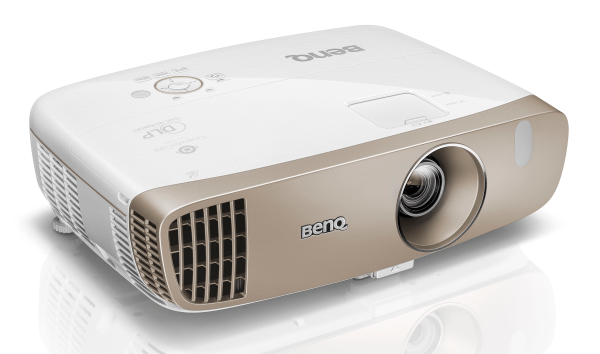 BenQ is a familiar name for many of us. For the mainstream gaming community, BenQ is a brand that makes some of the best gaming monitors that not everyone can afford. But of course, the company is also famous for its projectors. Recently, BenQ sent us the BenQ HT3050 and here's what we thought of it.
The BenQ HT3050 is a DLP (Digital Light Processing) projector capable of 3D projection. Decked out mostly in white, this projector has a simple yet functional look. Comparatively, this projector is one of the larger ones we've seen and also quite heavy. While you could carry it around in a large backpack, which we did just to test it at our homes and the office, it's not really meant to be portable.
In front of the projector is its glass lens, as well as an opening with a fan behind it that's designed to ventilate the heat that builds up inside. There are more openings on the side, but these are for intake instead, drawing in fresh air for cooling purposes. Next is the top, which has a few simple buttons to operate the projector in case you misplaced the remote. And finally, at the back you'll find all the ports for the HT3050.
Setting the projector up is easy, just plug and play. For more esoteric setups there's the setup guide, so you can get it to work when it's installed to a ceiling, or if you want it to project from the rear of a transparent screen. For adjustments, the HT3050 has a vertical lens shift feature to go with the usual zoom function. This is great in the for minor height adjustments, without having to elevate the unit manually by stacking objects below it.
After all the setup, we really got to enjoy the viewing experience. The BenQ monitor can project a screen of up to 100-inch diagonally from a distance of about 2.5 metres, essentially providing a theatre size display for your room or living room. It could also be used during the day, thanks to brightness of 2,000 lumens, as long as you project onto a shaded wall. We find that the best aspects of the HT3050's video quality is its colour accuracy, and how well it outputs finer details like text on the visual.
However, it's not just the video quality that impressed us. The BenQ HT3050 has a pair of stereo speakers on it that really impresses. At just 15% of max volume, the  speakers become quite loud and at 50% would start disturbing the neighbours. It's quite clear too, though as expected it doesn't fare well on bass.
Be it movies, work, or even gaming, this projector can be a good choice. If the price won't deter you from its excellent visual quality, then this is definitely worth considering.
Light Source: Digital Light ProcessingNative Resolution: 1920 x 1080Contrast ratio: 15,000:1Light source life: Up to 6,000 hoursPorts: 1x VGA, 1x Composite, 1x Component, 1xSerial, 3x HDMI, 2x Audio In/Out, 1x Service, 1x USBDimensions: 380.5 x 121.7 x 277mmWeight: 3.6kg.