Cooler Master is a company that tries to put as much control in the hands of the end user as they can – at least, that's their philosophy behind their Maker product range. But, quite honestly, some products are more customization than others. The Master case, for example, has lots of opportunities to take advantage of a modular design. But when you get to a keyboard, the opportunities for making things what you want them to be diminish significantly.
Well, in terms of structure, anyway. You cannot really get away with an overly modular keyboard structure, because it is a fairly complicated bit of tech. However, there are certain things that can be structurally changed, like wrist rests. Cooler Master's Masterkeys Pro L doesn't feature any of those possibilities, though – essentially, it is a pretty functional keyboard, in the sense that it is devoid of bells and whistles like macro keys.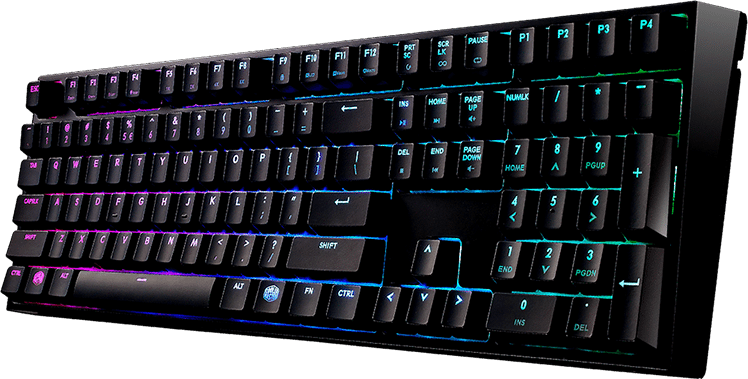 It is, in a word, a minimalist design. Naturally, as a gaming keyboard, it does support macro recording, and it has five different profile settings built in, but the profile keys are the only extras here, and their positioning above the numpad keeps the overall build sleeker and smaller.
Those macros are the first part of the customisation, but what Cooler Master were really after with the Masterkeys Pro L was creating a "best of both worlds" scenario in combining cherry switches (yes, it's a mechanical keyboard) with bright backlighting. See, mechanical keyboards sometimes don't have the best backlighting, but by redesigning the switch structure and PCB board, as well as by using larger, brighter LEDs, Cooler Master have managed to make a keyboard that features bright lights as well as mechanical reliability and performance.
On top of that, the backlighting in key specific, which means that you can trim it up to be exactly what you want it to be. Like Razer's Chroma range, this device also include lighting effect presets, but those that really want to draw advantage from the advanced system will want to sit down and take the time to carefully program their backlighting for the best effect.
What is perhaps most important here (it should be) is the fact that the Masterkeys Pro L is quite the performer when it comes to response. It might not have all those added extras that can make other keyboards attractive, but any gamer worth his salt knows that extra buttons and blinking lights don't trump performance. And that's what you'll get here: a no nonsense keyboard with a great lighting system that does exactly what you need it to, when you need it to. Fans of mechanical keyboards will be thoroughly chuffed with it.

7Review earns Amazon affiliate commissions from qualifying purchases. You can support the site directly via Paypal donations ☕. Thank you!
Although it's a pretty minimalist keyboard, the Masterkeys Pro L has a great lighting system and delivers excellent performance.
SPECS– Cherry MX Switches– 5 profiles– On-the-fly macro recording– Individually backlit keys– 100% anti-ghosting.