Bang & Olufsen's first soundbar is an extravagant performer, insists Steve May. Read our BANG & OLUFSEN BEOSOUND STAGE Review.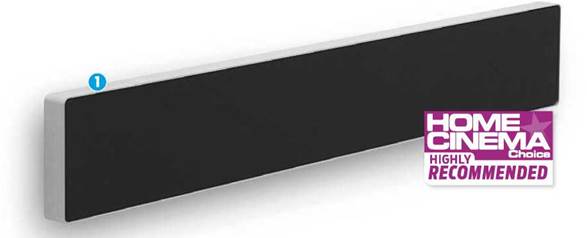 The category has been around for more than a decade, but the Beosound Stage is the first dedicated soundbar to come from the Bang & Olufsen stable – and it arrives with a sonic maturity that makes you think B&O has been making these things for years.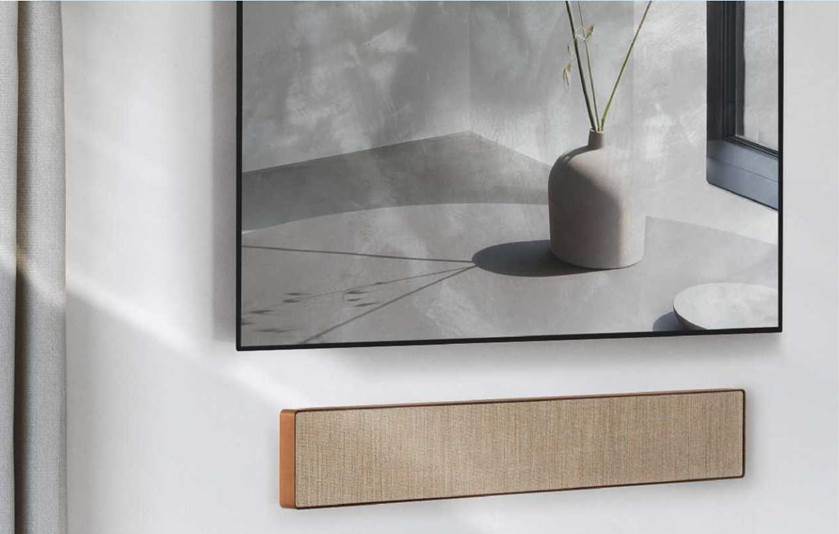 AV INFO
PRODUCT: Premium 3.0-channel soundbar with Atmos decoding
POSITION: B&O's only soundbar; Sennheiser Ambeo Soundbar; Yamaha YSP-5600
A one-piece design, it doesn't feel the need for a wireless subwoofer, and there's no option to add one either. Adopting a curved design with a forward-facing grille, it also doesn't appear to offer a multiplicity of drivers.
7Review earns Amazon affiliate commissions from qualifying purchases. You can support the site directly via Paypal donations ☕. Thank you!
See also TOP 10 Soundbars & Soundbases
Yet this casual confidence belies its sophistication, and the glorious noise it makes when powered up…
Build quality, as we've come to expect from the high-end brand, is about as upmarket as consumer electronics get. Designed by Danish studio NORM Architects, this new addition to the Beosound family of speakers smacks of Scandinavian elegance.
Fishy business
For this review, we auditioned the most expensive variant available, the Smoked Oak version. This is the prettiest option, but comes with a significant price premium.
If you're not desperate for the Scandi wood style, or simply want to save cash for discs, there's a choice of either Natural aluminium trim, or Bronze Tone editions, both of which sell for a more competitive £.
That said, the attention to detail on the Smoked Oak iteration is admirable. The cabinet edges sport lovely dovetail joints, a shout-out to traditional Scandinavian cabinetry. And despite the fact the surround is made of wood, you still get touch-sensitive controls (which is quite a production trick) for source, volume, power and Bluetooth pairing.
Both the Natural and Bronze Tone enclosures are cast from a single piece of aluminium. There's also a rather fetching Anthracite limited edition.
The Stage can be used in either a horizontal or vertical orientation. To achieve the latter, and not have to wall­mount just for this review, I sat it on two small L-shaped brackets. At 110cm wide, it suits flatscreen TVs 55in and upwards.
Connectivity is a touch meagre. Pop off the centred cover on the rear, and you'll find a single HDMI 2.0 input and eARC-enabled HDMI output; Ethernet for wired networking; and a 3.5mm mini-jack for use with a local media player, or if your TV predates ARC, a line input from the set. So there's no digital optical audio socket, and only one HDMI input on a premium soundbar is a bit stingy. A USB port would also have been welcome, not only for media playback, but to power a streaming stick which might have occupied that solitary HDMI input.
Wirelessly, in addition to Wi-Fi and Bluetooth, the soundbar supports Apple AirPlay 2, and has Chromecast built-in. If you already have a BeoLink Multiroom system, it'll also dovetail with that.
There's no remote control in the box. Instead it's intended to work with either the dedicated Bang & Olufsen app, or your regular TV zapper.
Alternatively, if the Stage is partnered with an LG C9 OLED TV, this opens up control via the brand's Beoremote One. There's a good reason for such specificity. The C9 is the OLED used by B&O for its Harmony and Eclipse TV models. The two can be linked by Cat cable, via the RJ45 port in the well on the back of the 'bar.
Turned up to 11
The Stage has an acoustically transparent Kvadrat cloth grille. There's a subtle 2mm gap between it and the frame, which creates the illusion that it's almost floating. If you fancy a change in style, it can be pinged off. Doing this also affords a closer look at the driver arrangement.
There are no fewer than eleven drivers in play, each powered by a claimed 50W amplifier. There are four woofers, in a stereo configuration, plus two 1.5in mid­range units and a 0.75in dome tweeter in the centre. Additionally, there are midrange and tweeters left and right, angled upwards at 45 degrees (if the bar is in its wall-mounting orientation).
Bang & Olufsen describes this assemblage as a 3.0 system, but it's fully compatible with Dolby Atmos, and does an excellent job creating a sense of height and
1. In place of a separate sub, the Stage uses a quartet of 4in woofers
width, casting audio wider than any flatscreen. It also does visceral attack well.
When the pursuing gang roar into shot at the opening of Mad Max: Fury Road (4K Blu-ray), the soundstage widens perceptively. As Max's motor inevitably catapults into the air, the stunt car rolls with a reassuringly physical impact.
It's rare for an all-in-one soundbar to convey a sense of height and overhead panning, but the Stage offers enough of a simulacrum to bring a smile to the chops of even a die-hard home cinephile.
It's articulate too. The storm sequence in In the Heart of the Sea (Blu-ray) is a complex, layered Atmos mix of crashing waves, whipping sails and barked dialogue, but the Stage manages to keep all these elements untangled.
Bass is surprisingly profound, which probably explains why there's no wireless subwoofer provision, even as an additional upgrade. I measured meaningful rumbles down to 31.5Hz, allowing movies to convince with LFE action. There's also terrific mid-bass energy.
The opening bombing run in Unbroken (Blu-ray) is a great test of dynamics and bass slam, as flak detonates around the aircraft. The delayed rumble as the bombs explode on target, before the bomber peels off for its return, is deep and ominous, just as it should be.
When the Zeros retaliate, there's a real sense that they're flying past your sofa. The deep thudding of the bomber's gun turret is clean and powerful.
The Stage accepts Dolby Atmos from Blu-ray disc in a Dolby TrueHD wrapper, as well as the Dolby Digital Plus variant typically used by premium pay and streaming TV services. It's also compatible with the DTS core codec, but not DTS:X.
It's a rather convincing Bluetooth speaker too. Isolation, by Sepultura, is a raging maelstrom of machine-gun beats and swaggering riffs. It's not an easy track for an all-in-one to delineate, but there's enough width between its stereo array to form a circle pit.
By contrast, the pure pop of No Shame, by 5 Seconds of Summer, showcases the Stage's excellent mid-range delivery. The mix is deliberately constrained, and the Stage presents it with a pointy focus.
Broad appeal
We've had a long wait for this Beosound debutant, but it's been worth it. Surprisingly, this isn't an idiosyncratic soundbar for the B&O faithful, but something with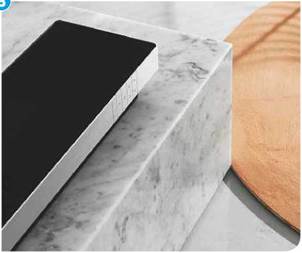 much broader appeal. The minimalist design is on trend, and its performance is gutsy but refined. Some might even argue the Stage is reasonably priced against higher- end opposition.
It isn't wholly intended for TV duties either. Bang & Olufsen believes it is musical enough to serve as a dedicated hi-fi speaker, even with the TV turned off, and I concur. It's snappy and dynamic, and capable of a decent stereo soundstage.
But it's as an AV soundbar that it ultimately wows. Indeed, the Beosound Stage is possibly the most compelling all-in-one soundbar I've heard since the Sennheiser Ambeo Soundbar [see HCC #302], albeit a different proposition. It's less feature-packed – particularly regards channel count and HDMI options – but more plug-and-play. And it's a stunning fusion of sonic clarity and high-end design
HCC VERDICT
Bang & Olufsen Beosound Stage
www.bang-olufsen.com
Recommended
BANG & OLUFSEN BEOSOUND STAGE Review
B&O's debut soundbar is excitingly cinematic and convincingly musical. It's a potent cocktail of performance and design.
Add your review
Best BANG & OLUFSEN BEOSOUND STAGE prices in the US ?

$

4,250.00

$5,036.81
1 new from $4,250.00
in stock


$

4,250.00
1 new from $4,250.00
in stock

Best BANG & OLUFSEN BEOSOUND STAGE prices in the UK ?

£

1,699.00
1 new from £1,699.00
in stock

MORE DEALS

See also TOP 10 Soundbars & Soundbases
SPECIFICATIONS
DRIVE UNITS: 4 x 4in woofers; 4 x 1.5in midrange drivers; 3 x 0.75in tweeters AMPLIFICATION (CLAIMED): 11 x 50W CONNECTIONS: 1 x HDMI input; 1 x HDMI ARC output; 3.5mm stereo minijack input DOLBY ATMOS/DTS:X: Yes/No SEPARATE SUB: No REMOTE CONTROL: No DIMENSIONS: 1,100(w) x 170(h) x 77(d)mm WEIGHT: 8kg
FEATURES: Dolby Atmos decoding; wall-mounting option; Chromecast built-in; Dolby Vision HDR passthrough; Apple AirPlay 2; Bluetooth 4.2; Wi-Fi; Ethernet; 44Hz-22kHz claimed frequency response; BeoLink Multiroom; Bang & Olufsen app; touch-sensitive controls; Beoremote One control with LG C9 OLED TVs; Music, Movie, TV and Night modes
LG OLED65C9: LG's C9 OLED uses the same processor as its slightly costlier (and more sonically accomplished) E9 sibling. Add the B&O 'bar for a premium AV experience, and maybe shell out £ for the Beoremote One controller.
2. Touch controls on the bar's chassis include play/pause, track skip and volume
3. The Natural and Bronze Tone finishes command a £ price tag