Once the standard bearer for Audio-Technica, can this closed-back design deliver the sonic goods? Read our Audio-Technica ATH-W5000 Review.
DETAILS PRODUCT
ORIGIN Japan
TYPE Closed-back, over-ear headphone
WEIGHT 340g
FEATURES
• 53mm dynamic driver
7Review earns Amazon affiliate commissions from qualifying purchases. You can support the site directly via Paypal donations ☕. Thank you!
• Quoted sensitivity: 102dB/mW
•  3m cable (captive) with 6.35mm jack
DISTRIBUTOR Audio-Technica Ltd. (UK)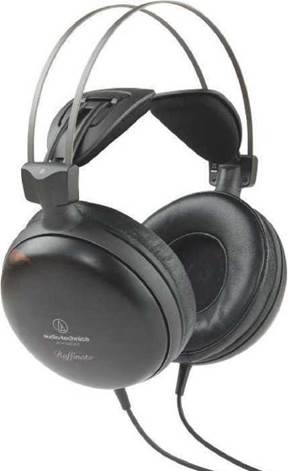 You may also like:
ATH-ADX5000, the W5000 was Audio- Technica's flagship model, but it now has to content itself with being its premium closed-back design. The enclosures are interesting as each is made from a single carved block of striped ebony, fronted by deep (and user replaceable) leather pads. This means that unlike more affordable members of the same range, noise leakage is fairly low.
The drivers are 53mm dynamic units that use a neodymium magnet system specific to the W5000. The magnetic circuit of each includes a section made from permendur – an alloy that is both permeable and resistant to magnetic flux. This is placed in one of Audio- Technica's DADS (Double Air Damping System) chambers to maximise bass extension and provide the required level of damping and control.
The enclosures are mounted to a magnesium frame that offers no adjustment. This is because of the company's 3D Wing Support system (see box out) that allows for the required movement. The cable is a fixed 3m-type coated in elastomer to prevent tangling. It terminates in a 6.35mm jack connection – there is no balanced option as standard. While the wood finish of the driver housings is an acquired taste – it can look like a wrap – the general level of build is to Audio-Technica's customarily high standards and you also get a hefty but
Percussive taps to the guitar display plenty of weight and immediacy
easy to use storage case to keep everything free from dust.
Sound quality
The ATH-ADX5000 is reasonably sensitive and doesn't require too much of the Hugo 2's output to hit the test level. The performance is largely positive, but frustratingly also prone to some inconsistencies. The opening strings of Burn The Witch have a slightly cupped and enclosed quality to them that seems to be an unavoidable side effect of the closed-back design. Thom Yorke's vocals are well presented, though, and have a richness and weight that lends them the required realism. The stunning recording of Stimela is a better demonstration of what the W5000 can do, though. The space around the performers is smaller than some of the open-backed designs here can achieve, although the three dimensionality and relationship to the audience is very good indeed.
The manner in which it handles the massive dynamic spike of Masekela's train whistle is also impressive with a feeling that there is still plenty of headroom remaining.
This ability to place performers and fine detail in a manner that is highly convincing for the listener is also present with the W5000's handling of Take Five. The interplay between vocals and guitar is well defined and entirely self-explanatory. The little percussive taps to the guitar body are rendered with a good combination of weight and immediacy as well. This is slightly offset by a tonal balance that doesn't need a huge amount of provocation to become a little forward and aggressive.
The remastered version of Beat It is hardly a bright recording, but the W5000 is the most prone to it being slightly edgy with a touch of sibilance to the vocals and a sense that you would rather turn it down. This is a shame because the timing and rhythmic ability it shows is usefully lively and free of any sense of overhang, while also possessing useful bass weight and texture
GIVES YOU WINGS
Unlike the recently reviewed ATH-ADX5000, the W5000 makes use of Audio-Technica's 3D Wing Support system. This uses a pair of hinged pads that sit beneath the fixed arc of the headband. The thinking is that the chassis that holds the earpieces in place can be lighter and stiffer, while the 3D wing pads are able to move independently of one another for an optimal fit. While some models carrying this support system haven't always delivered on the promise of comfort, the ATH-W5000 is a very amenable model to wear for longer listening sessions. The spring loading on the pads is well judged and supports the headphone very well. The styling of the aforementioned ATH-ADX5000 suggests that the company may be moving away from the somewhat cumbersome-looking Wing system, but here it is still capable of very good results in a home headphone context.
Verdict
Audio-Technica ATH-W5000 Review
A good choice if you desire a closed-back design, but not quite the perfect all-rounder
PROS
Detailed and three-dimensional sound
Comfort
Build
CONS
Can sound slightly forward and closed-in at times
Add your review
|
Read reviews and comments
Best Audio-Technica ATH-W5000 prices in the US ?

$

1,909.78
3 used from $1,909.78
1 new from $1,909.78
in stock

Best Audio-Technica ATH-W5000 prices ?