DETAILS
• Manufacturer. AMD
• Requirements: AM3+ motherboard, DDR3 RAM, 450W minimum PSU
AMD's Bulldozer architecture had limited success when it was first launched, mainly due to the lack of support it had at that time and some problems with performance. This gave Intel access to the processor slipstream, so its lead was increased significantly.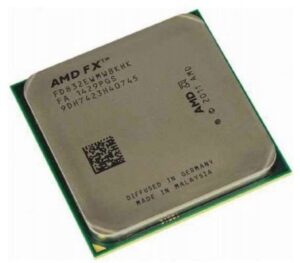 The architecture has matured somewhat since then. The Piledriver microarchitecture we've looked at so far has proved to be a worthy and cost-effective counterpart to Intel's more expensive i-platform.
The FX-8320E is a more modern release from September 2014, with a 3.2GHz base clock speed, 4GHz turbo clock speed and an impressive eight cores and eight threads. There's 8MB of L2 cache (1MB per core) and 8MB of L3 cache (again, 1MB per core) and a more acceptable TDP of 95W.
The 'E' addition to the end of the processor number, in case you're wondering, denotes a lesser TDP than the standard FX-8320, which has a TDP of 125W. The Black Edition label is always something that tends to confuse people, since it's something left behind from older AMD CPUs. Basically, the Black Edition used to mean a processor that was unlocked and could therefore be overclocked. Since the FX processors are already unlocked, the Black Edition label is really a little redundant. However, some people regard the Black Edition, even in the FX lineup, as being able to get higher overclock speeds than non-Black Edition CPUs.
On the topic of overclocking, the average aircooled clock speed tends to be around 4.5GHz, with a liquid-cooled clock speed topping 4.8GHz. Using our Arctic Liquid Freezer 240, we did manage to get the processor up to a stable 4.7GHz, but pushing it slightly more revealed some instability.
7Review earns Amazon affiliate commissions from qualifying purchases. You can support the site directly via Paypal donations ☕. Thank you!
As for performance, the FX-8320E is certainly no slouch, especially when it comes to multi-core performance. The Cinebench R15 single-core test score was 93, while the multi-core test score was an impressive 586. Likewise, the PassMark version 8 overall score was an equally good 7,966 while the singlecore score came in at 1,361.
The FX-8320E is a processor that successfully ticks a number of boxes

It's a worthwhile eight-core processor, with some good overclocking
The FX-8320E is a processor that successfully ticks a number of boxes. It's reasonably cheap, it has plenty of overclocking support with a stable high number of gigahertz, and it doesn't consume much power – using the base clock speed, obviously.
Needless to say, the FX-8320E is a capable CPU, which can happily deliver good gaming performance, as well as higher-end computing tasks and everyday duties. While it may not beat the higher-end Intel i5 or i7 CPUs, it's a really good processor and for that price it'll beat a similar-costing Intel-based system in performance.