DETAILS
Manufacturer AMD
Requirements: AM3+ motherboard, DDR3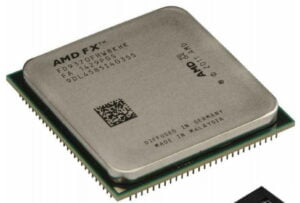 The FX-9370 marked the return of AMD to the high-end CPU market in June 2013. This Piledriver- and Vishera-based chip has a 4.4GHz base clock, a 4.7GHz turbo clock speed, and it uses the same 32nm manufacturing processes as the previous models in the guide, but in this instance AMD sought to market these CPUs as extreme overdocking models, bundling a liquid cooler with some releases.
It's an eight-core, eight-thread CPU with 8MB of L2 cache (1MB per core) and 8MB of L3 cache (with, again, 1MB per core). The faster processor speeds demand more power, so this AMD model has a higher TPD of 220W, compared to the E-flavoured models that have a lower 95W.
Overclocking is the key to this processor's success, with an air-cooled average overclock speed of around 4.7GHz and a fantastic water-cooled overclock speed of around 5.2GHz. We didn't take ours all the way up to 5.2GHz, though. Instead, we settled for a perfectly stable 5.1GHz and enjoyed the benefits of showing off the numbers to anyone who was even remotely interested.
7Review earns Amazon affiliate commissions from qualifying purchases. You can support the site directly via Paypal donations ☕. Thank you!
Naturally, the higher TDP and overclocking will require a suitable motherboard and cooling; AMD even recommend a liquid cooler for the stock speeds of the FX-9370 and its twin, the FX-9590, which was released around the same time. This, of course, increases the cost of a system built around this processor, and with the processor itself costing, the overall cost can rise quite quickly.
Our benchmarks produced some interesting numbers, though, as you'd expect from a higher-end CPU. The Cinebench R15 single-core score was an excellent 98, while the multi-core score was an equally impressive 702. Likewise, the PassMark version 8 overall score was 9,669, with the single-core score being 1,698.
They're the highest numbers in the guide so far, and they're better than Intel's ¡7-5950HQ CPU by a few points. As you would expect, the FX-9370 makes for an excellent gaming platform as well as being more than capable of higher-end computing tasks such as virtualization, video and photo editing and most other duties you can think of. The single core performance is good too, but in all honesty it's probably overkill for those who use their PCs for everyday tasks.
However, despite the performance improvement, the FX-9370 still lags behind the Intel similar priced model, the i5-6600K. Overall, the ¡5-6600K performs slightly better and has a much lower TDP of just 91W, and there's only around or so difference in price – the i5-6600K being the more expensive processor.
Having said that, the AMD FX-9370 is a good processor and one that should keep you happy for a while.