"If you eventually want to liquid-cool your GPU . . . the Eisbaer 360 is ready-made for the job."
The majority of AIO CPU liquid coolers are closed loops that have been factory filled and sealed, so you'll never need to perform maintenance. An AIO's preassembled design also makes it much easier to install than the disparate pieces of a custom water loop, but the factory seal prevents you from expanding the loop. The Alphacool Eisbaer 360 is a different breed of AIO liquid cooler. It has all the traditional benefits of a preassembled closed-loop kit, and Alphacool adds a quick disconnect fitting so you can expand the loop without having to drain the system or take it apart.
Alphacool provides a couple of ways to make the Eisbaer 360 work with other liquid-cooling parts. The quick disconnect built into the tubing is compatible with Alphacool's lineup of quick-release connectors, which smartly include adapters for standard G1/4 fittings. The Eisbaer's quick disconnect is also compatible with Alphacool's Eiswolf GPX-Pro AIO kits featuring a GPU waterblock and radiator.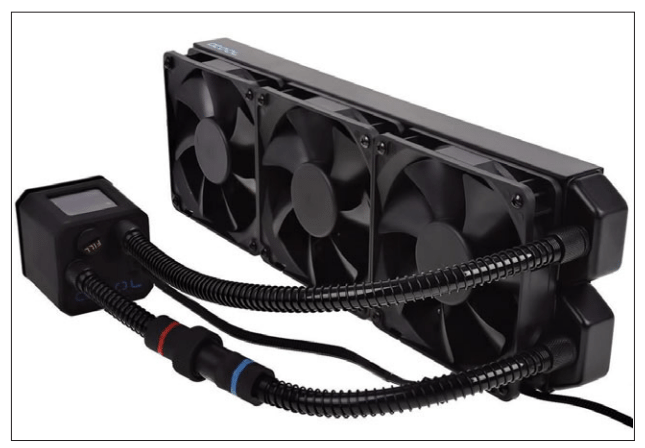 The Eisbaer 360's pump and radiator feature standard G1/4 fittings, so you can add thicker hoses or hard tubing down the road if you want a truly custom look.
Alphacool provides a fill port on top of the pump to easily refill or add coolant when expanding the loop.
Alphacool's background is primarily in custom liquid-cooling parts, and the company sells its own fittings, pumps, radiators, reservoirs, and waterblocks, among other cooling accessories. The Eisbaer 360 is a collection of Alphacool's top-end components. For instance, the 360mm radiator is based on Alphacool's NexXxos ST30 360. The radiator's pure copper construction helps it outperform the aluminum radiators so common in closed-loop coolers. The built-in pump is similar in design to Alphacool's DC-LT Ceramic Ultra Low Noise pump. PWM control allows for pump power as low as 7V, for quiet operation, and a maximum of 12V that delivers a pump speed of 2,600rpm.
To dissipate heat from the 360mm radiator, Alphacool provides three of its 120mm Eiswind fans that feature a high static pressure (up to 1.66mm/H20). Similar to the pump, the 120mm fans are PWM controlled with a range of 550 to 1,700 rpm.
Alphacool includes a three-way splitter so you can connect all three fans to a single fan header. The system was nearly silent during idle, but fan noise is definitely audible when all three fans are running at 1,700rpm.
7Review earns Amazon affiliate commissions from qualifying purchases. You can support the site directly via Paypal donations ☕. Thank you!
Our testing results show that the Eisbaer 360 is well equipped to help you reach peak overclocks. After running Prime95's Small FFT torture test for 10 minutes, Intel's Core i7-6700K maxed out at only 76 degrees Celsius, while average temperatures during the test reached 72.1 C. We ran the same test on an Intel Core i7-7700K with average and maximum temperatures reaching 73.4 C and 78 C, respectively. We also ran POV-Ray 3.7 on both Intel chips for 10 minutes, with maximum temperatures hitting 64 C (Core i7-6700K) and 66 C (Core i7-7700K).
The ability to easily upgrade parts is one of the reasons we love PCs, and the Eisbaer 360 is much more flexible than a conventional AIO liquid cooler. If you eventually want to liquid-cool your GPU but aren't ready to upgrade right now or just want the option to expand the cooling loop down the line, the Eisbaer 360 is ready-made for the job.
In the meantime, the Eisbaer 360's high-quality liquid-cooling components provide enthusiast-grade CPU cooling.
Specs:Materials: copper (waterblock and radiator); Socket compatibility: Intel LGA 2011(3)/2011/1366/115X/775/771/604, AMD FM2(+)/FM1/AM3(+)/
AM2(+)/G34/C32; Pump: 2,600rpm, 7-13.5V; Fans: 3 120mm Alphacool Eiswind fans (550-1,700 rpm); Radiator dimensions: 1.18 x 15.63 x 4.88 inches
(HxWxD); Warranty: 2 years
Test System Specs: Processor: Intel Core i7-7700K; Motherboard: AORUS GA-Z270X-Gaming 5; GPU: GIGABYTE GeForce GTX 1080 Xtreme Gaming;
Memory: Corsair Vengeance LED 32GB DDR4-3,200MHz; Storage: 240GB Intel SSD 730 Series; OS: Windows 10 Enterprise
Alphacool Eisbaer Aurora 360 CPU Digital RGB Water Cooler, Black
as of November 30, 2023 9:10 pm
Features
Can Alphacools Eisbaer get even better? Totally! Would the Eisbaer look even more impressive with aRGB? Absolutely! The Aurora AIO Eisbaer continues to cool the CPU with the Eisbaer's well-known and high-quality copper cooler with a large surface. The pump also works much more efficiently with 10% more power and reduced noise level.
The most eye-catching element of the Aurora Eisbaer is the addressable RGB LED lighting. Here, the main focus is directed on the polar bears on the pump and the stylish Aurora LUX Pro fans. Thanks to a compatible motherboard or controller, colour and effects can be individually adjusted.
Technical Data: Radiator dimensions: 400 x 124 x 30 mm (L x W x H). Material: Full copper threads. 2 x G6.35 mm pump housing. Dimensions: 66 x 66 x 69 mm (L x W x H). Reservoir material: Transparent nylon threads: 2 x G6.35 mm connection digital RGB: 3-pin JST + 3-pin 5V. Pump speed: 2800 rpm. Voltage: 7 - 13.5 V DC power consumption: 4 W maximum. Flow rate: 75 litres per hour maximum Head: 0.95 m
Fan size: 120 x 120 x 25 mm. Speed: 800-2000 rpm. Static pressure: 2.0 mm H2O air flow rate: 104.49 m³/h. Bearings: Hydraulic fan connector: 4-pin PWM connection digital RGB: 3-Pin JST + 3-Pin 5V Compatibility Intel 775 / 1056 / 1155 / 1150 / 1151 / 2011 / 2011-3 / 2066 AMD AM2 / AM2+ / AM3 / AM3+ / FM1 / FM2 / FM2+ / AM4