MAD CATZ HAS BEEN BAFFLING US with its RAT mice since 2010, and now has a full series of the things, from the plastic bodied RAT 1 to the magnesium RAT X Pro. Read our Mad Catz RAT 8 Review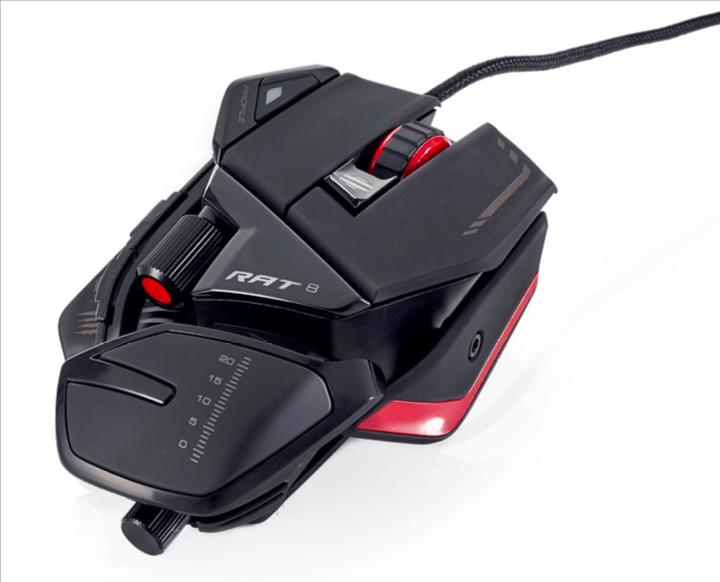 The Mad Catz RAT 8 Review sits near the top of the range, with an aluminum frame hiding under the RAT's strange, deconstructed body. It looks like some sort of advanced running shoe, maybe, or a kind of functional space ship, constructed in orbit, and never intended to fly in an atmosphere. That particularly goes for the black finish with red accents that our review model sports without its lights on.
Oh yes, you get lighting. Mad Catz, hilariously, calls it Kameleon RGB, but the RAT will neither blend into your desktop nor express its emotional state through its hue. This is a standard 16.8 million color system that's set up using the RAT's PC software. It can be set to cycle through every color, to pulse, beat like a heart, or, least distractingly, stay one color, and can be set independently. The patches that light up are small: just the logo on the back, three glowing stripes within the body, and the DPI setting button—areas that are often covered by your palm when in use.
The RAT 8 can be customized to fit just about any hand or gripping technique; a hex key that lives up the tailpipe is used to adjust the position of the thumbrests (although two of the bolts on our sample were extremely hard to move), while the palmrest and side grips can be replaced completely by alternatives included in the box. The palmrest sits above a spring-loaded switch that can be used to shift it back and forward, increasing or decreasing the length of the RAT to fit your hand. This makes it hard to tell whether the RAT is comfortable to use or not—any immediate problems can be smoothed out with a bit of twiddling, while long-term comfort issues may be as much user error as they are design flaws.
The hex key's shaft is buried in a series of metal washers, which can be removed to lighten the mouse (down to 5.1 oz), or left in place to make it 5.7oz. That's not a huge difference, but it is noticeable when you lift the RAT off the surface. Don't expect much in the way of weight balancing, as seen on Logitech models, though—the RAT's weights are pressed in place with a spring that keeps them near the center of the body.
Mad Catz RAT 8 Review – MIGHTY MOUSE
Being able to change the weight of your mouse is usually said to be all about speed, and the RAT 8 has all the big numbers for those concerned by how fast their pointer or reticule can cover a screen. The Pixart PMW3360 optical sensor can be cranked up to a sensitivity of 12,000 dpi, with a tracking speed of up to 6.3m/s. The main buttons sit on Omron switches rated for 50 million clicks, and any of the RAT's buttons can be reassigned using the Flux software, with space on the mouse to save three profiles.
7Review earns Amazon affiliate commissions from qualifying purchases. You can support the site directly via Paypal donations ☕. Thank you!
That aluminum frame, though it should be stronger than the magnesium in the Pro X, adds weight, but then you don't buy a RAT expecting something super-light. Put one of these in your cart, and you're expecting customizability and strong build quality, both of which the Mad Catz RAT 8 Review delivers. That said, it may be questionable just how useful those adjustments are—once you've got it molded to your hand, you'll likely never touch them again, and we've found that even the most unusually shaped mice can be got used to with enough time. The RAT's other strength lies in its remarkable looks. Its futuristic, industrial shell, with holes to see into its inner workings, make it a unique object on anyone's desk, and it's this that will attract many buyers to Mad Catz's latest insanity, -IAN EVENDEN
PROS
Highly customizable; well built; great features.
CONS
Complex; fixed weight distribution; may be heavy for some.
Add your review