This is the weirdest mouse we've seen – and we mean that in a good way. It comes as a flat strip, with left and right buttons at one end and a touch-sensitive strip between them instead of a scroll wheel. That makes it easy to pack away, and in use it snaps into a hand-fitting bridge shape.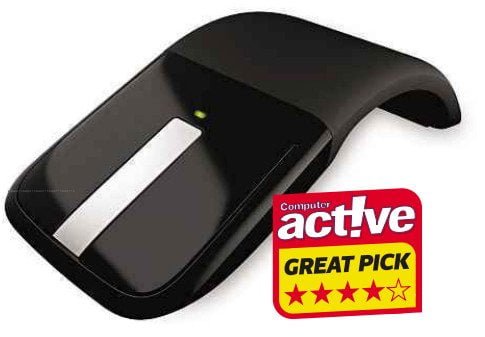 Although the Arc Touch has been around for a while, it incorporates the kind of haptic technology we associate with fancy products like Apple's Magic Trackpad 2. With no moving parts, the scroll strip detects the movement of your finger, but optional sound and vibration effects (set up using a
SPECIFICATIONS
2.4GHz wireless mouse • Requires Bluetooth receiver (supplied) • Supports Windows 7,8 or 10, Android 32 or higher, MacOS 10.7 or later • Requires 2x AAA batteries (included) • 37x6x11mm (HxWxO) • 86g • Three-year warranty
companion app for Windows and Android) make it feel like you're operating something mechanical.
7Review earns Amazon affiliate commissions from qualifying purchases. You can support the site directly via Paypal donations ☕. Thank you!
The laser-based optical sensor works well on almost any matt surface, and unlike most mice we test, it suits both right- and left-handers. A wireless USB stick is supplied to connect the mouse to your PC. An alternative Bluetooth version works with devices that have built-in Bluetooth, although the app for this doesn't work with Windows 7.
The Arc Touch runs on two AAA batteries, which Microsoft reckons will need replacing about every six months (a warning light lets you know when they're getting low). There are no extras such as assignable buttons, and we found the main left and right clicks required a bit more force than we'd have liked. But this is a very usable mouse at a fair price.
VERDICT:
It's a satisfyingly unique device, and the design makes it especially handy if you need to carry a mouse around
ALTERNATIVE:
Logitech Ultrathin T630
With a more advanced touch surface, this flat Bluetooth mouse is good but not such a comfortable shape