Acoustic Energy release a new, high quality stand mount loudspeaker, the AE500. Jon Myles listens in… Read our ACOUSTIC ENERGY AE500 Review.
Standmount loudspeakers have a lot going for them – not least that they take up less space than a floorstander and, at their best, can fill a room with a clean, precise sound. But – and it's a big but – not every buyer sees spending £ on a compact loudspeaker good value. However Acoustic Energy see it differently. Hence their new AE500 standmount – derived from the flagship 500 range.
The 310mm high, 185mm wide and 260mm deep cabinet sports the company's own Resonance Suppression Composite material – basically constrained layer damping.
It features a newly-developed carbon fibre tweeter and a single mid/bass driver made from the same material that, the company says, is designed to match the pistonic power and accuracy of their ceramic aluminium drivers – but with improved selfdamping for a smoother, more transparent sound. At back is a slot-loaded reflex port and a single set of well-finished, gold-plated loudspeaker binding posts, obviating bi-wiring.
Finishes are Piano Gloss Black, Piano Gloss White or American Walnut wood veneer. Our review pair came in gloss white and were well constructed with a hefty feel and no blemishes in the cabinet.
SOUND QUALITY
Placing the AE500s on a pair of sturdy stands and hooking them up to a variety of amplifiers, ranging from a Creek Audio Evolution 100A transistor integrated to an Icon Audio Stereo 30SE valve unit, the immediate impression was a sense of refinement. Also, the AE50s went loud without apparent strain – impressive for their size.
With Nick Cave And The Bad Seeds 'Murder Ballads' the delivery of the whole band was exceptional. The bass was firm and the drums had rasp to them. The mid-range, though, is the stand-out. While it sounds a little smooth there's plenty of detail on offer.
7Review earns Amazon affiliate commissions from qualifying purchases. You can support the site directly via Paypal donations ☕. Thank you!
See also TOP 10 Subwoofers
So much so that playing 'Where The Wild Roses Grow' I could hear the catch in Kylie Minogue's breath. Yet the AEs also captured Nick Cave's growling vocals at the same time – moving seamlessly between one and the other to paint a haunting, atmospheric track.
The one thing the AE500s don't provide is a full low-end response. Yes, the bass is good (especially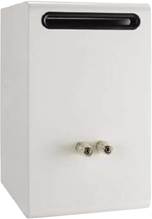 At rear there is a slot port to reinforce bass, plus a single pair of loudspeaker terminals.
for a standmount) yet doesn't dig exceptionally low. So playing James Blake's 'Limit To Your Love' the sub- sonics were missing. However the Acoustic Energys still managed to portray the track in a fulfilling way. And what they did do is highlight Blake's keening vocals.
Moving to Joy Division's 'Love Will Tear Us Apart' (24/96) with its punch-driven opening of guitar, bass and drums, again the Acoustic Energys show they don't just have detail but are able to handle fastpaced music without missing a beat.
Rhythmically they are spot-on. There was no bass overhang and the two drivers blended seamlessly. They also managed to pick apart dense tracks with ease – not something all standmounts can do.
With Led Zeppelin's 'When The Levee Breaks' there was clear separation between instruments despite the heavy mix: I could discern the pounding drums, bass and guitars while Robert Plant's vocals were easy to follow and the harmonica parts stood out firmly with ample tonality. It was easy to track each instrument or simply sit back and revel in the sheer power of the track.
The carbon fibre tweeter has an extended top end, giving the AE500s strong, clear treble.
CONCLUSION
The AE500s are an excellent pair of standmount loudspeakers, combining detail with a fast and punchy sound.
Build quality is also superb and they sound a lot bigger than they look, although lows are limited. Highly recommended all the same, being suited to smaller rooms where speed and impact are essential, together with tight bass.
MEASURED PERFORMANCE
Frequency response of the Acoustic Energy AE500 was flat from 60Hz to 8kHz our third-octave analysis of pink noise shows, so it is accurate in fundamental tonal balance, if with some variance.
The Kevlar woven dome tweeter peaks up suddenly above 10kHz, rising to +10dB at 20kHz (grille on or off) – an unusual result, suggesting a phase plate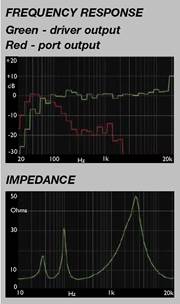 would help. Being very high frequency this may add subliminal presence to extreme treble in recordings that have such information – poor digital, LP ticks and pops. For the most part it will go unnoticed.
Bass rolls down below 60Hz and there is no lift in low frequency output. The loudspeaker is purposed for placement close to a rear wall to strengthen lower frequencies; this is not a bass heavy loudspeaker. The rear slot port exerts broad damping, the red trace of port output shows, correlated by the impedance trace, suggesting well controlled bass free from boom.
Sensitivity measured 86dB from one nominal Watt of input (2.8V), good for a small cabinet – especially since impedance measured a high 8 Ohms with broadband pink noise. Our impedance analysis confirms this. Amplifiers of 60 Watts or more will be needed.
Acoustic Energy's AE500 is broadly accurate and will be revealing. Its lift at high frequencies may be heard with recordings strong in upper treble. Bass output is controlled but restrained. A loudspeaker for smaller rooms where it will rein in room boom. NK
| | |
| --- | --- |
| PRODUCT | ACOUSTIC ENERGY AE500 |
| EXCELLENT | extremely capable. |
| DISTRIBUTOR | Acoustic Energy |
| TEL | +44 (0)1285 654432 |
| WEBSITE | www.acousticenergy.co.uk |
VERDICT
ACOUSTIC ENERGY AE500 Review
A fine standmount from Acoustic Energy. It combines detail with a refined yet punchy sound.
PROS
build quality
smooth midrange
refined bass
good treble
CONS
not cheap
lack of deep bass
Add your review
|
Read reviews and comments
Best ACOUSTIC ENERGY AE500 prices ?
MORE DEALS

See also TOP 10 Subwoofers