As the smallest streaming adapter here it may not look like much, but the MusicCast has got it where it counts. Read our Yamaha WX AD-10 Review.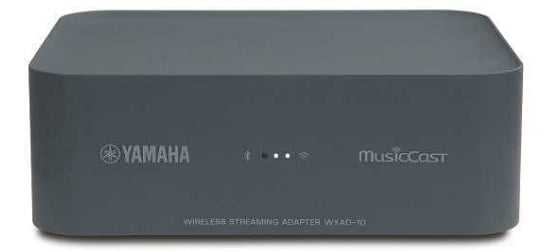 DETAILS: Yamaha WX AD-10 Review
PRODUCT Yamaha WXAD-10
ORIGIN Japan/Malaysia
TYPE Network music player
WEIGHT 226g
DIMENSIONS (WxHxD) 130 x 45 x 106mm
7Review earns Amazon affiliate commissions from qualifying purchases. You can support the site directly via Paypal donations ☕. Thank you!
FEATURES
• Wi-fi and Ethernet streaming up to 24-bit/192kHz
• Outputs: 1x 3.5mm mini jack; 1x stereo RCA
• Streaming service support Spotify Connect; Tidal; Qobuz; Juke; Deezer; Internet Radio
• AirPlay and Bluetooth
DISTRIBUTOR Yamaha UK
TELEPHONE 0844 8111116
WEBSITE europe.yamaha.com/en
Although one of the most affordable units here, the WXAD-10's impressive spec supports sample rates up to 24-bit/192kHz via wired and wi-fi hookup along with Bluetooth and AirPlay connectivity, and it can additionally be used as a standalone network audio player.
As well as offering a considerable selection of streaming services second only to the Sonos, it has native support for Tidal, Qobuz, Deezer (including Deezer HiFi) and Juke alongside Spotify Connect and internet radio. As well as integration with Yamaha's vast selection of MusicCast components – which now extend into the realms of self-playing pianos – it's all controlled by the MusicCast Controller app for both iOS and Android.
It lacks a digital output – which limits any future upgrade-ability – but it's powered by a 5V USB feed, meaning that it can potentially be powered from other nearby components and do without a mains connection of its own.
Sound quality
With the simple app-driven setup completed, the WXAD-10 reveals itself to have the lowest output in the group, although this is not so significant as to preclude its use in any system it is likely to be partnered with. There is also much to like about how it goes about making music. The tonal balance is fundamentally neutral, but there is a slight emphasis on the midrange that adds richness and detail to the string section of Adagio For TRON and allows you to perceive individual instruments without losing a sense of the piece as a whole. As the track builds to its climax, the Yamaha does a fine job of capturing the full scale of the orchestra.
These attributes mean that its performance of Dissolved Girl is the best in the test. That slight warmth helps the vocals stand out, but doesn't tip the balance so far as to lose the overall potency and tonal darkness that makes it so effective. The bass lacks the absolute depth of some models here, but it integrates well into the overall frequency response and has good levels of detail. This integration makes for a satisfying performance with Sinner In The Sea and it does a good job of reproducing the distinctive rhythm of the piece.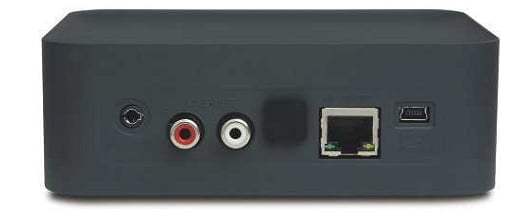 Mr Clean is reproduced with the required dynamics and richness, while the lead trumpet in particular is given the necessary space and three dimensionality to add to the sense of realism. Further testing with hi-res material shows that the WXAD-10 is more than up to the job of reproducing the benefits of these larger files. Song Of The Stars plays well with the gentle midrange emphasis and has enough sense of snap and drive to keep the listener engaged throughout
Recommended
Yamaha WX AD-10 Review
A cost- effective network audio streamer with great sound and decent accessibility
PROS
Engaging performance
Excellent feature set
Price
Add your review
Best Yamaha WX AD-10 prices ?
MORE DEALS

See also: NETWORK MUSIC PLAYERS: Stream genies
CAST A SPELL
The MusicCast app is available for iOS and Android devices and is designed to control a multi-room setup of Yamaha components, and the good news is that this doesn't significantly affect the user experience. Library browsing is fast, stable and intuitive. The downside is that while there are plenty of streaming services available, the browsing experience is somewhat below par and doesn't match the slickness of the best. What Yamaha takes with one hand, it gives with the other. While the WXAD-10 isn't MQA compatible, it can access the hi-res content on a Qobuz Sublime subscription. The AirPlay and Bluetooth implementations are also extremely good and easy to connect.