VPI's most popular vinyl spinner enjoys bespoke Audio-Technica MC cart and Nordost RCA tonearm cable updates. Read our VPI Prime 21+ Review.
One of the most bewildering aspects of reviewing hi-fi components can be staying on top of the impossibly complex model numbers given to products – often with an explanation that only the manufacturer and those in possession of an enigma machine are able to understand. So it comes as a refreshing change to see that with its latest turntable VPI is adopting the Ronseal – it does exactly what it says on the tin – approach. Enter the Prime 21 + . 21 because that's the year it's released. Plus because it features some added extras (more of which in a mo) and Prime, well, because it's VPI's celebrated Prime design that should be familiar to anyone with more than a passing interest in the turntable specialist's output.
DETAILS
PRODUCT VPI Prime 21+
ORIGIN USA
TYPE Belt-drive turntable
WEIGHT 17.5kg 
DIMENSIONS (WxHxD) 535 x 190 x 400mm
7Review earns Amazon affiliate commissions from qualifying purchases. You can support the site directly via Paypal donations ☕. Thank you!
See also TOP 15 turntables
FEATURES
• 33 and 45rpm
• Audio-Technica Shyla MC cartridge
• 10.5in tonearm
DISTRIBUTOR Renaissance Audio
TELEPHONE 01315553922
WEBSITE renaissanceaudio.co.uk vpiindustries.com
This year marking VPI's 40th anniversary, the company – founded by Harry and Sheila Weisfeld in Cliffwood, New Jersey – is marking the fact with the introduction of its HW-40 Anniversary deck, which comes in. With more down-to-earth prices, the Prime 21 and Prime 21+ are probably more attainable for the average HFC reader. Costing and respectively, both come fitted with a gimbal-bearing tonearm in place of the uni-pivot that's found on the original Prime. The + variant throws in an Audio- Technica moving-coil pick-up and custom Nordost RCA tonearm lead.
The original Prime design was the work of Mat Weisfeld, who took over the running of the company when dad Harry retired back in 2013. The goal was to create a vinyl spinner that would partner Mat's fresh thinking with the traditional values for which the company had come to be known. And on initial inspection it's easy to see that the newer variants come from the Prime gene pool. The main chassis is still constructed from MDF, but where the original had a steel plate connected to the underside, the 21 and 21+ instead plump for a 3mm-thick aluminium option bonded to the top for claimed improved strength and control of resonances.
While the original was available in any colour – as long as it was black – the new variants now see a Walnut finish available for the base (black still remains an option), while the isolation feet are the same as those found on the aforementioned £ anniversary deck. These boast integral elastomer pads for added cushioning and are adjustable to make levelling the deck a breeze.
As with the original Prime, there's a single belt to drive the 9kg aluminium platter, which comes with a thick felt mat. A precision-built, screw-on steel/ Delrin record clamp is provided for extra stability during playback. Speed change is as simple as switching the belt between the 33 and 45rpm steps on the motor pulley, while the belt sits in grooves around the platter's edge, removing any chance of it riding up and down the platter as you'll find on lesser rivals. The motor pod (now weighing in at 2.4kg) has additionally been beefed up – in an effort to further dampen any unwanted vibrations – and coated with a fancy shiny aluminium outer shell.
The pod is positioned to the left of the main chassis and with no placement jig provided, it's up to the user to experiment to figure out optimum placement for appropriate belt tension and speed stability.
The base for the 3D-printed tonearm is pre-fitted to make setup less arduous, while the uni-pivot bearing of the original has been replaced with a more conventional- looking gimbal – following feedback from previous Prime owners. Like its predecessor, however, the same on-the-fly VTA adjustment remains and is a breeze to fine tune despite the cueing lever dropping a touch too abruptly into the groove than feels necessary – a little extra cue damping would be more than welcome here.
When it is given a high-quality recording, it really comes into its own
A fine lead-out wire loops over to a connection box on the back of the tonearm base and though it's recommended that this be twisted to fine tune the antiskate force, the perfectly serviceable – and adjustable – thread and lever bias mechanism means that this isn't as essential as it might be on rival offerings. The Prime 21+ also comes with a VPI Weisline interconnect cable made by Nordost and the aforementioned Audio- Technica moving-coil cartridge.
Named after Mat's daughter, the Shyla has been built to VPI's exacting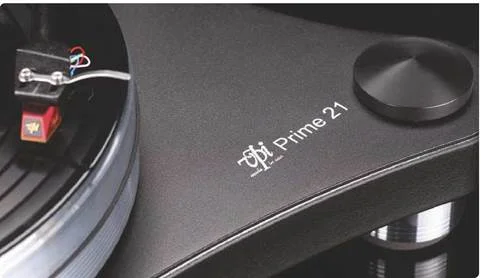 The feet can be adjusted for levelling and isolate the plinth
spec, thanks to some moderations to the ART-9 series from which it heralds. Tweaks in the coils, cantilever suspension and internal damping are claimed to have made significant improvements to the cart's midrange. The Shyla is a line contact-type pick-up mounted on a 0.26mm-diameter boron cantilever.
A metal tonearm alignment jig is provided to ensure optimal setup and puts the paper and plastic efforts found elsewhere to shame. VPI explains that its simple setup procedure means that it should take around 20 minutes from unboxing to lowering the needle into the groove for the first time, but once you factor in the time spent making adjustments to the VTA and bias – not forgetting the time required to find the best position for the motor placement – this is optimistic to say the least. It's certainly not an overly complex procedure and newcomers shouldn't find themselves in too much trouble, while all of that flexibility has to be seen as a positive.
Sound quality
Taking the headseat at a table that incorporates Naim's Supernait integrated, Anatek's MC-1 phono stage and PMC's twenty5.24 floorstander, it takes little more than half a track to realise that the latest incarnation of the Prime is really rather special. The VPI immediately underlines its status as a VIP (or should that be VIT – very important turntable) with a performance that is confident without ever feeling hurried or flustered. Regardless of the vinyl you place on the platter (we try everything we can), it's never heavy-footed in its unaffected sense of ease and solidity. The foundation to this performance is a rock-solid bass that is typically deep, robust and rich. While the Prime 21+ is an undoubted window rattler when it comes to those low frequencies, it is just as adept when more intricacy is required – resolving fine low-end details with seemingly effortless precision.
As if to prove the point, the big bass notes that emanate from Roulette by Night Flight are warm and fulsome, while the twinkling piano that makes up the track's intro possesses an enticing sense of realism. Meanwhile, Samuel Homes' vocals sound every bit as compelling as they should, placed as they are in their own space with a highly realistic acoustic. As the track builds to a peak before the emotional guitar solo, the soundstage becomes increasingly crowded to a point where many lesser turntables lose control. Not so the Prime 21+, which manages to deftly maintain the prevailing atmosphere while simultaneously underlining the limitations of the recording.
On the flipside, however, this track (along with a number of others)
IN SIGHT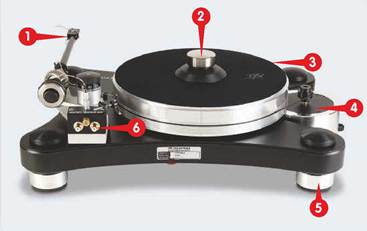 1) Audio-Technica Shyla MC cartridge
2) Screw-on Delrin record clamp
3) Aluminium platter
4) Motor pod
5) Adjustablefeet
6) RCA outputs and earthing post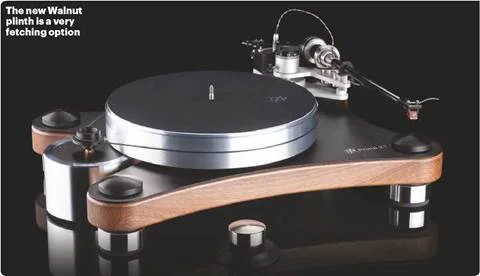 highlights the VPI's habit of sounding a touch overly rich. There's a subtle upper bass bloom that persists regardless of whether the felt mat is exchanged for alternatives or if the clamp is employed or put to one side. To suggest it intrudes upon the musical performance is unfair. It's perhaps better to think of it as a touch of character rather than an imposition.
The Prime 21 +'s rock-solid bass is typically deep, robust and rich
This aside, the Prime 21+'s knack of bringing out the very best from less than stellar recordings is a major plus point – not so much an unerring ability to polish a turd, but more a talent for turning it into gold. Consequently, when it is given a high-quality recording, it really comes into its own. Melody Gardot's My One And Only Thrill is a case in point with
Gardot's vocals sounding every bit as intimate as they do husky. Meanwhile, the double bass that backs her displays a firmness and resonance that conjures up the impression that the instrument is actually in the room being played before you. This feeling is further reinforced by a strong and stable central image and soundstage depth of Mariana Trench proportions that floods out between and behind the floorstanders. You could criticise the performance for not throwing the sound forward of the speakers with any degree of exaggeration, but to do so would be to heartlessly ignore the stupendously panoramic, cavernous atmosphere that it projects between and behind them.
Gerry Raffety's voice comes across as strong and focussed in On A Night Like This, but more impressive still is the backing vocal which bounds around behind the main instruments like an over-excited puppy skirting breathlessly across the soundstage. So precise is the placement of the instruments, you can sit and listen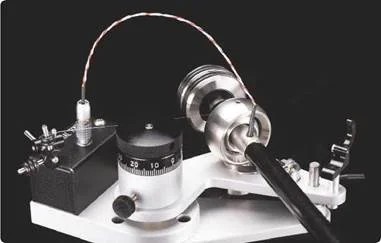 The exposed arm wire loop plugs into a junction box via a LEMO connector
while mentally checking them off a map in your mind. Kick drum slightly left of centre? Tick. Bongos to the right? Yep. Rafferty in the middle? Check. The Prime 21+ appears to effortlessly place all of the elements exactly where they should be while subtly highlighting them as and when required. Meanwhile the pleasing presence of the bassline continues its fluid, easy-going manner to underpin the entire performance.
A final test highlights a possible upgrade route by replacing the bundled Shyla with Clearaudio's MC Essence. The moving-coil pick-up's excellent bass handling sees a very slight tightening of the lower registers while retaining the turntable's signature upper-bass warmth. There's a little more treble sparkle, albeit at the expense of the Audio-Technica's rich midband quality and more general sense of cohesion. Regardless, the switch highlights the potential for those looking for the further sonic revelations that an upgrade can provide further down the line.
Conclusion
If you want to nitpick, you could argue that the setup procedure is not as swift as VPI suggests – although a different way of considering this is that there's enough flexibility to keep even the most enthusiastic tweaker happy – and there are a few quirks along the way. But to focus on such matters would be to miss the real majesty of the Prime 21 + . This is a magnificent-sounding turntable package that gives less than pristine recordings a healthy dose of spit and polish while revealing new-found details from well-produced vinyl. Whether or not splashing the extra cash that turns the Prime 21 into the 21+ is worthwhile is something you'll have to decide for yourself, but for our money, the Shyla cartridge is a perfect accompaniment to an already highly impressive turntable
OUR VERDICT
VPI Prime 21+ Review
Gets the best from poor recordings and makes high-quality ones really soar
Positive
Supreme bass
Fine detail
Stability
Very deep soundstage
Negatives
Slight richness and upper bass bloom
HOW IT COMPARES
Any audiophile with a budget of £ for a vinyl-spinning front-end is spoilt for choice. Already tested in HFC 472, AVID's Volvere SP is another three­footed deck but one that also benefits from the isolation of a sprung sub-chassis. With arm and cartridge options too, it's another flexible and very fine-sounding TT. By contrast, if you are looking for a deck that's arguably more 'plug 'n' play' then they don't come slicker than Mark Levinson's new No5105 (HFC 473). This solution comes complete with arm and Ortofon-sourced MC for the same and its looks, build quality and ease of use are all matched by a sublime sound. The No5105 delivers everything you'd want of a deck at this price, while boasting the pride of ownership more typically associated with luxury pens and watches.