Top new best site
We review this fortnight's best new and relaunched websites and rate them for content, design and features
Site of the Fortnight
TOYS
1 Lego Shop
shop.lego.com
Lego has rebuilt its online store brick by brick to make it easier to browse and buy its ever-expanding range of products, and the result is as friendly, fun and colourful as you'd expect. You can now type an asterisk (*) in the search box to see everything Lego has to offer; refine the results using attributes including theme, interest, price and piece count; and look up exclusive and hard-to-find sets. The product pages provide plenty of info, images and reviews, and we like that you can click a link to find and download building instructions. Throw in PayPal payments for faster purchases and you have a perfectly constructed site.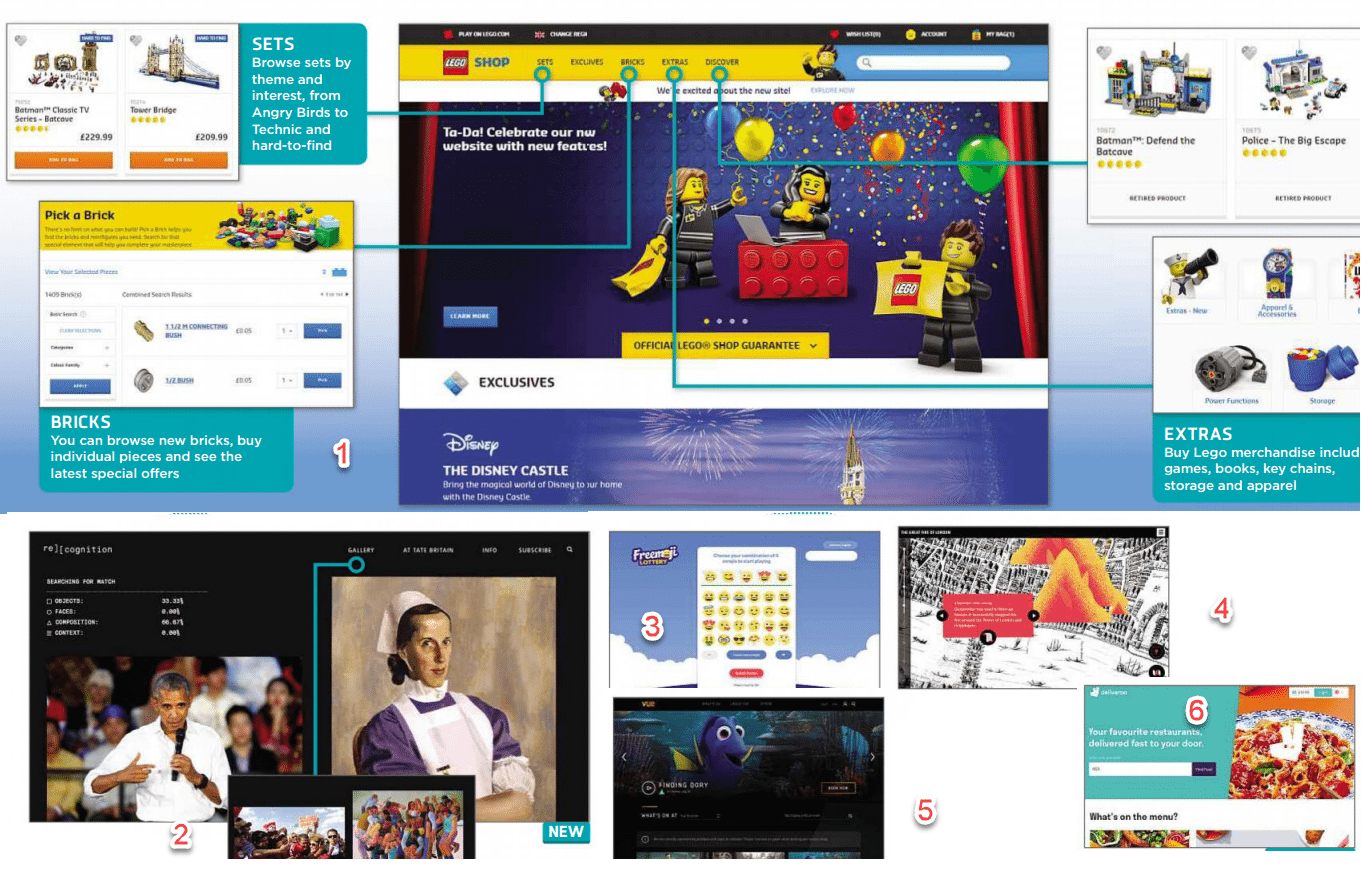 Our rating 5/5
BRICKS
You can browse new bricks, buy individual pieces and see the latest special offers
SETS
Browse sets by theme and interest, from Angry Birds to Technic and hard-to-find
DISCOVER
It's not all about the new – click Discover to see classic sets that are no longer on sale
EXTRAS
Buy Lego merchandise including games, books, key chains, storage and apparel
ART
2 Recognition
recognition.tate.org.uk
At the beginning of the year, a newspaper photo of a drunken New Year's Eve in Manchester attracted comparisons to a work of art (bit.ly/manc406). This new website has a similar concept, using artificial intelligence to pair contemporary news images with paintings from the Tate's extensive archive. Linked live to a current Tate exhibit, it looks for objects, faces, composition and context in the photos to show one suggested match after another. Visit the gallery to see the best matches it's found, providing information about the images and showing the data the Al has used to draw its conclusions. It's an ingenious and fascinating project.
Rating: 5/5
LOTTERY
3 Freemoji Lottery
freemojilottery.com
Since the National Lottery made it harder to hit the jackpot (and began charging more for a ticket), we've been looking elsewhere for a shortcut to easy money. Freemoji has been created by the team behind Free Postcode Lottery, and although the prize pot can be as small as, it costs nothing to enter and requires only that you select a combination of five emoji and check the daily draws to see if you've won. It's a form of gambling we can approve of, given the winnings are paid for by advertisers. The site promises the pot of cash will grow as more people sign up.
Rating 5/5
HISTORY
3 Great Fire of London
www.fireoflondon.org.uk
Launched to coincide with the 350th anniversary of the Great Fire of London, this site takes you on a fact-packed journey through each stage of the blaze, starting with the capital's fire-prone past and ending with the lessons learned. Interactive maps let you flip from the past to the present day to see how the fire spread while reading interesting articles on topics such as the methods of tackling the inferno and the locations of 'fire posts'. To engage youngsters, there's a beautifully illustrated and narrated game, which brings the fire to life, as well as maps that can be used in Minecraft.
Our rating 5/5
FOOD
4 Deliveroo
deliveroo.co.uk
When you're hungry, the last thing you want is to waste eating time arranging a takeaway, so Deliveroo has streamlined its ordering process so you can enter your postcode, choose a local restaurant and select the dishes you want in a few quick clicks. All the ordering takes place on a single page that lets you easily build up your basket, remove items and add a driver tip. Checkout is also a breeze, with Deliveroo promising to deliver within around half an hour. We particularly like that you can refine your search by criteria such as healthy eateries and those that deliver beer.
Our rating 5/5
CINEMA
5 Vue Cinemas
www.myvue.com
Many movie goers love getting straight to the action yet Vue Cinemas appears to prefer the build-up. Rather than providing an at-a-glance view of the day's film times for a chosen cinema, its revamped site forces you to click individual movies, making it more difficult to see what's on during a specific period.
The designers have also left you in the dark by stripping away user ratings and reviews, although film pages include trailers, interviews, clips and reviews. On the plus side, buying tickets is now easier using the handy Quick Book facility and the site is simpler to use on mobile.
Our rating 3/5