In 1957, Switzerland-based Thorens introduced the TD 124 turntable, a record player destined to become a classic. (TD is an initialism for tourne disque, French for turntable.) A Thorens brochure from that same year itemized the TD 124's "11 main elements that result in 41 advantages." It noted the turntable's "strongly ribbed, solid chassis, crafted in cast aluminum," and its two-part platter including a "flywheel [subplatter], crafted in stabilized cast iron, [which] possesses excellent characteristics for the magnetic shielding of the drive system, as well as great inertia." Continuing, it lauded the TD 124's "main bearing, fitted with a 14mm spindle made of hardened,
mirror-polished steel," its braking system, leveling dials, surface-mounted spirit level, and four "mushroom-shaped, rubber dampers [that] guarantee smooth suspension in a built-in frame as well as decoupling from the base."[1]
Between 1957 and 1967, Thorens manufactured more than 90,000[2] TD 124s. In 1961, the TD 124 sold for $, just under $ in today's dollars.
Even today, alongside the Garrard 301, the Thorens TD 124 remains highly desirable—one of the most sought-after vintage turntables in hi-fi.[3] For its fans, it5s the gold standard of vinyl-spinning machines, overbuilt to meet the demands of radio stations, recording studios, and audiophiles.
That last group includes this writer, Stereophile Editor Jim Austin, and it included the late Stereophile deputy editor Art Dudley, who owned both Thorens TD 124 and Garrard 301 turntables when he passed in April 2020. (He previously owned two TD 124s. He gave one of them to me.)
Description TD 124 DD turntable: Direct drive AC motor. Speeds: 331/3,45rpm. Wow and flutter: DIN/WRMS M0.04%. Platter material: Aluminum. Platter weight: 7.7lb (3.5kg). Outputs: Balanced stereo (XLR) pair, unbalanced stereo (RCA) pair, ground connection. TP 124 tonearm: 9″ tonearm with adjustable VTA and azimuth, antiskating with a ruby-mounted counterweight. Effective length: 9.17″ (232.8mm). Offset angle:
7Review earns Amazon affiliate commissions from qualifying purchases. You can support the site directly via Paypal donations ☕. Thank you!
See also TOP 15 turntables
23.66°. Overhang: 17.8mm. Effective mass: 15gm. Bayonet style headshell included. SPU124 MC cartridge (not included): Output voltage at 1000Hz, 5cm/s: 0.5mV. Channel balance at 1kHz, <1.5dB. Channel separation at 1kHz, >23dB; at 15kHz, >15dB. Frequency response: 20-20,000Hz ±2dB. Tracking ability at 315Hz at recommended tracking force: >70pm. Compliance, dynamic, lateral: 8pm/mN. Stylus type: nude ellipti
cal. Stylus tip radius: r/R 8/18|Jm. Tracking force range: 2.5-3.5gm. Tracking force, recommended: 3.0gm. Tracking angle: 20°. Internal impedance: 2 ohms. Recommended load impedance: 10-50 ohms. Weight: 30gm. Dimensions 16.7″ (425mm) Wx13.8″ (350mm) Hx 7.3″ (185mm) D. Weight (not including power supply): 37.51b (17kg).
Price $ including the TP 124 tonearm. SPU 124 cartridge sold separately for $ . Warranty: Three years.
Serial number of unit reviewed 039.
Thorens GmbH,
Lustheide 85,51427 Bergisch Gladbach, Germany.
Tel: +49 (0) 2204 8677720. Web: thorens.com.
US distributor: Focal Naim America, 313 rue Marion J5Z4W8 Repentigny, Quebec, Canada. Tel: (800) 663-9352.
Web: focalnaimamerica.com.
Today, Thorens is owned by former Denon manager and ELAC CEO Gunter Kurten.[4] The company's turntables are designed in Bergisch Gladbach, Germany, by the team of Kurten; Helmut Thiele, Thorens's head of R&D, tonearm development, and bearing design; Walter Fuchs, head of R&D, electronics, and firmware; and John Jian, R&D boss of Thorens's manufacturing partner in Taiwan. The TD 124 DD is Thorens's latest 'table, available in a limited run of 500 units.

Listening to jazz vinyl on the Prestige, Blue Note, and Savoy labels was like a night out listening to live jazz.
In contrast to SME's recent reissue of the Garrard 3 01,[5] which was aimed squarely at authenticity, the new Thorens pushes in two directions: The company aimed to maintain as much of the original as possible while updating its function in key areas. The 37.51b TD 124 DD includes a 3.5kg, 5/g" tall, diecast aluminum platter, replacing the original's iron main platter. That5s probably a good idea, since the original platter's ferromagnetism attracted the magnets in cartridges. The new Thorens also adds an external power supply.
Here's the biggest change. The TD 124 DD uses "a 12-pole … direct drive motor"—the quote is from Thorens press materials. That direct-drive motor replaces the original's most distinctive feature: a drive mechanism that utilized both a belt and an idler wheel.
Decades ago, direct-drive turntables went out of fashion, but lately manufacturers have started using them again, having reportedly solved the "cogging" problems from that earlier generation, which led to the eventual widespread embrace of belt drive.
"The challenge was to give the new direct drive the necessary smoothness," Kurten wrote me in an email. "Often, direct drive motors tend to a slip-stick effect." That's cogging. "The transfer point from the magnet to the pole must be as smooth as possible. This was achieved with newly developed firmware of the direct drive motor and a newly designed thrust bearing. The new, 'Super Silent Direct Drive' motor was developed by Thorens and is manufactured in Taiwan. It5s screwed directly to the die-cast aluminum chassis. In contrast to a belt drive, this direct drive is directly coupled with the platter and … has much less rumbling."
The new Thorens dispenses with the original's aluminum outer platter, which had a lever that, when engaged, lifted the outer platter off the spinning main platter, stopping its rotation so that the record could be changed without turning off the motor. This mechanism had to be adjusted just right or the lifted outer platter would mb against the inner platter. In its place is a more sophisticated (and hopefully less tweaky) electronic braking system.
"The purist design and basic construction are based on the original," Thorens's press materials state. "The … aluminum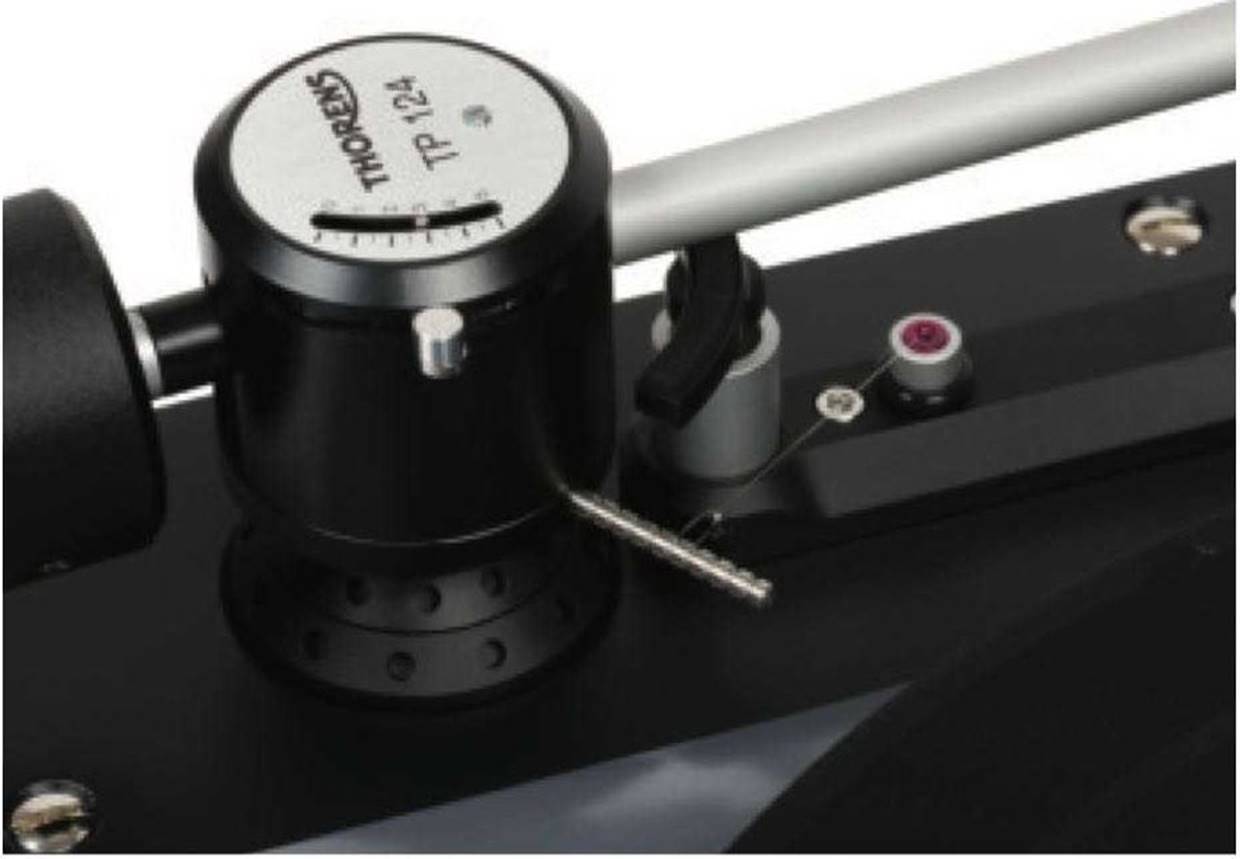 chassis now rests on vibration-damping elastomer elements whose viscosity is identical to the original's rubber 'mushroom' isolators." Also included in the package is a handsome plinth made from black-painted wood and a new tonearm, the TP 124.
Things change fast in hi-fi. When I started this review, the TD 124 DD was to be offered with a special Ortofon-made phono cartridge, the Thorens-Ortofon SPU 124, and a flight case for a package price of $. As I was preparing the review, Thorens gained a new US distributor, Focal Naim North America; as this review went to press, Focal Naim announced that the TD 124 DD will be sold without the flight case or the cartridge (but with the tonearm) for $. The cartridge will be sold separately, and the flight case will cost $ reviewed the new 124 DD with the SPU 124, as it was too late to make a change.
Anthony Chiarella, who is serving as publicist for Thorens, delivered a new gun-metal-gray TD 124 DD, which, apart from the color, looks almost identical to my original beige TD 124. The new model arrived with chassis, plinth, and tonearm assembled at the factory; all I had to do was install the platter and tonearm and set up the cartridge—which is easy with a collet-mounted "pickup head" like the included SPU.
The TD 124 DD's four aluminum leveling dials and 45rpm adaptor replicate the original, as do its illuminated strobe gauge and spirit level. The chunky aluminum switch that operated both power on/off and multiple speeds on the original machine now offers only 33 and 45rpm. A second aluminum switch operates the nearly silent electronic cueing device, much like the mechanical switches on the armboards of early Thorens TP 14 and BTD-12S tonearms, but now with electrons.
Elsewhere are differences: The thinner, smoother rubber mat lacks the original's raised ridges. A fifth aluminum dial finetunes platter speed. An MDF armboard replaces the wooden one found on old TD 124s.
The TD 124 DD's 4mm-thick aluminum chassis has marginally sharper edges than the original and a rubber-damped backside, which fits into a multilayer, MDF replica of the classic ST 104 beechwood plinth, whose base is fitted with a plywood ("multiplex") plate and a layer of vibration-absorbing Basotect foam. The TD 124 DD's chassis felt comfortably supported on its plinth, with some compliance due to the rubber-mushroom suspension.
The new TP 124 tonearm consists of an internally damped aluminum armtube with a heavy brass counterweight to bal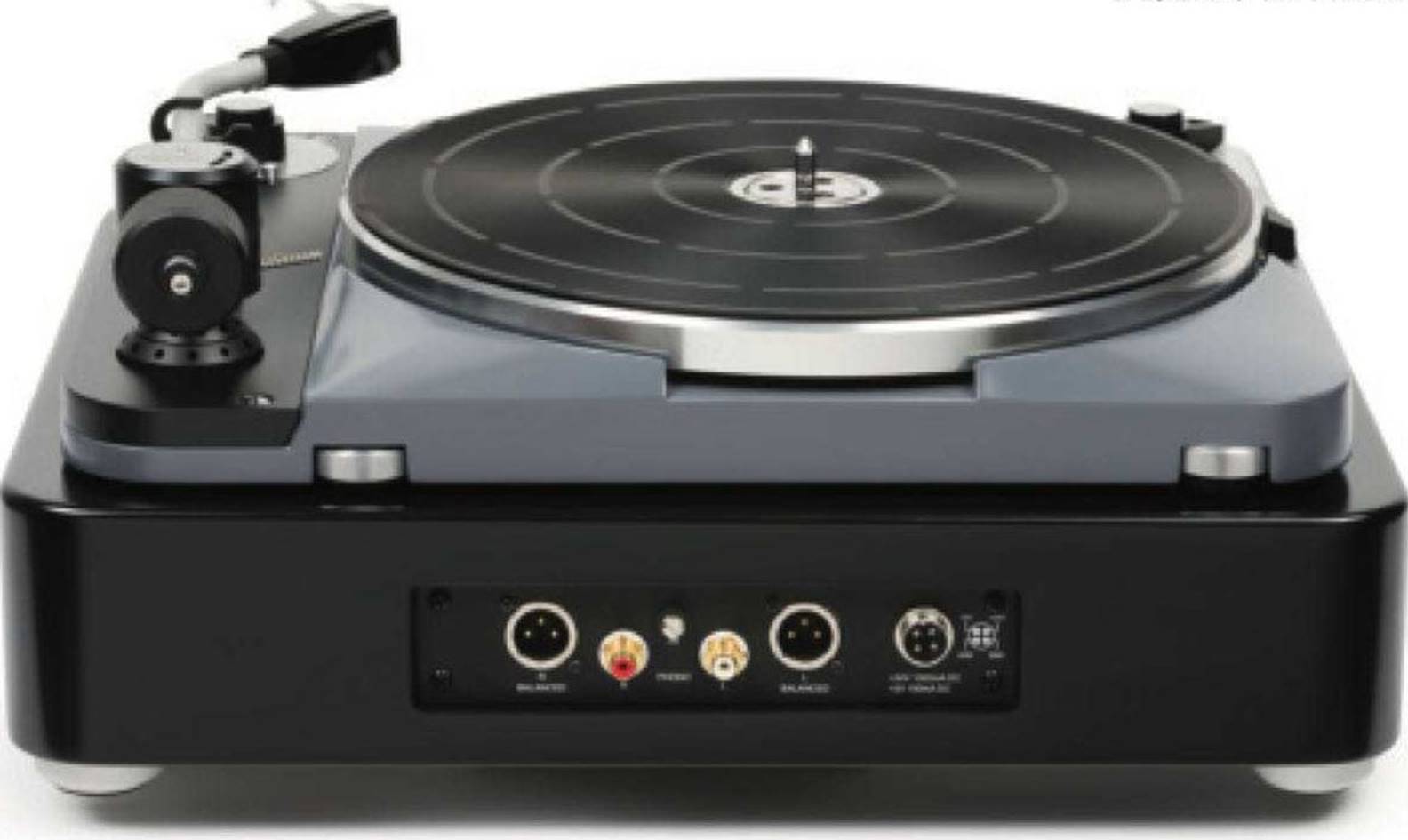 Playing familiar records with the Thorens TD 124 DD/SPU 124 combo was like gaining admission to a new world of color, texture, and soundstaging.
power amplifier (20Wpc into 8 ohms) using a 2m pair of Shindo XLR to RCA interconnects. A PS Audio BHK Signature preamplifier and an LKV Research Veros PWR+ class-D power amplifier (200Wpc into 8 ohms, 400Wpc into 4 ohms) were alternately ance the SPU 124 cartridge's 30gm weight. The effective tonearm length is 9.17″. A second, lighter counterweight is included (along with a headshell) for use with more typical cartridges, which have less heft than the SPU 124. The TP 124 tonearm is a "cardanic suspended tonearm with Lofgren geometry." Chiarella explained, in an email: '"Cardanic" is a bearing arrangement whereby there are two ball bearing races in the vertical plane—above and below the arm tube—and another two ball bearing races to the left and right of the arm tube." Tonearm support rod, cueing lift, and antiskate filament sleeve are made of aluminum, as is the tonearm's cylindrical bearing housing.
The SPU 124 cart—which, as a reminder, is not included at the $ retail price—is based on the Ortofon Synergy G. An output of 0.5mV is specified, and an internal impedance of 2 ohms. The SPU 124 cartridge uses "a highly polished nude elliptical stylus," Kurten wrote. "Mass has been reduced significantly, resulting in reduced VTF and higher tracking ability." In the US, the SPU 124 can be bought only with the TD 124 DD, although—again—it is sold separately.
Sunk into the plinth's back panel are two pairs each of nickel-plated, single-ended (RCA) and balanced (XLR) output jacks, plus ground screw and power cord receptacle. Four adjustable aluminum/rubber composite feet support the plinth.
Finally, the powder-black TPN 124 power supply, measuring 4″ W x 3″ H x 9″ D, includes a toroidal transformer that causes "very little scatter," Kurten wrote. Translation: It doesn't leak EMI/RFI all over the place.
A pair of Im singled-ended (RCA) Shindo Laboratory interconnects connected the TD 124 DD to my Tavish Audio Design Adagio and Luxman EQ-500 phono preamplifiers. A pair of Triode Wire Labs Spirit II interconnects joined each of these phono preamps in turn to the Shindo Allegro preamplifier, coupled to my Shindo Laboratory Haut Brion employed using the same interconnects. A 2m run of AudioQuest Robin Hood speaker cables mated amplifiers to my DeVore Fidelity 0/96 loudspeakers.
Setup was easy. My chores were limited to fitting the 7.71b platter to the 'table's bearing, leveling the chassis, attaching the antiskating filament and counterweight, installing the cartridge, and mounting and adjusting the tonearm counterweight. Setting overhang isn't possible with an SPU, but azimuth, VTA, and VTF were easy enough to dial in using instructions from the information-packed manual.
Once set up, test taps on surfaces produced no sound through the speakers. With the platter spinning, I placed a stethoscope on the chassis, armboard, and plinth and heard only the faintest whirring. This is a quiet turntable.
I've heard about SPU cartridges for years, and I've read all of Art Dudley's SPU reviews. But until the TD 124 DD and SPU 124 cartridge arrived, I'd never experienced one in my system.
I was stunned by the sound of this cartridge, in combination, of course, with the new Thorens tonearm and 'table. Connected to my Tavish Audio Design phono preamp, with Shindo amplification and the DeVore Fidelity 0/96 speakers, the TD 124 DD/SPU 124 combo presented a deep well of touch, tone, texture, and impact. Playing orchestral music, such as 1965's Concerto Grosso from His Master's Voice ALP 2090, performed by Yehudi Menuhin and the Bath Festival Orchestra, the DD/SPU combo manifested very physical textures in clean, muscular instrumental lines with realistic soundstage depth.
Listening to jazz vinyl on the Prestige, Blue Note, and Savoy labels was like a night out listening to live jazz: hard- plucked acoustic bass, pungent horns, and those visceral drums and cymbals, which aroused my inner 15-year-old drummer, who first rattled rudiments in marching corps. Favorite records became new events, communicated in lush tones and big yet finely wrought images. The TD 124 DD/ SPU 124 pairing made music that unfurled from my 0/96 speakers in big, bold strokes of color and hypertexture.
The TD 124 DD also excelled at rhythmic punch and dynamics, producing music with vigor and drive. The 'table's low noise floor made for stark dynamic contrasts as music burst from the subtlest ppp to the boldest fff. Indeed, occasionally the Thorens/SPU combo's dynamic range was a little bit too explosive.
That well-damped chassis and plinth helped create black backgrounds and reproduced natural-sounding sustain and decay, and when the information was on the recording, a deep soundstage. Peggy Lee's husky voice was way out front of her quartet on the recently reissued Black Coffee (Decca B0032834-01), as Cootie Chesterfield's trumpet wailed at the back of a deep soundstage. That natural reverb was on display on recordings ranging from John Coltrane's tenor saxophone to Paul McCartney's baritenor voice.
Speaking of: Playing my original 1967 stereo copy of The Beatles' Sgt. Pepper's Lonely Hearts Club Band (Parlophone PCS 7027), the new Thorens energized my listening room. The sound had bloom and weight. John Lennon's vocal on "Lucy in the Sky with Diamonds" was spookily real through the Thorens. It produced images that were as large as if not larger than those produced by any turntable I've had in the house. When Lennon's double-tracked voice elongates the second word of the phrase, "kaleidoscope eyes," his vocal was so eerily clean, spacious, and present that it sounded sinister. The TD 124 DD/SPU 124 was a texture-and-detail champ.
Such hypertextural recasting of familiar records was a common event. Drummer Steve Gadd's punchy tom intro to Rickie Lee Jones's "We Belong Together" from 1981's Pirates (Warner Bros. Records BSK 3432) charged through my listening room like canons blasting. Ed Thigpen's pitchbending drum work on "Cielito Lindo" (Out of the Storm, Verve V6-8663) had gripping texture and weight. Michael Henderson's electric bass on Miles Davis's Agharta (Columbia PG 33967) growled in massive, heaving, dry notes.
Playing familiar records with the Thorens TD 124 DD/ SPU 124 combo was like gaining admission to a new world of color, texture, and soundstaging. It demanded my attention, record after record.
When I replaced the Tavish Audio Design phono preamp with the Luxman EQ-500,1 heard more treble. Cymbals had more shimmer. Brass instruments had more bite and luster. Acoustic bass grew tighter and gained definition. The Thorens with the Luxman produced more nuance, refinement, and precision. But it lost some liquidity and weight. The DD's big images and soundstage, its saturated tones, and its fleshy textures remained, the last trait even enhanced.
TD 124 DD, say hello to TD 124
My TD 124 has a strong motor, an upgraded motor suspension, fresh bearing oil, and a new belt; all that work was performed by NYC turntable-setup-guru Michael Trei. My original TD 124 has a 9″ Jelco TS-350S tonearm.
I placed both TD 124s, the old and the new, on identical IKEA Aptitlig bamboo boards on top of three stacks of small mahogany squares on similar Salamander racks. I moved the SPU 124 cartridge back and forth between the two Thorens 'tables—both now attached to the Luxman pre—played records, and listened. The sonic differences between the two
Analog sources Kuzma Stabi R turntable and 4Point 11″ tonearm; Koetsu Rosewood MC cartridge; Thorens TD 124 and Jelco TS-350S 9″ tonearm.
Preamplifiers PS Audio BHK Signature, Shindo Laboratory Allegro.
Power amplifiers LKV Research Veros PWR+, Shindo Laboratory Haut Brion.
Loudspeakers DeVore Fidelity 0/96.
Cables Interconnect (RCA): Triode Wire Labs Spirit II, Shindo Laboratory. Speaker: AudioQuest Robin Hood. AC: manufacturers' own.
Accessories IsoTek EV03 Aquarius line conditioner, 2 Salamander five-tier racks; IKEA Aptitlig bamboo chopping boards; mahogany blocks (2″ x 2″ x 0.5″) under boards; 3″-thick studio-treatment damping foam on ceilings and Walls.—Ken Micallef
'tables, with their respective tonearms, came clear. The two 'tables shared similar tone and texture, with similar soundstage dimensions, though the new 'table's stage was bigger The original Thorens sounded more relaxed, sweeter, with perhaps a more rose-colored view of the music. The newer 'table played with more force, drama, and drive. My inner Ken resonated with the vintage machine, which (in addition to the attributes listed above) had a better innate sense of what my old drummer's bones think of as flow, but I was taken by the new Thorens's gusto, vibrancy, and power.
I hoisted my 661b Kuzma Stabi R turntable, with its 4Point 11″ tonearm and Koetsu Rosewood cart, atop the Salamander rack. Contrasting the Kuzma made it clear that despite the substantial design differences, the sonic similarities between the two Thorens turntables were greater than the differences. The Kuzma clayed with more authority than either Thorens model, with setter-controlled dynamics. Where the Thorens TD 124 DD (with its native cartridge) was dynamically explosive, the Kuzma/Koetsu was better behaved, more orderly, and perhaps more realistic. The Kuzma was more neutral, with better top-to-bottom coherence—these advantages offset by a slightly more recessed and diffuse soundstage. The Stabi R was meticulous, analytical, and exacting; the Thorens delivered giant helpings of color, texture, and dynamics.
Gunter Kurten and the Thorens team have made good decisions in bringing to market a turntable that pays homage to the original TD 124 while updating it at the same time. The designers' most heretical move—replacing the original 124's peculiar drive system, which resulted in a turntable with fluidity and, well, drive—with direct drive has achieved an even more propulsive sound, with a somewhat larger soundstage and better dynamics. In the process they've made some clear, obvious improvements—a nonmagnetic main platter; a less tweaky cueing and braking system; a nifty antiskate scheme for the tonearm—and thrown in a high-performing, vintage-looking tonearm. Though not included, the SPU cartridge is highly recommended as an appropriate new/old companion. A successful balancing act.
EISA HIGH-END TURNTABLE 2021-2022
It may have ceased production more than half a century ago, but the Thorens TD 124 turntable retains legendary status, and is still much sought after. While the latest version may look much like the original, the 'DD' on the model number shows this is now a direct-drive design, complete with a new and very adjustable tonearm to complete the retro looks, especially when fitted with the SPU 124 pickup. There's even a pop-up adapter for 'jukebox' singles, but whatever you play on the TD 124 DD it delights with its speed, slam and sheer weight. It may look vintage, but the sound is compellingly up to date.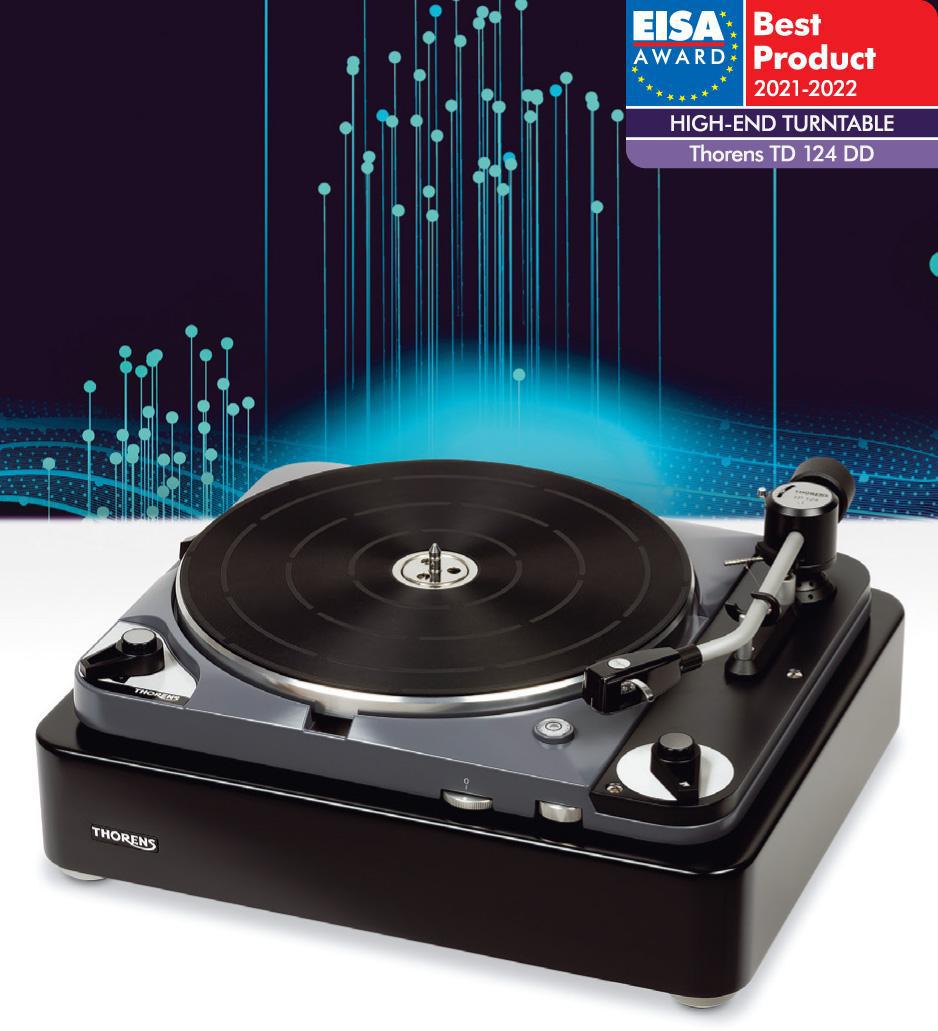 Best Thorens TD 124 DD prices in the US ?

$

11,999.00
1 new from $11,999.00
in stock

Best Thorens TD 124 DD prices ?
MORE DEALS

See also TOP 15 turntables
Specifications
| | |
| --- | --- |
| Product Name | Thorens TD 124 DD High-Precision Direct-Drive Turntable |
| Vitesse De Lecture | 45 tr/min, 33,3 tr/min |
| Sorties audio | Stu00e9ru00e9o L/R RCA, XLR |
| Longueur | 185 mm |
| De Large | 425mm |
| Garantie du fabricant | 2 annu00e9es |
---
[1] Seejoachim-bung.de/en/books.
[2] thorens.com/images/downloads/plattenspieler/124/TD124-History-Presence- English.pdf
[3] See stereophile.com/content/garrard-3 01 -thorens-td- 124-turntables.
[4] wikipedia.org/wiki/Thorens
[5] See Art Dudley's review in Listening #204 at stereophile.com/content/listening- 204-new-garrard-301.