Technics' lineup might be riffing on the fame of its direct-drive descendants, but when the results are this good who cares? Read our Technics SL-1500C Review.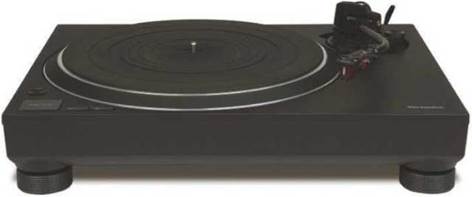 Details
PRODUCT Technics SL-1500C
ORIGIN Japan
TYPE Direct-drive turntable
WEIGHT 9.9kg
DIMENSIONS (WxHxD) 453 x169 x 372mm
FEATURES
• 33, 45 &78rpm
Audio Affair will give you £20 off all orders over £250 when you use the code 7RW20.
• Composite construction plinth
• S-shaped tonearm with detachable headshell
• Ortofon 2M Red MM cartridge
DISTRIBUTOR Technics UK
TELEPHONE 03332228777
WEBSITE technics .com/uk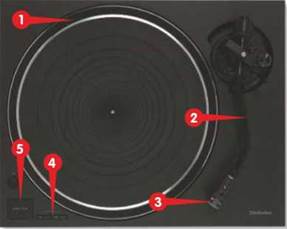 1 Aluminium platter
2 S-shaped tonearm
3 Ortofon 2M Red cartridge
4 33, 45 & 78 speed selector 5 Start/stop button
I've yet to meet an analogue addict who would refuse a degree of unnecessary dental work to own a Technics SL-1000R direct- drive turntable in lieu of the £ they'd otherwise have to hand over. The good news is that the closest approach to that glittering flagship for less than a grand comes from the same gene pool and it's called the SL-1500C. A fanciful notion? Not at all. The fundamentals are essentially the same. It uses a coreless direct- drive motor with sophisticated speed management circuitry housed within a beefy, well-damped chassis and. just like the SL-1000R, has an S-shaped tonearm with detachable headshell.
With its built-in MM phono stage, not much time elapses between unpacking the SL-1500C from its carton and the stylus of the pre-fitted
Ortofon 2M Red landing gently in the groove of an LE especially as there's no belt to thread up. The high-torque coreless motor is the result of intensive R&D and a major advance on earlier generation direct-drive types from the company. Cogging, once the bugbear of direct-drive motors, is said to have been eliminated and the control techniques for rock-solid speed stability are borrowed from parent company Panasonic's blu-ray players.
The platter is fairly lightweight being aluminium, but is damped on its underside to kill resonances while the apparent simplicity of the plinth disguises a blend of aluminium. ABS and glass fibre that work together to optimise rigidity and control vibration. Even before settling back to listen, the instantaneous acceleration of the platter when you press the large square Start/Stop button looks like magic after the hand spins needed to get AnalogueWorks' offering going.
Sound quality
The built-in phono stage is terrific and really suits the potent delivery. There's something deliciously unstoppable and dramatic about the take-no- prisoners sonic personality It really blows away the haze and with up-tempo material sounds joyously lively, enthusiastic and 'on it'. I have to keep checking Ortofon's 2M Red is in the headshell. as deployed by the SL-1500C it sounds like an altogether more expensive and dynamic cartridge.
Of all the decks here, this one grabs your attention most vigorously, using the torque and stability of its direct-drive motor to lock down timing and rhythms with startling start-stop precision. This is backed up with an uncanny sense of presence and projection, wonderfully firm, deep and expressive bass and an over­arching impression of impetus and authority There's real heft in the presentation combined with speed and precision that injects life into music and gives EBTG's Missing an appealingly muscular makeover.
The sheer focus and physicality it lends Susan's House is something of a marvel while Peterson's fiercely fast and powerful ivory hammering on Nap town Blues is classic 'hairs on the back of the neck' stuff. This is palpable, vivid, vibrant music making that really captures the essence of a performance, if not its innermost subtleties and nuances, which is where offerings like AnalogueWorks' TT Zero and especially the Rega Planar 6 hold the upper hand
Technics SL-1500C Review
A whole lotta Technics direct-drive goodness for a very reasonable price
PROS
Clear, powerful, engaging sound quality; design and ease of use
CONS
Can sometimes forget to take its foot off the gas
Add your review
|
Read reviews and comments
---
TODAY'S BEST DEALS



£

899.00
1 new from £899.00
in stock


$

1,630.00
1 new from $1,630.00
in stock


£

1,199.00
1 new from £1,199.00
in stock

Last Amazon price update was: October 25, 2021 12:40 pm
×
Product prices and availability are accurate as of the date/time indicated and are subject to change. Any price and availability information displayed on Amazon.com (Amazon.in, Amazon.co.uk, Amazon.de, etc) at the time of purchase will apply to the purchase of this product.
MORE