Keep It Simple
A simple belt drive turntable from Teac, reviewed by Noel Keywood. Read our Teac tn-3b review.
Keep It Simple Stupid KISS – and that's what Teac have done with their new TN-3B turntable I'm reviewing here. It's noth­ing other than simple in outline and operation. Price circa £ so it won't break the bank – and you get digital too.
Where budget Direct Drives are now available, Teac stay with belt-drive here, with two speeds: 33rpm and 45rpm. Having an electronically controlled d.c. motor, speed is switch-selectable – no need to move a belt on a stepped pulley, instead a neat little rotary switch at right has an Off position, 33 and 45 positions.
The arm is entirely manual in operation, aided by a damped cue platform; there is no auto-stop or
auto-lift, strictly DIY. In keeping with simplicity it has a conventional removable headshell with bayonet connector, balanced at the other end of the arm tube by a calibrated counterweight. This makes set up easy.
7Review earns Amazon affiliate commissions from qualifying purchases. You can support the site directly via Paypal donations ☕. Thank you!
See also TOP 15 turntables
Fitted as standard is a light (6.lgm) Audio Technica VM95E budget moving magnet (MM) cartridge that can be upgraded by changing the removable stylus assembly – and the arm is good enough to do

The removable headshell carries an Audio Technica VM95E cartridge. The green stylus carrier can be removed
to fit improved stylus profiles.
this. The VM95E comes with green stylus carrier signifying elliptical stylus profile set on a rondel, to ride fluff. Above this rugged budget fluff-rider are upgrades – to nude elliptical for better high frequency tracking (more easily upset by fluff), Shibata for better high frequency end-of-side resolution and MicroLinear for top high frequency resolution, best used with LPs in good condition – so there's plenty of leeway to upgrade here; our review in the January 20l9 issue covers them in detail. As the arm can accept cartridges up to 12gms in weight other models can be fitted.
Sliding this deck into a system won't be difficult as it's fairly compact, measuring 420mm wide, just ll7mm high with lid closed and 356mm deep. As always though, the hinged lid needs top clearance to open fully, 40cm here, and a shelf at least 40cm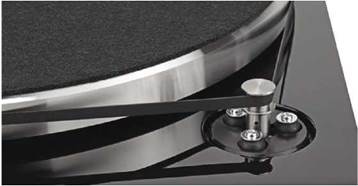 A small d.c. servo controlled motor drives the platter rim by belt, putting the drive mechanism on display.
lustrous and the arm was easy to use, its cue platform dropping the arm smoothly but lifting it fast. I hand cued without difficulty. Platter start was almost instantaneous.
(16in) deep is needed to clear lid rear overhang when open. Weighing 5kg (111b) the TN-3B is quite light so it needs to be put on a firm surface, that could include a weighty marble slab. The MDF plinth feels rigid and sits on four isolating feet, but they are not height adjustable, which is a pity. It means the turntable needs a level surface. It is also microphonic: close the lid when playing and there's noise from the loudspeakers.
Build quality and finish were superb. The clear acrylic lid moved smoothly on its hinges – easy to use whilst an LP was playing. The plinth looks

At rear are analogue phono socket outputs and earth terminal. A slide switch selects direct output or the internal phono stage. A USB socket for digital connection to a computer offers digital recording ability.
Power comes from a tiny external wall-wart l2V power supply fitted with 5ft (l52cm) long lead. It accepts l00V-240V input and delivers 500mA out to the motor and in-built phono stage through a thin, light lead, 0.5W consumed at standby and less than 2W when playing. Won't break the bank.
A phono stage is included, together with small by-pass slide switch so an external stage can be used if preferred. Additionally, the stage has a USB digital output for computer connection, so digital recordings can be made. Teac talk about the analogue amplifier chip in this stage, stating it is a NJM8080 (never heard of this one!) but are strangely silent in their literature about the crucial analogue-to-digital convertor (ADC) so it is going to be 'budget' and is – unsurprisingly – CD quality, quoted as l6bit with 48kHz maximum sample rate.
Feet on ground with ADCs in budget turntables – they offer basic functionality rather than hi-fi sound quality. Under test this one had limited dynamic range, much like rivals, but it got the basics right. If you want good digital from LP indistinguishable from the analogue sound, then an external phono stage with better 24bit convertor is needed.
SOUND QUALITY
I connected the TN-3B, set to Line output, to our Creek Evolution l00A amplifier, driving Martin Logan ESL- X hybrid electrostatic loudspeakers through Chord Company Signature Reference cables.
Spinning our evenly balanced but cleanly recorded all-analogue Two Countries, One Heart LP Fanfare for the Common Man was crisp and clean, rather than warm or fulsome. There's was an obvious grip on pace, the sudden orchestral episodes sounding snappy time wise. Kettle drum was firm and fast, but not weighty. Running through this track and others on this benchmark LP I found the TN-3B light in presentation, if precise and detailed. So I turned to our fuller bodied LPs and they gave a similar result. Spinning Walk Of Life, from Dire Straits on a Mobile Fidelity 45rpm all-analogue re-master, Mark Knopfler's vocals were well resolved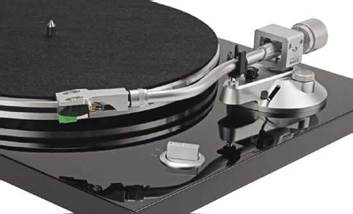 but the balance was on the bright side from an LP I know as fairly fulsome and weighty. My attention wasn't drawn to the bass line, being grabbed by what was going on further up the frequency scale.
Mark Knopfler again, and The Fish and the Bird, from Kill To Get Crimson. This also is a smooth, full bodied LP but the Teac focussed more on insight and pace than low frequency strength.
With an original Rumours LP from Fleetwood Mac, Second Hand
A single rotary control for Off, 33rpm or 45rpm selection.
News was clean and well resolved but I wished for stronger low end resolution and a greater feeling of depth in the sound.
Switching the phono stage to Bypass at rear, I connected up our Icon Audio PS3 MkII valve phono stage and the sound changed completely. Now there was solid bass, plenty of stage depth and the cartridge changed to sounding a tad soft in balance (which it is), allowing for stylus upgrade to get more high end definition and presence. Best to bear in mind though that the AT-VM95E cartridge fitted does have a brighter balance than many and an AT-3600 or Rega Carbon, with their softer sound, would better suit I feel.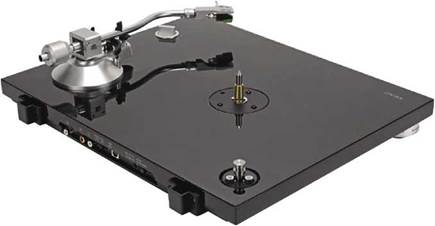 A nicely finished plinth and arm give the TN-3B an air of elegance.
CONCLUSION
Teac's TN-3B turntable is attractive in many ways. It looks good, was nice to use and is an easy way into spinning LP without either set-up hassle or operational drawback, although it is strictly manual. Sound wise its internal phono stage has a light balance short of vinyl warmth and depth perspectives – not in keeping with the vinyl experience. An external phono stage is needed to better hear what the turntable is capable of – and a more appropriate cartridge would help too. So, good in essence – but could easily be better in sound quality terms.
From a 3150Hz test tone (DIN 45-452 test disc) the TN-3B produced 3178Hz on our Wow&Flutter meter, making it nearly 1% fast – about the limit of acceptable error before pitch becomes quite obviously high. This points to lax factory adjustment.
Although speed accuracy was poor, speed stability was very good. There was almost no basic speed wander and this resulted in a low Wow value of 0.1% (DIN) and Flutter of 0.06% – both very good results for a budget belt drive. The total W&F value, DIN weighted, was 0.08% – very good. Measured to the Japanese JIS Standard this was 0.05% (for comparison with Japanese turntables). Our speed stability analysis shows the usual variation peak at 33rpm (0.55Hz) – basic rotational frequency – but it is low. There is little in the way of flutter peaks at right.
The internal phono stage has a very low gain of x55 and overloaded early, just 7mV in / 385mV out tainted by 0.2% distortion. At 18mV in I 990mV out distortion hit 1%. These are not wonderful figures but arguably satisfactory in a budget design. Output is low so volume needs to be turned up in an accompanying amplifier. Progressive distortion will muddle the sound a little with loud LPs.
Equalisation was accurate, making frequency response flat from 30Hz to 20kHz within 1dB limits. There is slow roll-off in gain below 30Hz our analysis shows, to suppress subsonic warp signals that cause loudspeaker cone flap.
The 16bit analogue-to-digital (ADC) convertor reached maximum (0dB FS) at 16mV from the cartridge but distortion was high at 1%. At -60dB distortion measured 1.5% but it was noise; there were no identifiable harmonics. Dynamic range (EIAJ) measured 81dB – reasonable for a budget 16bit ADC. Better range from a 24bit convertor is needed for inaudible conversion but this one could at least resolve a -60dB signal. Frequency response was identical to that of the analogue output, with no change above 10kHz due to anti-alias pre-filtering.
Frequency response of the AT-VM95E cartridge runs flat to 20kHz with just a slight roll off toward high frequencies so there's no sharpness. It does not suffer generator loss and resultant warm sound. Tracking is excellent too.
The TN-3B gave a basically good measured performance, but its integral phono stage is mediocre. NK
Speed error +0.9%
Wow 0.1%
Flutter 0.06%
Wow & Flutter (DIN wtd.) 0.08%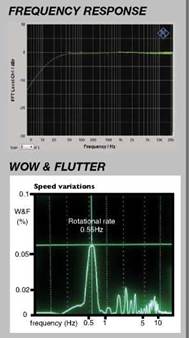 VALUE – keenly priced.
VERDICT
Teac tn-3b review
Has strengths but also weaknesses.
PROS
easy to use
internal phono stage
has a digital output
CONS
lightweight sound
microphonic
Add your review
Best Teac tn-3b prices in the US ?

$

529.99
2 new from $529.99
in stock


$

529.99
2 new from $529.99
in stock

Best Teac tn-3b prices in the UK ?

£

339.00

£349.00
4 new from £339.00
in stock


£

341.23
1 new from £341.23
in stock

MORE DEALS

See also TOP 15 turntables
Teac
www.teac-audio.eu/en/