You probably won't showcase it on Instagram, but the Systemline S7 Netlink Music Player is beautiful on the inside, insists Steve May. Read our SYSTEMLINE S7 NETLINK MUSIC PLAYER Review.
Single-zone (but expandable) music streamer
POSITION: Part of the Systemline whole-home range
PEERS: Bluesound Node 2; Onkyo NS-6170
SYSTEMLINE ISN'T EXACTLY a household name.
It's actually the custom install arm of Armour Home Electronics, the UK-based parent company/distributor of more familiar home entertainment brands such as Q Acoustics, QED and Grado.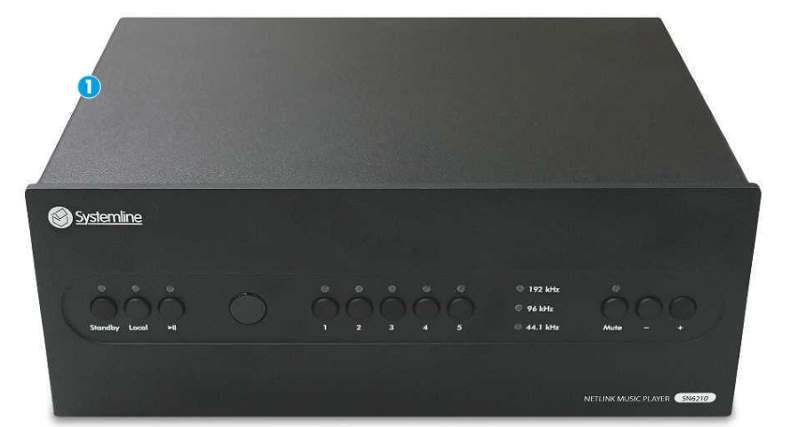 7Review earns Amazon affiliate commissions from qualifying purchases. You can support the site directly via Paypal donations ☕. Thank you!
You may also like
Despite being an early pioneer in the world of whole- home entertainment, the company has managed to maintain a surprisingly low profile.
But while it hasn't grabbed the headlines, it's quietly made an art of multiroom distribution.
Systemline's anonymity could be about to change.
The S7 Netlink Music Player (which also goes by an SN6210 moniker) is a network music player unlike any other I've come across.
Like all Systemline kit, it's designed to integrate within an expansive multiroom system, in conjunction with Systemline products like the two-zone stereo NetAmp, or the NetServer (which comes in 8-zone and 24-zone flavours). But more importantly, it can serve as a single-room streamer, easily partnered with an AV receiver or two-channel system. It's that iteration that we're focusing on here.
Incidentally, you can't buy a Systemline product through the usual retail channels. You get it through a Systemline dealer/installer, who will set it up for you.
SYSTEMLINE S7 NETLINK MUSIC PLAYER Review: Rack it and forget it
So what makes the S7 Netlink Music Player so beguiling? Well it's not the design. This isn't a piece of hardware that will attract admiring glances at your AV rack. It measures just 219mm across, and the finish is utilitarian. That said, build quality is robust. You could probably lob it out of a window and it'll be none the worse for wear (supposition: I didn't actually do that).
Connections, all found on the rear panel, include a local stereo phono input, stereo pre-outs, coaxial and optical digital audio outputs, and an optical digital input. There are various control options, including RS-232 and a 12V trigger, plus a quartet of USBs. Systemline doesn't talk about the DAC lurking inside, although we do know that it features an upsampler originally developed for a posh Myriad product.
My sample was one of the first S7 Netlink Music Players to run its own NetServer software. It's this that allows the unit to function as a standalone player, in what's called Master Mode. In a typical custom install scenario, the device would be used with a dedicated separate Systemline NetServer, in Slave mode.
Suitably freed of such constraints, I hooked it up to a resident AV receiver, outputting a 24-bit/96kHz signal over a digital connection. Alternatively, users could connect it directly to a power amplifier and stereo speakers over analogue, and garner 24-bit/192kHz.
The former is the best option if you want to take advantage of a feature that allows the S7 Netlink Music Player to take direct control of your AVR via a two-way interface (be it RS-232 or TCP/IP); the S7 will automatically turn on the receiver, select the correct input and manage the volume. This level of control is currently available from (recent) Arcam, Denon, Marantz, Onkyo, Yamaha and NAD AV receivers. It's achieved using an integrated web setup page.
Once the unit has been installed as part of a smart home system, it can also do some quite clever stuff.
For example, as an IP device, it can work in conjunction with a smart lighting system, operated by a wall keypad or via a learning remote.
I suspect most standalone users will opt for the Systemline app (iOS/Android). This features a basic list of favourites, plus clock and alarm, although there are customisable options. Alternatively, the unit proffers on-body controls.
SYSTEMLINE S7 NETLINK MUSIC PLAYER Review: Make a Dash
Where the S7 Netlink Music Player becomes particularly interesting is in its support for MPEG-Dash, which has been adopted by BBC TV and radio.
The embedded BBC Radio Player uses the standard to offer live broadcasts, as well as on-demand catch-up.
Having dedicated BBC radio control is unusual. Most other streaming systems will play BBC stations via Tunein. The advantage of the Systemline approach is that you'll hear the best possible version of those services, a 339kbps AAC stream, for both national and local live radio. FM radio devotees should prepare to be converted. BBC catch-up programmes stream at 128kbps.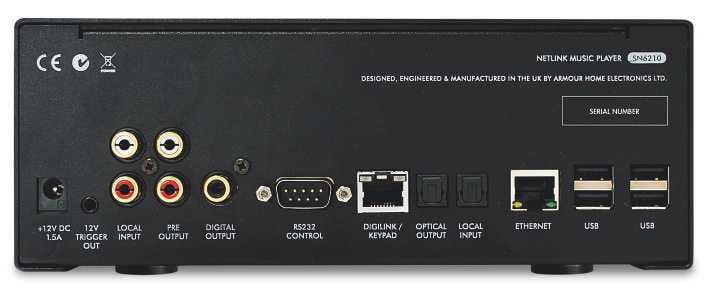 What the player lacks in cosmetic finesse, it makes up for in performance charm. Listening to live BBC radio at 339kbps is revelatory. When you're used to suffering
As befits its whole-home origins, the S7 Netlink Music Player is an astonishingly flexible piece of kit
through a 128kbps MP3 dribble delivered by an Amazon Echo Dot speaker (albeit one routed through a decent AV setup), the leap in fidelity is a delicious surprise. And it's not just music that benefits; listening to drama on BBC Radio 4 becomes startlingly more immersive.
Of the system's onboard streaming audio services, Qobuz is arguably the best-quality option, with a 16-bit/44.1kHz FLAC lossless (variable up to 800kbps) stream. However, Systemline has also integrated a smart graphic control interface for the Deezer music platform, which makes it a heap of fun to use.
And then there's the left-field stuff. Radio Paradise is a commercial-free US radio station that broadcasts lossless FLAC. Probably nothing you hear will sound familiar, but the quality is undeniably thrilling. The S7 Netlink Music Player will also play 24-bit/192kHz files from USB, or over a network.
SYSTEMLINE S7 NETLINK MUSIC PLAYER Review: Flexible friend
As befits its whole-home origins, the S7 Netlink Music Player is an astonishingly flexible piece of kit. Quite apart from its multiroom talents, which are considerable, in standalone guise it offers a level of performance that belies its price tag.
If you're a big consumer of BBC radio, then its premium over cheaper rival streamers is easily justified. And its sound quality when upscaling disparate content sources is excellent. I'll concede it doesn't really have poster-boy appeal, but build quality is formidable.
Not your cookie-cutter media streamer then, but the S7 Netlink Music Player is a convincing advert for just how good music streaming can sound for less than a grand.
I reckon it's a sound investment.
SYSTEMLINE S7 NETLINK MUSIC PLAYER Review: VERDICT
SYSTEMLINE S7 NETLINK MUSIC PLAYER Review
Simply integrated into a single-zone system, but with whole-house potential, this well-made music streamer has sonic appeal and a good selection of in-built services.
Add your review
|
Read reviews and comments
SYSTEMLINE S7 NETLINK MUSIC PLAYER Review: SPECIFICATIONS
AUDIO UPSCALING: Yes. To 24-bit/192kHz CONNECTIONS: Optical digital audio input; coaxial and optical digital audio output; stereo phono analogue input; stereo pre-out ETHERNET: Yes BUILT-IN WI-FI: Yes DIMENSIONS: 219(w) x 86(h) x 160(d)mm WEIGHT: 1.75kg
FEATURES: 4 x USB ports; RS-232 control; TCP/IP via network; 12V trigger;
AVR compatibility with Arcam, Denon, Marantz, Yamaha, Onkyo and NAD models; MPEG-Dash support; BBC Radio Player; Qobuz, Deezer, Tidal integration; favourites/playlists creation; alarm functionality; compatible with Systemline hardware; Systemline app
PARTNER WITH
SYSTEMLINE KPS11:
For a long-term installation, Systemline's in-wall keypad can integrate with the S7 Netlink Music Player, bringing you touch-of-a-button access to presets, volume and playback controls.
1. The player offers front-panel controls, but is designed to be used with the Systemline app
2. You can hook up to your AV receiver via the analogue phono or digital outputs