Start Here
What you need for home theater
We all know how movie theater magic comes to life. The gorgeous, vivid images on the screen are enhanced by the impressive, enveloping audio. From the faint chirping of crickets in the background, to the crackle and boom of a thunderstorm, to the resounding roar of a spaceship rumbling into view, it is the sound that draws you into the action on-screen and holds you there.
Now, home theater systems make the same experience possible in your own living room.
The detail and precision of surround sound enhance the picture, and make even your 27″ television loom large. The result is stunning, three-dimensional sound, complete with the detailed special effects and imaging that you find in a theater. When that tornado tears across the screen, you'll feel like it's passing through the room, too — the winds will howl right past you, and far behind your right shoulder, you'll hear the "crash!" of a tractor hitting a bam.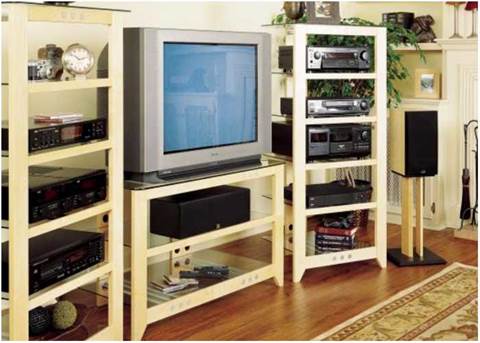 Transform your room into a cinema!Home theater is now so popular that it can be both easy and inexpensive to achieve. Whether you want to build an entire home theater system from scratch or add to your existing components, the options are plentiful. This guide is designed to answer your questions about home theater and give you an idea of what is involved. We also hope that you'll be able to identify what you, personally, need for great home theater. Some help fill things to think about are:
1) Which new technologies appeal to you the most? (Remember, home theater doesn't mean having every component on the market! You can pick and choose.)
2) What components do you already own? (Some may be ready for home theater now. You can always mix and match to create a system!)
3) Are you thinking of replacing any old components? (If so, now might be the time to upgrade.)
Before we get into DVD players, A/V receivers, and other A/V gear, let's take a look at Dolby Digital, and the concepts and technology behind surround sound.
GEAR UP FOR CINEMA
1. Dolby Surround source
You need an appropriate component — like a DVD player or satellite TV system — to pass Dolby® Digital-encoded audio along to a decoder. Also, thousands of movies and stereo TV broadcasts feature multichannel Dolby® Surround audio ready for Pro Logic decoding. You have a lot of choices.

2. A Dolby Digital receiver
The Dolby Digital sound stored on DVDs must be decoded into separate audio channels for playback through your home theater speakers. Most new home theater receivers have built-in Dolby Digital decoding; some are "5.1-ready" with inputs for an external Dolby Digital decoder (or DVD player with built-in decoding); all have built-in Pro Logic decod­ing.

receivers.
3. A TV
In home theater, your TV's critical contribution is a sharp, natural picture — and thanks to new technologies, TVs are better than ever. In addition, you can use a stereo TV as a home theater sound source for Dolby Surround-encoded TV broadcasts: just connect the TV's audio outputs to a receiver with Dolby Pro Logic decoding.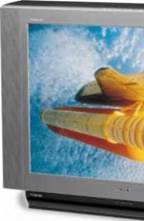 home theater
4. Five speakers and a powered subwoofer
To re-create the movie theater experience, home theater literally surrounds you with speakers: a pair of front left and right speakers for stereo soundtrack information and audio that moves across the front soundstage; a video-shielded center channel speaker for dialogue and on-screen action; and a pair of surround speakers for ambience and effects. Dolby Digital also calls for a subwoofer: the added deep bass makes the entire soundtrack feel larger and more lifelike, and the special effects will blow you away.
(It's great for music too!)